---
2018 Participating Groups
Aca-word
Yes we are. Formed in 2012, we have been performing original covers of everything from classic rock hits to contemporary pop tunes. As a 13 person a cappella group, we achieve a unique sound by fusing new and old music in sophisticated arrangements. We strive to bring joy to our audience and hope to share our Aca-love of singing to everyone within earshot!

Members: Dominique Medina, Mariana Jones, Sarah Brumfield, Ashley Franich, Amber Curley, Valeria Huaco, Marizel Mendoza, Nate Baumbach, Diego Lopez, Jake Lagrave, Ethan Sifferman, Rjay Molo

---
AVE
AVE, the highest level ensemble within the Central Coast Children's Choir, placed third in the 2017 Los Angeles Harmony Sweepstakes and was awarded audience favorite. CCCC affords the youth of San Luis Obispo county the joyful experience of singing together in live choral performances. The after-school program provides weekly rehearsals, which include musicianship and vocal training. Repertoire is varied and includes songs from world music to established choral classics to contemporary, popular styles. CCCC singers represented California in National and Western State honor choirs in Las Vegas, New York, Eugene, Honolulu, Chicago, Salt Lake City, Dallas and Florida.

Members: Lily Campbell, Olivia Edmonds, Hannah Fowler, Minori Jaggia, Cati Newlon, Susan Roodsari, Elise Scheiffele, Meg Stern, Lauren Tarica

---
Beyond Zebra
Beyond Zebra is a newly formed a cappella group who enjoys expressing unique, intricate arrangements with heartfelt emotion. Like the Dr. Seuss book On Beyond Zebra about an alphabet beyond Z, the music of Beyond Zebra takes audiences beyond what they might know and expect. When you go Beyond Zebra, who knows what wonderful things you might hear?

Members: Doug Friedman, Miya Kanzaki, John Kelley, Fiona McCrae, Jon Pilat, John Rae-Grant

---
Halfway to Midnight
Halfway to Midnight is a co-ed band of musical misfits who, having missed the thrill of the a cappella world and desiring an outlet to strengthen our individual instruments, serendipitously found each other in the midst of the great big beautiful Bay Area and begun gathering weekly to share in the blend of our voices together. Our life stories are as varied as our voices yet we find common ground in our love of instrument-free music-making and we truly hope you like what you hear.

Members: Vivek Saraswat, Gonzalo Alonso, Michael Barrientos, Elana Zizmor, Alicia Flor, Scott Adler, Shanna Bengtson

---
Jazz @ 8
We are a 16 piece vocal group made up of 9th - 12th graders. We sing Vocal Jazz (Songs by New York Voices, Kerry Marsh, Duke Ellington and many more. We have received high awards at Folsom Jazz Festival, Santa Cruz Jazz Festival and Reno Jazz Festival.

Members: Katie Maxson, Kara Tangenberg, Sziszi Hites, Lauren Brasesco, Gianna Tippett, Haley Weeks, Julie Torres, Forrest Marion, Ten., Izak Barnett, Caleb Britt, Zion Johnson, Isaac Self

---
---
Ro Sham Bo
Ro Sham Bo brings a surprising and exciting spark to the Bay Area vocal music scene. Ro Sham Bo's roots are steeped in jazz and funk, and their performances deliver an inspired blend of complexity and ease. Most group members are music educators or music educated, arrange, perform, and direct not only for Ro Sham Bo but for groups from San Jose to Black Rock City, and have taught students from Stanford University Jazz Workshop to Jazz Camp West to Blue Bear School of Music.

Members: Juliet Green, Bonnie Doyle, Dave Duran, Audrey Kauffman, Juliet Green, Jimmy Kraft, Dave Duran, Bakari Holmes

---
Side Note
Hip. Imaginative. Fun. Fresh. Funky Fresh. Side Note is a group of seven twentysomethings, from wildly different musical backgrounds, who draw draw their diversity to create an all-new sound. It's contemporary a cappella - pushed to the limits of pop, R&B, funk, rock, musical theater and jazz. Get ready for some buzzin' beats, rockin' riffs and hot harmonies as Side Note delivers a show unlike nearly anything else in vocal music!

Members: Richman Neumann, Duncan Boehle, Philip Daniel Santos, Juan-Carlos Martinez, Rebecca Holtz, Tanya Rodman, Gayelan Tietje-Ulrich

---
Woven
Woven was founded as a community of people who love to sing. We believe music has the power to inspire, cross boundaries and bring people together. We strive to create a space where every voice has value and to sing songs that reflect our members' experiences. Each song we sing is brought to the group by one of our members because it carries with it a personal connection, story, or emotion that moves them. Through the music we sing, we hope to give voice to these experiences and foster community between ourselves and others.

Members: Nicholas Biddle, Sharareh Sadaghiani, Shantelle Williams, Gustav Wellin, Charlie Yang, Aishwarya Vardhana, Kaley Boyce, Maya Delaney, Joey Fernandez, Brenden Larkin, Koyel Bhattacharyya

---
Your Emcee for the Evening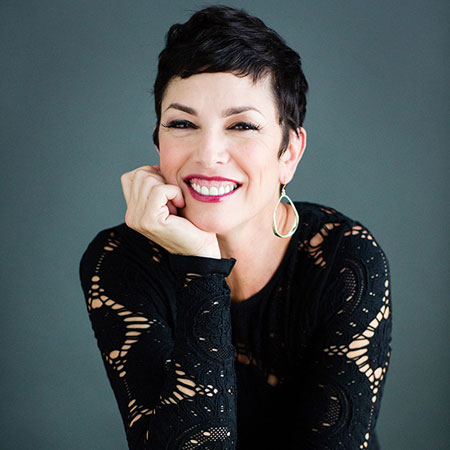 Angie Doctor, a studio singer and live performer who began her career in Chicago doing commercials, voice-overs and recording projects, and has been a part of the San Francisco Bay Area vocal music community since 1995. She is currently the Vocal Jazz Ensemble instructor at the California Jazz Conservatory in Berkeley, and busy creating new arrangements with Clockwork and getting back to singing live!

Angie is a songwriter and arranger, vocal coach and clinician for school music ensembles and solo singers, background singer for groups such as The Manhattans, Heatwave, Gene Chandler, Barbara Lewis, Billy Paul, and many others, studio singer and voice-over talent, is the soprano in the jazz vocal quartet Clockwork, and was in the wackiest of all a cappella groups, The Bobs, for the last 6 years of their 36 year run. In addition, she has been singer and soloist for music projects with Bobby McFerrin, Sufjan Stevens, Sweet Honey in the Rock, John Zorn, Meredith Monk, performing at venues that include Zellerbach in Berkeley, Jazz at Lincoln Center, Carnegie Hall, and the Philharmonie Berlin. Her vocal work can be heard on many recording projects, including as a featured soloist on the Grammy-nominated recording of Leonard Bernstein's "Mass" (Harmonia Mundi), Clockwork's "Every Voice Counts", The Bobs "Biographies".

Angie is also a founding member of the Grammy-nominated PM Singers and has brought her extensive experience in solo and small group harmony singing to workshops and festivals as a judge and clinician since 1996.
---
2018 Judges
Phil Debar

Phil hosts a vocal harmonies radio show, The Human Voice Show, Wednesday nights 8-10 pm on KRCB 104.9 FM, Santa Rosa/Napa/Marin, and online at www.krcb.org featuring vocal groups, with the accent on a cappella ensembles of many styles and eras.

He served as a Barbershop Harmony Society contest judge (Singing Category) from 1993-2013. He started in a cappella with the Stanford Mendicants (director, '77-78), subbed in Chanticleer in '84, earned 3 Down Beat Magazine jazz "dee-bee" awards in the Foothill College Fanfairs ('86-8), and has sung in five NorCal champion barbershop quartets.

He's hosted local a cappella radio shows on KRCB Santa Rosa ('95-present) and KKUP Cupertino ('85-2021); and was co-founder (with Deke Sharon and Buddy Saleman) and host of CASA's "A Cappella Radio International" from 1996-2002. He also hosted the week-long video-webcasts of the BHS International Contests from 2000-06).

Phil directed the Marin Chorus of the Golden Gate from 2007-18, and the Santa Rosa Redwood Chordsmen for many years. This is his sixth appearance on the Harmony Sweepstakes panel.
---
Jan Pederson Schiff

Jan Pedersen Schiff, is a master vocal teacher and choral conductor with Bachelor and Master's Degrees in Music Education, Choral Conducting with Vocal Pedagogy emphasis. She founded Singers Marin, a nonprofit performing arts organization some 30 years ago, that now supports 7 choral ensembles for youth and adults. The teen chorus, les etoiles, has traveled extensively and won 1st and 2nd place, bronze, silver, and gold awards at numerous international festivals. Guest conducting opportunities have included the Lincoln Center, Carnegie Hall and the Mormon Tabernacle Choir. Her awards include the Susan B. Anthony Award for Cultural Achievement in Hollywood, the Marin Women's Commission Certificate of Commendation, and a Milley Award for her contributions to the creative life of Mill Valley. She's been inducted into the Marin Women's Hall of Fame, and most recently received recognition from Mark Levine of the California State Legislature for 30 years of service to the community of Marin. Ms. Schiff will be returning as a Guest Artist to Carnegie Hall next month on April 28th, as part of MidAmerica's 35th Anniversary Concert Season, conducting "Frostiana" by Randall Thompson with a 150 voice choir and orchestra.
---
Walter Zelnick

Vice-President of the legendary City Hall Records -- one of the last truly independent music distributors in the nation and distributor of the Primarily A Cappella imprint-- has been a pillar of the Bay Area music scene for the last thirty five years. During his tenure, Mr. Zelnick has overseen the distribution of a wide variety of talent across the musical spectrum, from Bay Area Rap legends, Too Short, MC Hammer and the late Mac Dre to such artists as Paula West, The Two Live Crew, NWA, Sir Mix-A-Lot, Salt-N-Pepa, Lavay Smith, Charo, Doris Day, The Jingle Cats and many more. He has witnessed the evolution of the music delivery system from LP to cassette to CD to digital to LP. One of his proudest achievements is his unsought credit as a background vocalist on the 1995 recording, "Christmas Unleashed" by the Jingle Dogs (actual dogs).
---
Eric Morris

Eric Morris is a founding member of the renowned male a cappella quartet, the EDLOS, and sang first tenor with them for over 20 years until their retirement in 2011. In their first year of existence the EDLOS won first place and audience favorite and Mr. Morris also won that same year for best original arrangement at the Harmony Sweepstakes. Eric has been a tenor soloist with such diverse groups as the San Francisco Symphony, the San Francisco Ballet, Pocket Opera, Marin Opera, Canada Opera Piccola, the Lamplighters, and many others. A graduate of the San Francisco Conservatory of Music, Eric was the tenor soloist for the first annual Sing-it-Yourself Messiah at the SF Opera House. Fifteen years ago Eric became a faculty member at Notre Dame de Namur University, teaching private voice lessons, vocal performance, opera workshop, computer music applications and music skills lab. He has won awards for his compositions as well, and is an avid bicyclist, accordionist, tennis player, banjo player, horticulturist and Chapman Stick player.
---
Wes Carrol

Wes Carroll has taught thousands the art of vocal percussion through his videos featured at mouthdrumming.com, thus contributing to the destruction of a great fortune in microphones. He has toured internationally for 12 years as the vocal percussionist of The House Jacks as well as Boston's FOCS, which included considerable work as a group coach. He has judged a large number of music competitions since finishing at Berklee College of Music in 1995. He hopes the groups enjoy their own performances as much as we all are sure to.
---
---
Complete list of 2018 participants
---
---
Interested in Performing?
We are always seeking groups who would like to participate in our events.
Groups of any style are welcome, but you must have between 3 and 12 members. We have a rule book which explains many of the details of the event, which you can see by clicking here. All groups must audition in order to compete. Generally this is done by sending a current tape and photo, although live auditions are sometimes arranged. The purpose of the audition is to make sure the group is appropriate for the Festival and to help the Director determine the performance order. If a group has competed previously, the audition process may be waived.
Please send music and photos to the regional director :

John Neal (Bay Area) Beginning as a local event the Harmony Sweepstakes A Cappella Festival, under Neal's guidance, has grown to become the most significant live showcase for a cappella music in the nation and attracts hundreds of groups and thousands of audience members every year. The Harmony Sweepstakes was the original inspiration for the NBC prime time series The Sing-Off and Neal was hired as a consultant to the series. Neal is president of Primarily A Cappella - (www.singers.com) which is the nation's leading vendor of a cappella music including recordings, arrangements, DVDs, songbooks and instructional material for singers. Neal writes the informative blog at www.acappellanews.com which has a large and loyal readership.

PO Box D, San Anselmo, CA 94979
415-455-8602
festival (at) harmony-sweepstakes.com