---
2019 Participating Groups
AACE-Symmetrical
We are members of a youth a cappella harmony singing class called "Advanced A Cappella Ensemble" (AACE) taught by Krista Enos through Ms. Kitty's Harmony Road Music School in Half Moon Bay. We range in age from 15-22. We meet once a week for 90 minutes. We like singing in a variety of styles, and are very excited about the idea of learning from and singing alongside some of the best a cappella groups in the Bay Area!

Members: Veronica Gallegos, Taylor Olson, Maddie Rojas, Alyssa Turenne, Michelle Turenne

---
Aca-word
Yes we are. Formed in 2012, we have been performing original covers of everything from classic rock hits to contemporary pop tunes. As a 13 person a cappella group, we achieve a unique sound by fusing new and old music in sophisticated arrangements. We strive to bring joy to our audience and hope to share our Aca-love of singing to everyone within earshot!

Members: Dominique Medina, Mariana Jones, Sarah Brumfield, Amber Curley, Valeria Huaco, Marizel Mendoza, Nate Baumbach, Diego Lopez, Jake Lagrave, Daniel Jones, Ethan Sifferman, Rjay Molo

---
Beyond Zebra
Beyond Zebra is a newly formed a cappella group who enjoys expressing unique, intricate arrangements with heartfelt emotion. Like the Dr. Seuss book On Beyond Zebra about an alphabet beyond Z, the music of Beyond Zebra takes audiences beyond what they might know and expect. When you go Beyond Zebra, who knows what wonderful things you might hear?

Members: Fiona McRae, Miya Kanzaki, Doug Friedman, Jon Pilat, John Kelley, John Rae-Grant

---
Halfway to Midnight
Halfway to Midnight is a co-ed band of musical misfits who, having missed the thrill of the a cappella world and desiring an outlet to strengthen our individual instruments, serendipitously found each other in the midst of the great big beautiful Bay Area and begun gathering weekly to share in the blend of our voices together. Our life stories are as varied as our voices yet we find common ground in our love of instrument-free music-making and we truly hope you like what you hear.

Members: Vivek Saraswat, Gonzalo Alonso, Michael Barrientos, Elana Zizmor, Alicia Flor, Scott Adler, Shanna Bengtson

---
Lucky Pitches
Lucky Pitches is a barbershop quartet. Three of us met singing in San Francisco Sound Wave Chorus, a Sweet Adelines Chorus. Our fourth member Molly is an honorary SFSW member by blood (Kelly's Sister). We've been singing together in this configuration since July of 2017. We are all fairly new to barbershop, but we have all loved singing since we were little girls.

Members: Dana Manochi, Dawn Bickett, Kelly Sopher, Molly Sopher

---
Take Flight
Take Flight is Napa's premier a Cappella band. Comprised of 5 highly experienced vocalist, they take on hit songs from a wide array of genres and artists and perform them all without the use of any instruments! With smooth, tight harmonies and pleasing upbeat music, they can perform background for intimate dining or for larger groups focusing on entertainment.

Members: Emma Guerrieri , Diana Corzo, Carlos Gonzalez, JourneyDay, Ted Reynolds

---
Vocal Edition
Vocal Edition is co-ed a cappella group based in San Francisco that infuses creativity, diversity, and musicality into unique vocal arrangements. We are young men and women from a variety of careers & professions brought together by a passion & love for music. Our repertoire is an eclectic mix of pop, alternative and R&B songs that masterfully intertwine the past and present. If you love complex harmonies, interesting arrangements, and soulful voices you'll love hearing our group.

Members: Nisha Anand, Margaret Gordon, Cephra Stuart, Tiffanie Yu, Cliff Reilly, Richie Magallon, Alex Bignell, Danny Olefsky

---
Yes M'am!
Yes M'am made up of three dynamic female vocalists who teamed up in December of 2014 to create a trio with saucy, spicy and surprising harmonies. With roots deep in American folk traditions, Yes M'am! takes the stage with a capella songs that are at times funny, soaring, moving, and deeply powerful. They specialize in singing traditional folk songs, as well as music that wouldn't necessarily be thought of folk before they put our particular (if not peculiar) spin on it.

Members: Margaret Miles, Amelia Hogan, Mary Hill

---
Your Emcee for the Evening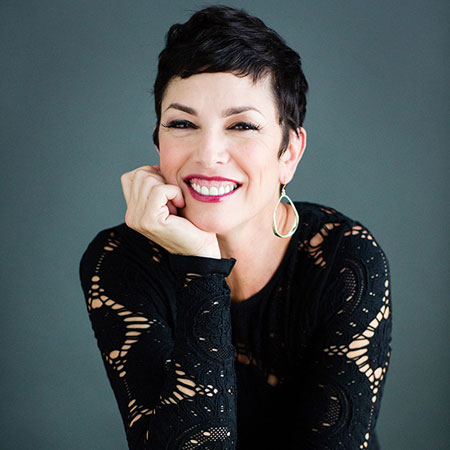 Angie Doctor, a studio singer and live performer who began her career in Chicago doing commercials, voice-overs and recording projects, and has been a part of the San Francisco Bay Area vocal music community since 1995. She is currently the Vocal Jazz Ensemble instructor at the California Jazz Conservatory in Berkeley, and busy creating new arrangements with Clockwork and getting back to singing live!

Angie is a songwriter and arranger, vocal coach and clinician for school music ensembles and solo singers, background singer for groups such as The Manhattans, Heatwave, Gene Chandler, Barbara Lewis, Billy Paul, and many others, studio singer and voice-over talent, is the soprano in the jazz vocal quartet Clockwork, and was in the wackiest of all a cappella groups, The Bobs, for the last 6 years of their 36 year run. In addition, she has been singer and soloist for music projects with Bobby McFerrin, Sufjan Stevens, Sweet Honey in the Rock, John Zorn, Meredith Monk, performing at venues that include Zellerbach in Berkeley, Jazz at Lincoln Center, Carnegie Hall, and the Philharmonie Berlin. Her vocal work can be heard on many recording projects, including as a featured soloist on the Grammy-nominated recording of Leonard Bernstein's "Mass" (Harmonia Mundi), Clockwork's "Every Voice Counts", The Bobs "Biographies".

Angie is also a founding member of the Grammy-nominated PM Singers and has brought her extensive experience in solo and small group harmony singing to workshops and festivals as a judge and clinician since 1996.
---
2019 Judges
Pollyanna Bush

A veteran of the Bay Area vocal music scene Pollyanna Bush has released several recordings of her own music along with performing lead or backing vocals on over 100 other recording projects. She is an award winning songwriter ("Song of the Year" - West Coast Songwriters) and performs regularly throughout the region. She sang a cappella, along with Dave Worm, Bryan Dyer, Michael Smolens and others in The Mirabai Ensemble who were acclaimed for their vocal prowess and innovative arrangements.

Pollyanna has studied voice extensively and is one of the Bay Area's most highly-regarded vocal coaches. She has collaborated with other vocal luminaries such as Raz Kennedy and Dave Stroud and is much-sought after for her specialized knowledge and vocal techniques. She has significant experience nurturing artists and imparting a wealth of wisdom in the field of the voice to her students. She currently owns and operates Music Works Studio in Fairfax where she teaches vocal classes for both solo and harmony voices. She leads the popular SoarSing classes which includes circle singing, vocal improvisation and other forms of group harmony singing and is a conductor of the Sing for Your Life New Year's Circle Singing event (founded by Bobby McFerrin).
---
Bryan Matheson

Bryan Matheson is the owner of Skyline Studios in Oakland, celebrating its 30th anniversary this month! Bryan has had extensive experience on both sides of the glass, as a recording engineer/producer and as a singer, and has won numerous awards for his film, TV and radio work, including a Grammy nomination singing with The Pacific Mozart Ensemble on the Leonard Bernstein Mass, performed and recorded at The Berlin Philharmonic.

A Cappella groups he's worked with include The Edlos, Solstice, Clockwork, Ro Sham Bo and The Bobs and countless others.

Bryan is also the founder and CEO of iMusicast , which from 1999 to 2005 produced hundreds of live streamed concerts from its venue in Oakland. He is faculty emeritus at San Francisco State University, Chabot College and Diablo Valley College, where he taught music recording technology and business.

Bryan received a Grammy last year for recording vocals on Esperanza Spalding's "Songwrights Apothecary Lab" album, which won a Grammy for Best Jazz Vocal Album.
---
Rhonda Crane

Although raised on the West Coast, Rhonda is native to Brooklyn, New York. Her vocal talents developed as a child in the Baptist church, and she studied classical piano and viola thru college, toured with the Lowell High School Orchestra in Japan, and received the San Francisco Sun Reporter¹s Youth of the Year Award in her Senior year of high school. As a music major at San Jose State University, she performed in the opera AIDA with Grace Bumbry and organized the ³Rhonda Hudson Singers² gospel ensemble, which sprang out of her pledge line to Alpha Kappa Alpha Sorority, Inc. Because of her continuing membership in the Edwin and Walter Hawkins Music & Arts National Conference, she has been blessed to work with numerous artists ranging from the O¹Jays to Yolanda Adams. Rhonda has benn singing with the acclaimed a cappella ensemble Street Sounds since 1991. In addition to her performing, Rhonda currently teaches gospel music in the Marin Adult & Community Education program, and is the Minister of Music at the Greater True Light Baptist Church in Modesto, California.
---
Daryl Henline

Daryl Henline, Composer/Arranger specializes in writing for voices for many settings and purposes. As Music Director of the Conspiracy of Beards since 2003, he has led the group through multiple US tours, Europe and hundreds of Bay Area shows.
---
Tina Harrington

Tina Harrington, a second-generation Oakland native, is deeply involved in the Bay Area music community. She obtained her BA in music from UC Berkeley. She is Artistic Director of the Distaff Singers, Assistant Director and member of the San Francisco Choral Artists, and has conducted the Berkeley Section Club, the Oakland Youth Chorus Alumni Singers, and the Berkeley Broadway Singers. As Choral Director at College Preparatory School in Oakland, Tina directs and arranges for multiple A Cappella groups and choruses, and provides vocal direction for the musicals. But it doesn't stop there! Tina is a soloist and section leader at Piedmont Community Church, and is a sought-after event performer and vocal coach, and has been fortunate to perform with the disparate likes of Wendell Brooks, Cheryl Keller, and Pete Seeger.

Tina began her involvement with choral music and A Cappella as a teenaged member of the Oakland Youth Chorus. In 1990, she returned to OYC as assistant to Elizabeth Seja Min working exclusively with Vocal Motion, and went on to become assistant conductor to Trente Morant. Her choral students included Goapele, LaToya London, Valerie Troutt, and Solas Lalgee, who all have gone on to successful musical careers. She has collaborated with the likes of Jacqui Hairston, Melanie DeMore, Linda Tillery, Bryan Dyer, and Victoria Theodore.
---
---
Complete list of 2019 participants
---
---
Interested in Performing?
We are always seeking groups who would like to participate in our events.
Groups of any style are welcome, but you must have between 3 and 12 members. We have a rule book which explains many of the details of the event, which you can see by clicking here. All groups must audition in order to compete. Generally this is done by sending a current tape and photo, although live auditions are sometimes arranged. The purpose of the audition is to make sure the group is appropriate for the Festival and to help the Director determine the performance order. If a group has competed previously, the audition process may be waived.
Please send music and photos to the regional director :

John Neal (Bay Area) Beginning as a local event the Harmony Sweepstakes A Cappella Festival, under Neal's guidance, has grown to become the most significant live showcase for a cappella music in the nation and attracts hundreds of groups and thousands of audience members every year. The Harmony Sweepstakes was the original inspiration for the NBC prime time series The Sing-Off and Neal was hired as a consultant to the series. Neal is president of Primarily A Cappella - (www.singers.com) which is the nation's leading vendor of a cappella music including recordings, arrangements, DVDs, songbooks and instructional material for singers. Neal writes the informative blog at www.acappellanews.com which has a large and loyal readership.

PO Box D, San Anselmo, CA 94979
415-455-8602
festival (at) harmony-sweepstakes.com