---
2015 Participating Groups
Artistic License
Artistic License is a Barbershop quartet with a smooth sound, deep musicality and a lighthearted, professional style that audiences easily respond to. Based out of Northern California, the group sings songs from a wide range of origins and eras. From Tin Pan Alley to the Irish highlands. From jazz to Disney to contemporary pop or Christian rock. Their choice of songs reflects a preference for tunes that are meaningful and distinctive which can be delivered in an authentic and artistic style. The quartet enjoys finely crafted melodies and lyrics and searches for arrangements that will make their audience say "I love that song!"

Members: Todd Kidder, Rich Brunner, Jason Dyer, Gabe Caretto

---
Business Casual
Business Casual is an a cappella band based out of the San Francisco Bay Area. Combining elements of pop, jazz, and other genres, this young all-vocal group puts a fresh spin on vintage chart toppers and today's hits. Winners of the National Harmony Sweepstakes a cappella competition in 2018, Business Casual has performed at weddings, corporate events, and live public shows throughout the Bay Area since 2012.

Members: Ryan Cook, Danny Cavero, Cassie Greene, Jacob Chamoun, Emily Ross

---
Butter Babes
The ladies of The Butter Babes, Lark Coryell, Becca Burrington, and Alexis Lane Jensen, discovered their love of singing luscious, 3-part harmonies with each other when they were all members of the Grammy Nominated Pacific Mozart Ensemble. At the behest and encouragement of their audiences and fellow singers, they decided to move beyond PME's annual A Cappella Jazz & Pop concerts, and take their show on the road (as it were)!

Individually, they have sung with such organizations as the SF Symphony Chorus, Oakland Chamber Chorus, Solstice (previous Harmony Sweepstakes regional champions), The Mirabai Ensemble, SF/Grand Tetons Festival Chorus, VoiceCraft, West Edge Opera, Oakland Opera Theater, Lamplighters Musical Theater and The Merrie Olde Christmas Carolers. Together, they hope to spread their buttery sound over the whole Bay Area and beyond!

Members: Becca Burrington, Lark Coryell, Alexis Lane Jensen

---
Constellation
A delightfully anachronistic vocal quartet, Constellation sings an eclectic bundle of quirky custom arrangements and classic barbershop tunes. These four dapper gents reach for the stars and travel far -- sometimes literally, often metaphorically -- in search of musical adventure, and revel in sharing the treasures they've unearthed in their three years of singing together. Constellation: A stellar combination.

Members: Mark Torrance, Bill McCain, Allen Takahashi, Jordan Johnson

---
Count Me In
Count Me In is a newly-formed a cappella group based in the South Bay. We perform original pop tunes, as well as fresh arrangements of rock, pop, and soul. The women and men of Count Me In came together as friends in 2015 after singing in various groups around the Bay Area. We hold day jobs that run the gamut-from students to doctors to engineers to professional musicians-but at the end of the day, we have found a unique blend, harmony, and energy singing together. Our songs and arrangements reflect diverse modern styles. The group is excited to debut at the Harmony Sweepstakes in 2015 ... thanks for counting us in!

Members: Chris Pilcher, Carlos MacMillan Fuentes, Mitchell Allen, Will Skaff, Michael Wang, Caroline Klink, Caitlin Hernandez, Sharnee Nichols

---
Midnight Jazz
Midnight Jazz is an a capella vocal jazz sextet from Milpitas High School in Milpitas, California. The group is made up of members of MHS's award-winning Glee Club, Encore! The group was formed in November 2014 out of a desire to sing tight a capella harmonies at a very high level. They are mentored and coached by Prime Time's Dan McQuigg, and hope to continue to be a young a capella force in the Bay Area for many years to come! Midnight Jazz is excited to be competing for their first time in Harmony Sweeps!

Members: Aly Bennett, Ca-Zao Bui, Ruth Park, Devin Ralph, Tin Nguyen, Alex Driggers

---
Paradox A Cappella
Created by Circle of Life Theatre, Paradox A Cappella is a professional, San Francisco-based pop-rock vocal band of singers, both with and without disabilities, making music with just our voices and no other musical instruments. Why the name "Paradox," you ask? It's because... this shouldn't work, and yet it does. There exists no other vocal band anywhere in the world made of singers with and without disabilities, of such diverse ethnicity, with an age range from 20's to 50's, AND who get along so harmoniously and who make music as well as we do. Period.

WE DO NOT CAST DISABILITY; WE CAST TALENT, but we recognize and accommodate every "dis" (disability, disorder, disease) in any degree, so if an incredibly talented, solo-worthy singer has any "dis" in any degree... we will go to any length and do whatever it takes or costs to include that singer in our band. Currently, members of our band live with Post Traumatic Stress Disorder, Bipolar Disorder, ADHD, Chronic Migraines, Glaucoma-Blindness, Severe Physical Injury, Spinal Fusion, Anxiety, Depression, Alopecia, and Skin Cancer. And yet, we can sing. We sing our hearts out! And... WE. WILL. ROCK. YOU.

Members: Fritz Lambandrake, Cliff Reilly, Nisha Cory Anand, Maria Morlino, Cephra Stuart, Heather O'Brien, Raquela, Grace Renaud

---
Rue Claire
Rue Claire is a close-harmony vocal-trio sisterhood, although only two are related. Mother-daughter combination Susan Miller and Rebecca Rand trade high and middle parts, while Theresa Madeira rounds out the trio as the alto foundation for bluesy-folky selections that range from bluegrass to Appalachian, and from Gershwin to contemporary indie.

We are driven by a common love of beautiful music no matter the genre, and are bound by mutual respect for what each of us uniquely brings to the expression and art. Founded in the Bay Area in 2012 as an a cappella group, we continue to explore our sound and expand our range, adding new arrangements and original songs to our playlist. All the while, a cappella remains at the core of our collective soul and we are humbly excited to bring our passion to the Harmony Sweepstakes.

Members: Susan Miller, Rebecca Rand, Theresa Madeira

---
Side Note
Hip. Imaginative. Fun. Fresh. Funky Fresh. Side Note is a group of seven twentysomethings, from wildly different musical backgrounds, who draw draw their diversity to create an all-new sound. It's contemporary a cappella - pushed to the limits of pop, R&B, funk, rock, musical theater and jazz. Get ready for some buzzin' beats, rockin' riffs and hot harmonies as Side Note delivers a show unlike nearly anything else in vocal music!

Members: Hannah DeKay, Deidre Doyle, Danny Sherman, Philip Daniel Santos, Richman Neumann, Meredith Johnson

---
Your Emcee for the Evening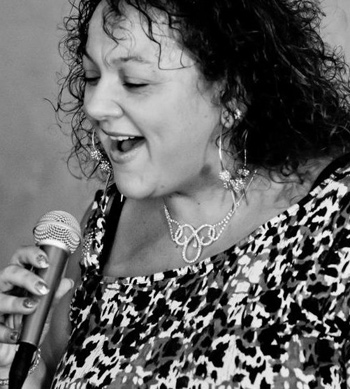 Sunshine Becker
Sunshine Becker (formerly Sunshine Garcia) is a singer, songwriter and vocal performance coach, who has been a 24 year member of thr critically acclaimed, National Harmony Sweepstakes champions SoVoSo.. After playing many dream venues from Shoreline to Radio City, she took her final bow with the Grateful Dead spin-off band of Phil Lesh and Bob Weir's called Furthur in January, 2015. Sunshine is currently working on a solo record, playing shows as Sunshine Garcia Band, and touring in New York in March, 2015 with a band she formed with former Primus & Ratdog drummer Jay Lane called Jay's Happy Sunshine Burger Joint. She continues to teach vocal performance and stays busy doing studio sessions. CircleSinging and improvising keep her young. She lives and breathes a cappella, infusing if into every performance and every day life. Her bassist husband and 5 year old son are the heart beart and back beat to her musical story.
---
2015 Judges
Peter Albin

As a principal member of the rock band Big Brother and the Holding Company, Peter achieved rock icon status. Not only the group's bassist, he also played guitar and sang lead vocals on the band's first record with Janis Joplin, and wrote several of their songs. Subsequent to that auspicious success he played with Country Joe and the Fish, and well as Bay Area supergroup the Dinosaurs. In recent years, while Big Brother continue to tour and perform, Peter began working behind the scenes in the music business. Currently he works for City Hall Records, the nation's largest independent music distributor and is active in the San Francisco Chapter of NARAS (National Academy of Recording Arts and Sciences).
---
Dave Duran

Dave Duran is a singer/arranger who has performed with many Bay Area a cappella groups including the SF Regional winners +4db, Moodswing, Sing Theory, Clockwork, and currently, Ro Sham Bo. Dave can also be seen with the amazing Touch of Brass big band.

When he's not singing, Dave is a serial tech entrepreneur, father of 3 and aspiring home chef.
---
Phil Fetterman

Phil co-hosts the Human Voice program on 91.5fm, KKUP radio (www.kkup.org), which has become the Bay Area's premier radio showcase for vocal music. Since the Human Voice program began in the same year that the very first Harmony Sweepstakes competition was held (1985), they've always shared a mutual admiration for one another.

Phil has always had a passion for vocal harmony, he currently sings in a men's quartet known as 'Amen', as well as a 9 voice mixed ensemble named 'Heartsong'. He has been actively involved in music & media since the mid 1960's. He sang with The De Anza Chorale and The Vintage Singers, each under the direction of Dr. Royal Stanton. Later, he was a singer and vocal arranger on 3 album projects for Banish Misfortune, a "Renaissance-Jazz"/folk group of the 1970's & 1980's. In the 1990's, Phil hosted the morning drive "Breakfast Table" under the name Wayne Phillips on KFAX radio, San Francisco. He also did voice-over work and commercial production at both KFAX and KMKY/Radio Disney, Oakland. He also worked as the in-house anthem singer and music & effects coordinator for the San Jose Giants baseball organization. Then, in 2002, he was a videographer for the San Francisco Giants. Phil has also served previously as a judge in the Harmony Sweepstakes competition.
---
Juliet Green

Originally from Maui, Hawaii, Juliet Green is a singer, songwriter and educator in the San Francisco Bay Area. Juliet has performed in various vocal jazz ensembles, winning the SF Regional Harmony Sweepstakes competition in 1998 and 2000 (+4db), 2005 (Moodswing) and 2012 (Sing Theory). She currently sings alto in the award-winning jazz a cappella quartet Clockwork, who were selected to perform at the 2011 JEN Conference in New Orleans after the release of their acclaimed album Every Voice Counts. Juliet's other passion is working as an educator, clinician, and director. She has taught at the Jazzschool in Berkeley, Jazz Camp West, Stanford Jazz Workshop, and directs the Downbeat award-winning Panache vocal jazz ensembles at Corte Madera School in Portola Valley.
---
Julia Hoffman

Julia Hoffman, Psy.D. is the President of the Board of the Contemporary A Cappella Society (CASA). Julia started her a cappella career as a member, and later director, of the Stanford Harmonics. She served as the West Region Producer for the International Championship of Collegiate A cappella (ICCA) for two years and has sat on CASA's Board of Directors since 2003. For the past eight years, she has also served as the Director of the Contemporary A Cappella Recording Awards (CARAs), the most prestigious award program for recorded a cappella music. Under her leadership, the program has expanded to become truly global as it rewards groups from every continent and requires the work of hundreds of volunteers in many countries to continue to meet a standard of excellence. Julia has coordinated the A Cappella Community Awards (ACAs), executive produced the SING compilation, judged numerous collegiate and professional a cappella shows including the semi-finals and finals of the ICCA, taught classes and workshops to a cappella singers and enthusiasts of all types, and been featured on Best of College A Cappella (BOCA) albums as both a singer and an arranger. In her spare time, Julia works as a psychologist on a collaboration between the National Center for Posttraumatic Stress Disorder (VA) and the National Center for Telehealth and Technology (Department of Defense).
---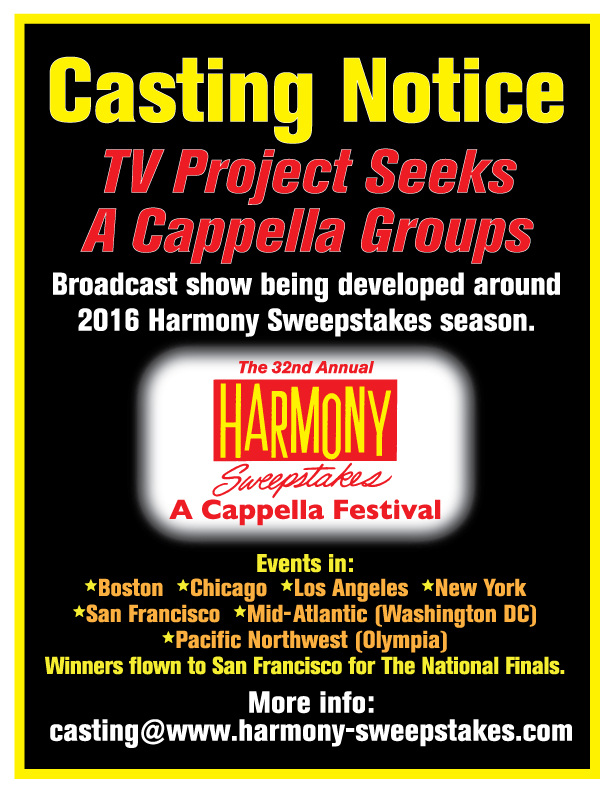 ---
---
Complete list of 2015 participants
---



Tweet the Sweeps! #sfsweeps
---
Interested in Performing?
We are always seeking groups who would like to participate in our events.
Groups of any style are welcome, but you must have between 3 and 12 members. We have a rule book which explains many of the details of the event, which you can see by clicking here. All groups must audition in order to compete. Generally this is done by sending a current tape and photo, although live auditions are sometimes arranged. The purpose of the audition is to make sure the group is appropriate for the Festival and to help the Director determine the performance order. If a group has competed previously, the audition process may be waived.
Please send music and photos to the regional director :

John Neal (Bay Area) Beginning as a local event the Harmony Sweepstakes A Cappella Festival, under Neal's guidance, has grown to become the most significant live showcase for a cappella music in the nation and attracts hundreds of groups and thousands of audience members every year. The Harmony Sweepstakes was the original inspiration for the NBC prime time series The Sing-Off and Neal was hired as a consultant to the series. Neal is president of Primarily A Cappella - (www.singers.com) which is the nation's leading vendor of a cappella music including recordings, arrangements, DVDs, songbooks and instructional material for singers. Neal writes the informative blog at www.acappellanews.com which has a large and loyal readership.

PO Box D, San Anselmo, CA 94979
415-455-8602
festival (at) harmony-sweepstakes.com