---
2013 Participating Groups
38th Ave
Take a left, then turn right, here they are: it's 38th Ave! 38th Ave is a local a cappella group that started on the beautiful beaches of Santa Cruz. This group of friends, with a love for anything a cappella, sings a wide variety of music from top 40 hits to standard jazz to smooth indie. You might find them in Santa Cruz on the streets downtown, in coffee shops, or even at your local bar. After being together for a year, they are excited and ready to sing!

Members: Danny Cavero, Adam Fixler, Jefferson Lam, Amanda Ross, Devon Magana

---
California Golden Overtones
The California Golden Overtones are a completely student-run musical group on campus. We are a lively group of girls who, with our music, love to spread joy and Cal Spirit. We can be seen performing at Cal football games, at University functions, as well as all over the Bay Area for private events and parties. We have been performing for our favorite fans -- Cal students -- every Friday at 1 PM in front of Sather Gate for more than 20 years!

Members: Sachi Holla, Jess Evaristo, Rachael Frank, Audrey Baker, Souma Kundu, Lyndsay Park, Sheila Rajagopalan

---
ELI
Eli is comprised of choir members from Lafayette-Orinda-Presbyterian Church in Lafayette. They were formed 4 years ago to sing for Sunday services, concerts and special church events. They are comfortable singing a variety of genres including jazz, classical, country, and funk.

Members: Lindsay Ford, Julie Ford, Anne Whitelock, Beverly Jane Peatross

---
Mighty Men of Faith
From the San Francisco Bay Area, Gospel Recording Artist Mighty Men of Faith ministers with energized anointing. They encourage an authentic atmosphere of worship on stage and their trademark sound, personal warmth and musical diligence leaves you eager for more. Embodying the love of God, their shows are heartfelt and soul stirring from the first note.

Their debut album "Because He Loves Me" and "Live at the Cubberley Theater" began a standard of encouraging and empowering people through song. Then "Nothing But Grace" and "Believe in His Promises" embarks on a Neo-Gospel sound with the timeless message that not only does Jesus save but that He'll be with you through your life's situations.

Members: Rev. Ed. Harris, Richard Hayes II, Vincente Mozell, Nicholas Baylis, Wendell Basey

---
Prime Time
The members of Prime Time met through singing with other groups. They recognized they had kindred voices, natural blend, and the same desire to sing challenging, tightly harmonized charts - and also the inclination to laugh a LOT while working hard. Their backgrounds range from vocal jazz to collegiate-style a cappella pop to barbershop, with those influences all audible simultaneously in most of their performances. A literal garage band, Prime Time rehearses in Sunnyvale, CA, and performs all over the Bay Area.

Members: Caia Brookes, Dan McQuigg, Wil Mathews, John Rae-Grant, Jennifer Ayre

---
Quintessence
Formed in the fall of 2012, Quintessence is a group of young, passionate singers with a soulful sound and innovative arrangements. Covering every genre from K-Pop to funk, these five performers are struggling to fill out the 50-word requirement of this form. Quoth Wikipedia: "In physics, quintessence is a hypothetical form of dark energy postulated as an explanation of observations of an accelerating universe. It has been proposed by some physicists to be a fifth fundamental force. It is suggested that quintessence can be either attractive or repulsive depending on the ratio of kinetic to potential energy in the universe. Specifically, it is thought that quintessence became repulsive about 10 billion years ago (the universe is approximately 13.7 billion years old).

Members: Danny Olefsky, Cassie Greene, Tina Query, Ryan Cook, Bakari Holmes

---
The Richter Scales
The Richter Scales are a bevy of gentlemen songsters, all residents of the San Francisco Bay Area. They perform selections from a wide variety of genres, including American standards, Broadway, Motown, and contemporary music..

Formed originally as a band of semi-organized scavengers in the wreckage of the San Francisco Earthquake of 1906, the "Richter Scabs" (as they were then known) didn't actually "sing a cappella" until the Fall of 2000. The intervening period, known as "The Lost Years" by current group members, was filled with raucous enterprises involving menial labor and incarceration. Most of those "tall tales" are, unfortunately, wholly inappropriate for these pages..

Members: Eric Borchers, Mark Casey, Sanjay Kairam, Brian Rosen, Vince Kim, Ephraim Swanson-Dusenbury, Jeff Hirschmann, Dan McQuigg

---
Ro Sham Bo
Ro Sham Bo brings a surprising and exciting spark to the Bay Area vocal music scene. Ro Sham Bo's roots are steeped in jazz and funk, and their performances deliver an inspired blend of complexity and ease. Most group members are music educators or music educated, arrange, perform, and direct not only for Ro Sham Bo but for groups from San Jose to Black Rock City, and have taught students from Stanford University Jazz Workshop to Jazz Camp West to Blue Bear School of Music.

Members: Audrey Kauffman, Lilan Kane, Seth Herring, Ben Fendel, Ryan Tomko, Bonnie Doyle

---
T Sisters
The T Sisters are an authentic family band based out of the San Francisco Bay Area. Rachel, Chloe and Erika Tietjen are all songwriters and switch off on lead vocals. While their voices blend seamlessly, each has a distinct singing and writing style. The combination results in an eclectic repertoire unified by a landscape of close harmonies. The group's subtle throwback aesthetic calls to mind classic trios past, from the Andrews Sisters and 1960s girl-groups to the sirens from the film O Brother, Where Art Thou? Anchored by influences spanning folk, country, gospel, klezmer and early-90's R&B, each sister brings a unique vocal and lyrical style to a sound that is at once modern and timeless. Though the T Sisters sing and perform often with instruments, they are known to silence a crowd with their soulful and enchanting a cappella numbers.

Members: Rachel Tietjen, Erika Tietjen, Chloe Tietjen

---
2013 Judges
Bill Craig

Recording Artist, Studio Singer, Jingle writer and voice over talent, Bill Craig has been a part of Northern California's music scene since 1989. Bill is a founding member of award winning Bay Area Vocal Group Boyz Nite Out. Bill has studied music theory and vocal performance at California State University Northridge.
---
Kevin Fox

Kevin Fox is a GRAMMY-winning choral director who started singing in choirs at the age of eight. He holds degrees in Music with Honors from Wesleyan University, Connecticut, where he received the Lipsky Prize for outstanding scholarship in choral studies. He has studied music at Oxford University, England, and Westminster Choir College.

Mr. Fox was the Founding Artistic Director of the Pacific Boychoir Academy. Starting with six boys, Pacific Boychoir Academy grew to serve more than 175 boys in the San Francisco Bay Area.

Mr. Fox has prepared choirs for most of the world's leading orchestral conductors, including Michael Tilson Thomas, Gustavo Dudamel, and Kurt Masur. He has collaborated with numerous choirs and artists including San Francisco Symphony Chorus, Kronos Quartet, Tölzer Knabenchor, Dmitri Hvorostovky, Harvard Men's Glee Club, and cellist Zöe Keating. Mr. Fox has been on over 40 choir tours to almost all 50 states, and to six continents. He has prepared choirs for a variety of clients that include the United Nations, Yahoo! Corporation, comedian Zach Galifianakis, and America's Got Talent. Mr. Fox currently directs the Marin Symphony Chorus.
---
Bryan Matheson

Bryan Matheson is the owner of Skyline Studios in Oakland, celebrating its 30th anniversary this month! Bryan has had extensive experience on both sides of the glass, as a recording engineer/producer and as a singer, and has won numerous awards for his film, TV and radio work, including a Grammy nomination singing with The Pacific Mozart Ensemble on the Leonard Bernstein Mass, performed and recorded at The Berlin Philharmonic.

A Cappella groups he's worked with include The Edlos, Solstice, Clockwork, Ro Sham Bo and The Bobs and countless others.

Bryan is also the founder and CEO of iMusicast , which from 1999 to 2005 produced hundreds of live streamed concerts from its venue in Oakland. He is faculty emeritus at San Francisco State University, Chabot College and Diablo Valley College, where he taught music recording technology and business.

Bryan received a Grammy last year for recording vocals on Esperanza Spalding's "Songwrights Apothecary Lab" album, which won a Grammy for Best Jazz Vocal Album.
---
Ellen Robinson

Ellen has been teaching singing and directing vocal groups for over 30 years and is a member of the National Association of Teachers of Singing. A gifted educator who teaches at the Jazzschool in Berkeley and Community Music Center in San Francisco, she also directs several vocal programs and ensembles, including a musical theater workshop at Stagebridge, and the Anything Goes Chorus, a community chorus that gives public performances and free concerts at retirement homes, homeless shelters, prisons, and halfway houses since the early 1980s. Her tireless efforts as an educator were recognized in 2011 with a prestigious Jefferson Award. As a vocal coach, she works with semi professional and intermediate jazz & pop vocalists. Ellen has been a Vocal Instructor for adults at U.C. Berkeley Extension, a Choral Director for teenagers in the Oakland Youth Chorus, and a Music Instructor for children at Walden Center School in Berkeley and Beacon School in Oakland.
---
Angela Suraci

Angela Suraci, a life-long Bay Arean, has been a singer her entire life, singing in high school, college and professional choirs as well as pursuing a solo career in opera. Angela joined Sweet Adelines International in 1998 and became the director of Mission Valley Chorus in 2006. Attaining Master Director status 2 years after that.

Under Angela's directorship the Mission Valley Chorus has performed twice at Carnegie Hall, and at Killarney, Waterford and Dublin, Ireland in association with Music Celebrations International. MVC has won three Sweet Adeline Region 12 championships with Angela at the helm. In 2018 she and chorus participated in the Harmony Classic competition in St. Louis where the chorus' steampunk performance package placed second.

Angela is a private voice instructor with 45 years of experience and is a sought after coach for individuals, quartets and choruses locally and around the country. She also is the current dean of the Region 12 L.A.W. School, learn arm waving, where she also teaches directing. She has competed in several quartets and enjoys the reputation of selecting and directing innovative musical arrangements. Her background in vocal production and performance fuels her philosophy of "love the music, love each other, love the audience", and every performance drives to touch and move the audience.
---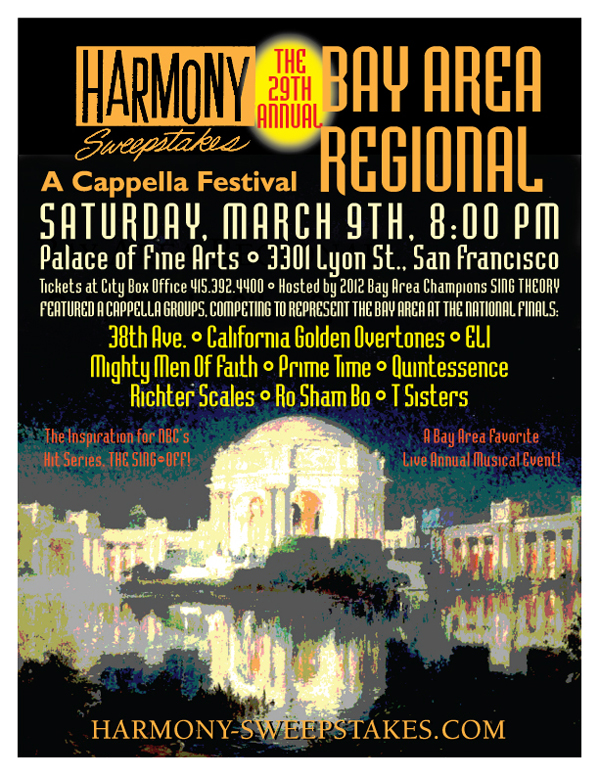 ---
---
Complete list of 2013 participants
---
---
Interested in Performing?
We are always seeking groups who would like to participate in our events.
Groups of any style are welcome, but you must have between 3 and 12 members. We have a rule book which explains many of the details of the event, which you can see by clicking here. All groups must audition in order to compete. Generally this is done by sending a current tape and photo, although live auditions are sometimes arranged. The purpose of the audition is to make sure the group is appropriate for the Festival and to help the Director determine the performance order. If a group has competed previously, the audition process may be waived.
Please send music and photos to the regional director :

John Neal (Bay Area) Beginning as a local event the Harmony Sweepstakes A Cappella Festival, under Neal's guidance, has grown to become the most significant live showcase for a cappella music in the nation and attracts hundreds of groups and thousands of audience members every year. The Harmony Sweepstakes was the original inspiration for the NBC prime time series The Sing-Off and Neal was hired as a consultant to the series. Neal is president of Primarily A Cappella - (www.singers.com) which is the nation's leading vendor of a cappella music including recordings, arrangements, DVDs, songbooks and instructional material for singers. Neal writes the informative blog at www.acappellanews.com which has a large and loyal readership.

PO Box D, San Anselmo, CA 94979
415-455-8602
festival (at) harmony-sweepstakes.com