---
2006 Participating Groups
The Blanks
We're The Blanks, a quartet of friends who sing a cappella music and perform sketch comedy. We love to sing, entertain and make people laugh, so our shows include skits, antics, choreography (the kind a 5-year old could memorize), talking toys as lead singers (!), and mildly effective costume changes. We appeared on eight seasons of the TV show Scrubs as "Ted's Band" or "The Worthless Peons" - yup, we're those same four guys. Our unique live show appeals to fans of Scrubs but just as equally to fans of the TV show Glee, the Marx Brothers, the Three Stooges, and Monty Python.

Members: George Miserlis, Samuel Lloyd, Paul F. Perry, Philip McNiven, Toluca Lake

---
Clockwork
Clockwork is a vocal quartet who sing mostly close-harmony jazz but also our own twists on pop and rock tunes.

Clockwork, an award-winning San Francisco based vocal ensemble with a signature sound and style, performs a banquet of music from funk to gospel and R&B to standards. Rooted in the tradition of great vocal jazz groups such as the Hi-Lo's and Lambert, Hendricks and Ross, the Clockwork "sound" draws inspiration from all styles. As the great Duke Ellington said, "If it sounds good, it is good."

Experienced in both accompanied and a cappella performing, the group has arrangements for duos, trios and an 18-piece big band. Members of Clockwork have performed live with artists such as Bobby McFerrin, The Hi-Lo's , Meredith Monk, Don Shelton, Gene Puerling, Barbara Lewis, Sufjan Stevens, John Zorn, Barbara Morrison, Kent Nagano with the Deutches Symphonie Orchester and the Berkeley Symphony Orchestra, The PM Singers, Heatwave, GQ, Barbara Lynn, Richie Cole, M-Pact!, the House Jacks, Boyz Nite Out, InFusion, Vocal Flight, and on Ward Swingle's Instructional video "Swingle Singing."

Listen to: My Baby Just Cares For Me | Listen to: Creep

Members: Angie Doctor, Jim Hale, Stephen Saxon, Eric Freeman, John Paddock

---
Dis Moi
'Dis Moi' is a powerfully soulful A Cappella trio of women (Samantha Keller, Tamar Fogel and Heather Houston), who enchant their audiences with songs sung straight from the heart! Their musical repertoire incorporates a wide range of styles from around the globe, as well as inspired originals, with themes of love, hope, healing and unity. 'Dis Moi' means 'tell me' in French, and reflects the members' belief and hope that their music will open people to expressing themselves as they feel called. As a visionary trio, they feel that their calling is to be an integral part of the healing movement of the planet. Their radiance is intoxicating, as they shine their deep love for one another, for their music, and for humanity as a whole; inspiring the crowd to open their hearts to the healing harmonies. Their thought provoking lyrics, and grounded words of wisdom, uplift spirits, stir souls, and inspire movement in consciousness. This is not your typical A Cappella music. Let the harmonies of these lovely women take you on a journey of heart, mind and soul as they weave their voices in a unique tapestry of spirited song.

Members: Tamar Fogel, Heather Houston, Samantha Keller

---
House Blend
HouseBlend is an a cappella male quartet performing its own pop, jazz, seasonal, folk, country, gospel and other assorted musical genres. The members of the group met through the music ministry at Concord United Methodist Church. As they sang together, they realized something special was developing. In 1998, HouseBlend was born. Almost immediately, they were in demand to sing at various occasions in the area. Their repertoire expanded with each performance, their style emerged and their sleek presentation unfolded.

Members: Jim McGuire, Bill DeGarmo, Kent Parr, Doug Emigh

---
Life
Aristically based on the sound harmonic principles of Psychoacoustics and Cymatics, "Life" is the intricate weaving of delicate harmonies balanced with interpretive nuances of each individual xperience woven together as one voice. "Life" spans an acoustice spectrum from Classical to Gregorian, rhythmic World Beats to New Age etherial, Gospel to Jazz, providing a unique interactive listening experience. Their fluid, non-static and in the moment improvisational style reflects a dance of haunting intricate harmnies that engages the audience at a deep level. This unique inspiration comes from the interaction with heart, surroundings, sounds and feelings of each member and the climate of the audience they are embracing. Their focus is to express a spontaneous vocalization, capturing the life experience of the moment with their wide range of tones, rhythms and harmonic vocal effects. They also combine their musicality with visual images kaleidescopically projected matching their vocals to spontaneous imagery of color and light.

Members: Theo Olson, Reta Phillips, Steve LaBue

---
One of Each
One of Each ..what??? Hairstyle? Political attachment? Favorite soft drink? Nothing so deep. 'One of Each' represents our individual tastes in underwear: boxers, briefs, panties or commando. We believe that variety in intimate apparel can be the cornerstone of an a cappella group. We've performed in various Bay Area venues, ranging from the Herbst Theater to Espresso Gardern to the Gaslighter Theater to Lisa's living room. Most recently One of Each could be heard on the nationally syndicated Dr. Demento show with our instrument wielding friends of Pledge Drive. In short - One of Each is an a cappella band with an unhealthy love for our audiences. Hold us.

Members: Scott Adler, David Bender, Lisa Gallien, David Taylor

---
Ro Sham Bo
Ro Sham Bo brings a surprising and exciting spark to the Bay Area vocal music scene. Ro Sham Bo's roots are steeped in jazz and funk, and their performances deliver an inspired blend of complexity and ease. Most group members are music educators or music educated, arrange, perform, and direct not only for Ro Sham Bo but for groups from San Jose to Black Rock City, and have taught students from Stanford University Jazz Workshop to Jazz Camp West to Blue Bear School of Music.

Members: Bonnie Doyle, Audrey Kauffman, Moorea Ragab, Ben Fendel, Fadel Shukry, Paul Kim

---
UnderAge
UnderAge is a group of four young ladies (ages 15-18) singing A Cappella 4-part harmony, mostly in the barbershop style. They have been working and performing together for three years. Each girl is an accomplished vocalist in her own right, thus makign their sound strong, full and mature. They not only sing with maturity and poise, but are also seasoned performers capturing their audiences with wit, humor and charm.

Members: Mia Dessenberger, Caitlin Smith, Mary Segura, Brittany Gilmore

---
2006 Judges
Bud Anderson

This Harmony Sweepstakes award-winning singer and songwriter has been in the a cappella scene for over 30 years performing with groups like Hookslide and Boyz Nite Out. He's recorded eight albums, performed in over 700 shows and has worked with Kool & the Gang, Huey Lewis, Tower of Power and Joan Rivers among others. Bud is a former a cappella music manager and booking agent and now is the owner and creative director of dangerbrain, a creative video company.
---
Sanford Dole

Sanford Dole - Bay Area native and life-long singer, was a founding member for Chanticleer and 23-year veteran of the San Francisco Symphony Chorus. Having earned degrees in composition and conducting from the San Francisco Conservatory of Music, he is currently Artistic Director of Cantabile Chorale, a community choir based in Palo Alto and Berkeley, as well as Music Director at St. Gregory of Nyssa Episcopal Church in San Francisco. He continues his career as a professional tenor singing with the esteemedPhilharmonia Baroque Orchestra Chorale, as well as composing anthems and theatrical works for his choirs. His arrangements of jazz standards have been commissioned and performed by Chanticleer as well as the setting of a Walt Whitman poem, "I Am with You."
---
Juliana Graffagna Kitka

Juliana Graffagna is the Musical Director of KITKA, the acclaimed Bay Area a cappella women's ensemble specializing in traditional and contemporary vocal music from Eastern Europe. Juliana has a B.A. in Russian Studies, and has been singing and performing a cappella music and musical theatre her entire life. Her worlds merged when she discovered KITKA, and she has since had the honor of training with renowned vocalists from Eastern Europe, including Tzvetanka Varimezova, Kremena Stancheva, Merita Halili, Christos Govetas and Mariana Sadovska. KITKA performs extensively throughout the United States and Eastern Europe and has appeared on several major motion picture soundtracks including Jacob's Ladder, At Play in the Fields of the Lord, Braveheart, and Queen of the Damned. KITKA received a Drama Critic's Circle Award nomination for their role as the Greek Chorus in ACT's critically-acclaimed production of Hecuba, starring Olympia Dukakis, and the group has been featured on Garrison Keillor's A Prairie Home Companion and NPR's Performance Today and Cross Roads. Juliana leads numerous Balkan and Slavic singing workshops for children and adults, and teaches private voice lessons.
---
Craig Knudsen

In 1999, Craig Knudsen founded the talent agency, Knudsen Productions and it quickly became one of the most highly regarded US agencies representing vocal ensembles (both national and international). His agency's current roster features two recent Harmony Sweeps National Champions: Six Appeal (2012) – Grand Prize Winners of the 2018 A Cappella Moscow International Championship, and Women of the World (2014). Additional past and current representation includes the multi Grammy Award winning British a cappella legends, the Swingle Singers; the multi Grammy nominated British early music vocal ensemble, Stile Antico; the SF Bay Area's beloved women's vocal ensemble, KITKA; the legendary BOBS! (also Grammy nominated); The Choir of Clare College Cambridge; The Marian Consort; and ModernMedieval. For 11 years Craig also served as the music director of the Kaiser Permanente Educational Theatre Project. In 2014, Craig was the recipient of the Arts Northwest "Coyote Award", an award recognizing his "outstanding service to Arts Northwest and the western performing arts field".
---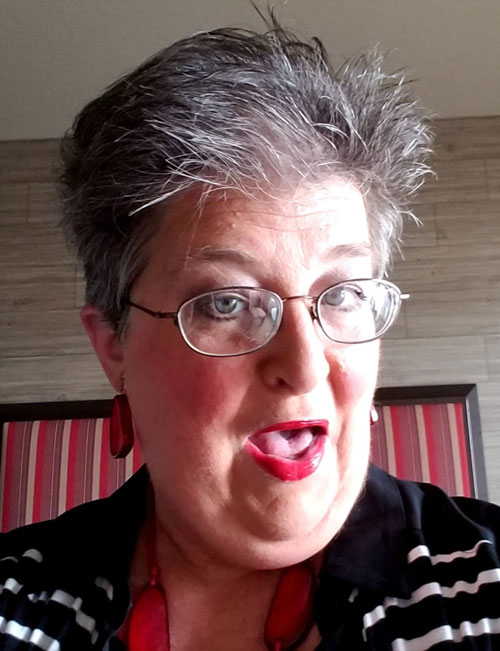 Barbara Vander Putten


Barbara Vander Putten, a Bay Area native, began her vocal music career in 1977 joining the West Valley Masterworks, with whom she sang a diverse repertoire including Mozart & Verdi's Requiem (with a performance at Carnegie Hall), Bach B minor Mass, Rutter's Gloria, etc, as well as a variety of folk music, madrigals, show tunes and spirituals. Since joining Sweet Adelines Intl (SAI) in 1995, she was the Assistant Director of the award-winning Mission Valley Chorus and its Interim Director in 2005.  Barbara was named Director of the Harmony Fusion Chorus in April of 2007. She is a Certified Director, a member of the SAI Region 12 coaching faculty and served three terms as the Regional Directors Coordinator. She is also a professor for the regional L.A.W. (Learn Arm Waving) School. More recently she was invited to serve as judge for the Western Writers of America/Western Song category.

In addition to singing and directing, Barbara used her speaking voice as one of the enthusiastic hosts of The Human Voice Show, featuring a cappella harmony, on People's Radio KKUP – Cupertino.





/
---
---
Complete list of 2006 participants
---
---
Interested in Performing?
We are always seeking groups who would like to participate in our events.
Groups of any style are welcome, but you must have between 3 and 12 members. We have a rule book which explains many of the details of the event, which you can see by clicking here. All groups must audition in order to compete. Generally this is done by sending a current tape and photo, although live auditions are sometimes arranged. The purpose of the audition is to make sure the group is appropriate for the Festival and to help the Director determine the performance order. If a group has competed previously, the audition process may be waived.
Please send music and photos to the regional director :

John Neal (Bay Area) Beginning as a local event the Harmony Sweepstakes A Cappella Festival, under Neal's guidance, has grown to become the most significant live showcase for a cappella music in the nation and attracts hundreds of groups and thousands of audience members every year. The Harmony Sweepstakes was the original inspiration for the NBC prime time series The Sing-Off and Neal was hired as a consultant to the series. Neal is president of Primarily A Cappella - (www.singers.com) which is the nation's leading vendor of a cappella music including recordings, arrangements, DVDs, songbooks and instructional material for singers. Neal writes the informative blog at www.acappellanews.com which has a large and loyal readership.

PO Box D, San Anselmo, CA 94979
415-455-8602
festival (at) harmony-sweepstakes.com