---
2007 Participating Groups
Mid-Atlantic

DoubleShot!
Since 2006, the guys have blended traditional and contemporary all- vocal music with energy and humor to create six decades of hits live on stage at every show. Every sound - vocals, bass, effects, even the drums - is created using only the voice. They have performed all over their native Pittsburgh, and nationwide from Washington, D.C. to the San Francisco Bay, as well as features on local news, television, and radio. In the Harmony Sweepstakes, they were Mid-Atlantic Champions and Audience Favorite in 2007 and have received two awards for Best Arrangement.

Listen to: Steal My Kisses | Listen to: Lion Sleeps Tonight

Members: Eric Manalo, Mike Yanchak, Luke Clavey, Nate Wildfire, Dave Wilson, Michael Bodnar

---
Rocky Mountain

Face
Face is a nationally recognized all-vocal rock band from Boulder, Colorado, bringing a new edge and attitude to the human voice. Using just five voices and a vocal drummer, or "beat-boxer," Face creates a rock-music phenomenon that has to be seen to be believed. No other instruments or special effects - just six guys. Considered "among the top 10 singing groups in the country," (Norm Johnson, Las Vegas Leisure Guide) they regularly wow sold-out audiences throughout Colorado, including such classic venues as Boulder Theater and The Soiled Dove.

Face was recently named "Best Local Musician/Group" by Boulder Weekly's 2009 Best of Boulder Reader Survey. In addition, Face is a two-time winner of the National Audience Favorite Award at the Harmony Sweepstakes National Finals, as well as National Runner-Up in 2005 and 2007. Face was also runner-up for Favorite Pop/Rock Group in the 2007 Contemporary A Cappella Society's Community Awards. Face has been headlining in Las Vegas periodically since 2007 to rave reviews, paving the way for even more national attention.

Listen to: Home | Listen to: O Fortuna

Members: Forest Kelly, Mark Megibow, Ben Lunstad, Cody Qualls, Ryan Driver, Stephen Ross, Jayson Throckmorton

---
New York

The Fault Line
AfterShock is a five person a cappella band based in Albany, NY, that takes traditional a cappella and smashes it against the wall. The remains are rebuilt into AfterShock's funky musical style for all the world to enjoy. These five musicians come from a variety of musical experiences, but are drawn together with an incredible passion to bring the funk and soul to the a cappella world.

Listen to: Rock Around The Clock | Listen to: Some Kind Of Wonderful

Members: Jeff Bratz, Justin Adams, Adam Decker, Matt Olmstead, Josh Logan

---
Boston

Men In Black
Men in Black is a young quartet bringing a fresh youthful sound and personality to barbershops classic standards and drawing appeal to its ever evolving sound in today's world. Their passion for the barbershop style was rewarded in July of 2005 when they were awarded he 2005 gold medal as the MBNA International Collegiate Quartet Champions. Once winning at this level, they immediately began to take on "the big boys" and in October of 2005 they were crowned the best in the Northeast.

Listen to: Sugarcane Jubilee | Listen to: Run Around

Members: Ray Johnson, Karl Hudson, Tony Nasto, Oliver Merrill

---
Los Angeles

Moira Smiley and VOCO
Moira Smiley & VOCO is a visionary blend of voices - redefining harmony singing with the power & physicality of folksong, the avant-garde fearlessness of Bela Bartok and the delicious, vaudevillian accompaniment of cello, banjo, accordion and body percussion. Moira Smiley leads an ensemble of extraordinary musicians who share a passion for spreading powerful, emotional music with lush four-part vocal harmony, cello, accordion and banjo. Original improvisation-built songs steeped in Appalachia and Eastern Europe.

Named #1 a cappella group in the U.S. in 2007, VOCO is the energy of street singing and the elegance of a string quartet. Recently featured in Dirty Linen and on more than 100 radio stations nationwide on NPR's "Harmonia", VOCO has released two critically acclaimed CDs in '08-'09: "Small Worlds" and "Circle, Square, Diamond & Flag". VOCO is sweet, hard-driving Americana mixed with crooked eastern European dance and dissonance. It's all rounded out with body-stompin' percussive movement and joyous, magnificent, hair-raising harmonies - music that mourns and dances at the same time.

Listen to: Bring Me-Little Water, Silvie | Listen to: Szerelem

Members: Jess Basta, Christine Enns, John Ballinger, Jessica Catron, Moira Smiley

---
Chicago

Nightwatch
Nightwatch was formed in 1998 as a result of a lost bet, or at least it seems that way. "Stik" (Fireman - ask to see his Dalmatian), "Flip" (Security pro - he breaks in and cleans out your fridge), "Leo" (Nursing home crooner/heartthrob) and "Nooge" (Nacho cheese pump problems? He's your man!) have been berating each other ever since meeting at a local Sadie Hawkins dance (they were the ones "holding up the wall"). Their consistent refusal to get serious actually paid off in August of 2000 - they were crowned the Buckeye Invitational Comedy Quartet Champions after performing their now infamous (this means 'more than famous', right?) Diner Set© in front of tens of people. Since then, they've hoodwinked their way into a 2001 Division Quartet Championship and a spot in the 2003 Harmony Sweepstakes National Finals. Scores of unsuspecting audience members across the country have made it through a "Nightwatch Experience"; the lucky ones brought a tarp. No matter what the venue, you can expect a wide array of musical styles from this group. What you cannot expect is for them to go to bed early or to have serious conversations with each other, or anyone else for that matter.

Listen to: Defying Gravity | Listen to: Always Look On The Bright Side Of Life

Members: Scott Hettig, Daniel Naumann, Paul Wolf, Mathew Martin

---
Pacific Northwest

Realtime
Realtime has been together since March of 2003, when John Newell arrived in Canada and mutual friends helped bring the group together. Since then it's been a musical whirlwind of activity, with three recordings, hundreds of shows and a world championship and a whole lot of fun under their belt. In 2008, Doug Broersma became the official lead singer, when John retired. Realtime became the 2005 International Quartet Champions of the Barbershop Harmony Society in Salt Lake City. So having reached the pinnacle of the barbershop contest world, they have sung in their last contest, and received their final score in the barbershop genre.

Members: Mark Metzger, Tom Metzger, John Newell, Tim Broersma

---
Bay Area

Solstice
Solstice is a female vocal ensemble specializing in music written by women or for women's voices. Our music spans many different genres with an emphasis on world, classical, pop, and jazz. We are also committed to performing new works for women's voices and regularly compose, commission, and arrange new songs.

Solstice has performed in many Bay Area venues including Freight and Salvage, La Pena, the San Francisco Community Music Center, Music on the Hill, the Berkeley Arts Center, Trinity Chamber Music series, and Villa Montalvo. Solstice has also performed on KALW's Folk Music and Beyond On-Air Folk Festival.

Listen to: Wade In The Water | Listen to: Kappee

Members: Becca Burrington, Emily Bender, Lark Coryell, Krista Enos, Mari Marjamaa, Kim Warsaw, Sara Webb-Schmitz

---
2007 Judges
Jesse Hamlin

Jesse Hamlin is an award-winning music writer and a respected veteran reporter of the the San Francisco entertainment scene. Hamlin has a regular column in the San Francisco Chronicle where he has worked as senior jazz critic and arts reporter for many years. He also contributes regularly to SF Arts magazine and to San Francisco Classical Voice, where he writes about jazz, Latin and classical music. His work has appeared in the New York Times, California magazine and in many other print and online publications.
---
Scott Mathews TikiTown Studio

Music Producer, Composer, Arranger, Song Doctor, Multi–instrumentalist & Tiki God. PRODUCED, RECORDED and/or PERFORMED WITH:- The Beach Boys * The Blind Boys of Alabama * David Bowie * Zac Brown * Jimmy Buffett * Johnny Cash * Rosanne Cash * Glen Campbell * Eric Clapton * Elvis Costello * Ry Cooder * Robert Cray * Dick Dale * Dave Edmunds * Roky Erickson * Jefferson Starship * Jerry Garcia * Billy Gibbons * Sammy Hagar * Herbie Hancock * John Hiatt * John Lee Hooker * Etta James * Mick Jagger * Booker T. Jones * Patti Labelle * Huey Lewis * Nick Lowe * Taj Mahal * The Mamas & Papas * Steve Miller * Eddie Money * Van Morrison * Aaron Neville * Roy Orbison * Van Dyke Parks * Steve Perry * The Pointer Sisters * Bonnie Raitt * Joey Ramone * Keith Richards * Todd Rundgren * Carlos Santana * Joe Satriani * Boz Scaggs * Ringo Starr * Barbra Streisand * Allen Toussaint * Trip Shakespeare (Semisonic) * The Tubes * Joe Walsh * Robin Williams * Carl Wilson * Brian Wilson * Bobby Womack * Stevie Ray Vaughn * Dwight Yoakam * Neil Young....
---
Laura Moody

Known on air as "Laura in the Livingroom", Laura is a veteran of Bay Area radio. She has had a show for 20 years on UC Berkeley's KALX (90.7 FM) Radio, one of the nation's most influential college radio stations, where she did an extended stint as music director. Laura has a Master's Degree in Library and Information Science specializing in Music Librarianship. As an undergraduate, Laura studied voice and percussion at Southern Illinois University in Carbondale, Il. An avid music lover with a seasoned and critical ear, Laura enjoys all types of music from Ayler to Zappa.
---
Dave Stroud

After training voices since 1988 and producing vocal tracks for many artists, Dave Stroud knows how to quickly assess vocalists' strengths and vulnerabilities. He knows that the faster the assessments, the quicker the changes. This is the reason behind Dave's continued study with Seth Riggs. He has been studying voice since his late teens and continues his studies with Seth. Under the Teacher Training Program of Speech Level Singing, Dave maintains a Level 5 Certification and acts as the executive director for the program. The Northern California Songwriters Association has appointed him as one of the board of directors and he is a member of the San Francisco and Los Angeles chapters of NARAS. He has provided vocal training for the Grammy's in the school program (both in Los Angeles and San Francisco), the N.A.R.A.S. Vocal Tech, and the annual conference for the Songwriting Association. Dave has also provided artistic guidance for the Pacific Speech and Voice Foundation's annual Pacific Voice Foundation conference as well as provided vocal development classes for the conference.
---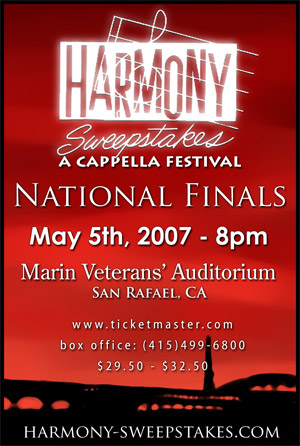 ---
---
Complete list of 2007 participants
---
---
Interested in Performing?
We are always seeking groups who would like to participate in our events.
Groups of any style are welcome, but you must have between 3 and 12 members. We have a rule book which explains many of the details of the event, which you can see by clicking here. All groups must audition in order to compete. Generally this is done by sending a current tape and photo, although live auditions are sometimes arranged. The purpose of the audition is to make sure the group is appropriate for the Festival and to help the Director determine the performance order. If a group has competed previously, the audition process may be waived.
Please send music and photos to the regional director :