---
2023 Participating Groups
New York

'Round Midnight
'Round Midnight is an award-winning "a cappella" quartet of music educators from the Long Island/Manhattan area of New York. While they sing primarily in the barbershop style, their eclectic influences range from jazz to classical and everything in between. The group is a two-time Semi-Finalist in the Barbershop Harmony Society's (BHS) International Barbershop Quartet Contest and they are also the BHS 2010 Mid-Atlantic District Quartet Champions. In addition, the foursome won the New York City Harmony Sweepstakes Championship and was bestowed with the coveted "Audience Favorite" award by overwhelming crowd vote. The quartet has received praise for their self-titled debut recording too, receiving a Contemporary A Cappella Recording Award (CARA) nomination in the category of "Best Barbershop Song" for their rendition of "Try A Little Tenderness". 'Round Midnight has been featured in an array of showcases, contests, and educational workshops spanning the United States from New York to California.

Members: Larry Bomback, Wayne Grimmer, T.J. Carollo, Jeff Glemboski

---
Mid-Atlantic

Iris Vocal Trio
Iris is a vocal trio based in New York City that was formed in 2018. The group re-imagines classic songs beloved by all audiences. With just three voices, the group demonstrates the versatility of the human voice through unique and intricate vocal arrangements. Iris has had the opportunity to perform in a number of notable venues including Berklee Performance Center, Green Room 42 and Carnegie Hall.

Members: Andrew John Kim, Dara Orland, David Rowen

---
Pacific Northwest

Outpour
Outpour is composed of eight voices from all around the greater Seattle area. As live performances became available in 2022, Outpour aimed to emphasize self-expression, interconnectedness, and collaboration with audiences and other musicians in the PNW. Our set is a diverse collection of pop, r&b, jazz, and nostalgia, and each song is arranged by one of our very own creative members. Originally formed during the pandemic, the initial focus of the group was to bring awareness to resources in their local communities by pairing information with vintage and contemporary pop songs. Today, the group continues to look for ways to collaborate and connect with their community.

Members: Jade Perry, Joette Dunnihoo , Rachel Border, Arthur Verdusco, Isaiah Ragland , Collin Donoghue , Jacob Cecil, Matthew Mayrhofer

---
Chicago

Radius
Radius is an all-male identifying vocal ensemble, hailing from different corners of the country. Radius was formed in the midst of the global pandemic with the intention of creating top-tier virtual content and bringing some light to the world during the lockdown period. After working on virtual projects for several months, the group started to hit their stride and was fortunate enough to spend a week together in Chicago the following summer. From that point on, it was apparent that Radius was more than just a quarantine passion project: it was a group of talented, passionate, and hardworking friends who wanted to take their artistry to the next level. Radius released their first EP, Silver Lining, in July 2021, available on all major streaming platforms, including Apple Music and Spotify. The group intends to release several studio-length albums, and is currently on tour throughout various parts of the United States!

Members: Gabe Schonman, Ben Boutell, Ethan Mooney, Dylan Melville, Sam Baker

---
Bay Area

Take Flight
Take Flight is Napa's premier vocal group. Comprised of 5 Napa High School Choir alumni, they take on hit songs from a wide array of genres and artists and perform them all with a brand new twist! The group was recently voted Napa Valley Life Magazine's "Best Napa Valley Band" of 2017. With smooth, tight harmonies and pleasing upbeat music, they are the perfect addition to any event!

Members: Diana Corzo, Carlos Gonzalez, Henry Mattei, JourneyDay, Ted Reynolds

---
With Special Guests
The stalwart singing lads from the Dickens Faire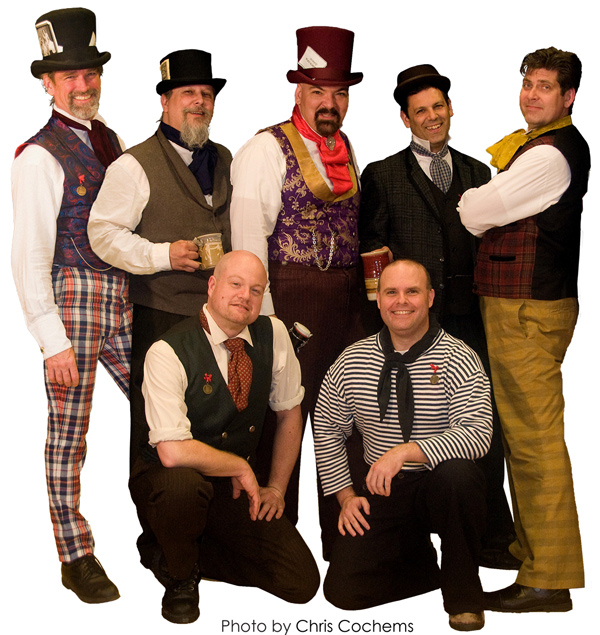 Brass Farthing is a group of stalwart lads brought together to sing songs, raise good cheer, and otherwise make merry in the company of friends both old and new. We take our inspiration from many periods and enjoy performing historical, traditional, and contemporary compositions in traditional styles.

George started the group in August 2006. We first performed at the Dickens Chistmas Fair and have performed there every year. We cut our self-published CD "Brass Farthing" in summer 2007. We also perform at the Northern California Ren Faire, Steam Punk Conventions and local bars.

---
Your Emcee for the Evening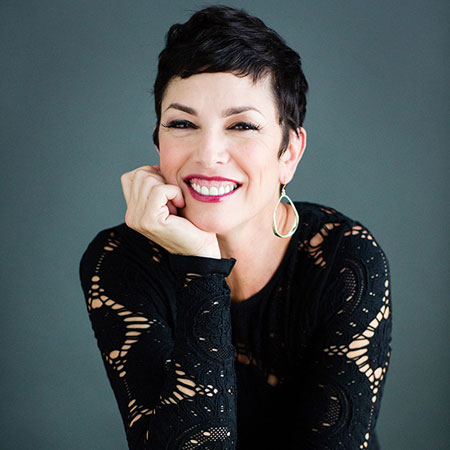 Angie Doctor, a studio singer and live performer who began her career in Chicago doing commercials, voice-overs and recording projects, and has been a part of the San Francisco Bay Area vocal music community since 1995. She is currently the Vocal Jazz Ensemble instructor at the California Jazz Conservatory in Berkeley, and busy creating new arrangements with Clockwork and getting back to singing live!

Angie is a songwriter and arranger, vocal coach and clinician for school music ensembles and solo singers, background singer for groups such as The Manhattans, Heatwave, Gene Chandler, Barbara Lewis, Billy Paul, and many others, studio singer and voice-over talent, is the soprano in the jazz vocal quartet Clockwork, and was in the wackiest of all a cappella groups, The Bobs, for the last 6 years of their 36 year run. In addition, she has been singer and soloist for music projects with Bobby McFerrin, Sufjan Stevens, Sweet Honey in the Rock, John Zorn, Meredith Monk, performing at venues that include Zellerbach in Berkeley, Jazz at Lincoln Center, Carnegie Hall, and the Philharmonie Berlin. Her vocal work can be heard on many recording projects, including as a featured soloist on the Grammy-nominated recording of Leonard Bernstein's "Mass" (Harmonia Mundi), Clockwork's "Every Voice Counts", The Bobs "Biographies".

Angie is also a founding member of the Grammy-nominated PM Singers and has brought her extensive experience in solo and small group harmony singing to workshops and festivals as a judge and clinician since 1996.
---
2023 Judges
Johnny Colla

A recognizable fixture on the Bay Area music scene for decades, singer/songwriter/saxophonist Johnny Colla played with such artists as Sly and the Family Stone and Van Morrison before becoming a founding member of Huey Lewis and The News. Johnny co-authored many of the band's hits, including "Heart of Rock and Roll", "If This is It", and "Power of Love". HLN's first big hit, "Do You Believe In Love," features Colla's signature vocal sound carrying the chorus, overdubbing up to eight tracks.

As the primary vocal arranger for HLN (performing a cappella numbers at their concerts), Colla credits his influences as diverse as 50's Doo-Wop to the Beach Boys. Johnny's most recent solo release, "I Hear Other Voices!!" spotlights his passion for vocal harmony, the human voice, and all that it is.
---
Kevin Fox

Kevin Fox is a GRAMMY-winning choral director who started singing in choirs at the age of eight. He holds degrees in Music with Honors from Wesleyan University, Connecticut, where he received the Lipsky Prize for outstanding scholarship in choral studies. He has studied music at Oxford University, England, and Westminster Choir College.

Mr. Fox was the Founding Artistic Director of the Pacific Boychoir Academy. Starting with six boys, Pacific Boychoir Academy grew to serve more than 175 boys in the San Francisco Bay Area.

Mr. Fox has prepared choirs for most of the world's leading orchestral conductors, including Michael Tilson Thomas, Gustavo Dudamel, and Kurt Masur. He has collaborated with numerous choirs and artists including San Francisco Symphony Chorus, Kronos Quartet, Tölzer Knabenchor, Dmitri Hvorostovky, Harvard Men's Glee Club, and cellist Zöe Keating. Mr. Fox has been on over 40 choir tours to almost all 50 states, and to six continents. He has prepared choirs for a variety of clients that include the United Nations, Yahoo! Corporation, comedian Zach Galifianakis, and America's Got Talent. Mr. Fox currently directs the Marin Symphony Chorus.
---
Jeff Kaliss

Jeff Kaliss has featured and reviewed classical, jazz, rock, and world music and other entertainment for the San Francisco Chronicle and a host of other regional, national, international, and web-based publications. He holds an MFA in Creative Writing from San Francisco State University, is a published poet, and is the author of I Want to Take You Higher: The Life and Times of Sly & the Family Stone (Backbeat Books) and numerous textbook and encyclopedia entries, album liner notes, and festival program notes. Jeff is also a frequent contributor to SF Classical Voice.
---
Dr. Laura Wiebe

Dr. Laura Wiebe enjoys a multifacted career as a singer, conductor, pianist, and music professor. Wiebe currently serves as director of Marin Oratorio and vocal instructor at the Collegeof Marin, and has served on the music faculties of Central Methodist University and Coe College.

Wiebe's singing career embraces diverse styles, ranging from performances with symphony orchestra to intimate jazz collaborations. As a mezzo-soprano, Wiebe's solo engagements include performances with the Missouri Symphony; the Marshall Philharmonic Orchestra (Missouri); the Southeast Iowa Symphony Orchestra; Ensemble: Périphérie; and faculty recitals at Central Methodist University, Indian Hills Community College, and Coe College. Wiebe's professional choral work includes membership in the Minnesota Chorale and Magdala in Oxford, England.

Wiebe serves as editor of Recorded Sound Reviews for the ACDA Choral Journal.
---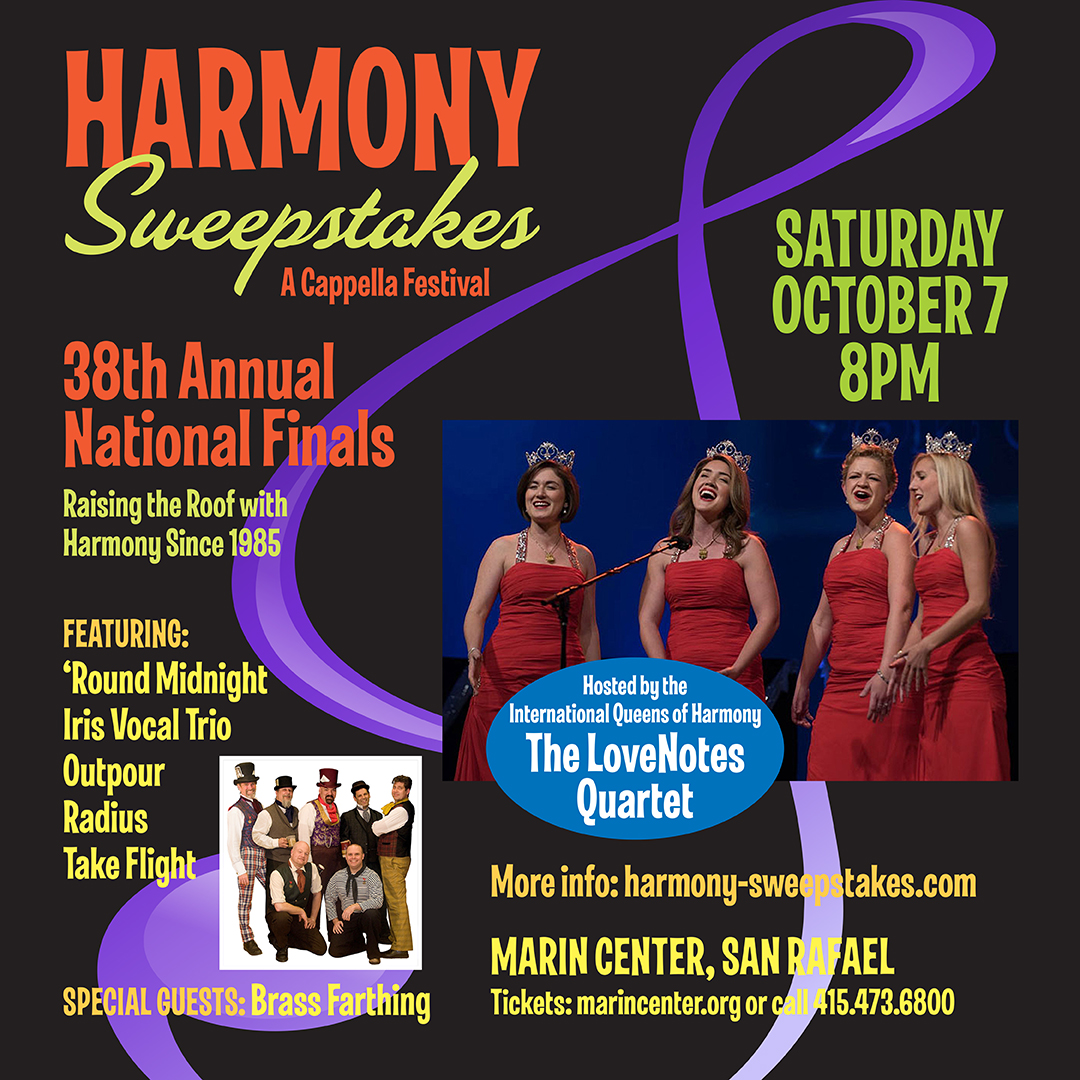 ---
| | |
| --- | --- |
| | Join us after the show for drinks, food and a chance to sing with the groups at the Afterglow at Pete's 881 Club. |
---
---
Complete list of 2023 participants
---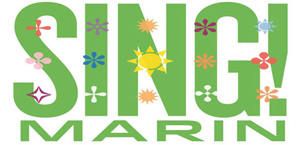 Tweet the Sweeps! #harmonysweeps
---
---
Interested in Performing?
We are always seeking groups who would like to participate in our events.
Groups of any style are welcome, but you must have between 3 and 12 members. We have a rule book which explains many of the details of the event, which you can see by clicking here. All groups must audition in order to compete. Generally this is done by sending a current tape and photo, although live auditions are sometimes arranged. The purpose of the audition is to make sure the group is appropriate for the Festival and to help the Director determine the performance order. If a group has competed previously, the audition process may be waived.
Please send music and photos to the regional director :