---
2015 Participating Groups
The Bluesettes Quintet
All jazz musicians, The Bluesettes Quintet breathes new life into current popular tunes utilizing a modern jazz sound, featuring a vocal trio as well as a vocal rhythm section. The five members work together to create new, innovative arrangements with a retro feel, striving to preserve the classic jazz style of the 1930s and 1940s.

Members: Ian Brekke, Katrina Kochevar, Miko Shudo, Rachel St. Marseille, Riley Wilson

---
Flipside
Flipside's been entertaining folks for years with their simple style and unique arrangements of audience favorites. "We just have so much fun with this! The real joy is in sharing it with the people that come to see us." Based in Orange County and performing mainly around the southland, they go wherever the music takes them. From cafes to concert halls - rock, jazz, R&B, and more - Flipside's got something for every audience.

Members: Colleen Cowley, Linda Cicino, Jay Welch, Kenny Kurtz

---
Frequency
Award-winning Frequency is a vocal band founded in 2009 and dedicated to performing songs from the 70s to today with a focus on the story in the music. Music is part of the living soundtrack of our lives-the music that plays in the background of important moments and that we associate with our most important memories. With a passionate and thoughtful delivery, we take the audience on a personal trip through music they know and grew up with, inviting them to remember the moments and experience the emotions all over again. Like the old analog radio frequencies that first delivered many of these songs, all-vocal Frequency brings the audience a reminder of some of their favorites.

Members: Jenny Swoish, Marleena Barber, Emily Simmons, Elan Jimenez, Bradley Hampton, Tom Keyes, Gabriel Arguello

---
Minor 6
Minor 6 is an a cappella group comprised of talented 14 and 15 year-old singers who met at Coast Music Conservatory. They may be young, but they take their music seriously. The group loves to sing a variety of music including pop, jazz, classical and rock styles. Their videos "All of Me" and "Thriller" have received almost 30,000 views on Youtube. The group's influences include the Pentatonix, The Real Group, The Singers Unlimited, New York Voices and many more. They are thrilled to be part of this incredible competition.

Members: Samantha de Gyarfas, Gracie Bernard, Kira Levin, Emily Dietz, Jeremy Adler, Maxwell Rohde

---
Premiere A Cappella
Premiere is a contemporary, all-female a cappella group in Los Angeles. Bringing a diverse repertoire and range of voices, the group sings with attitude, dynamic leads, and messages of female empowerment. Premiere has had the honor of performing at such venues as the House of Blues Sunset Strip, hosting the Los Angeles A Cappella Festival twice, signing with the AwesomenessTV Network, and collaborating with acclaimed groups from across the country. Each woman brings a unique musical background and balances commitment to Premiere with her individual professional career. As a group, Premiere seeks to create powerful music and raise the bar of all-female a cappella.

Members: Meron Mogos, Jessica Gottdank, Caroline Ferrari Cronin, Sara Steinberg, Kirby Welsh, Melissa Henrie, Katharine Laursen

---
Red Harmony
Based in Los Angeles, California, Red Harmony tailors its selection of songs to the voices and personalities of its singers in order to present a fresh and original performance. Each member brings a very unique style, specialty, and energy to the table, creating a synergistic culture where ideas are shared and creativity is celebrated. From accompanying each other with rhythmic vocals to reveling in crunchy jazz chords, Red Harmony creates a personal experience with every note.

Members: Mandy Wilson, Marissa Dubois, Elizabeth Matson, Leah Hamilton, Aaron Schumacher, Ryan Espinosa, Nate George, Christopher Thaxter

---
RockNacappella
RockNacappella is a vocal performance group specializing in pop, rock, musical theatre, gospel, and patriotic selections. The program was founded in early 2014 by their 17-year-old arranger and director, Lindsay Ryan. In a relatively short amount of time, the group has garnered a lot of success and attention. RockNacappella performs at concerts, events, and ceremonies all around the Los Angeles area, including the Pantages Theatre and the GRAMMY Museum, and they have appeared on KCAL9 and CBS-LA. RockNacappella's performers at Harmony Sweepstakes are 13 to 17-years-of-age, and they are well supported by twenty-six other talented performers in their full group.

Members: Lindsay Ryan, Connor Hahm, Matt Villar, James Meske, Grace Hyland, Maddie Roberto, Lizzy Keiser, Kailei West

---
Swing Shift
Swing Shift is a vocal jazz mixed ensemble. The group's signature sound is heard in their rich harmonic treatment of pop, jazz, and Broadway standards. Over the years the group has drawn on local resources like the SMC Vocal Jazz Ensemble from which five of Swing Shift's present roster are current or past members. We are proud that many of Swing Shift's alumni have gone on to advance their careers in prestigious ensembles like the LA Master Chorale and LA Choral Lab. If you love lush sounds, complex harmonies, and creamy-smooth blend, you'll love hearing this group.

Members: Sandra Pehrsson, Anne Palmer, Janette La Bella, Dakota Lee Martinez, Phil Azelton, Richard Gilinsky

---
2015 Judges
'; ?>
Honey Whiskey Trio blends sounds and styles from folk, bluegrass and jazz. This trio found its roots in the vocal jazz department of CSU Long Beach where the members all studied with Christine Guter, though at different times. Years later, well into their own careers as musicians and educators, the need for a new outlet for musical exploration brought Courtney, Ann and Christina together and the Honey Whiskey Trio was formed.

Members:


---
Amy Engelhardt

From 1998-2011, AMY ENGELHARDT was the sole female vocalist/writer/arranger for Grammy-nominated, genre-busting legendary a cappella quartet The Bobs. A session and concert singer of everything from Bach to rock, Amy has shared the stage or studio with a wide range of artists from Barbra Streisand to "Weird" Al Yankovic. Last summer, Amy made her Off-Broadway debut as composer/lyricist of the rock musical BASTARD JONES ("Smartly plotted and irrepressible, with hummable pop music to match." - TimeOutNY ). Winner of the Burman Award for Songwriting from the Manhattan Association of Cabarets (MAC), Amy co-created and was Artistic Producer of TUNE IN TIME - New York's Musical Theater Game Show ("A hilarious romp!"- StageBuddy). When not musical theatre-ing it up in NYC or LA, Amy performs house concerts all over the country and coaches all levels and types of vocal ensembles.
---
Jeff Smith

Los Angeles-based musician Jeff Smith is best known to a cappella fans for his role as singer/vocal percussionist for the internationally-acclaimed pop/jazz ensemble, m-pact. Since joining the band in 2004, he has toured all over the world, performing in venues ranging from jazz clubs and festivals to concert halls and opera houses. Outside of m-pact, he is a full-time freelance musician, producer, clinician, and arranger. His voice (and beatboxing) can be heard on numerous film/TV soundtracks, as well as in countless live performances across the U.S. Jeff serves in the Army Reserve as the commander and conductor of the 300th Army Band in Los Angeles, and he has been a featured vocalist and worship leader at numerous churches throughout southern California. He works as a performing arts coach for Burbank Public Schools, and he has recently been commissioned to develop and lead a new music education curriculum at West Valley Christian School in West Hills, CA. In his spare time, Jeff is also a solo recording artist and has several CARA-nominated all-vocal releases on iTunes and other digital music outlets. Jeff lives in the San Fernando Valley with his wife Heather, son Noah, and new bouncing baby girl Sophia.
---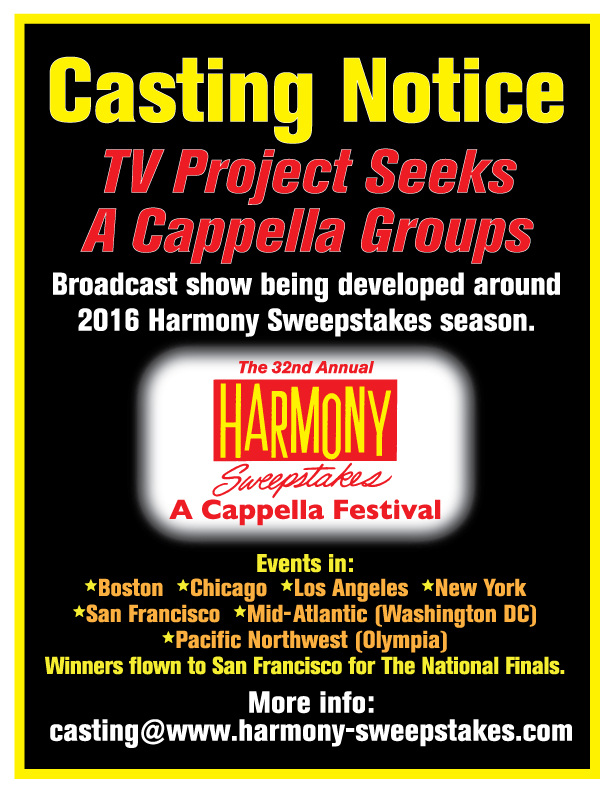 ---
---
Complete list of 2015 participants
---



Tweet the Sweeps! #lasweeps
---
Stay Informed!
Keep in touch. Hear about our a cappella shows by subscribing to our e mail list.
We will only send you information about our events and will
absolutely never share or sell this email list to anybody else.
---
Interested in Performing?
We are always seeking groups who would like to participate in our events.
Groups of any style are welcome, but you must have between 3 and 12 members. We have a rule book which explains many of the details of the event, which you can see by clicking here. All groups must audition in order to compete. Generally this is done by sending a current tape and photo, although live auditions are sometimes arranged. The purpose of the audition is to make sure the group is appropriate for the Festival and to help the Director determine the performance order. If a group has competed previously, the audition process may be waived.
Please send music and photos to the regional director :

Tom Keyes (Los Angeles) Tom is a passionate and dedicated a cappella facilitator, event producer, and music director. He is the Director of Operations for A Cappella Academy, and previously has served as the exec. producer of the Los Angeles A Cappella Festival, and as director of the Contemporary A Cappella League (while still part of the Contemporary A cappella Society: CASA.org). With a considerable background in performance, vocal, and instrumental music, Tom was bitten by the a cappella bug in 2009 when he decided to create and direct his own group, the award-winning Frequency, and has been a strong advocate of all-vocal music ever since. Still music directing Frequency (vocalfreqs.com) as well as a spiritual center, he balances music, work, and family, and lives with his wife and three children in South OC.



tom.keyes@vocalfreqs.com