Phil Azelton (Baritone)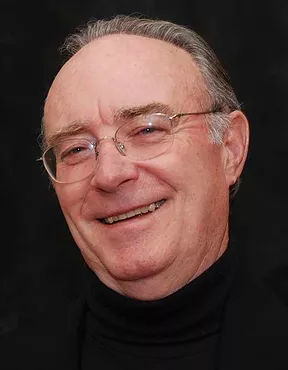 Phil Azelton has had a rich and varied musical career. He combines choir directing and peerless vocal jazz arranging, while bringing his mellifluous baritone to fill out Swing Shift's bottom end. Phil got into barbershop in high school. Smitten with the singing of the Four Freshmen and the Hi-Lo's, he began writing vocal arrangements in his teen years.

Phil has earned a bachelor's degree in composition from the University of Arizona and a Masterís degree in choral conducting from the University of Southern California. At UCLA he sang with the Gregg Smith Singers and toured with diverse groups such as the Young Americans, the Kids Next Door and the Norman Luboff Choir. Much of his career has been spent in film music production in all the major studios in Hollywood. His choral arrangements, many of which have been published by Hal Leonard and Jenson, are widely sung in high school and college choirs. Many of his charts are in the Swing Shift repertoire and are much loved by the singers and audiences alike.
---
| | |
| --- | --- |
| | Los Angeles Harmony Sweepstakes Performer. |
---
| | |
| --- | --- |
| | Los Angeles Harmony Sweepstakes Performer. |
---
| | |
| --- | --- |
| | Los Angeles Harmony Sweepstakes Performer. |
---
| | |
| --- | --- |
| | Los Angeles Harmony Sweepstakes Performer. |
---
| | |
| --- | --- |
| | Los Angeles Harmony Sweepstakes Performer. |
---
| | |
| --- | --- |
| | Los Angeles Harmony Sweepstakes Performer. |
---
| | |
| --- | --- |
| | Los Angeles Harmony Sweepstakes Performer. |
---
| | |
| --- | --- |
| | Los Angeles Harmony Sweepstakes Performer. |
---
| | |
| --- | --- |
| | Los Angeles Harmony Sweepstakes Performer. |
---