---
2016 Participating Groups
Bent Pitch
Established in 2010 as an all-female trio, Bent Pitch has since evolved into a coed ensemble of 8 passionate, proud and unpredictable people who share a desire to spread their love of a cappella throughout San Diego. No song is off limits for Bent Pitch. With each performance, the dynamic group aims to blur the boundaries of entertainment with creative covers and meaningful interpretations of yesterdays favorites and today's hits. On any given night, you may find Bent Pitch busking on the bustling streets of the Gaslamp Quarter, adding some aca-awesome music to the Finest City Improv stage, or belting out the National Anthem for the San Diego Derby Dolls. The 2016 Harmony Sweepstakes in Los Angeles will mark a double-milestone as the group's first competition and first performance outside of their home city of San Diego.

Members: Vanessa Teixeira, Robert Gordon, Matt Hemler, Vander Turner, Beverly Baker, Robyn Hartung, Allen Hopkins, Kris Celario

---
Blindside
Five voices, one outasight sound! This quintet likes to hit you out of nowhere with songs and arrangements you never saw coming. With influences ranging from opera to pop/rock to jazz to musical theater to singing in the shower, Blindside explores the outer limits of a cappella. Driving drums, booming bass, soaring solos, and not a single instrument in sight. Above all, Blindside aims to have fun and take the audience along for the ride. Buckle your seat belts and prepare to be blindsided!

Members: Jourdan Rystrom, Jay Long, Tim Baptiste, Chris Jones, Sean P. Gorecki

---
Dynamic
Dynamic is a newly formed 8 member a cappella group from sunny San Diego, CA. The group consists of previous members from the collegiate a cappella groups at San Diego State University. Dynamic's goal is to blend r&b, pop & EDM with a cappella to create a new genre of music. Dynamic aims to bring the club to a cappella. With their colorful personalities and powerful singing, Dynamic will get you dancing in your seat.

Members: Perry Lee, Linda Wang, Naiomi Clinchard, Jason Nagata, Grayson Coney, Alessja Morales, Joey Erece, Matthew Ignacio

---
M6
M6 - (formally Minor 6) is a group of talented young singers ages 14-16 who love to harmonize. The group rehearses weekly at Coast Music Conservatory in Hermosa Beach, and they have performed at the Hermosa Beach Pier, Saint Rocke, Culver Studios and more! They love a wide variety of music and are inspired by the many great vocal groups including The Real Group, Take6 , Singers Unlimited, Pentatonix and Level. m6 is so excited to be back performing at the Harmony Sweepstakes again this year!

Members: Ella Papouchado, Natalie Bogert, Kira Levin, Emily Dietz, Jeremy Adler, Cooper Breus

---
Ms Cellaneous
Ms. Cellaneous Quartet - all share a common love of four legged creatures, road trips and Jack In The Box tacos at 3 am. Put it all together and you have four ladies who like to live, laugh and love life to the fullest via their barbershop harmony! Together since 2010 and all members of Sweet Adelines Region 21, we've placed as high as 2nd in this highly competitive region.

Members: Chris Robertson, Mary Slade-Branham, Sarah Slade-Branham, Susan Phinney

---
Top Shelf Vocal
Formed in 2011, Top Shelf Vocal is a semi-professional a cappella group based in Los Angeles, California. We are young men and women from all different career fields brought together by a love for vocal music and performance. While we perform regularly around the Greater Los Angeles Area, Top Shelf continues to develop a diverse repertoire of a cappella and accompanied songs with a modern twist.

Members: Jacob Robison, Leticia Gonzalez, Chaka Jaliwa, Katharine Shiota Duarte, Taylor C Baker, Jason Rees, Natasha Laraway, Anthony Galang

---
With Special Guests
2013 Harmony Sweepstakes National Champions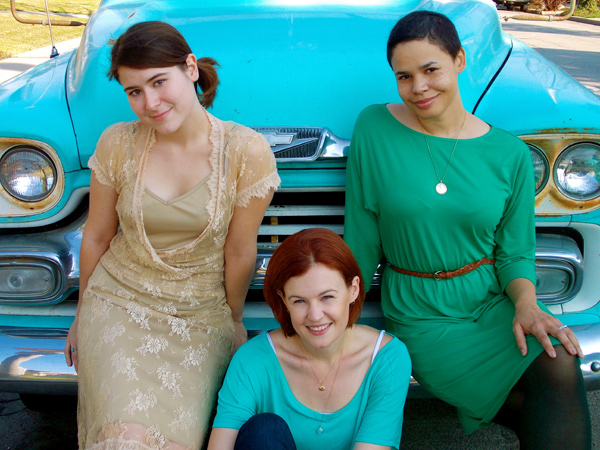 Honey Whiskey Trio blends sounds and styles from folk, bluegrass and jazz. This trio found its roots in the vocal jazz department of CSU Long Beach where the members all studied with Christine Guter, though at different times. Years later, well into their own careers as musicians and educators, the need for a new outlet for musical exploration brought Courtney, Ann and Christina together and the Honey Whiskey Trio was formed.

---
2016 Judges
Eric Bradley

Eric Bradley moved to Los Angeles in 1999 and joined Sixth Wave which would go on to win the 2001 Los Angeles and National Harmony Sweepstakes. He also joined another startup group with the legendary Dick Van Dyke called The Vantastix who are still going strong after 19 years. Along the way he's sung in numerous a cappella groups on and off screen including How I Met Your Mother ("The Shagarats"), The Break-Up ("The Tone Rangers"), The Office ("Here Comes Treble"), Brooklyn 99, Fresh Off the Boat, New Girl, About a Boy, Silicon Valley, The Simpsons, Family Guy, and brief stints with live groups The Bobs and M-Pact. As a session singer he's lent his voice (and whistle) to hundreds of films, television shows, albums, commercials, and video games. See more info at ericbradley.info and ericwhistles.com.
---
Amy Fogerson

Amy Fogerson - is a Los Angeles-based soloist and ensemble singer who appears regularly with the Los Angeles Master Chorale, the Los Angeles Philharmonic, the Los Angeles Chamber Singers, the Millenium Consort Singers, and the Jacaranda music series. She is best-known to a cappella audiences as the founding alto for 2001 Harmony Sweepstakes National Champions Sixth Wave, and appears on their first two albums.

As a classical soloist, she has performed at many Los Angeles venues, including Walt Disney Concert Hall with the LA Master Chorale and the LA Phil, and at NYC's Lincoln Center for their "Steve Reich at 70" festival. Amy also has a busy session singing career; she has appeared as a background vocalist on recordings for singers such as LeAnn Rimes, Michael Bublé and Josh Groban and has recorded more than 90 feature film soundtracks, including Frozen, Minions, recent release Hail, Caesar and the upcoming Jungle Book.
---
Fletcher Sheridan

has been singing professionally since the age of 13. He has made a name for himself in the LA session scene and a jack of all trades. From baroque to pop, vocal jazz to French chanson, overtone singing to beat boxing, Fletcher provides a level of musical versatility that is rare. He has sung on over 200 projects for film and television, most recently for Zootopia, Sing, and The Jungle Book. He is a member of the vocal jazz quartet True North, and is music director of the a cappella group M-Pact.
---
Kim Vaughn

Kim Vaughn is one of the most well-known and instantly recognized women in the field of barbershop harmony, male or female. Kim has won the coveted Sweet Adelines' International quartet Champion title three times, and is the first woman to ever do so. She won her first title in 1976 with High Society, again in 1988 with Savvy and most recently in 2001 with a cappella Gold. As Musical Director of the San Diego Chorus of Sweet Adeline's International from 1985 - 2015, she led the chorus to many successes, including the International championship. Her Pacific Coast Harmony Chorus of the Barbershop Harmony Society has made several International contest appearances as well. In 2014 Kim received the Lifetime Achievement from Sweet Adeline's International, this organizations highest honor. As a member of the National Association of Teachers of Singing, Kim is a voice teacher as well as a frequent producer and/or editor of 15 professional recordings. She holds a B.A. in Music Education and an M.A. in Vocal Pedagogy from San Diego State University.
---
---
Complete list of 2016 participants
---



Tweet the Sweeps! #harmonysweeps
---
Stay Informed!
Keep in touch. Hear about our a cappella shows by subscribing to our e mail list.
We will only send you information about our events and will
absolutely never share or sell this email list to anybody else.
---
Interested in Performing?
We are always seeking groups who would like to participate in our events.
Groups of any style are welcome, but you must have between 3 and 12 members. We have a rule book which explains many of the details of the event, which you can see by clicking here. All groups must audition in order to compete. Generally this is done by sending a current tape and photo, although live auditions are sometimes arranged. The purpose of the audition is to make sure the group is appropriate for the Festival and to help the Director determine the performance order. If a group has competed previously, the audition process may be waived.
Please send music and photos to the regional director :

Tom Keyes (Los Angeles) Tom is a passionate and dedicated a cappella facilitator, event producer, and music director. He is the Director of Operations for A Cappella Academy, and previously has served as the exec. producer of the Los Angeles A Cappella Festival, and as director of the Contemporary A Cappella League (while still part of the Contemporary A cappella Society: CASA.org). With a considerable background in performance, vocal, and instrumental music, Tom was bitten by the a cappella bug in 2009 when he decided to create and direct his own group, the award-winning Frequency, and has been a strong advocate of all-vocal music ever since. Still music directing Frequency (vocalfreqs.com) as well as a spiritual center, he balances music, work, and family, and lives with his wife and three children in South OC.



tom.keyes@vocalfreqs.com