---
2016 Participating Groups
Ball In The House
Following in the path of classic harmony groups like Boyz II Men, The Temptations, and Take 6, with a mix of the classic and the contemporary, the five-member vocal band Ball in the House brilliantly blends a wide range of influences, from classic R&B to pop, hip-hop & gospel. With their extensive tour schedule (averaging 250 dates a year), Ball in the House reaches millions and is arguably one of the hardest working, most successful indie bands today. They have performed with such artists as The Beach Boys, Gladys Knight, The Jonas Brothers, Jessica Simpson, Fantasia, Blondie, The Temptations, Smokey Robinson, KC & The Sunshine Band, Kool & the Gang, and numerous others. All a cappella, but a sound that will astound and amaze you. 5 Guys, 5 Voices, THAT'S IT... A review from the Boston Globe put it very succinctly - "Ball in the House has everything you would expect to find in a successful pop/rock band....the one thing it doesn't have is instruments."

Members: Jon Ryan, Dave Guisti, Monterio Hill, Wallace Thomas, Benjamin Detty

---
Boston Accent Quartet
Boston Accent just can't seem to get enough of singing together, so they are members of Sweet Adelines International and Harmony, Incorporated - two international organizations of female barbershop singers. In November 2006, BA won the coveted gold medal at Harmony, Inc's International competition in Jacksonville Florida! In May of 2010, 2012 and 2013 they won first place in the Sweet Adelines North Atlantic Regional competition and competed internationally in Honolulu, HI. Their CD, CROWNED AND DANGEROUS, has been hailed as a "vocal symphony with an ACCENT on fun and entertainment".

Members: Ruth Berman, Cheryl Brusket, Julie Jeffery, Karen Rourke

---
Bostonality
Bostonality is a Boston-based a cappella group comprised of young professional 20-somethings who share a passion for music and performance.

Members: Andi Goodman, Ben Lang, Brittany Stein, Dan Cormier, Evan Desrochers, Susie Ruppe, Jeff Bliss, Jane Margolis, Janice Nosal, Tien Tran, Kamisha Ferreira, Sarah Hill, Mike Defelippo, KC Beauregard

---
---
Phonic Uproar
Phonic Uproar was founded at the University Of Dayton and features six male vocalists. The group has performed in various venues including church conferences, university functions, and concert settings. This eclectic ensemble derives its roots in various genres such as Motown, R&B, Rock, Pop, Classical, Jazz, and many others.

Members: Jelani Connally, Josh Forman, D.j. Yantis, Garrett Woods, Joel Sullivan, Brandon Hrkman

---
Saffron
Saffron, formed in January of 2015, is a four-part female a cappella group whose focus is barbershop, but who also delights in singing minor and dissonant chords. Just 3 months after formation, Saffron was awarded fourth place at the Region 1 Sweet Adeline competition in Springfield. MA. All four members sing with the Region's Champion chorus , Harmony on the Sound, which has competed at International competitions numerous times. Baritone, Penny, has competed at the International quartet level 4 times. Christine, Amanda and SueBee have each had multiple quartetting experiences. These girls love great harmony and great friendship!!

Members: Christine Bulgini, Amanda Fowski, Penny Schroeder, Susan Berry

---
Satellite Lane
Satellite Lane is a Long Island-based a cappella group that currently belongs to the Contemporary A cappella League. Made up of seven teachers, Satellite Lane specializes in spreading a cappella education to music programs and performing spontaneous original compositions. In March 2013, Satellite Lane competed in the New York Regional Harmony Sweepstakes, where they won "Audience Favorite," "Best Arrangement," and a special "Honorable Mention" for originality. Currently, they are working on their first studio album and several original music videos.

Members: Christine Benedetti, Andrew Duca, Andrew Fallu, Evan Feist, Rachel Karmel, Melanie Malusa, Marc Silverberg

---
Sound Off
Formed in 2013, Sound Off is an award-winning semi-professional a cappella group based in Boston, MA and proud member of the Contemporary A cappella League (CAL). We are young men and women from all different career fields brought together by an unabashed love for a cappella music and performance. While we perform regularly around the Greater Boston area, Sound Off continues to develop a diverse repertoire of modern pop with a soulful twist.

Members: Liz Mongrello, Leah Caruso, Eileen O'Hara, Melisse Hinkle, Pearse Lombard, James Cannon, Kevin Guest, Jon Lavalley, Diana Galeano, Tyler Gravelle, Paddy Dennen, Emily Parker, Megan Kettmann

---
2016 Judges
Joey Blake

Joey is one of the founding and current members of Voicestra, the a cappella ensemble created by Bobby McFerrin. He was also a founding member of Sovoso the group that spun from Voicestra. Joey has recorded & produced five albums for this group, ( Precious - a European release, Bridges and Seasonings for the US, as well as Crack the Nut and Then and Now). He also holds numerous arranging credits to his name, including his work with SoVoSo. His discography includes recordings with McFerrin (Medicine Music, CircleSongs), Kenny Loggins, Dianne Reeves, to name a few.

Joey is currently on the faculty of Berklee College of Music in Boston, as an Associate Professor in the Voice Department. He continues to tour with, Sung Deep, Back To The Band and Bobby McFerrin, while pursuing his solo work and teaching career.
---
Brian O'Connell

At UMass/Lowell Brian directs the Chamber Singers, University Choir, and teaches Voice and Conducting. Brian teaches Secondary Choral Methods in the graduate program at The Boston Conservatory and for 12 years has been the director of the Sarteano Chamber Choral Conducting Workshop in Tuscany. He has been on the faculties of Berklee College, Tufts University, Boston University, New England Conservatory and Northeastern. In 2005 he was the first recipient of the Massachusetts ADCA Award for Choral Excellence.

Brian is an accomplished contemporary a cappella singer, having performed for many years with the Boston based professional group No Strings Attached. He also currently adjudicates both collegiate and professional a cappella competitions throughout New England. In 2010, Brian joined the panel of judges for choral performance, voice & conducting for the national competition, The American Prize.
---
Amy Malkoff

Involved in a cappella since college (Kenyon College), Amy Malkoff was a founding member and bandleader of the award-winning groups All About Buford and Deadline Poet, and she has appeared on stage and in the studio with such luminaries as Wayne Brady, Jonatha Brooke, The Persuasions, Ellis Paul, Vance Gilbert, GrooveLily, Patty Griffin, and Dar Williams. She has a degree in music from Kenyon College, with music studies at Youngstown State University and masters-level coursework at the New England Conservatory of Music. She is currently Media Director for the Women's A Cappella Association, as well as being on the board, and the Marketing Director for the A Cappella Education Association (presenting the first National A Cappella Convention in Memphis next week!). Amy served on the board and was the Web Content Director for CASA (Contemporary A Cappella Society) and is a longtime judge for the International Championships of Collegiate and High School A Cappella. She is a writer, designer and runner of social media campaigns (www.amymalkoff.com), as well as a singer/songwriter. Amy's music has appeared on both the Rounder Records and Hear Music/Starbucks labels. @amalkoff
---
Michael Klein

Michael Klein is a 30 year member of The Barbershop Harmony Society. While an avid A Cappella fan of all genres, he has served in almost every seat of the Northeastern District of the BHS, representing 60 Chapters from Southern Connecticut to New Foundland. He is a Past President of the Boston, Lowell and Beverly, MA Chapters and currently sings with The Essex County 4 men's quartet and Dudes N' Dolls. His former quartet Eastern Standard Time are past champions of the Allston Brighton Kiwanis Idol contest. He is amazed by the places music has taken him including the honor of having a judge's seat at this contest and is looking forward to a great show from all of the performers.
---
Lawrence Watson

Lawrence Watson celebrates thirty years of performing throughout the New England areas and around the world. He was the featured artist in the annual "Passion Caribe" dance and music festival in Barranquilla Columbia, South America and recently served as a judge on WGBH's Sing That Thing! — a local TV series designed to showcase the best amateur choirs in Greater Boston and beyond.

Watson is currently a Professor of Ensembles in the Performance Division at Berklee College of Music. He has been a member of the Voice Department since 1994 and is the Resident Artist at the Charles Hamilton Houston Institute for Race and Justice at the Harvard Law School.

Founder, President and Artistic Director of SaveOurSelves Productions and Consulting, Watson remains committed to the preservation and performance of African descent musical expression. The Motto of the company, "If we don't SaveOurSelves no one else will."
---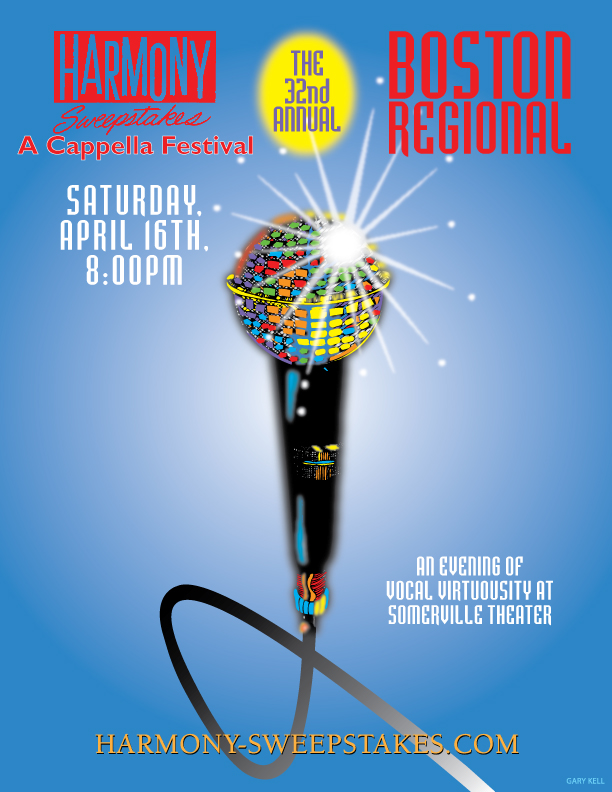 ---
---
Complete list of 2016 participants
---



Tweet the Sweeps! #harmonysweeps
---
---
Stay Informed!
Keep in touch. Hear about our a cappella shows by subscribing to our e mail list.
We will only send you information about our events and will
absolutely never share or sell this email list to anybody else.
---
Interested in Performing?
We are always seeking groups who would like to participate in our events.
Groups of any style are welcome, but you must have between 3 and 12 members. We have a rule book which explains many of the details of the event, which you can see by clicking here. All groups must audition in order to compete. Generally this is done by sending a current tape and photo, although live auditions are sometimes arranged. The purpose of the audition is to make sure the group is appropriate for the Festival and to help the Director determine the performance order. If a group has competed previously, the audition process may be waived.
Please send music and photos to the regional director :

Dan Campagna (Boston) has been a part of the a cappella community for over 10 years and is the co-founder and business manager of the Boston-based group, Fermata Town. Behind his leadership, Fermata Town has released two award-winning albums, performed at international festivals and appeared on network TV. In 2013, Fermata Town captured the Boston Harmony Sweepstakes championship before placing third overall at Nationals where they took home "Best Original Song" honors. He is a founding board member of the Contemporary A Cappella League and voluteer program manager for the Contemporary A Cappella Society of America (CASA). An active member in the Boston a cappella community, Dan enjoys attending local shows and volunteering for Varsity Vocals during ICCA season.

Prior to Fermata Town, Dan sang collegiate a cappella at Emmanuel College in Encore!, the college's first-ever coed group which later changed its name to In Good Company.

Outside of a cappella, Dan works fulltime at Emmanuel College as the Director of Athletic Communications. Dan is also an Assistant Coach to the University of Massachusetts Boston Women's Soccer Team and an adjunct professor at Lasell College where he teaches a sports journalism course.


860-874-5191
FermataTown@gmail.com