---
2015 Participating Groups
The Connotations

The Connotations have been singing together in and around Northampton since 2008. Though original members have moved on and new members join to fill our harmonies, we have always stood by our one and only creed: Singing while having fun with friends makes the harmonies that much sweeter. The Connotations have had the honor of singing at multiple benefits, town fairs, hospitals, and festivals in Western Mass. A usual performance could include motown, pop, spirituals, and anything in between...but it will always include our desire to let people in on our secret: the only reason we have day jobs is because no one has signed us yet.

Members: Allison Smartt, Janra Roberts, Mareika de Haas, Wryan Butler, Sarah Harvey, Hannah Ekwere, Helen O'Hara, Beckie Markarian

---
Dorothy Mantooth and the Saints

Dorothy Mantooth and the Saints (DMaTS) was formed in 2012 and is without a doubt Albany's newest a cappella sensation for people over 40. But don't let this apparent newness fool you - the Saints have a combined total of 5 million years of a cappella experience, and are veterans of the largest a cappella stages to include the Harmony Sweeps finals and ICCA finals. DMaTS enjoys singing for food, beer, and making you laugh. Just don't ask them to run any marathons because that ain't happening. Members: Nate Altimari (guy w/beard and pot belly), Dave Rudnick (giant beard w/o pot belly), Ryan Haig (handsome guy), Carlton Able (ebony handsome guy), Al Orbinati (token bald guy), Don Ferlazzo (tall guy), Josh McMahon (short guy), and Darrell Belch (also short). DMaTS: Your favorite a-cappella group for a night.

Members: Al Orbinati, Nate Altimari, Don Ferlazzo, Ryan Haig, Dave Rudnick, Darrell Belch, Josh McMahon, Carlton Able

---
Fermata Town

Founded in 2009, Fermata Town is now the newest member of the Contemporary A Cappella League (CAL). Inspired by the wealth of new talent in the a cappella world, we have worked hard to find our voice and put a unique stamp on the Boston a cappella scene. We pride ourselves in our original arrangements, the sound that we produce, and our ability to maintain a healthy balance between our music and active lifestyles.

Fermata Town was officially founded during the spring of 2009 stemming from the break up of the all male Boston based group The Testostertones (Boston). The founding duo of Dan Campagna and John Baptista recruited former Testostertones Dave Carr and Nathan Pierce to join forces and find other interested singers who shared the same passion for a cappella music. Be it through word or mouth, internet advertisements and craigslist posts - Fermata Town was able to quickly establish itself as one of Boston's freshest co-ed a cappella groups to hit the streets.

Members: Melissa Abreu, Dan Campagna, Rusty Epstein, Chris Giordano, Alex Margarite, Taylor Meltzer, Tracy Robertson, Dan Campagna, Sarah Spinella, Philipp Walzer, Becky Vinci, Anna Miller, Liz Mongrello

---
Harmonic North

Harmonic North is a recording project, unique, eclectic and unforgettable. This trio of men have been singing together since 1991 when they founded the original Five O'Clock Shadow, a Boston-based vocal band (long since left in other hands). Although they all trained in classical vocal performance, in their regular lives these gentlemen are husbands, fathers, a doctor, an engineering manager, an office manager and many other things besides musicians.

They are grateful for this oasis into one of the things they love most, which is harmonizing together. Harmonic North is like a compass in that sense, and periodically brings them together in search of the perfect chord.

Members: James Meyers, Bill Eddy, Warren Tessier

---
---
Quintet

Quintet delivers a mix of classic vocal jazz a cappella and contemporary harmony. Comprised of an eclectic and seasoned cadre of music professionals, the 5-voice group features first-class, modern arrangements of the Great American Songbook's finest composers. Lead soprano, Christine Tamer, offers an uncompromisingly pure solo voice and technique that is the hallmark of Quintet's sound. Alto, Jacqueline Duryea, is a highly sought-after vocalist and performer in NY where she has recorded and performed with the leading club-date acts for over a decade. Counter-tenor, Stephen Gleason, is a college professor, veteran NYC guitarist, vocalist and music director who lends-a-hand in arranging and curating the group's repertoire. Tenor, Marc Silverberg, is a denizen of the contemporary a cappella scene and renowned clinician, with an encyclopedic knowledge of all things "a cappella". Virtuoso pianist and bass, Yuki Yamaguchi, cultivated his early career accompanying opera singers in Japanese conservatories. He is now celebrated as a NYC jazz recording artist, regularly performing in top NYC venues, such as Birdland and The Blue Note.

Members: Marc Silverberg, Yuki Yamaguchi, Stephen Gleason, Christine Tamer, Erica Tamburo

---
Timepiece

Timepiece was formed on December 16, 2013—a chilly winter night—on a stairwell in Boston University's College of Arts and Sciences. In their first year alone, Timepiece has captured numerous accolades, including the 2014 Northeastern District Quartet Championship, as well as the privilege of representing the Northeastern District (NED) at the 2015 Barbershop Harmony Society International Open Quartet Contest in Pittsburgh, PA. Timepiece identifies as a "KIB-ber" (Keep-It-Barbershop) quartet, and, as such, primarily sings barbershop arrangements from the 20th century—they pay homage to the quartets and the chord-ringing from barbershop antiquity. On top of cherishing their own bright, brassy, ringing sound, the quartet loves getting lost within the power of the music they sing—a trait inspired in them by the last NED gold medalist quartet: Boston Common.

Members: Francesco Logozzo, Kadin-Seth Binkley, Travis Roy, Rodrigo Alvarez

---
The Uninvited Bridesmaids

Four female warrior voices came together from various other post-collegiate Boston a cappella groups to form the eclectic quartet that is the Uninvited Bridesmaids. We like to think of ourselves as the love child of Sara Bareilles and Kristen Wiig and collaborate on reimagined arrangements of contemporary pop songs.

Members: Jane Margolis, Brittany Stein, Eileen O'Hara, Liz Mongrello

---
2015 Judges
Anne C. S. Kalis

Anne C. S. Kalis has been involved with theater and a cappella for over 20 years. While living in Chicago for 6 years, she sang with a semi-professional co-ed group called Lake Shore Jive. After moving to Boston, she quickly found In the Moment, an all female a cappella group, and performed with them for nearly 8 years. Anne has performed on stage as the lead in Diary of Anne Frank and Coyote Ugly. She has sung in numerous musicals, including the cabaret style show, An Evening with Stephen Sondheim and recently played the role of Tzeitel in Fiddler on the Roof. Currently, Anne is a preschool teacher and also sings part-time at her temple during religious services. She produces an annual a cappella concert called Acappelooza to raise money for her children's elementary school.
---
Amy Malkoff

Involved in a cappella since college (Kenyon College), Amy Malkoff was a founding member and bandleader of the award-winning groups All About Buford and Deadline Poet, and she has appeared on stage and in the studio with such luminaries as Wayne Brady, Jonatha Brooke, The Persuasions, Ellis Paul, Vance Gilbert, GrooveLily, Patty Griffin, and Dar Williams. She has a degree in music from Kenyon College, with music studies at Youngstown State University and masters-level coursework at the New England Conservatory of Music. She is currently Media Director for the Women's A Cappella Association, as well as being on the board, and the Marketing Director for the A Cappella Education Association (presenting the first National A Cappella Convention in Memphis next week!). Amy served on the board and was the Web Content Director for CASA (Contemporary A Cappella Society) and is a longtime judge for the International Championships of Collegiate and High School A Cappella. She is a writer, designer and runner of social media campaigns (www.amymalkoff.com), as well as a singer/songwriter. Amy's music has appeared on both the Rounder Records and Hear Music/Starbucks labels. @amalkoff
---
Heather Newkirk

Heather Newkirk is currently serving as a Be The Music Teacher through The Bubs Foundation at Dorchester's Codman Academy. She also works for the Contemporary A Cappella Society, is a producer for both BOSS and SoJam A Cappella Festivals, and can be found doing various aca-things in and around the Boston area. Heather was formerly Music Director (amongst other things) of Main Squeeze, an all female group at Syracuse University, and won Best Arrangement and Best Vocal Percussion in the ICCA Northeast Quarterfinals.
---
Brian O'Connell

At UMass/Lowell Brian directs the Chamber Singers, University Choir, and teaches Voice and Conducting. Brian teaches Secondary Choral Methods in the graduate program at The Boston Conservatory and for 12 years has been the director of the Sarteano Chamber Choral Conducting Workshop in Tuscany. He has been on the faculties of Berklee College, Tufts University, Boston University, New England Conservatory and Northeastern. In 2005 he was the first recipient of the Massachusetts ADCA Award for Choral Excellence.

Brian is an accomplished contemporary a cappella singer, having performed for many years with the Boston based professional group No Strings Attached. He also currently adjudicates both collegiate and professional a cappella competitions throughout New England. In 2010, Brian joined the panel of judges for choral performance, voice & conducting for the national competition, The American Prize.
---
Christopher Scranton

Christopher Scranton sang with the nationally-known Beelzebubs during his time at Tufts University, which included the the award-winning "Infinity" album and the group's first network television appearance, on "The Late Show with David Letterman". He began performing a cappella in high school, as part of a group directed by one of the founders of the Vineyard Sound, and continues to support a cappella music to this day with his work as President of the Bubs Foundation.
---
More Judges TBA
---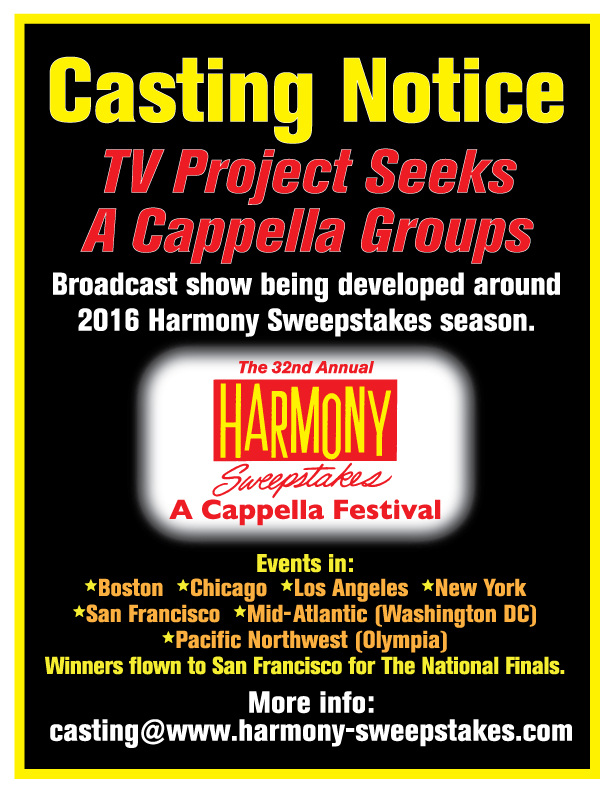 ---
---
Complete list of 2015 participants
---



Tweet the Sweeps! #bostonsweeps
---
---
Stay Informed!
Keep in touch. Hear about our a cappella shows by subscribing to our e mail list.
We will only send you information about our events and will
absolutely never share or sell this email list to anybody else.
---
Interested in Performing?
We are always seeking groups who would like to participate in our events.
Groups of any style are welcome, but you must have between 3 and 12 members. We have a rule book which explains many of the details of the event, which you can see by clicking here. All groups must audition in order to compete. Generally this is done by sending a current tape and photo, although live auditions are sometimes arranged. The purpose of the audition is to make sure the group is appropriate for the Festival and to help the Director determine the performance order. If a group has competed previously, the audition process may be waived.
Please send music and photos to the regional director :

Dan Campagna (Boston) has been a part of the a cappella community for over 10 years and is the co-founder and business manager of the Boston-based group, Fermata Town. Behind his leadership, Fermata Town has released two award-winning albums, performed at international festivals and appeared on network TV. In 2013, Fermata Town captured the Boston Harmony Sweepstakes championship before placing third overall at Nationals where they took home "Best Original Song" honors. He is a founding board member of the Contemporary A Cappella League and voluteer program manager for the Contemporary A Cappella Society of America (CASA). An active member in the Boston a cappella community, Dan enjoys attending local shows and volunteering for Varsity Vocals during ICCA season.

Prior to Fermata Town, Dan sang collegiate a cappella at Emmanuel College in Encore!, the college's first-ever coed group which later changed its name to In Good Company.

Outside of a cappella, Dan works fulltime at Emmanuel College as the Director of Athletic Communications. Dan is also an Assistant Coach to the University of Massachusetts Boston Women's Soccer Team and an adjunct professor at Lasell College where he teaches a sports journalism course.


860-874-5191
FermataTown@gmail.com