---
2014 Participating Groups
3 Men and A Melody

Start with two music educators, add one preacher, stir in a financial planner, and you could have the basic ingredients for any barbershop quartet. But 3 Men & A Melody is not your basic quartet. Tenor, Rob Mathieu, 2nd generation barbershopper, is a Kansas City based children's musician/performer. Not only does he teach preschool music, he performs interactive musical kids shows under the alias, Rockin Rob, geared for children 2-10 years old. Eric Derks leads the foursome musically but admits that telling jokes is not his forte. Brian Bellof is a second generation barbershop bass with a natural ability for showmanship. Baritone, Brad Stephens is the out-of-control comic of the four who keeps 3 Men & A Melody's audiences laughing.

3 Men & A Melody love what they do and have a high respect for the barbershop style. Their talent, energy, and enthusiasm are truly exciting for everyone to watch. 3 Men & A Melody's love of performing continues to escalate every day in hopes that they will be known throughout the Barbershop Harmony Society and the United States for their fun-filled entertainment and singing excellence.

Members: Eric Derks, Brad Stephens, Brian Bellof, Rob Mathieu

---
3AM

3AM Movement or Three Angels' Message is a new and exciting group of musician song stylists committed to expressing the good news of God's desire to establish an intimate relationship with all of His children. These talented and innovative musicians are creating music that expresses their commitment to God, family, and community, while sharing God's message of love and forgiveness. Based in Florida, these servants of the Lord bring forth their joyous message through their unique musical style that incorporates traditional gospel, A cappella, R&B, Jazz, Neo-Soul and Contemporary Christian music. They strive to exemplify Christian living in the light of the Lord and seek to share that light, though their music, with all those who cross their paths on their journey to everlasting life! They are humbled by their Lord's call to minister to the world by sharing their personal journeys through life's challenges, while staying true to their Savior's words of love, brotherhood, fidelity, and compassion.

Members: Roger Mike, Christopher McGill, Jeffrey Henderson, Micheal Medina, Kelvin Mitchell, Brian Selmon, Mark Jenkins

---
Other Option

What do you get when you mix a teacher, a software analyst, a tax specialist, a sailing instructor, and a graphics artist? You get The Other Option! The Other Option brings together the voice talents of Colin Gagnon, Ravi Manghnani, Eric Pantano, Matthew Porcelli , and Barry Rokusek. Formed in Madison, Wisconsin in early 2012, the group's eclectic sound mixes contemporary songs from the 70's and 80's, along with a dash of current music. Whether singing at open mics, birthday parties, or just out on the street corner, the group puts its emphasis on fun, harmony, and good music.

Members: Ravi Manghnani, Eric Pantano, Matthew Porcelli, Barry Rokusek, Colin Gagnon

---
Remedy

Remedy comes from different ends of Ohio to form the University of Dayton's first a cappella group. When they are not captivating their audience, Remedy enjoys spending time together as a group. From many walks of life and representing a vast number of majors, the group discovered camaraderie and harmony instantly. Remedy hopes to entertain and captivate the audience with their memorable performances.

Members: Shelby Searcy, Holly Gyenes, Caitlin Peam, Hannah Snow, Matt Radford, Trevor Rosenbaum, Jon Besecker, Joe Whatley

---
THUMMp

Once upon a time, one of the greatest acappella groups in the Midwest was a buzz in the ears of Milford, MI. From 1998 - 2010, elmoTHUMM wowed audiences with their aggressive sound, rich arrangements, and boundless energy. They won countless contests, accepted awards, played for Presidents and royalty, filled TV screens, and worked their way into the hearts of kids and parents throughout the country. Now THUMMp, they look forward to bringing Chicago more great music as only THUMMp can.

Members: Adam Westmoreland, Jason Miller, Ed Pendleton, Tre Cruz, Greg Vaden

---
The Triad

Made up of a bass, an alto, a soprano, three vocal percussionists, a producer, a DJ, a lead singer of a cover band, an actress, a photographer, a waitress, an automobile aesthetics technician, and last year's winner of Harmony Sweepstakes award for "Best Original Arrangement;" all condensed into three talented vocalists. They hope that their unique takes on hit songs from yesterday and today will leave you asking how a group so small can have such a big sound. They are The Triad.

Members: Molly Pan, Giana Casale, David DeVries

---
Vocal Chaos

Vocal Chaos is an award-winning a cappella group from right here in Chicago! They have been making incredible music all over the Windy City since 1996, from Soldier Field and Cellular Field to Chicago Public Radio. They can also be heard singing a cappella in the Jennifer Aniston/Vince Vaughn movie "The Break Up". To foster collaboration and promote the art form of a cappella, they founded ACappellaFest, which in its eighth year has grown into the Midwest's largest a cappella festival. Vocal Chaos is thrilled to be back at the Harmony Sweepstakes. Look for their new EP to drop later this year!

Members: Dave Nadolski, Blair Baldwin, Eric Fenton, Steve Moore, Eric Spiegel, Zachary Watts

---
Vocality

VOCALITY is an a cappella quartet with a wide ranging repertoire from 60's and 70's classic rock tunes to gospel to musical theater to barbershop. They are an animated ensemble who love singing together and entertaining audiences with a passion for igniting the spark of music in young people everywhere. VOCALITY formed in January, 2007 and was immediately recognized as an entertaining quartet with flawless harmonies and exciting delivery. They were crowned District Champions in the Land 'O Lakes district of the Barbershop Harmony Society and quickly rose to the elite ranks of the Top 20 in the International Barbershop Quartet contest. Their debut recording was honored with two Contemporary A Cappella Recording nominations by the Contemporary A Cappella Society: Best Barbershop Album and Best Barbershop Song. In fall of 2011 VOCALITY released their second recording, Alleluia, which features gospel music.

Members: Jay Althof, Tom Matchinsky, David Boyd, Tony Blackwood

---
2014 Judges
Timm Adams

Timm Adams is enjoying his fifteenth year as Associate Professor of Music at Rockford University where he teaches a variety of voice and musical theater-related courses, conducts three choirs and musical directs the Performing Arts Departmentís main stage musicals. For 15 years, he was the proud Artistic Director of the Chicago Chamber Choir, presenting more than 40 concert series and producing 4 CDs. He stepped down from that position in 2014 in order to devote more time to the growing Performing Arts Department at RU.

In the fall of 2015, Adams was awarded a sabbatical from the university, during which he directed and performed in Pump Boys and Dinettes in his home town of Kansas City. He also furthered his research in vocal pedagogy for contemporary singing styles (rock and musical theater, primarily) by shadowing six prominent musical theater and rock voice teachers in New York, Virginia, and Pennsylvania.
---
Daniel Gregerman

Daniel Gregerman, Choral Director at Niles North High School in Skokie, IL has spent 23 years building an award winning choral program. Applying his deep passion for music and education, Gregerman started and built the NNHS vocal program. He was recently named, the 2014 John LaPorta Jazz Educator of the Year by the Jazz Education Network and the Berklee School of Music. His groups have earned national recognition, performing at regional and national conferences, winning multiple Down Beat awards, and performing at festivals both nationally and internationally. Gregermanís ensembles have shared the stage with such names as Diane Schuur, The New York Voices, The Real Group, Take Six, and Janis Segal of The Manhattan Transfer. Known composers such as Jennifer Barnes, Michele Weir, Kirby Shaw, Greg Jaspers, and Gary Fry continue to create musical arrangements and compositions for his ensembles. Gregerman has served in a variety of leadership roles within the community of education. He is a founding member of the Jazz Education Network, (JEN), where he has volunteered in many different roles including his role as the Conference Office Co0rdinator for the Annual JEN Conference. Gregerman has held positions as State and District Chairman of Vocal Jazz for ILMEA, and has been Guest Director for several ILMEA District Jazz Festivals as well as acting as a clinician for vocal groups both locally and around the Midwest. Gregerman earned his Bachelor of Music Education from Northwestern University in Evanston, IL and a Master of Music Degree with an emphasis in Choral Conducting and Jazz Studies from Western Michigan University in Kalamazoo, MI.
---
Paul Langford

Paul Langford has been a Chicago based singer, arranger, keyboardist, producer and conductor, since 1997, and has a career that spans over 25 years. His work includes arranging for and performing with groups such as The Chicago Symphony Orchestra, the Chicagoland Pops, the Pensacola and LaCrosse Symphony Orchestras, and for Walt Disney World. In the a cappella world, his credits include singing with and arranging for GLAD, Voices Of Liberty, VoiceTrek, MaxQ, and dozens of other fine groups. As a singer and pianist, Paul has performed or recorded with Grammy award winners Celine Dion, David Foster, Kenny Rogers, Yolanda Adams, Abraham Laboriel and Heather Headley, and heís shared the stage with Michael Buble, Josh Groban and President Bill Clinton. He has also led and arranged for choirs, rhythm sections, big bands, orchestras and a cappella groups all across America and abroad, and is a widely published choral arranger and composer.
---
Patti Lupo

Upon her graduation from Northwestern University, Patti began performing in theater and joined Actors Equity when she was cast in the original production of Do Black Patent Leather Shoes Really Reflect Up? Not long after that, she formed her first vocal quartet with Megan Mullally called Colossal Nerve and has enjoyed performing close harmony music ever since. Patti has her own band and musical services company Patti Lupo Music and is the co-founder of Chicagoís busiest Christmas caroling group, The Caroling Party.
---
Raymond Schwarzkopf

Raymond Schwarzkopf - Singer? Actor? Teacher? Percussionist? Quartet Guy? Coach? Music Judge? Admitted Computer Geek? Director? and FRIEND!!! Raymond is all of these...and more! Over 40 years in theater, music (both vocal and instrumental), business and teaching have made him a valuable asset for every group with which he has worked and played. A Life-Member of the Barbershop Harmony Society since 1979, he has performed with numerous quartets and earned international medals with the New Tradition Chorus of Northbrook. A graduate of Northwestern University, a certified director and certified music judge, Raymond is blessed to travel the globe working with jazz, pop, a cappella, barbershop, folk, funk, reggae, Latin, African and classical ensembles, vocalists and instrumentalists, showing them ways to enhance their performance by using a balance of technique, acting, musicality, style and emotion to create art. He is thrilled to be joining this year's Harmony Sweepstakes panel and looking forward to some AMAZING performances!!! Bring it and Ring it!
---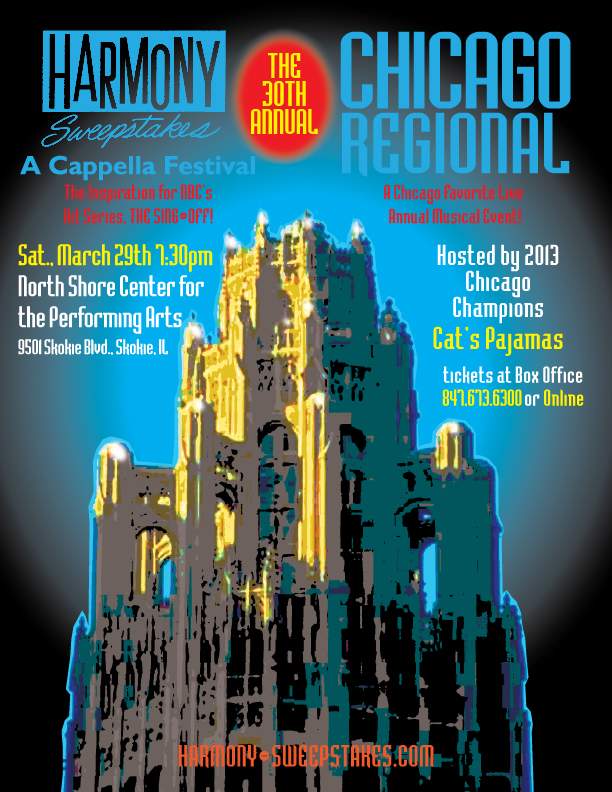 ---
---
Complete list of 2014 participants
---

---
---
Stay Informed!
Keep in touch. Hear about our a cappella shows by subscribing to our e mail list.
We will only send you information about our events and will
absolutely never share or sell this email list to anybody else.
---
Interested in Performing?
We are always seeking groups who would like to participate in our events.
Groups of any style are welcome, but you must have between 3 and 12 members. We have a rule book which explains many of the details of the event, which you can see by clicking here. All groups must audition in order to compete. Generally this is done by sending a current tape and photo, although live auditions are sometimes arranged. The purpose of the audition is to make sure the group is appropriate for the Festival and to help the Director determine the performance order. If a group has competed previously, the audition process may be waived.
Please send music and photos to the regional director :

David Wilner (Chicago) David Wilner is a singer, songwriter, pianist and DJ who has been performing in the Chicago area for over two decades. David's a cappella career began with the University of Illinois Xtension Chords where he won a Contemporary A Cappella Recording Award for vocal arranging. David went on to sing professionally with the popular Chicago-based vocal rock band Blind Man's Bluff where he toured nationally for six years and recorded five albums. David competed in the Chicago Harmony Sweepstakes with both Blind Man's Bluff and Fiveplay, winning First Place, Audience Favorite, and Best Original Song with each group. David twice took Third Place at the National Finals, once winning the award for Best Original Song. Today, David is on stage as often as possible: performing as a solo artist, leading events as a DJ, singing in the classic rock quartet Ac∑Rock, spreading holiday cheer in The Caroling Party,, and releasing his inner "Jersey Boy" in the Frankie Valli and The Four Seasons tribute band The Four C Notes. Outside of music, David enjoys chasing after his two kids, coaching soccer, and cheering for his beloved Chicago Cubs.

P.O. Box 4502, Naperville, IL 60567
847-226-3366
david@davidwilner.com