---
2016 Participating Groups
---
The Double Agents

The quartet that hops straight off the screen of Saturday morning cartoons, and Sunday afternoon spy movie double features: meet the Double Agents. We are watching your every move. We will bring you back to the living room rug of childhood, when a bowl of Oreos and milk, a pair of x-ray specs, and a Nick Fury: Agent of S.H.I.E.L.D comic was all it took to make you master of your domain. Do not adjust the horizontal. Do not adjust the vertical. We are in control. We will take you where you need to go.

Members: Mariama Torruella, Sean Archer, Beena David, Vince Wallace

---
Double Date

Double Date is a quartet made up of two couples. We are the current World Mixed barbershop quartet champions. We met in choir at the University of Missouri - St. Louis and started the group in 2012. We've been sharing our love of music through performance, competition and education ever since. We sing a variety of styles, with lots of barbershop in the mix.

Members: Blair Brown, Michaela Slamka, Nathan Johnston, Ravi Raghuram

---
Fermata Town

Founded in 2009, Fermata Town is now the newest member of the Contemporary A Cappella League (CAL). Inspired by the wealth of new talent in the a cappella world, we have worked hard to find our voice and put a unique stamp on the Boston a cappella scene. We pride ourselves in our original arrangements, the sound that we produce, and our ability to maintain a healthy balance between our music and active lifestyles.

Fermata Town was officially founded during the spring of 2009 stemming from the break up of the all male Boston based group The Testostertones (Boston). The founding duo of Dan Campagna and John Baptista recruited former Testostertones Dave Carr and Nathan Pierce to join forces and find other interested singers who shared the same passion for a cappella music. Be it through word or mouth, internet advertisements and craigslist posts - Fermata Town was able to quickly establish itself as one of Boston's freshest co-ed a cappella groups to hit the streets.

Members: Melissa Abreu, Dan Campagna, Mandy Cook, Rusty Epstein, Anna Miller, Alex Margarite, Becky Vinci, Sean Fortney, Johnny DelToro, Sarah Spinella, Chris Giordano, Liz Mongrello

---
The Innocent Men

The Innocent Men is a seven member a cappella group comprised of studs from the University of Wisconsin - Eau Claire's all-male choir, the Singing Statesmen. The group was formed way back in 1985 and has been running strong ever since. The Innocent Men have provided top-notch singing and below-average humor as entertainment to literally thousands, although not at the same time.

Members: Jacob Techmeier, Kaynen Harris, Logan Johnson, Matt Laudenbach, Jerot Ritter, Sam Bijou, Spencer Kopp

---
The Northsiders

The Northsiders are a high-energy, expressive barbershop quartet whose members boast roots in contemporary a cappella and doo wop as well. They took the silver in Chicago Metro Chorus' recent barbershop quartet competition and have performed for beer launches and on the TV show Stanley On the Go! They perform traditional and original arrangements.

Members: Loren Shevitz, Steve Schoultz, Noah Miller, Oliver Merrill

---
---
The Vocal Liberation Front

The Vocal Liberation Front (VLF) is comprised of Kelly High School students from the heavily immigrant, gritty Brighton Park neighborhood on Chicago's southwest side. Despite 97% of students living in poverty, the vocal music program at Kelly High is ranked #4 in the state by the Illinois High School Association . VLF is directed by dynamic and engaging teacher Eric Skalinder, a former full-time professional a cappella performer with a graduate music degree from Northwestern University, who has dedicated his talent and experience to providing urban youth with high quality music opportunities in public education.

Members: Vasette Valdez, Jason Cao, Roberto Rodriguez, Emilio Alfaro, Calista Brown, Ivan Monter, Margie Rosario, Krystal Bell

---
2016 Judges
Timm Adams

Timm Adams is enjoying his fifteenth year as Associate Professor of Music at Rockford University where he teaches a variety of voice and musical theater-related courses, conducts three choirs and musical directs the Performing Arts Department's main stage musicals. For 15 years, he was the proud Artistic Director of the Chicago Chamber Choir, presenting more than 40 concert series and producing 4 CDs. He stepped down from that position in 2014 in order to devote more time to the growing Performing Arts Department at RU.

In the fall of 2015, Adams was awarded a sabbatical from the university, during which he directed and performed in Pump Boys and Dinettes in his home town of Kansas City. He also furthered his research in vocal pedagogy for contemporary singing styles (rock and musical theater, primarily) by shadowing six prominent musical theater and rock voice teachers in New York, Virginia, and Pennsylvania.
---
Daniel Gregerman

Daniel Gregerman, Choral Director at Niles North High School in Skokie, IL has spent 23 years building an award winning choral program. Applying his deep passion for music and education, Gregerman started and built the NNHS vocal program. He was recently named, the 2014 John LaPorta Jazz Educator of the Year by the Jazz Education Network and the Berklee School of Music. His groups have earned national recognition, performing at regional and national conferences, winning multiple Down Beat awards, and performing at festivals both nationally and internationally. Gregerman's ensembles have shared the stage with such names as Diane Schuur, The New York Voices, The Real Group, Take Six, and Janis Segal of The Manhattan Transfer. Known composers such as Jennifer Barnes, Michele Weir, Kirby Shaw, Greg Jaspers, and Gary Fry continue to create musical arrangements and compositions for his ensembles. Gregerman has served in a variety of leadership roles within the community of education. He is a founding member of the Jazz Education Network, (JEN), where he has volunteered in many different roles including his role as the Conference Office Co0rdinator for the Annual JEN Conference. Gregerman has held positions as State and District Chairman of Vocal Jazz for ILMEA, and has been Guest Director for several ILMEA District Jazz Festivals as well as acting as a clinician for vocal groups both locally and around the Midwest. Gregerman earned his Bachelor of Music Education from Northwestern University in Evanston, IL and a Master of Music Degree with an emphasis in Choral Conducting and Jazz Studies from Western Michigan University in Kalamazoo, MI.
---
Becca Kaufman

A native New Yorker, Becca moved to Chicago to attend Northwestern University's renowned theatre program. Beginning her career as one of the most sought-after jingle writers/session vocalists in Chicago, Becca quickly expanded her talents to producing musical showcases and albums, providing commercial voice overs, and becoming a wedding expert featured on TV and radio—including her own radio show "I Do, I Do" on 105.9fm, WCKG. Becca has been leading her own society band, BK), for the past ten years. A little over four years ago, Becca launched her own company, BeatMix Music, bringing on a roster of talent including dance bands, string quartets, jazz trios and more, hoping to match every client with an unparalleled music experience. Becca has appeared on stage with performers such as Lily Tomlin, Brooke Shields, Phoebe Snow, Tony Roberts, and Ellen Burstyn and several summers ago was a featured performer in the Broadway Chicago Concert in Millennium Park singing for over 19,000 people. Becca was cast in the role of a comedic cabaret singer for Scrooge & Marley, a feature film released in late 2012. And, should you wonder where her hometown loyalties reside—she has sung the National Anthem for both the world-champion Chicago Bulls and her forever-losing New York Knicks. She is the proud wife of acclaimed chef, Peter Schonman, and by far her best productions are their three kids, Gabe, Brooke and Trevor.
---
Emily Price

Mezzo-soprano Emily Price is a graduate of Northwestern University and enjoys performing in opera, choral and musical theater productions. In Chicago she sings with Chicago a cappella, the Grant Park Chorus, Music of the Baroque and the Lyric Opera. Internationally, she has performed in over 35 countries as a soloist with the Voices of Baha International Choir in venues such as Carnegie Hall, the Vienna Konzerthaus, and the National Theaters of Spain, Catalonia, and India. She has also performed with the Czech National Symphony, Budapest Symphony Orchestra, and the Warsaw Philharmonic. Favorite theater productions include the premiere of RESPECT! A Musical Journey of Women (Cuillo Center/CCPA) and Rona in The 25th Annual Putnam County Spelling Bee(Drury Lane Watertower). She can be heard on a number of recordings, including The Voices of Baha at Carnegie Hall and RESPECT! The Original Cast Album.
---
Raymond Schwarzkopf

Raymond Schwarzkopf - Singer? Actor? Teacher? Percussionist? Quartet Guy? Coach? Music Judge? Admitted Computer Geek? Director? and FRIEND!!! Raymond is all of these...and more! Over 40 years in theater, music (both vocal and instrumental), business and teaching have made him a valuable asset for every group with which he has worked and played. A Life-Member of the Barbershop Harmony Society since 1979, he has performed with numerous quartets and earned international medals with the New Tradition Chorus of Northbrook. A graduate of Northwestern University, a certified director and certified music judge, Raymond is blessed to travel the globe working with jazz, pop, a cappella, barbershop, folk, funk, reggae, Latin, African and classical ensembles, vocalists and instrumentalists, showing them ways to enhance their performance by using a balance of technique, acting, musicality, style and emotion to create art. He is thrilled to be joining this year's Harmony Sweepstakes panel and looking forward to some AMAZING performances!!! Bring it and Ring it!
---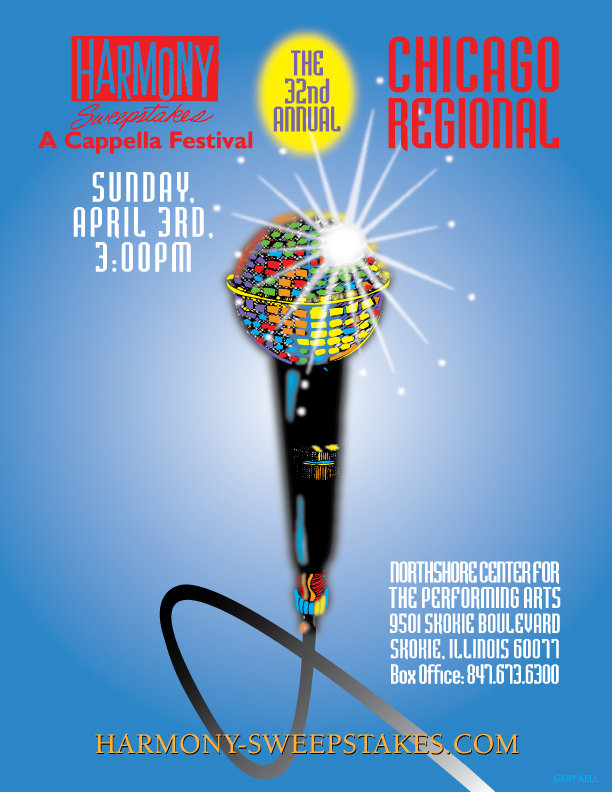 ---
---
Complete list of 2016 participants
---



Tweet the Sweeps! #harmonysweeps
---
---
Stay Informed!
Keep in touch. Hear about our a cappella shows by subscribing to our e mail list.
We will only send you information about our events and will
absolutely never share or sell this email list to anybody else.
---
Interested in Performing?
We are always seeking groups who would like to participate in our events.
Groups of any style are welcome, but you must have between 3 and 12 members. We have a rule book which explains many of the details of the event, which you can see by clicking here. All groups must audition in order to compete. Generally this is done by sending a current tape and photo, although live auditions are sometimes arranged. The purpose of the audition is to make sure the group is appropriate for the Festival and to help the Director determine the performance order. If a group has competed previously, the audition process may be waived.
Please send music and photos to the regional director :

David Wilner (Chicago) David Wilner is a singer, songwriter, pianist and DJ who has been performing in the Chicago area for over two decades. David's a cappella career began with the University of Illinois Xtension Chords where he won a Contemporary A Cappella Recording Award for vocal arranging. David went on to sing professionally with the popular Chicago-based vocal rock band Blind Man's Bluff where he toured nationally for six years and recorded five albums. David competed in the Chicago Harmony Sweepstakes with both Blind Man's Bluff and Fiveplay, winning First Place, Audience Favorite, and Best Original Song with each group. David twice took Third Place at the National Finals, once winning the award for Best Original Song. Today, David is on stage as often as possible: performing as a solo artist, leading events as a DJ, singing in the classic rock quartet Ac·Rock, spreading holiday cheer in The Caroling Party,, and releasing his inner "Jersey Boy" in the Frankie Valli and The Four Seasons tribute band The Four C Notes. Outside of music, David enjoys chasing after his two kids, coaching soccer, and cheering for his beloved Chicago Cubs.

P.O. Box 4502, Naperville, IL 60567
847-226-3366
david@davidwilner.com