---
2018 Participating Groups
Counterpoint Loyola

Counterpoint is Loyola University Chicago's premier competitive co-ed acapella group! They personally arrange and energetically perform a diverse range of music to feature at concerts, competitions, and on albums! Counterpoint provides not only a creative musical outlet for members and listeners, but take pride in sharing themselves with Chicago! Beginning as a conversation about the musical opportunities for Loyola University Chicago, a small group of students already involved in the acapella scene at Loyola found that the community was missing one component...competition! Counterpoint was born out of a call for musical excellence, a competitive atmosphere, and a performance like none before it. After hand selecting founding members and an amazing turnout of auditions for new members, Counterpoint fought for and won recoginition with the Student Activities and Greek Affairs board. Now, they are on a mission to continue the momentum they started with and provide a great experience for audiences and members. They have lofty goals that will most definitely be met with a "Get It Done" attitude for competition, recording, and arranging like never before.

Members: Chloe Antrobus, Taylor Beck, Rachel Groth, Reese Bailey, Malcolm Charles, Joseph Kraemer, Sophia Manternach, Daria Derda

---
---
Due North

We are Due North. Hailing from the Twin Cities area, Due North is one of the Midwest's newest a cappella ensembles. The name was inspired from Minnesota's formally adopted French motto "L'Etoile du Nord" meaning "Star of the North".

Due North prides itself on being the perfect fit for any audience. Whether the setting is calm and mellow, or energized and wild; Due North will bring a refreshing taste to the music you know and love, while adding new songs to file away in your personal playlist. Available for weddings, corporate events, parties, fairs, national anthems; you name it! With a fresh outlook, immense passion, and a vibrant energy - there is only one direction to go - Due North.

Members: Kaynen Harris, Alissa Peanasky, Matt Laudenbach, Maddie Forrest, Barry Bakunowicz

---
Final Melody Acapella

Final Melody Acapella Started As A "Dream." A Dream That Not Everyone Understood Or Supported Because Of The Fact That, "It's Not Realistic That We Could Be Able To Prosper As A Group."

We Began Our Group By Singing At Open-Mic Events At A Local McDonald's Restaurant; Inviting Our Closest Family Members, Teachers, & Friends To The Various Events. When We Finally Realized That It Was Time To Step Out And Broaden Our Horizons, We Auditioned For America's Got Talent. We Did Not Receive A Call-Back From AGT, But It Was A Learning Experience And Showed Us How Well We Work Under Pressure And How We Come Together As A Group To Achieve A Goal.

Members: Josh Metoyer, Robert Downer Jr., Shawn Denton, Brendan Stewart, Darius Gleghorn

---
The Northsiders

Since 2013, the Northsiders have been a staple of Chicago's a cappella scene. They have performed their mix of classic and contemporary barbershop and beyond at chapter shows, street festivals, and TV shows such as WCIU's "The Jam." They have finished "on the podium" at every Barbershop Harmony Society contest they've entered. They have been active with the Chicago Harmony Sweepstakes since 2016 and are two-time runners-up.

Members: Noah Miller, Oliver Merrill, Loren Shevitz, Steve Schoultz

---
Remedy

Remedy comes from different ends of Ohio to form the University of Dayton's first a cappella group. When they are not captivating their audience, Remedy enjoys spending time together as a group. From many walks of life and representing a vast number of majors, the group discovered camaraderie and harmony instantly. Remedy hopes to entertain and captivate the audience with their memorable performances.

Members: Kerry Speed, Alexandria Bennett, Taylor Manway, Alex Neal, Chris Hemsath, Sam Gyenes, Kat Smith, Carolyn Karutz, Katie Breslin

---
Vocal Chaos

Vocal Chaos is in its 22nd year as a Chicagoland a cappella staple. This rotating cast of characters enjoys using the gift of song to force themselves out of the house at least once a week through the 8 month Chicago winter, and has been known to occasionally enjoy a post rehearsal, or mid-rehearsal drink. They may not be in college anymore, but at least they're trying to hang on to their glory days like a high school football player from Texas! Please enjoy the men of Vocal Chaos.

Members: Owen Stevenson, Ryan Naimy, Trent Snyder, Ross Matsuda, Nik Eden, Colin Commager, Richard Pridgen, Michael Novak, Zachary Watts, Daniel Meeks

---
Your Emcee for the Evening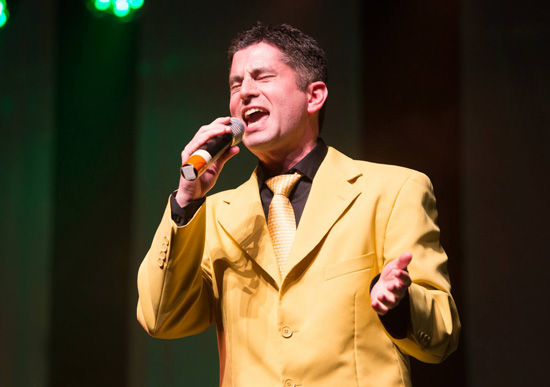 David Wilner is a singer, songwriter, pianist and DJ who has been performing in the Chicago area for over two decades. David's a cappella career began with the University of Illinois Xtension Chords where he won a Contemporary A Cappella Recording Award for vocal arranging. David went on to sing professionally with the popular Chicago-based vocal rock band Blind Man's Bluff where he toured nationally for six years and recorded five albums. David competed in the Chicago Harmony Sweepstakes with both Blind Man's Bluff and Fiveplay, winning First Place, Audience Favorite, and Best Original Song with each group. David twice took Third Place at the National Finals, once winning the award for Best Original Song. Today, David is on stage as often as possible: performing as a solo artist, leading events as a DJ, singing in the classic rock quartet Ac·Rock, spreading holiday cheer in The Caroling Party,, and releasing his inner "Jersey Boy" in the Frankie Valli and The Four Seasons tribute band The Four C Notes.
---
2018 Judges
Brian Lynch

Brian Lynch has been acting professionally for over 30 years and has been called "one of American theater's most impressive talents"(Phoenix Gazette). He spent seven years touring nationally and internationally with various Broadway musicals including Aspects of Love, Cats, and Les Miserables. In Les Miserables, Lynch performed the starring role of Jean Valjean for more than two years. The Los Angeles Times said, "Lynch is absolutely superb as Valjean. He teems with passion and vitality … communicating the heroism of his character with a deft slight of hand." He was also nominated for south Florida's Carbonella award for best actor in a national touring production for his portrayal of Jean Valjean. His work as choreographer earned him Joseph Jefferson Award nominations for outstanding choreography for Bye Bye Birdie, Zorba, Follies, and Grease for which he received the 1984 award. Brian has been a member of the North Central College faculty since 1995 and is currently the Fine Arts Director for North Central College. His North Central College productions of The Pirates of Penzance and Thoroughly Modern Millie were selected for performance at the Kennedy Center American College Theatre Festival region three competition. His production of A Little Night Music was an alternate for the festival. Brian is a member of The Caroling Party Chicago's premiere professional a cappella caroling group.
---
Carrie Marcotte

Carrie Marcotte is the Director of the West Towns (Men's) Barbershop Chorus, and has led them to the District Barbershop Contest's "Most Improved Chorus" award (2016), "Most Entertaining Chorus" award (2015), and District Championship (2014). In addition to directing, Carrie sings in a Sweet Adelines women's quartet, Cantina Vocal Project. A graduate of Western Michigan University, Carrie sang for two years in the award winning vocal jazz group, Gold Company, under the direction of the late Dr. Steve Zegree, and had the opportunity to share the stage with guest artists such as Don Shelton, Darmon Meader, and Bonnie Herman. Carrie sang for 10 years with (the now retired) Route 66, Chicago's favorite female a cappella quartet and has performed on the Spirit of Chicago and at Busch Gardens, Williamsburg. Carrie is Director of Music and Liturgy at St. Scholastica Parish in Woodridge and serves as an accompanist at North Central College in Naperville, as well as for singers and instrumentalists in the Chicagoland area.
---
Randy Stine

After graduating from Indiana University in 2000 and a career working in information technology, Randy was called back to the world of music in 2008 when he posted a video to YouTube. The video, shot in 1998, was of he and his college friends in Straight No Chaser, singing the "12 Days of Christmas." It became the most viral video of 2007, which led the CEO of Atlantic Records to call Randy and reunite the group. Over ten years later, the group has performed thousands of concerts across 48 states and 20 countries, performed on television shows such as TODAY and Jimmy Fallon, sold over one million albums, and has over 100 million YouTube views. Randy and his wife, Lindsey, reside in his hometown of Naperville, IL, along with their son, Henry.
---
---
Complete list of 2018 participants
---

---
---
Stay Informed!
Keep in touch. Hear about our a cappella shows by subscribing to our e mail list.
We will only send you information about our events and will
absolutely never share or sell this email list to anybody else.
---
Interested in Performing?
We are always seeking groups who would like to participate in our events.
Groups of any style are welcome, but you must have between 3 and 12 members. We have a rule book which explains many of the details of the event, which you can see by clicking here. All groups must audition in order to compete. Generally this is done by sending a current tape and photo, although live auditions are sometimes arranged. The purpose of the audition is to make sure the group is appropriate for the Festival and to help the Director determine the performance order. If a group has competed previously, the audition process may be waived.
Please send music and photos to the regional director :

David Wilner (Chicago) David Wilner is a singer, songwriter, pianist and DJ who has been performing in the Chicago area for over two decades. David's a cappella career began with the University of Illinois Xtension Chords where he won a Contemporary A Cappella Recording Award for vocal arranging. David went on to sing professionally with the popular Chicago-based vocal rock band Blind Man's Bluff where he toured nationally for six years and recorded five albums. David competed in the Chicago Harmony Sweepstakes with both Blind Man's Bluff and Fiveplay, winning First Place, Audience Favorite, and Best Original Song with each group. David twice took Third Place at the National Finals, once winning the award for Best Original Song. Today, David is on stage as often as possible: performing as a solo artist, leading events as a DJ, singing in the classic rock quartet Ac·Rock, spreading holiday cheer in The Caroling Party,, and releasing his inner "Jersey Boy" in the Frankie Valli and The Four Seasons tribute band The Four C Notes. Outside of music, David enjoys chasing after his two kids, coaching soccer, and cheering for his beloved Chicago Cubs.

P.O. Box 4502, Naperville, IL 60567
847-226-3366
david@davidwilner.com