---
2010 Participating Groups
B Vocal
The group b vocal has been working for the last fifteen years in a surprising and innovative style: using just their voices, these five Aragonese musicians are able to recreate the soundscape of any musical piece (drums, guitars, brass, rhythm, etc.). With their entertaining shows, they have managed to popularize a cappella as a musical style in Spain through a perfect combination of songs and humour and a repertory of high quality music from both national and international sources

Over the course of their career, they have often appeared on Spanish television: "The season's nationwide programme presentation gala" (Antena 3 Television), "Gala for the draw of the Copa del Rey (King's Cup) for the ACB (basketball)", El Conciertazo, La 2 News (TVE 2 and International Channel), "This is my story" (TVE 1 and International Channel) etc.

Members: Juan Luis, Alberto, Augusto, Carlos, Fermin

---
Choice
Choice - THE CHOICE CONCEPT...Choice emerged out of the Greenville section of Jersey City, NJ as a hobby for five young men looking for a fun way to occupy their spare time. After attracting much local attention and interest, they began performing professionally. With their extensive rehearsal and research schedule, Choice has earned their reputation as one of the hardest working groups on the acappella circuit, and has performed at such venues as Nassau Coliseum, Continental Airlines Arena and Radio City Music Hall. Among Choice's most notable achievements is their 2007 appearance on ABC News' Speak Freely, recording with our good friend, Dennis Gruenling, and his band, Jump Time, and participation in two Japanese film documentaries on the history of acappella and rock & roll which have aired on the Fuji television Network in Japan, and a commercial for Diet Pepsi.

Members: Ira, Sha-Dee, Malik, Rahim, E-Z

---
Frenemy of the State
Frenemy of the State - is a rock-focused, high energy mixed a cappella group from right here in NYC. As the shorter, larger, better half to the NYC based Red States, they have a brand of angsty rock music all their own. And with their diversity of life experiences from school teacher to music exec to American Idol to lingerie exec, the Frenemies are a true motley crew of fun. But as they were quoted in a recent Time Out New York best of NYC a cappella article, you'll never catch them wearing glittery vests.

Members: Brian Chambers, Kyron Rodgers, Jack Bender, Nicole Scavone, Brad Akin, Asami Kondo, Janifer Cheng

---
One Guy Upstate
One Guy Upstate is what happens when collegiate, frat-style a cappella guys grow up -- or, perhaps, refuse to. Individually, the members of this all-male vocal band have performed hundreds of shows, but first met back in the day at Binghamton University, where they made multiple visits to the ICCA Finals as members of the Crosbys. Still great friends and reunited a few years later for the sheer love of making great music together, they hope to acheive similar success on the professional stage at the Harmony Sweepstakes.

Members: Mike Boxer, Brian Frankel, Al Orbinati, Angel Reynoso, John Soto, Di Zhang, Jesse Afriyie

---
Penthouse H
Penthouse H - Formed in 2008 based on the philosophy that college students shouldn't be allowed to have all the fun, Penthouse H is a group of New York City based young professional who share a passion for the human voice (as well as a strong distaste for musical accompaniment). Their members previously hail from collegiate a cappella groups, including The Colgate Resolutions, The Princeton Nassoons, The Princeton Tigerlilies and The Yale Whiffenpoofs, and are proud to be a part of the strong tradition of a cappella in this country. Taking advantage of the unique opportunities of New York City at their fingertips, the group has performed at professional sporting events, art openings and private clubs; they also enjoy giving back to the community, by bringing their special brand of jazz, contemporary and pop music to hospitals, nursing homes, and other community services.

Members: Mark Huerta, Dave Jangraw, Jake Saper, Kristin Kelly, Ayn-Monique Klehre, Dunham Townend, Astrid Werner, Dane Hoyt

---
Rainbow 5
Rainbow 5 is an a cappella musical combo comprised of 5 singers/musicians from Quebec. The great passion these 5 graduates of Quebec's prestigious Laval University share for the vocal music was the architect for the merger of their talents. Each member adds to the mix his or her own spice to create most flavorful compositions of Jazz, Pop, barbershop, blues, & electronique music of all kinds ...Tout y est!

Members: Julie Vandal, Héra Ménard, Éric Lemelin, Jean-François Aubin, Geneviève Paré

---
Redux
REDux - is a subset of the award winning, CARA (Contemporary A cappella Recording Awards) nominated and charter member of the CASA A cappella League, the Red States. Like the flip side of a Frosted Mini-Wheat, REDux brings a sweeter take to life. They focus on relaxed, understated contemporary pop charts as well crowd-pleasing dance tunes. Jim's arrangement and Sarah's lead on the Red States' cover of Lady Gaga's "Just Dance" was not only included on the CASA compilation, Sing VI, as one of the best tracks of the year but led to a 2010 CASA nomination.

Members: Meg Tirrell, Candice Helfand, Mardie Cohen, Sarah Bills, Jim Diego, Jason Gong, Jared Sampson

---
RUB
It don't mean a thing if it ain't got that...RUB! In the jazz corner, weighing in at 6 members, RUB packs a mean punch, & sounds like...well, imagine if Lalo Schifrin had a modern acappella group. As last year's 'Sweeps', RUB's 'Best Original Song' goes, "We're RUB...cuz we rub!"

Members: Melissa Munn, John McMahon, Craig Eckhardt, Randy White, Nick Fox, Gwenivere Mann

---
Vocal Heights
Vocal Heights is an eight member, co-ed, New York a cappella group with an eclectic style, performing a wide range of music from the 60's, all the way to the 2000's. With a repertoire that is predominantly rock and pop, We also like to mix it up with some doo-wop, jazzy standards, blue grass, non-secular selections, and even the occasional madrigal thrown in for good measure! While predominantly using original arrangements of covers we are psyched to now have several original songs in our repertoire as well. Our mission is simple: to put on a great show with great music!

Members: Elizabeth Boskey, Mindy Gordon, James Greenspan, Cara Joyce, Erik Levitt, Jim Longo, Melina Marini, Andrea Au Levitt

---
Your Emcee for the Evening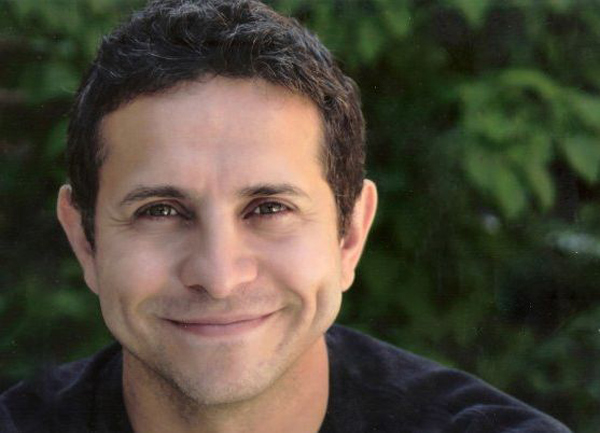 Jeff Lagraca
Jeff Lagraca is a writer, director, actor and improviser residing in New York City. He has studied and worked with Amy Poehler, Tina Fey, Jeff Richmond, Adam McKay, and several other entertainment notables while honing his theatre, comedic and musical skills. He is a writer/creator of "Minimum Wage," a musical which made it's Off Broadway debut in New York City at the Bleecker Street theater at 45 Bleecker in 2007. Minimum Wage was also presented at the 2002 & 2006 FringeNYC festals where it received the Producer's Award and "Outstanding Musical Comedy " by BackStage magazine. Jeff is a huge fan of acappella music and continues to write music and play with his own Nerd Punk band, H2Awesome."
---
2010 Judges
Roopak Ahuja

Roopak Ahuja is an influential leader, educator, and performer in contemporary vocal music. A graduate of the Berklee College of Music, Roopak's expertise as a teacher and clinician has led him to present at the ACDA national conference, the NACA national conference, and major vocal festivals across the country. He has conducted vocal performance workshops for high school and college ensembles and has coached post-collegiate groups from the U.S., Europe, and Japan. ICCA champions and CARA award winning groups have been performing his innovative arrangements since 1998. With appearances at Carnegie Hall, Lincoln Center, The Kennedy Center, Gewandhaus, and The Vienna Rathaus among other U.S. and international venues, Roopak is a seasoned, consummate performer. He continues to tour, educate, and record both on his own and with the San Francisco-based vocal band, The House Jacks. Most recently, in late 2009, Roopak synthesized his talents in his work composing, arranging, and performing original soundtrack music for the primetime NBC show, The Sing-Off.
---
Debbi Burdett

As a director, performing artist, and professional consultant through her company, DB Creative Consulting, Debbi Burdett is currently involved in the marketing and website design for NOT YOUR TIME, a short film featured at numerous film festivals, and a similar project with A JOURNEY TO JOY, a CD of spiritually engaging songs. Her directorial credits include - The Dysfunctional Pianist, Three Guys, Three Girls and A Diva, Take Five, Take Five More and numerous cabaret and nightclub acts. She has been the director of The WestSide Youth Choir, which was heard in the feature film HOUSEHOLD SAINTS. She has been featured in numerous musicals and plays, most notably as Cleo in THE MOST HAPPY FELLA, the Soprano in Terrance McNally's PRELUDES and Ruth in THE PIRATES OF PENZANCE and Katisha in THE MIKADO. Additionally, Debbi is very proud to have coached NY Harmony Sweeps competitors, Dobosonfly, and Stay Tuned, who placed 3rd at the 1999 competition. Debbi has performed to wildly enthusiastic crowds in her one woman show throughout the United States. Her work continues to be a dedication to Bob & Eugene: "They continue to teach me all I know."
---
Gerard Brown III

Gerard Brown III is a screenwriter and former writer in residence with the New York Shakespeare Festival. He has written a number of screenplays and teleplays for the likes of Paramount Pictures and HBO among others. However, his most gratifying artistic accomplishment was PBS's Spike & Co: Do it A Cappella which he conceived, wrote, and co-executive produced and shot at the Brooklyn Academy of Music.
---
Judith Douglas

Judith Douglas is presently Team Coordinator and Assistant Director of Metro Rhythm Chorus, Sweet Adelines, Int.'l. (SAI) She has been a member of SAI for 25 years and has her certification as a "Front Row" Director. Judy's expertise is in the area of vocal training. She Directed Golden Apple Chorus, SAI, in Westchester, NY for nine years. Judy has held positions as choreographer and Asst. choreographer for four choruses in the SAI organization and at present, is working toward her judges certification in the Expression Category for SAI. She is excited about this competition and hopes all the hard work will benefit our fine contestants!
---
Jonathan Minkoff

Jonathan Minkoff is the Founder and Executive Producer for the Public Charity, SingStrong (SingStrong.org) and its International A cappella Festivals in NY, DC and Chicago. He performs world-wide and on TV with the award-winning a cappella quartet, Blue Jupiter. Minkoff holds a Bachelors in Music Ed. from Northwestern U., a certificate in voice study from the Boston U. Tanglewood Institute, and a JD from Boston U. School of Law. Minkoff won the Chicago Harmony Sweepstakes 1st place and audience favorite and the Chicago & National Sweeps' "Best Original Composition" and "Best Arrangement Awards", shared a "WAMMY" nomination for "Best Album", a CARA nomination for "Best Jazz Album" and a WAMMY win for "Best A cappella Album". Most recently, Minkoff coached Stiletta, the current National Harmony Sweeps champions, and the only group to ever win every possible award at nationals. He has over 300 published a cappella reviews at RARB.org and his articles at ACAPPELLA101.com have thousands of views monthly. After teaching, performing, emceeing and judging at over 40 a cappella festivals worldwide, Minkoff now coaches, composes, records and produces for various a cappella groups in his New York City recording studio.
---
Mark Paul

Mark Paul is an accomplished a cappella performer, music director, vocal coach, and lifelong musician. A 44-year member of the Barbershop Harmony Society (BHS), he's currently the bass of the a cappella barbershop group The Square Route, specializing in digging out old, forgotten barbershop songs and re-introducing those harmonies to both young and old alike at a very high a cappella level. The Square Route holds a quartet championship in the BHS US & Canada Northeastern District. Formerly the bass singer of a top-20 international-level a cappella barbershop quartet, Reveille, that regularly entertained audiences across the United States and internationally. Reveille holds a quartet championship in the BHS six-state Mid- Atlantic District. Mark served for seventeen years in top musical leadership positions for gold and silver internationally competitive BHS choruses and was the front-line musical director of a BHS District level chorus. He has performed in a documentary film about barbershop singing and is on two music albums. An a cappella vocal coach for 38 years, Mark works with a cappella individuals and groups of all sizes and has served as faculty on several exciting a cappella music education programs, both domestically and abroad. Mark is a Reiki Master and an Executive Leadership Development Coach. Whatever level the group is at, he elevates them, instilling higher levels of awareness, confidence, teamwork, commitment and fun. Mark's favorite downtime activities are surf fishing, photography and camping.
---
William Zukof

William Zukof is one of the founding members of The Western Wind , the internationally acclaimed vocal sextet. A New York City native, he has appeared as a soloist with the Roger Wagner Chorale, the Gregg Smith Singers, the Handel and Haydn Society of Boston, and Musica Sacra of New York. Mr. Zukof performed the Bach Magnificat under the direction of Leonard Bernstein at the Vatican in Rome. His operatic appearances include roles with the Washington Opera, the Eastern Opera Company, the Eastman School, and the University of California at Berkeley. He has directed hundred of workshops and is also a stage director of opera and music theater. Executive producer for Western Wind Records, he has produced many recordings and publications.
---
---
Complete list of 2010 participants
---

---
---
Interested in Performing?
We are always seeking groups who would like to participate in our events.
Groups of any style are welcome, but you must have between 3 and 12 members. We have a rule book which explains many of the details of the event, which you can see by clicking here. All groups must audition in order to compete. Generally this is done by sending a current tape and photo, although live auditions are sometimes arranged. The purpose of the audition is to make sure the group is appropriate for the Festival and to help the Director determine the performance order. If a group has competed previously, the audition process may be waived.
Please send music and photos to the regional director :

Colette Thompson (New York) Colette Thompson has directed or performed in over eleven vocal ensembles, with her group, Stay Tuned, placing 3rd in the 1998 New York Regional of the Harmony Sweepstakes; Colette has performed/recorded with Lukas Foss, Leonard Bernstein, Jesse Norman, Peter, Paul & Mary, and James Levine A billboard-ranked singer/songwriter, she has also managed several events, including, Christmas at NYU, Complex at the Duplex, and An Evening with The Real Group at NYC's Symphony Space. With performances televised via major news programs including Good Morning America, The Today Show, CNN, and NY1, she is a promoter, producer, adjudicator and an ambassador of vocal music worldwide.

128 Fort Greene Place, Suite 1B, Brooklyn, NY 11217
917-442-2011
colette.thompson (at) mac.com