---
2015 Participating Groups
Crosstown Vocal

Crosstown Vocal is a young, exciting ensemble comprised of native New Yorkers and vocalists who moved here to pursue the dream. We are a professional opera singer, a lawyer, a theatre actress, a hedge fund analyst, and a PR professional, a mix truly representative of this city's special je ne sais quoi.

We focus on contemporary and pop music with its own special twist on each song. We are fun, upbeat, and talented, and it is our goal to share the music with as many people as possible.

Members: Lindell Carter, Lyle Jacobsen, Mark Sobel, Eric Walpert, Rachel Ewy, Kate Fields, Maggy Kucera, Matt Brown

---
The Current

Founded in January 2011, we are presently a 12-strong group of a cappella-philes - mostly college group alums - now kicking off our eighth year on the scene. What we loved most about our former groups has been where we've always strived to start and end: a solid sonic blend, with some A-major value placed on camaraderie in the process - plus as much stage action as we can stir up.

Members: Megan Walsh, Liz Furze, Marissa Lubin, Nicole Sorice, Russ Feinberg, Joe Pratolongo, Steve Pribis, Arin Sang-urai

---
The Lost Keys

The Lost Keys specialize in contemporary (pop) a cappella, but with a twist. With arrangements by Christopher Diaz and Tom Anderson, as well as numerous in-house works and a group of diverse voices, The Lost Keys are solidifying their pop-rock roots and expanding off the beaten path to include jazz, folk, and other musical styles.

Members: Jamie Serkin, Keiji Ishiguri, Andrew Gutterson, Jerry Lieblich, Joe Martinez, Peter Lam, Jenny Baik, Colleen Clancy

---
Low Key

Whether its classic doo-wop or current pop hits, Low Key loves to sing anywhere and everywhere, bringing that barrel aged, high hopped blend that gets people out of their comfort zones and into a new sonic experience. Since beginning in 2011, Low Key has grown in scope and artistry, winning third place in 2013s NY Harmony Sweepstakes and performing in a stream of private gigs and public performances across the NY Metro area. From Rockwood Music Hall to private celebrations to the Mulberry Street sidewalk, the Low Key Effect takes ahold of friends and strangers alike.

Members: Sam Orleans, Will Moller, Josh Springer, Mike Ogurick, Cheiku Camara, Ben Piper, Adam Zamora

---
Satellite Lane

Satellite Lane is a Long Island-based a cappella group that currently belongs to the Contemporary A cappella League. Made up of seven teachers, Satellite Lane specializes in spreading a cappella education to music programs and performing spontaneous original compositions. In March 2013, Satellite Lane competed in the New York Regional Harmony Sweepstakes, where they won "Audience Favorite," "Best Arrangement," and a special "Honorable Mention" for originality. Currently, they are working on their first studio album and several original music videos.

Members: Marc Silverberg, Christine Benedetti, Andrew Duca, Andrew Fallu, Melanie Malusa, Evan Feist

---
Sirens of Gotham

Performing right in the heart of Manhattan, Sirens of Gotham is a fresh take on women's a cappella music. These ladies perform various genres ranging from classic standards and music theatre to contemporary pop, but specialize in Barbershop Harmony. Sirens harmonize weekly to prepare for performances throughout the New York City area.

Members: Sam Bunting, Debbie Chen, Celia Smith, Helen Brew, Meredith Didlake, Marie Marinan, Rebecca Marcus-Monks, Artemisz Polonyi

---
Spare Change

Spare Change is a select group of members of Ten and Change, one of NY's oldest all male a cappella groups. Singing original arrangements of soulful classics and contemporary hits, Spare Change will fill your ears with harmony. Prepare to have fun.

Members: Josh Springer, Ken Browne, Danny Jeong, Danny Lee, Mike Estler, Cheiku Camara, Jeff Stover, Tyler Simmons

---
Your Emcee for the Evening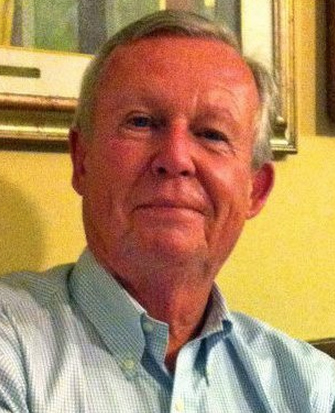 Rich McGlynn
Rich McGlynn, born and raised in Kearny, NJ, was educated at Princeton University and Rutgers University Law School in Newark and served as a practicing lawyer for almost 40 years. He was an Assistant Essex County Prosecutor, served in the first Essex County Public Defender's office, was twice a Deputy Attorney General and the first Chief of the Trial Section of the Division of Criminal Justice in Trenton, served as a Judge in Essex County and then as a New Jersey Public Utilities Commissioner.

In other words, he had a great deal of difficulty keeping a job.

After a disastrous run for the Republican nomination for Governor in 1981, he went back to the practice of law, and retired as General Counsel of United Water Resources in 2000.For almost 25 years he was a Director Atlantic City Electric Company, then Conectiv Energy, after a merger with Atlantic Energy, then Pepco Energy Holdings, following a merger with Conectiv.

An avid lover of vocal music, Rich has been a member of the University Glee Club of New York City for 50 years, serving a term as the Club's President, and was a founding member of The Ten, a smaller all-male a cappella group which has entertained audiences for over 30 years. He began singing as a child and participated in choral and a cappella singing through high school. At Princeton, he joined the renowned Princeton Nassoons, the oldest a cappella group at that university, and was a four year member, serving as President during his senior year.

A long standing member of the Board of Trustees of The Shakespeare Theatre of New Jersey, he served as Chairman twice, at the end of the 1980s when Bonnie Monte was brought to New Jersey as The Theatre's Artistic Director, and again for a two year term from 2005 to 2007. He continues to serve as a Theatre Trustee.

Rich looks forward to serving as host at this evening's festivities.
---
2015 Judges
Warren Bloom

Warren Bloom played trumpet and trombone in grade school, but began singing "for real" as a founding member of Spur Of The Moment at Brandeis Univ. He later sang with Jazz Vocal 2 at the Univ. of Miami Frost School of Music, and musical-directed the summer pro group The Hyannis Sound. Since returning to NYC in 1997, he's been MD and/or bass and/or VP for numerous a-cappella projects, including Doo*Wa*Zoo (Best Jazz Song nominee, 2000 CARAs), Dobsonfly (heard in the film The Rules of Attraction), Minimum Wage (2002 NYC Fringe Festival and off-Broadway runs) and Invisible Men (numerous New York and Boston Harmony Sweeps awards), and was a staff arranger for the Ultimate A Cappella Arranging Service (now Total Vocal). Warren has been teaching musical theater (to middle- & high-schoolers) at the Usdan Center for the Arts in Huntington, L.I. most summers since 1998, and also spent a year as a composer/lyricist in the BMI Lehman Engel Musical Theater Workshop. He's been a regular ICCA/ICHSA judge since 2002 (including the 2006 college and high-school finals). He began his formal teaching career as the band & orchestra director at Talent Unlimited High School in Manhattan for three years, and now teaches general music (K-5) and band at P.S. 8 in Brooklyn Heights. He's also a freelance voiceover artist, live sound tech (for numerous vocal groups including Naturally 7, Ball in the House, Six13 and Unsung Heroes), and music copyist. He holds music degrees from Brandeis Univ., Univ. of Miami and CUNY Hunter College.


---
Gerard Brown III

Gerard Brown III is a screenwriter and former writer in residence with the New York Shakespeare Festival. He has written a number of screenplays and teleplays for the likes of Paramount Pictures and HBO among others. However, his most gratifying artistic accomplishment was PBS's Spike & Co: Do it A Cappella which he conceived, wrote, and co-executive produced and shot at the Brooklyn Academy of Music.
---
Debbi Burdett

As a director, performing artist, and professional consultant through her company, DB Creative Consulting, Debbi Burdett is currently involved in the marketing and website design for NOT YOUR TIME, a short film featured at numerous film festivals, and a similar project with A JOURNEY TO JOY, a CD of spiritually engaging songs. Her directorial credits include - The Dysfunctional Pianist, Three Guys, Three Girls and A Diva, Take Five, Take Five More and numerous cabaret and nightclub acts. She has been the director of The WestSide Youth Choir, which was heard in the feature film HOUSEHOLD SAINTS. She has been featured in numerous musicals and plays, most notably as Cleo in THE MOST HAPPY FELLA, the Soprano in Terrance McNally's PRELUDES and Ruth in THE PIRATES OF PENZANCE and Katisha in THE MIKADO. Additionally, Debbi is very proud to have coached NY Harmony Sweeps competitors, Dobosonfly, and Stay Tuned, who placed 3rd at the 1999 competition. Debbi has performed to wildly enthusiastic crowds in her one woman show throughout the United States. Her work continues to be a dedication to Bob & Eugene: "They continue to teach me all I know."
---
Carol Maillard

Carol Lynn Maillard is an actress, singer and composer. Her passion for the stage brought her to the D.C. Black Repertory Company and the beginnings of the vocal ensemble that was to become Sweet Honey In The Rock. Carol is an accomplished actress and has performed in film, television and on stage. Her theater credits encompass a wide range of styles from musical comedy and revues to drama and experimental. She has performed on and off Broadway (Eubie, Don't Get God Started, Comin' Uptown, Home, It's So Nice To Be Civilized, Beehive, Forever My Darling); with the Negro Ensemble Company (Home, Zooman and the Sign, Colored Peoples Time, The Great Mac Daddy); and the New York Shakespeare Festival (Spunk, Caucasian Chalk Circle, Under Fire, A Photograph…); also at the Actors Studio (Hunter). She can be seen in the feature films Beloved and Thirty Years to Life. On television, Carol has appeared in For Colored Girls Who Have Considered Suicide and Halleluiah! ( PBS) ; Law and Order: SVU and Law and Order. Carol is a founding member of SWEET HONEY IN THE ROCK. Her powerful rendition of Motherless Child arranged for Sweet Honey, is featured in the motion picture, THE VISIT and the Dorothy Height documentary, WE ARE NOT VANISHING. Carol was Conceptual Producer for the documentary film on PBS' American Masters 2005 – SWEET HONEY IN THE ROCK: RAISE YOUR VOICE! Produced and directed by Stanley Nelson (Firelightmedia Films), the film chronicled Sweet Honey's 30th Anniversary year (2003). As a vocalist, she has had the privilege to record with Horace Silver, Betty Buckley, and the SYDA Foundations inspirational recording Sounds of Light. In 2003, her poem H2O Flow was featured as the opening selection of Marjorie Reyersons photo/poetry book WATER MUSIC. And in 1998, she penned the HERSTORY for Sweet Honey's first songbook, CONTINUUM.
---
Diana Preisler

Diana Preisler is a Singer, Voice-Over Actress, and Performance Coach. As Blue Jupiter's resident a cappella rockstar, her voice defies categorization, spanning Broadway, jazz and pop. As a prolific voice actress, her voice is heard on national commercials and TV shows. And, as a performance coach, her voice is a call to action, encouraging and inspiring the next generation of performers to greatness.

Diana tours the world as Blue Jupiter's fearless female lead. More than just a powerful voice on stage, Diana also manages and coaches her professional a cappella band. Her leadership spear-headed Blue Jupiter's rise to fame by winning the Oreo Cookie commercial contest, produced by American Idol's Randy Jackson. Diana's management led Blue Jupiter to six tours in Asia, including a 3-month headlining spot at the Sands Casino in Macau China, a residency at the Shanghai American School, and a celebration of Independence Day by singing for 10,000 US soldiers in Okinawa Japan, on July 4th. Thanks to Diana's guidance, Blue Jupiter has thrived as headliners at corporate and private events, fairs, music festivals, universities and recurring headliners for Royal Caribbean.
---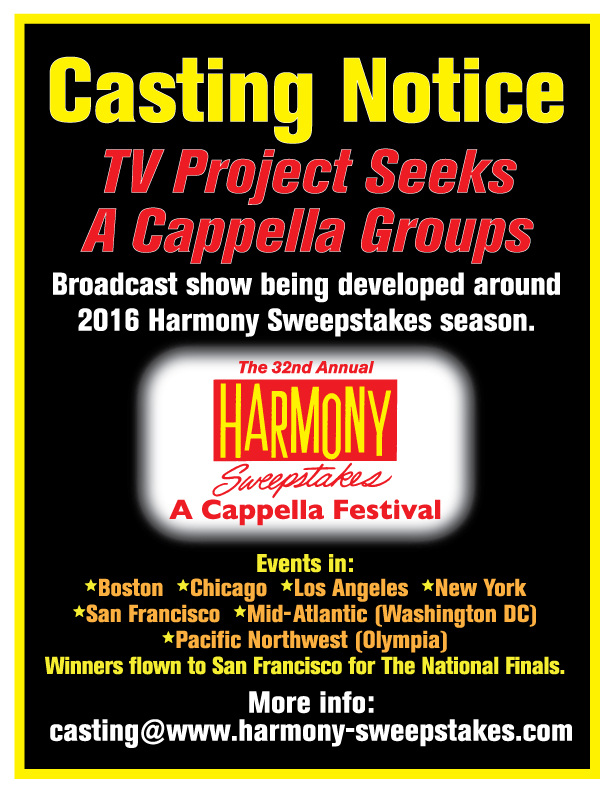 ---
---
Complete list of 2015 participants
---



Tweet the Sweeps! #nysweeps
---
---
Stay Informed!
Keep in touch. Hear about our a cappella shows by subscribing to our e mail list.
We will only send you information about our events and will
absolutely never share or sell this email list to anybody else.
---
Interested in Performing?
We are always seeking groups who would like to participate in our events.
Groups of any style are welcome, but you must have between 3 and 12 members. We have a rule book which explains many of the details of the event, which you can see by clicking here. All groups must audition in order to compete. Generally this is done by sending a current tape and photo, although live auditions are sometimes arranged. The purpose of the audition is to make sure the group is appropriate for the Festival and to help the Director determine the performance order. If a group has competed previously, the audition process may be waived.
Please send music and photos to the regional director :

Colette Thompson (New York) Colette Thompson has directed or performed in over eleven vocal ensembles, with her group, Stay Tuned, placing 3rd in the 1998 New York Regional of the Harmony Sweepstakes; Colette has performed/recorded with Lukas Foss, Leonard Bernstein, Jesse Norman, Peter, Paul & Mary, and James Levine A billboard-ranked singer/songwriter, she has also managed several events, including, Christmas at NYU, Complex at the Duplex, and An Evening with The Real Group at NYC's Symphony Space. With performances televised via major news programs including Good Morning America, The Today Show, CNN, and NY1, she is a promoter, producer, adjudicator and an ambassador of vocal music worldwide.

128 Fort Greene Place, Suite 1B, Brooklyn, NY 11217
917-442-2011
colette.thompson (at) mac.com