---
2016 Participating Groups
20/20

20/20 is a collection of current and former music students from Centra20/20 is a collection of former college friends who have formed a lifelong bond through sharing their love of music. With their skills from music school at hand, the group combined already has decades of performing experience including leading opera roles, national festival performances, and professional choral recording sessions. Since graduating from Central Washington University they have all taken different career paths but still find time to come together in order to pursue musical excellence and share their passion for performing as 20/20.

Members: Theo Olson, Ben Rice, Isaiah Ragland, Matt Mayrhofer, Jacob Cecil

---
Four Get Me Nots

The Four Get Me Nots Quartet is a women's barbershop quartet formed in December of 2012. Rachel Murphy, tenor, teaches middle school choir in at Dimmitt Middle School in the Renton School District. She is also Karen's former student. Jessica Jones recently joined The Four Get Me Nots singing lead. Her dad, Larry Hassler, and her grandpa, Jack Lyon, sang together in The Most Happy Fellows, the men's 1977 International Champions. Karen Caldwell, baritone, is a substitute teacher and former choir teacher. She directs The Harmony Kings, the men's barbershop chorus in Federal Way. Bethany Frerichs, bass, teaches Spanish at Ballou and Stahl Junior Highs in Puyallup. She also sings bass in Jet Cities, a women's barbershop chorus in Federal Way, and is Karen's daughter.

Members: Rachel Murphy, Karen Caldwell, Jessica Jones, Bethany Frerichs

---
Over Time

2000 International Senior Barbershop Quartet Champions. This foursome has been together for 14 years. We've performed in Oregon, Washington, British Columbia, California, Idaho, Utah, Nevada, Arizona, New Mexico, and Michigan. We sing many original songs written by our lead and arranged by our baritone.

Members: Gary Raze, Jerry Harrison, Mel Knight, Bud Roberts

---
Restless Vocal Band

Restless is living proof that good things do happen in the Craigslist ads.Professionals by day and a cappella nerds by night this vocal band has a blast entertaining. Fairs, schools, corporate events, surprise proposals, weddings, and even the random street corner, these friends just like to get out and sing! RVB is all about fun, but also strongly believes in giving back to the community. They can often be found partnering with, and performing for, groups such as Susan G. Komen Foundation, Old Dog Haven, Seattle Brain Cancer walk and many others.

Members: Brian Kirkness, Jordyn Meeker, Sean Braxton, Sean Payne, Bill Schneider, Erik Eliason, Angelo Allard

---
Rezonate

The premiere a cappella group from the Willamette Valley, Oregon, the gentlemen of Rezonate sing R&B, Gospel, Pop, Soul, Jazz, Funk, and even some Hard Rock, including deftly arranged covers and original songs. The group started singing together as Rezonate in December 2004, and have sung at many venues since. At the Harmony Sweepstakes National Finals in May of 2009, Rezonate won both Third Place and the coveted award for Best Original Arrangement. With thick, lush, true six and seven part harmonies and a difficulty level second to none, Rezonate can evoke the smooth sounds of the Four Freshman, the Funk flavor of Rare Earth, or the pop excitement of acts like Bruno Mars and Kelly Clarkson.

Members: Tyson Biggerstaff, Jason Caffarella, Justin Diller, Chris Dobson, CJ Mickens, Jason Simms, Suzie Metzger

---
SeaNote

SeaNote is an a cappella band that came together in mid-2013 from two different college a cappella groups at the University of Washington in Seattle (Furmata & Awaaz). The quintet strives to put a fresh and unique spin on new and old Top 40 hits through incorporating each members musical niche, whether it be classical, jazz, hip hop, rap, pop, alt-rock, or soul. SeaNote loves making great music, having an awesome time, and hopes to entertain a cappella enthusiasts everywhere! You can catch SeaNote year round performing at local gigs, UW functions and charity events all over the Greater Seattle Area.

Members: Amanda Tran, Isaiah Lin, Lucy Liu, Michael Kibbe, Shaheer Aftab

---
Shot in the Dark

Shot in the Dark found each other by individually answering the same craigslist ad, all with a common love for singing a cappella music. Hailing from all over the US and beyond, this is a truly unique group of musicians, with backgrounds ranging from college a cappella and opera, to touring chorales, barbershop, and musical theater.

Founded in 2012, they hit the ground running, placing as a finalist in the Lady Antebellum A Cappella Cover Contest in their first year. The following year, they received second place and best arrangement at the Harmony Sweepstakes Pacific Northwest Regional. The group continues to evolve, even around careers, families, and busy schedules. Our goal is for you to love what you hear! busy schedules. Our goal is for you to love what you hear!

Members: Lara McCloud, Mark Engelberg, Beth Davis, Chad Heise, Peter Asante, Ann Trigg, Kyle Yeversky

---
VITA

A foursome that hails from Sedro-Woolley, WA and Vancouver BC, VITA has been together since 2012. Coming from the world of barbershop (All belong to the award winning Westcoast Harmony Chorus), VITA sings a wide range of Barbershop, jazz, pop and anything else interesting that catches our ear. Having competed in Sweet Adelines International regional competitions VITA was thrilled to win 5th place medals in the region representing Western Canada this past May. A Musician, Administrator, Nursing Professor and Software Implementer, VITA comes from a divergent background to blend together as a harmonious whole.

Members: Jackie Baron, Lisa Hills, Barbara Peachey, Rebecca Wright

---
Your Emcee for the Evening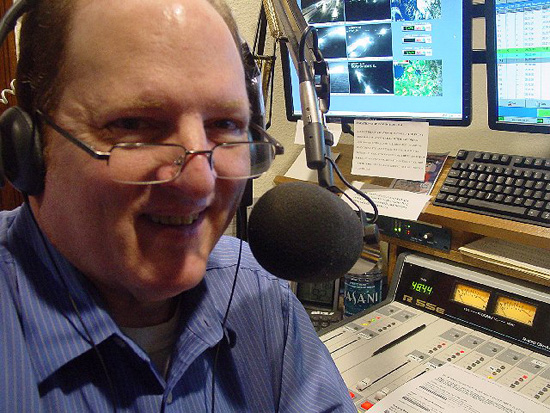 Smilin Jay
A radio announcer for over 40 years, Smilin Jay is the morning host on AM 1240 KITI in Centralia, Washington. He and his "Hunny-Bunny" Mariann live on Tumwater Hill in a wholly automated home run by a computer named D.O.R.I.S. (Domestic Operations, Resources and Information System.) A former school band, orchestra and choir member, Smilin Jay has a deep affection for a cappella music and is honored to return as emcee for this evening's Pacific Northwest Regional Harmony Sweepstakes.
---
2016 Judges
Michael Butterworth

Michael Butterworth earned his MFA in theatre directing from the University of Montana and his PhD in theatre from Wayne State University in Detroit, Michigan. He is an alumnus of Masterworks Choral Ensemble in Olympia, staging and writing for some of their Renaissance winter concerts. His regional directing credits include Dead Man's Cell Phone at Montana Actors' Theatre and Pinkalicious, the Musical at Millbrook Playhouse. He has directed over 30 high school and college productions and currently teaches at Liberty High School in the Issaquah School District.
---
Mark Anton

Since 1980 Mark has sung lead tenor with The Americana Supper Clubs of Florida, The Norman Luboff Choir The Roger Wagner Chorale, The Pied Pipers and The Dapper Dan's of Disneyland. He has performed with the Big Bands of Tommy Dorsey, Les Brown, Ray Anthony, Jimmy Dorsey, Horace Heidt, Billy May and Harry James along with such great stars as Tony Bennette, Rosemary Clooney,Julie Andrews,George Burns ,Barry Manilow, Diana Krall to name a few and was featured on the Larry King White House Christmas Special Andy Williams.

In addition to live performance, studio recording, TV and Radio performance Mark has owned and operated his private vocal studios in Los Angeles, CA and Olympia, WA where he continues to teach singing to students of all ages, levels and personal musical interests.
---
Jill Barnes

Jill Barnes is the Executive Director of the Washington Center. She has previously worked in Idaho Falls at the Willard Arts Center/Colonial Theater, John Michael Kohler Arts Center in Wisconsin, and Ririe-Woodbury Dance Company in Salt Lake City, UT. Jill grew up attending and participating in chorus, band, theater, and musicals. She studied vocal performance at the University of Utah and holds a Masters Degree in Arts Administration from Boston University. She moved to Olympia in June with her husband Nathan and 3 curly-haired children. She is an enthusiastic consumer of the arts and is thrilled to be a part of Harmony Sweepstakes.
---
Scott Farrell

Scott Farrell, A Northwest native, has been a professional actor, singer, music director and teacher for over 40 years. As a featured singer he has appeared in theatres and nightclubs around this world, including New York City, Miami, Lake Tahoe, Las Vegas, Amsterdam, Tokyo, Philadelphia, Atlantic City, London and Bermuda, For sixteen years he was music director for Greg Thompson Productions, one of the largest producers of staged revue shows in the world, where he arranged and directed over 50 world-class productions He is a former music faculty member at The Evergreen State college, where he directed the college's choral group, The Evergreen Singers. Based out of Seattle, with an additional studio in Olympia, Scott currently provides private and group vocal experiences through his company, Harmonic Oasis LLC, helping people connect more deeply with their vocal selves.
---
Ken Potter

Ken Potter was born and raised in Billings Montana. He received his musical education at the University of Colorado in Boulder, among other places. For the past 25 years, Ken has been a professional pianist, organist, singer, arranger, and director in and around the Los Angeles area, most recently as the choir director and organist at First Christian Church in Torrance, CA. He is a 33 year member of the Barbershop Harmony Society, and is a certified music judge in the organization. Ken recently relocated to the Seattle area to become the musical director of "Northwest Sound" Men's Chorus in Bellevue. In addition, he is currently also the interim director of Jet Cities Sweet Adelines in Federal Way.

Ken's Society accomplishments include seven Gold medals with the Masters of Harmony, and three District Quartet Championships (RMD, FWD, EVG). He is also skilled at tuning and repairing pianos. In his spare time, Ken enjoys writing cantatas and arranging music, singing in quartets, collecting coins, reading, traveling, and watching historical documentaries. He currently resides in Federal Way, Washington with his partner, Jamaal Poston. Ken is very much looking forward to being a part of the Seattle music community, and continuing his lifelong passion of promoting the art of quartet singing and the perpetuation of the Barbershop Harmony Society.
---
---
Complete list of 2016 participants
---



Tweet the Sweeps! #harmonysweeps
---
---
Stay Informed!
Keep in touch. Hear about our a cappella shows by subscribing to our e mail list.
We will only send you information about our events and will
absolutely never share or sell this email list to anybody else.
---
Interested in Performing?
We are always seeking groups who would like to participate in our events.
Groups of any style are welcome, but you must have between 3 and 12 members. We have a rule book which explains many of the details of the event, which you can see by clicking here. All groups must audition in order to compete. Generally this is done by sending a current tape and photo, although live auditions are sometimes arranged. The purpose of the audition is to make sure the group is appropriate for the Festival and to help the Director determine the performance order. If a group has competed previously, the audition process may be waived.
Please send music and photos to the regional director :

Gary Witley (Pacific Northwest) The Pacific Northwest Regional Festival is sponsored and produced by Masterworks Choral Ensemble (MCE). Gary Witley is the Artistic Director & Conductor of MCE. MCE is a Southwestern Washington community chorus dedicated to performance, community service, music education and leadership in the arts. Our mission is to perform sacred and secular choral, orchestral and newly commissioned works; to participate in community service activities and to provide a leadership role in developing, sponsoring and broadening the vocal arts.

PO Box 1091, Olympia, WA 98501-1090
360-339-0532
gwitley77 (at) gmail.com