---
2014 Participating Groups
Catatonic
Catatonic is a vibrant new group erupting onto the a cappella scene. With members hailing from from three different collegiate groups in the Atlanta area, this up-and-coming ensemble fuses youthful energy with musical virtuosity to create a unique electronic a cappella sound. The group's innovative arrangements showcase its members' vocal prowess while pushing the limits of the genre. Having already performed with the likes of Musae, Catatonic is sure to deliver audiences a thrilling concert experience as they share their love for a cappella. And kittens.

Members: John Robinson, Andrew Leonard, Tammy Parkinson, Tye Tavaras, Carrie Leonard, Steve Ryan

---
Deviate
Only a little over a year old, Deviate's members have been together for a little longer. Each member, currently or previously, has a connection with UNCG's all female a cappella group The Sapphires. Forming in February of 2013, the girls have progressed as a professional group in the a cappella world - auditioning for X-Factor, working to produce their first album, and performing in gigs around North Carolina. Deviate brings a complicated and original ear to their top-40 (and some not-so-top-40) arrangements.These girls will stop at nothing to bring you awesome music, performances, and entertainment.

Members: Jessie Burton, Shelbi Flanagan, Emily Greene, Kera Keene, Samantha MacReynolds, Alesa Moore, Ashlie Acevedo

---
Epic
Epic formed when two barbershop a cappella harmony singers, a jazz singer and an opera singer found they discovered a common love of ringing chords, fun rehearsals and fantastic shoes. The foursome hails from Virginia and Maryland and is proudly affiliated with the Harmony, Inc., a premier international organization of women barbershop harmony singers. Epic is a vibrant quartet filled with an impressive blend musical and life experiences.

Members: Anne Albright, Shana Oshiro, Christina Lewellen, Kristina Adams

---
Mayhem
Mayhem's explosive harmonies & vibrant look have created quite a whirlwind among the Barbershop Harmony Society. Their song stylings & vibrant presentation have won over audiences at chapter shows. Barbershop harmony forms their roots but their approach is to turn this art form and present a different interpretation to the classics. For their modern song selections they like to include some zaniness. They have multiple awards that bring them pride. Most recently winning the 2014 Mid-Atlantic District Quartet Championship and competing at the Barbershop Harmony Society's International Convention.

Members: Mike Pinto, Dr. Matt Fellows, Ken White, Neil "Pookie" Dingle

---
Pitches Be Crazy
In simple terms, we are a cover band rockin' some of the biggest hits of the 70s, 80s, and 90s. We bang around with our instruments (aka, our voices) and make music that will have you saying, "OH SNAP, That's my jam!" Edgy and raw in our arrangements and presentation, we add those juicy harmonies and bone rattling percussion and bass old school, making PBC Acappella very unique across the a cappella landscape.

Members: Leslie Kekuewa, Chris Macikowicz, Didi Ruiz, James Parker, Z. Kekuewa

---
Sixtus
Sixtus is one priest, one deacon, one seminarian, and JONATHAN. We have been singing for 3 years now and firmly believe that one of the best ways to love God and to love people is through music. In September 2012, we released our first CD that shows the diversity of music that we enjoy. All of us have studied music in some way or another but our careers will all be ultimately in the Church or in education. We are excited and humbled at the opportunity to sing at the Sweepstakes!

Members: David Gaines, Levi Hartle, Jonathan Gibbons, Joseph Goldsmith

---
Sunday Afternoon
Based in Cedar Rapids Iowa, Sunday Afternoon's (SA) distinguished sound comes from the diversity of each member of the band. We strive to perform high energy, family friendly shows and we pride ourselves in our ability to incorporate a wide variety of music genres into all performances, including but not limited to: pop, R&B, rock, techno and even a little country. SA has performed for hundreds of people at various state fairs, ball games, wine tastings, and concerts in Iowa as well as Illinois, Missouri, North Carolina, and Virginia. We aim for everyone to leave our performances satisfied.

Members: Alicia Strong, Matthew Bryant, Stephen Banks, Sheila Wagner

---
West Side 5
West Side 5, an award-winning vocal jazz ensemble based in New York City, is known for its refined sound and sophisticated approach to jazz. Inspired by greats like Manhattan Transfer, New York Voices, and The Real Group, WS5 has crafted its own unique sound, characterized by highly original arrangements, complex harmonies, and outstanding musicianship.

The group formed in the summer of 2009, bringing together five old college friends on the west side of Manhattan. They immediately garnered acclaim, winning the Mid-Atlantic Harmony Sweepstakes while being voted Audience Favorite and winning Best Arrangement for "Pure Imagination". They went on to be featured artists at the SingStrong A Cappella Festival, and have performed alongside groups including Blue Jupiter, Streetcorner Symphony, and The Bobs, as well as for Mayor Michael Bloomberg at Gracie Mansion in New York.

Members: Sara Wajnberg, John Shumway, Eric Hughes, David McIntosh, Corrine Byrne

---
Your Emcee for the Evening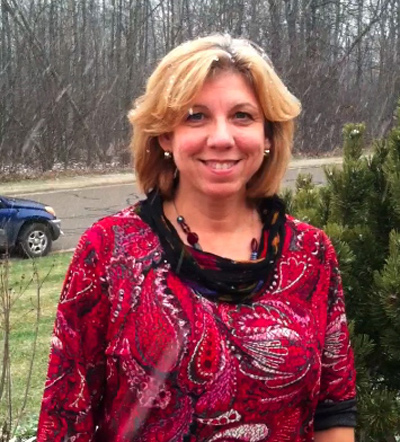 Sara Rasmussen
Sara Rasmussen has been a member of the Mid-Atlantic Regional production team for several years and a supporter of the Sweeps long before that. This year, she is stepping into the producer role. Sara enjoys many styles of music and was drawn to the Sweeps because it includes such a diversity of genres. Sara has been a member of Sweet Adelines for over a decade, has competed in numerous competitions both as a member of the Potomac Harmony Chorus and as a "baritone" in various quartets. In recent years she has been performing in the Washington, DC area with the Capitol Swing Quartet. In addition to helping out with production of various Sweet Adeline events, Sara has also been involved in the programing and production for several large DC area music festivals.
---
2014 Judges
Padi Boyd

Padi Boyd is the musical director of The Chromatics. This much loved DC group is a six-voice high-energy vocal band that focuses on original music. She is a co-creator of the AstroCappella Project. Dubbed "an astronomy class, set to music" by Sky and Telescope magazine, AstroCappella is a collection of astronomically-correct educational songs and lesson plans in use in classrooms throughout the world. The Chromatics have presented AstroCappella at the National Air and Space Museum, the Hayden Planetarium, several NASA centers, and educator conferences from Palm Springs, to Orlando, Las Vegas and New York and their CD has even flown in space. In their two decades under Padi's direction, the Chromatics have produced an additional half dozen CDs and have been nominated regularly for CARA and WAMMIE awards. By day (and sometimes night) Padi is an astrophysicist at NASA's Goddard Space Flight Center, working on the Hubble Space Telescope and other orbiting observatories.
---
Amanda Cornaglia

Amanda Cornaglia is the manager for Acaville Radio, a 24/7 streaming service for a cappella music. Amanda is also co-owner of Clear Harmonies, a full service studio and management company for a cappella groups. She got her start in contemporary a cappella with Special K, an all-female ensemble at Hamilton College. She has since performed and directed groups around the globe. She is business director and primary arranger of the multiple CARA nominated group Euphonism.

She also founded Snowday, a professional quintet that incorporates contemporary vocal music into education, visiting close to 100 schools each year. She has served in various capacities at the Contemporary A Cappella Society of America (CASA) & turned the Contemporary A Cappella League into its own non-profit organization. Amanda has been a CARA nominator and judge since 2010.
---
Ted Donat

The Mid-Atlantic Sweeps welcomes Ted Donat as judge again this year. Ted produced the Mid-Atlantic Regional from 2002 to 2011, and is responsible for moving the venue to his favorite place in the world to enjoy music - The Birchmere Music Hall. Ted has been singing, writing, arranging, directing and producing music for over thirty years. His a cappella experience began with the Amherst College Zumbyes (that is if you don't count High School madrigals choir) and continued post-college in New York City where he would join Downtown Vocals and ultimately go on to direct the group. After relocating to the DC area in 1999, Ted would join dcVocals in 2000 and ultimately go on to direct. Since 2004, Ted has continued to sing in bands, most recently with A Beautiful Noise.. It is always an honor for Ted to be invited to participate in the Harmony Sweepstakes.
---
---
Complete list of 2014 participants
---

---
---
Stay Informed!
Keep in touch. Hear about our a cappella shows by subscribing to our e mail list.
We will only send you information about our events and will
absolutely never share or sell this email list to anybody else.
---
Interested in Performing?
We are always seeking groups who would like to participate in our events.
Groups of any style are welcome, but you must have between 3 and 12 members. We have a rule book which explains many of the details of the event, which you can see by clicking here. All groups must audition in order to compete. Generally this is done by sending a current tape and photo, although live auditions are sometimes arranged. The purpose of the audition is to make sure the group is appropriate for the Festival and to help the Director determine the performance order. If a group has competed previously, the audition process may be waived.
Please send music and photos to the regional director :

Amanda Cornaglia (Mid-Atlantic) Amanda Cornaglia is the manager for Acaville Radio, a 24/7 streaming service for a cappella music. Amanda is also co-owner of Clear Harmonies, a full service studio and management company for a cappella groups. She got her start in contemporary a cappella with Special K, an all-female ensemble at Hamilton College. She has since performed and directed groups around the globe. She is business director and primary arranger of the multiple CARA nominated group Euphonism. She also founded Snowday, a professional quintet that incorporates contemporary vocal music into education, visiting close to 100 schools each year. She has served in various capacities at the Contemporary A Cappella Society of America (CASA) & turned the Contemporary A Cappella League into its own non-profit organization. Amanda has been a CARA nominator and judge since 2010.



amanda (at) clearharmonies.com