---
2015 Participating Groups
HALO
HALO represents the first Barbershop quartet of African American singers to compete on the international stage of a Barbershop organization. We sing a Capella- hip hop and Barbershop. Our quartet also represents our organization HALO, Inc. working to use the Barbershop genre as a framework for our Community Music Therapy initiative using the listening and singing experience of Barbershop music to confront issues of racism in the United States with productive dialogue.

Members: Nadira France, Jasmine Barnes, Shana Oshiro, Niambi Powell

---
King's Post
King's Post - named after an architectural term - is a contemporary pop and pop-culture a cappella group with jazz and classic rock leanings. Based in Blacksburg, VA, this five person vocal band is wrangled by baritone/VP/eye-roller Jordan Truesdell (Blacksburg), and features Jennifer Nardine (Blacksburg) on soprano/VP/duck quack, Liza Roop (Blacksburg) on mezz-alto/VP/hula moves, Jesse Janowiak (Blacksburg) on high tenor/goofy voices, and Eric Brown on second tenor/baritone/puns (Christiansburg). While often overly amused by themselves, King's Post takes pride in the mix of harmony, heart, and humor they bring to the realm of a cappella.

Members: Jordan Truesdell, Richard Sherman, Jennifer Nardine, Karl Speer, Eric Brown, Christine Gnieski

---
The Lobby
Known throughout the DC a cappella scene Mallory Zuckerman, Olivia Brice, Anderson Wells, Warren Zentz, Ben Parker and Chris Abramson have been wow-ing audiences on their own and in various groups for most of their lives. In late 2013 an idea formed and they decided to join forces to see what they could accomplish! The Lobby prides themselves on their high powered solos, collaboration driven arrangements, and dynamic rhythm section, but most of all they love to perform and bring audiences their own brand of pop a cappella.

Members: Mallory Zuckerman, Olivia Brice, Anderson Wells, Warren Zentz, Benjamin Parker, Chris Abramson

---
Orfeia Vocal Ensemble
Orfeia is an all-woman vocal ensemble dedicated to preserving and sharing traditional music from Bulgaria and Eastern Europe. Orfeia's repertoire spans the rich and varied vocal traditions of Eastern Europe, from traditional village songs to sacred chants, with origins from the Middle Ages to modern day. Founded in 2006 by artistic director Tatiana Sarbinska, Orfeia shares the unique harmonies, ornamentation, and rhythms of Balkan music through performances and workshops in the mid-Atlantic region and in Bulgaria.

Members: Rhonda Kranz, Elin Zurbrigg, Diane Weinroth, Sarah Allard, Michelle Morrison, Carlendra Frank, Louise Mundstuck, Tatiana Sarbinska

---
Pitches Be Crazy
In simple terms, we are a cover band rockin' some of the biggest hits of the 70s, 80s, and 90s. We bang around with our instruments (aka, our voices) and make music that will have you saying, "OH SNAP, That's my jam!" Edgy and raw in our arrangements and presentation, we add those juicy harmonies and bone rattling percussion and bass old school, making PBC Acappella very unique across the a cappella landscape.

Members: Zadoc-Lee Kekuewa, Leslie Kekuewa, James Parker, Aida Ruiz, Chris Macikowicz

---
Stiletta
Stiletta is a NYC-based, all-female sextet combining pop leads, dance beats and hip-hop choreography. In 2016, the ladies of Stiletta were crowned National Champions at the 32nd Annual National Harmony Sweepstakes A Cappella Festival, winning in every possible award category: First Place, Audience Favorite, Best Arrangement, and Best Original Song. This enormous accomplishment came on the tail end of having won First Place and Audience Favorite at the 2015 Mid-Atlantic and 2016 New York Harmony Sweepstakes competitions, as well as Best Vocal Percussion and Best Arrangement. These ladies have the moves, the grooves and even the shoes. So get pumped!

Members: Judy Minkoff, Haley Clair, Meg Lanzarone, Jaymee Frankel, Olivia Harding, Meghan Costa

---
With Special Guests
A genre-bending one man vocal band, Mike Why is a mouthdrummer, vocalist, and live looper who engages audiences of all ages, and from coast to coast. His brand of "A Cappella for One" has landed at Contemporary A Cappella Society festivals such as SoJam (Raleigh, NC) and the Texas A Cappella Celebration, International Live Looping Festivals in Austin, Los Angeles, and the San Francisco Bay; San Antonio's Luminaria Festival, and the Hard Rock Las Vegas. He currently tours in support of his freshman record Run My Mouth, which released to positive reviews: Loudr Music called him "a mouth of many Instruments" and delivered comparisons to modern vocal innovators Pentatonix and Peter Hollens; the Recorded A Cappella Review board remarked "as a cappella debuts go, Run My Mouth is about as good as it gets." Also an ambassador for arts outreach, Mike's upcoming April 2015 two-day, 800-song One Mouth Music Show seeks to build free contemporary arts education opportunities at chronically underfunded programs through an ongoing Patreon campaign, and will also make him the first American to hold the World Record of Beatboxing.

---
2015 Judges
Ted Donat

The Mid-Atlantic Sweeps welcomes Ted Donat as judge again this year. Ted produced the Mid-Atlantic Regional from 2002 to 2011, and is responsible for moving the venue to his favorite place in the world to enjoy music - The Birchmere Music Hall. Ted has been singing, writing, arranging, directing and producing music for over thirty years. His a cappella experience began with the Amherst College Zumbyes (that is if you don't count High School madrigals choir) and continued post-college in New York City where he would join Downtown Vocals and ultimately go on to direct the group. After relocating to the DC area in 1999, Ted would join dcVocals in 2000 and ultimately go on to direct. Since 2004, Ted has continued to sing in bands, most recently with A Beautiful Noise.. It is always an honor for Ted to be invited to participate in the Harmony Sweepstakes.
---
Claire Gardiner

Claire Gardiner joined the Fairfax based Vienna-Falls Chorus of Sweet Adelines International in 1984, began directing the chorus in 1993, and has led Vienna-Falls to six Regional Championships. She has sung in many Quartets, one of which won the Regional Championship in 1989. She is currently singing in a new quartet which will compete in 2 weeks at their Regional Competition in NC. Claire is a faculty member within her Sweet Adeline Region, where she teaches arranging classes, gives voice lessons and coaches many choruses and quartets. In her 'day job', she is a Supervisory Registration Specialist in the Performing Arts Division of the U.S. Copyright Office here in D.C. This is one of only a few jobs in the Federal Government, which requires a music degree. Claire has judged the competition several times in the past.
---
Dileep Srihari Capitol Hearings

Dileep Srihari is the founder and music director of The Capital Hearings, a Washington DC vocal ensemble that performs music from different genres including classical, jazz, and pop. He also performs regularly with the Choral Arts Society of Washington, and has appeared as a tenor soloist at the Kennedy Center and other venues. When not singing or directing, Dileep is a lawyer specializing in telecommunications policy issues.
---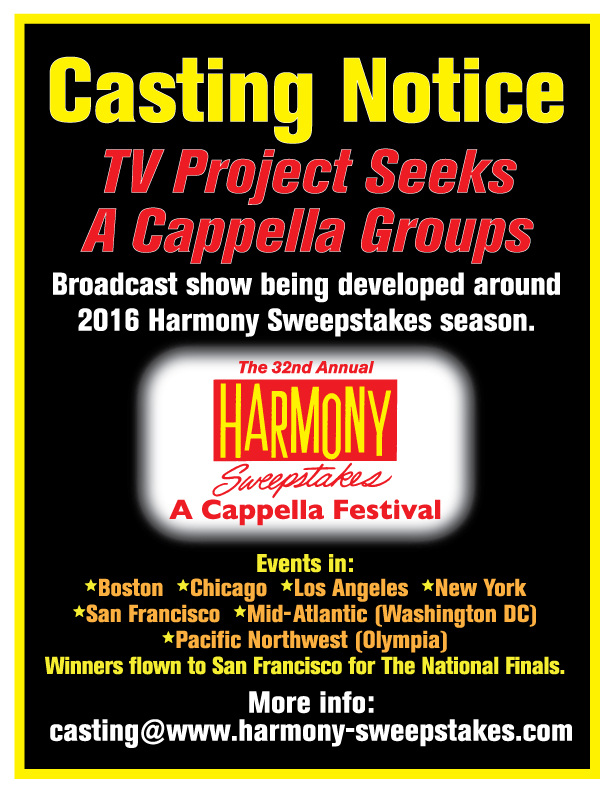 ---
---
Complete list of 2015 participants
---



Tweet the Sweeps! #dcsweeps
---
---
Interested in Performing?
We are always seeking groups who would like to participate in our events.
Groups of any style are welcome, but you must have between 3 and 12 members. We have a rule book which explains many of the details of the event, which you can see by clicking here. All groups must audition in order to compete. Generally this is done by sending a current tape and photo, although live auditions are sometimes arranged. The purpose of the audition is to make sure the group is appropriate for the Festival and to help the Director determine the performance order. If a group has competed previously, the audition process may be waived.
Please send music and photos to the regional director :

Amanda Cornaglia (Mid-Atlantic) Amanda Cornaglia is the manager for Acaville Radio, a 24/7 streaming service for a cappella music. Amanda is also co-owner of Clear Harmonies, a full service studio and management company for a cappella groups. She got her start in contemporary a cappella with Special K, an all-female ensemble at Hamilton College. She has since performed and directed groups around the globe. She is business director and primary arranger of the multiple CARA nominated group Euphonism. She also founded Snowday, a professional quintet that incorporates contemporary vocal music into education, visiting close to 100 schools each year. She has served in various capacities at the Contemporary A Cappella Society of America (CASA) & turned the Contemporary A Cappella League into its own non-profit organization. Amanda has been a CARA nominator and judge since 2010.



amanda (at) clearharmonies.com