Mike Mendyke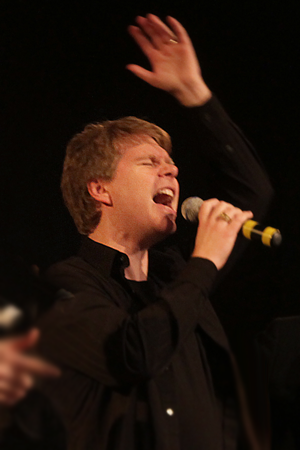 Mike Mendyke started his first a cappella group in sixth grade, and has been singing in groups ever since. A graduate of MIT with a degree in aerospace engineering, Mike believes that every a cappella group should have at least one rocket scientist. Mike cut his contemporary collegiate a cappella teeth with the MIT Logarhtyhms

In the '90s Mike sang bass for three Boston-area groups: Extra Cheese, Five O'Clock Shadow, and Alta Voz. In 2000 Mike met film and television legend Dick Van Dyke and formed a quartet called Dick Van Dyke and The Vantastix. The Vantastix regularly perform at hospitals and charity events throughout the greater Los Angeles area, and have made numerous television appearances.

In June of 2010 The Vantastix performed at Ford's Theatre in Washington DC for President Obama and 600 of his closest friends.

When in Portland Mike loves to harmonize with the rest of The Strangers, providing a solid bass foundation for the group's lush leads and testosterone-challenged higher voices.
---
| | |
| --- | --- |
| | Pacific Northwest Harmony Sweepstakes 3rd Place Winners |
---
| | |
| --- | --- |
| | Pacific Northwest Harmony Sweepstakes Performer. |
---
| | |
| --- | --- |
| | Pacific Northwest Harmony Sweepstakes Performer. |
---
| | |
| --- | --- |
| | Pacific Northwest Harmony Sweepstakes Performer. |
---
| | |
| --- | --- |
| | Pacific Northwest Harmony Sweepstakes 2nd Place Winners |
---
| | |
| --- | --- |
| | Boston Harmony Sweepstakes Champions |
---