They're driven by a mission to connect Jews around the globe with their heritage through music, anchored by a strong Jewish identity, and fueled by thumping beatbox, intricate arrangements, and soulful harmonies. Six13 is a groundbreaking, six-man a cappella vocal band that brings an unprecedented style of Jewish music to the stage, with songs ranging from hip-hop dance tracks to rock anthems. The members of the New York City-based group sound like a full band – while using nothing but their voices.

Six13 is a national phenomenon both on the internet (with over 8 million views on YouTube) and in traditional media, featured in national television and press like The Today Show, The View, CBS, CNN, Huffington Post, Time Magazine and more. They have performed at the White House for President Barack Obama and First Lady Michelle Obama, and are three-time finalists in casting for NBC's prime-time hit "The Sing-Off". Music from their seven award-winning albums has been adapted by choirs worldwide and played on mainstream radio across the globe. Bruno Mars liked their Passover version of his song so much, he posted it on his own Facebook page.

The group's seven award-winning albums have over 20,000 copies in circulation, and are among the top Jewish music artists on iTunes; their songs have been chosen for ten "best-of" compilations to date. They have received distinctions and accolades from Jewish organizations like the National Council of Young Israel and Moment Magazine, and awards from musical organizations like the Harmony Sweepstakes and the Contemporary A Cappella Society of America. They are three-time finalists in casting for NBC's prime-time hit "The Sing-Off".

Six13 has made appearances around the world for millions, to rave reviews and standing ovations. They've played the White House, the Chabad Telethon, Washington D.C.'s Kennedy Center, traversed New York's Fifth Avenue in the Salute to Israel Parade, headlined the North American Jewish Choral Festival.
Members: Eric Dinowitz, Rob Operman, Craig Resmovits, Jacob Spadaro, Mordy Weinstein, Mike Boxer
Contact Six13





---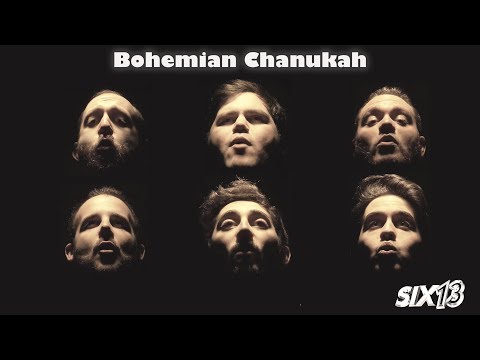 Is this just fantasy? No, it's our Chanukah tribute to one of the greatest and most epic songs of all time. Ready, Freddie? Kindle the lights, remember the Maccabees, and rock on. CHAG SAMEACH!