---
2013 Participating Groups
Bowties have been performing in the Rochester, NY area since 1997. The group sings a wide variety of music from jazz to doo-wop to rock and pop classics, and performances are laced with humor and fun. In 2006 they released their first CD "Untied". This was followed by their late 2012 release "Black Tie Optional" featuring jazz vocalist Madeline Forster, their first female member. A majority of The Bowtie's songs are arranged by group members.


Members: Madeline Forster, Tim Forster, Paul Howes, John Langfitt, Phil Marino, Chris Teal

---
The Dolls - Unique. Inviting. Joyful. Surprising. Fun. Simple, yet Complex. The Dolls are a fresh a cappella group making waves over the internet and across the world. The Dolls formed in 2008 at The University of the Arts in Philadelphia with members Mary Anne Cleary, AJ Luca, Ariel Kerber, and Megan Wellman. With backrounds in Jazz, Doo Wop, Musical Theatre, and even Opera, The Dolls began arranging tunes of all genres. Today, The Dolls do all types of music, inlcuding Pop, Spiritual, Folk, and Indie. You name it, The Dolls can sing it--with style! Their unique musical backrounds help create dynamic sounds that are always surprising. Arranging their music organically, and always as a team, the girls find their best work comes from spontaneous, adventurous musical moments. They work together in harmony so well, it's hard to believe there are only 4 voices creating their rich sound.


Members: Mary Anne Cleary, Ariel Kerber, AJ Luca, Megan Wellman

---
LarKings were originally formed in 1961 in Williamsburg and Ridgewood Brooklyn, NY. They first performed at Eli Whitney High School After a few years of performing they reformed in 1993. Making their debut at the United Group Association, they are considered one of the most popular vocal groups which specialize in reproducing the sounds of the Moonglows and Nutmegs. Their Melliflous voices has won them the Lead East Vocal Group Acappella Competition twice. No doubt you too will be mezmorized by the sweet harmonic sounds of the LarKings.
The LarKings repertoire consists of 50's, 60's and 70's music.They have won Veteran Group of the Year for 1997 and have a new CD available on the Clifton label, and now the LarKings have been inducted into the Doowop Hall of Fame 2009 at Boston Symphony Hall

Members: Gil Torres, Warren Tesoro, Nelson "Tino" Alverezl, Cal Ng, Bernard BJ Jones

---
Loose Interpretations is a ten member all female contemporary a cappella group, who proudly call New York City home. The group was originally formed in 2006 by several women who were recent college grads who craved the fun and excitement of college a cappella. That experience inspired them to create a post-collegiate group for like minded young women...and Loose Interpretations was born. We pride ourselves on how we've grown over the years from performing in the park wherever we could find an audience, to selling out such amazing venues as Arlene's Grocery, Cafe Wha?, Crash Mansion, and even performing at the Metropolitan Opera House. Our recordings are live and unmastered, which we thinks represents us as we are. We perform everything from 80's pop, to the Beatles, to country, to rock, and have several members who use their musical talents to constantly update our repertoire with amazing original arrangements.

Members: Erin Byram, Stacia Woodcock, Dana Kragh, Emilie Bandy, Jen Kipley, Laura Campbell, Heather Glotzer, Reynetta Sampson

---
Low Key - Built from one of the longest running all-male a cappella groups in New York City, Low Key is a brand new ensemble of good friends and great singers coming together in a small group. Combining doo-wop and barbershop classics with contemporary pop hits, Low Key showcases varied styles throughout. The group is actively looking to build buzz and gain momentum performing in the city.,

Members: Sam Orleans, Will Moller, Adam Zamora, Ben Piper, Josh Ruzansky, Mike Ogurick

---
The Rainbows is a group from Quebec City started in 2007, comprised of six professional signers. The six voices brought together forms en explosive sound full of rich harmonies. They take their inspiration from Jazz, Pop music and always surprise their public with original arrangements that come to life after several jam sessions. Why are they called ''The Rainbows''? We'll let you figure it out.

Members: Julie Vandal, Genevieve Paré, Hera Menard, Alexandre Hudon, David Latulippe, Nicolas Grynzspan

---
Satellite Lane - The newest group to join the Contemporary A cappella League, Satellite Lane was formed almost one year ago.. We are all music educators who strive to put our best musical efforts forward. We specialize in original material as well as live improvisation and looping. We sing popular music with jazz harmonies and inflections, much like the Real Group or the Swingle Singers.

Members: Marc Silverberg, Alex Forte, Andrew Duca, Christine Benedetti, Mara Stomber, Melanie Malusa, Andrew Fallu

---
Six13 - Fueled by a strong, Jewish identity and anchored by thumping beatbox, intricate arrangements, and soulful harmonies, Six13 is a six-man vocal band that brings an unprecedented style of Jewish music to the stage. With songs ranging from hip-hop dance tracks to rock anthems, the members of the New York-based group sound like a full band – while using nothing but their voices. Six13 has recorded four award-winning albums, whose songs have been played all over Jewish radio and been chosen to appear on nine different "best of" compilation albums. The group has over 20,000 CDs in circulation, and are among the top Jewish music artists on iTunes. They have received several distinctions and accolades from Jewish organizations like the National Council of Young Israel and Moment Magazine, and awards from musical organizations like the Harmony Sweepstakes and the Contemporary A Cappella Society of America. They have appeared on the Chabad Telethon, and were chosen from hundreds of groups, both Jewish and secular, as finalists in the casting process for NBC's hit prime-time television series The Sing-Off.

Members: Mike Boxer, Eric Dinowitz, Rob Operman, Craig Resmovits, Dan Singer, Mordy Weinstein

---
The Tee-Tones - Steeped in the tradition of soulful, gospel flavored, rhythm-n-blues street corner harmony that gave birth to American popular music coupled with each member's own passionate vocal performances, The Tee-Tones are carrying on the torch and tradition of their forefathers of the great harmony groups. From the Mills Brothers and The Drifters to The Temptations and The Stylistics, the Tee-Tones embody them all. After performing for such musical dignitaries such as Paul McCartney and Motown founder Berry Gordy recently with their special blend of 'a cappella doowop soul', the Tee-Tones are quickly becoming the premiere group harmony act in the northeast and a group to look out for in the months to come.

Members: Lee "Scout' Ford, George Ellington, Jerome Cohen, Gerard Gittens,

---
Vocal Heights - Founded in 2002, Vocal Heights is a co-ed a cappella group with a fun, eclectic style and a wide range of music. Our mission is to put on a good show for our audience.Our repertoire includes contemporary rock and pop, specialty pieces, doo-wop, gospel, and jazz standards, with the occasional 16th-century madrigal thrown in. We also perform original songs, including "Optimism," which won Best Original Song in the 2007 Harmony Sweeps, and "Victory Road," which won Best Original Song in the 2010 Harmony Sweeps! Based in New York's East Village, the group consists of singers with a wide range of experience and musical background. We have performed in a variety of venues, including R-Bar, the Underscore, Parkside Lounge, Central Park, the Madison Square Garden Theater, and Radio City Music Hall


Members: Ira Stillwell, Alison Lynch, Daniel Scribner, Erik Levitt, Mindy Gordon Barnett, Cliff Archey, Andrea Au Levitt, Jim Longo

---
Your Emcee for the Evening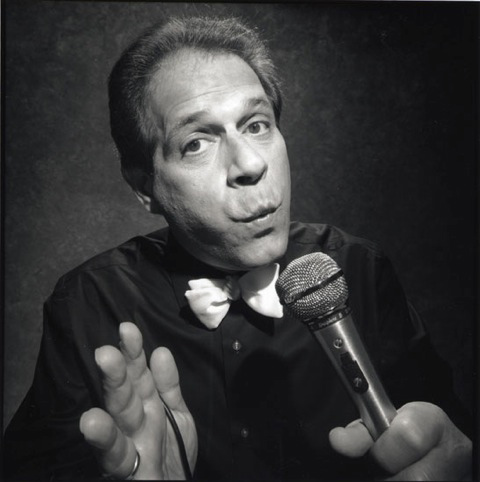 Steve "The Whistler" Herbst has been dazzling audiences with his artistic whistling for over 50 years. A remarkable three-octave range matches his enormous stylistic range, which encompasses classical music, jazz, blues, pop, and Broadway. At the 2002 International Whistlers Competition, Steve won International Grand Champion; and at the 2003, 2004, and 2005 Conventions, he was awarded the coveted title, International Whistling Entertainer of the Year (the first person ever to win 3X). In 2007, he was named to the Whistlers Hall of Fame, the highest honor a whistler can receive. These awards acknowledge not just his competitive excellence, but also his winning international acceptance for this musical art form wherever he performs.

Steve has appeared on "The Today Show", CBS-TV's "Early Show" and "Sunday Morning," plus "Good Morning America." He was also featured in and narrated the award-winning documentary film, "Pucker-Up – The Fine Art of Whistling." Other performances have included The Kennedy Center, Carnegie Hall, and Avery Fisher Hall; several appearances with the late, great Les Paul at the Iridium Jazz Club; Bird Land; The Cotton Club; and Ashford & Simpson's Sugar Bar; plus several TV commercials. His debut CD, Broadway and Beyond is in its third edition. When he's not whistling, Steve is a singing member of, and a frequent soloist with, the University Glee Club of NYC. Steve lives in NYC with his wife, Melinda where he teaches and coaches whistling for all levels of students.
---
The Judges


| | | |
| --- | --- | --- |
| | | Gerard Brown III is a screenwriter and former writer in residence with the New York Shakespeare Festival. He has written a number of screenplays and teleplays for the likes of Paramount Pictures and HBO among others. However, his most gratifying artistic accomplishment was PBS's Spike & Co: Do it A Cappella which he conceived, wrote, and co-executive produced and shot at the Brooklyn Academy of Music. Gerard Brown III is a screenwriter and former writer in residence with the New York Shakespeare Festival. He has written a number of screenplays and teleplays for the likes of Paramount Pictures and HBO among others. |
---
| | | |
| --- | --- | --- |
| John Califra is an accomplished composer whose work with small group ensembles, vocalists, and large orchestras encompasses Oscar and Emmy-winning film and television productions, documentaries and animated features. His music spans an impressive variety of styles, genres and emotions. His credits include Keiko Ibi's Oscar-winning "The Personals", and the 2007 feature film "My Brother" starring Vanessa Williams, which the New York Times noted for the "moving orchestral score by John Califra." He scored the music for Jonathan Caouette's indie hit film "Tarnation", which was nominated for an Independent Spirit Award for Best Documentary. John also recently worked on Barbara Rick's Emmy-winning "She Says: Women In News". His score for Stephen Higgins and Nina Seavey's film, "The Matador" received an Emmy nomination and Last year, he scored music for the national commemoration of the 10 year anniversary of the 9-11 tragedy in Washington DC. He composed the music for the New York City Times Square Millennium celebration and the theme music for Major League Baseball's World Baseball Classic. John Califra's music has been performed and recorded worldwide by such noted orchestras as the San Diego Symphony, the Hungarian Radio Orchestra, the Philarmonica Bulgarica and by members of the Czech Philarmonic. The Whitney Project, which will be released this spring to major digital retail stores worldwide. | | |
---
| | | |
| --- | --- | --- |
| | | Margaret Dorn is an award- winning singer, composer, arranger and producer whose work encompasses the recording industry, commercials, film and television, theater, night clubs and the concert stage. As a versatile vocalist and musician she covers a broad range of styles. She has sung with many artists including Celine Dion, Bette Midler, Lionel Richie, Jennifer Lopez, Donald Fagen, Boz Scaggs, k.d. lang, Carly Simon, Michael McDonald, Jessica Simpson, Willie Nelson, Barry Manilow, Michael Feinstein, Diana Ross, Rosanne Cash, Lucie Arnaz, Garth Brooks and The Chieftains. She recently toured the US and Australia with Bette Midler. A highly respected writer and vocal arranger, Margaret's work includes pop, rock, country, jazz, gospel, r&b, classical, theatrical and some styles that can't be defined! She has written the score for a new musical, "Faraway Bayou", featured in the NAMT festival in 2006. She's always writing and arranging for her elegantly eclectic a cappella group THE ACCIDENTALS. Award winners on both coasts (Back Stage Bistro and 3 MAC Awards in New York; 3 CARA s ), The Accidentals won the Harmony Sweepstakes National Championship-sweeping all the categories in the New York Regional and 3 of the four categories in the National Sweepstakes. With 5 CDs (produced by Margaret), theater and cabaret shows, TV and film scores, and TV appearances (Denis Leary's "Merry F#$%in' Christmas"), The AX is still rockin'! |
---
| | | |
| --- | --- | --- |
| Mark Paul is an accomplished a cappella singer, vocal coach and lifelong musician. Mark is a 35-year member of the Barbershop Harmony Society. As the former bass of a top-20 international-level a cappella barbershop quartet for nine years, he regularly entertained audiences across the United States and internationally. He holds a championship in quartet competition in the six-state Mid-Atlantic District. He served for seventeen years as the bass section leader for two gold and silver internationally competitive choruses. Mark has been a vocal coach for 29 years, working with individuals, quartets and choruses. He is also the front-line Director of an a cappella barbershop chorus. He applies an exceptional sensitivity and passion to guide others to reach higher levels of musical awareness and achievement. He has served as faculty on several a cappella music education programs. In his spare time, he is a Reiki healer for both people and pets, is an Executive Coach for individuals, and is a camper and fisherman. He lives on the Upper West Side in Manhattan, NY. | | |
---
| | | |
| --- | --- | --- |
| | | Jim Vincent is a singer, composer, arranger, and a founding member of The Accidentals, past winners of both the New York and the National Harmony Sweepstakes A Cappella Festival. His rich and complex arrangements have been a major contribution to the group's signature "orchestral" sound. In addition to his work with The Ax, Jim has sung with a wide variety of artists in the pop, jazz and classical fields – among them, Barenaked Ladies, Richard Barone, Randy Brecker, The Chordettes, Petula Clark, East Village Opera Company, Julie Gold, David Johansen (a/k/a Buster Poindexter), Christine Lavin, Denis Leary, Karen Mason, Vernon Reid, The Roches, Jane Siberry, and Ronnie Spector. As a composer, Jim is particularly drawn to the beauty and the challenge of setting poems to music. He has made songs from the poems of Emily Dickinson, e.e. cummings, Eleanor Wilner, and fellow Accidental Marcia Pelletiere. Currently, he is collaborating with the poet N.M. Hoffman on a song cycle inspired by the "Chairs" paintings of Gloria Matuszewski. A native of Rochester, New Hampshire, Jim earned a B.A. in music from the University of New Hampshire, where he studied composition, music history, and choral technique & conducting. |
---
| | | |
| --- | --- | --- |
| | | Afterglow! - Join us after the show at The Underground NYC restaurant for drinks, food and plenty of spontaneous singing. If you have a group then come on over. Located on the edge of Columbia University at 955 West End Avenue, at West 107th & Broadway. |
---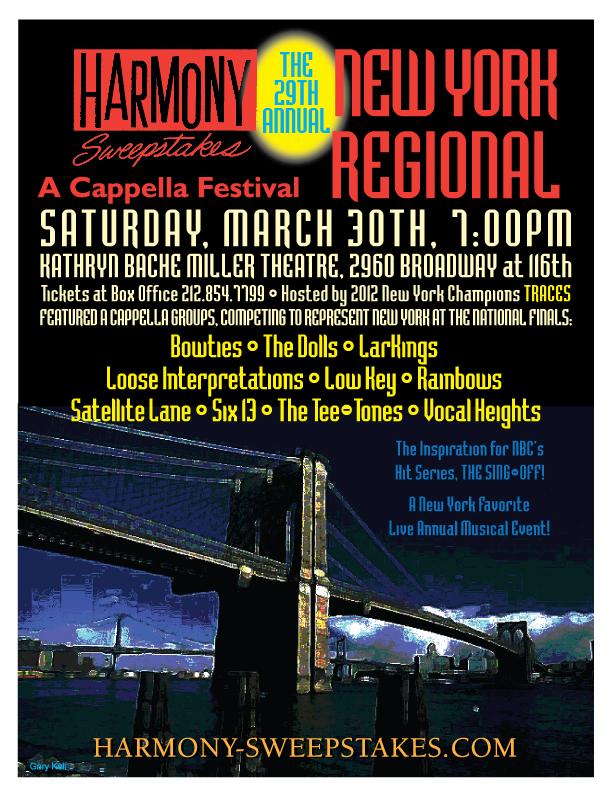 Complete list of 2013 national participants
---
Keep in touch with the New York a cappella scene! Subscribe to this regional resource for a cappella fans and groups.
Stay informed about upcoming shows and auditions, find a new member for your group or just keep up with the local a cappella news.
---
---
Interested in Competing?
We are always seeking groups who would like to compete in our events.
Groups of any style are welcome, but you must have between 3 and 8 members. We have a rule book which explains many of the details of the event, which you can see by clicking here. All groups must audition in order to compete. Generally this is done by sending a current tape and photo, although live auditions are sometimes arranged. The purpose of the audition is to make sure the group is appropriate for the Festival and to help the Director determine the performance order. If a group has competed previously, the audition process may be waived.

How to enter


Please send tapes and photos to the regional director:-

Colette Thompson has directed or performed in over eleven vocal ensembles, with her group, Stay Tuned, placing 3rd in the 1998 New York Regional of the Harmony Sweepstakes; Colette has performed/recorded with Lukas Foss, Leonard Bernstein, Jesse Norman, Peter, Paul & Mary, and James Levine A billboard-ranked singer/songwriter, she has also managed several events, including, Christmas at NYU, Complex at the Duplex, and An Evening with The Real Group at NYC's Symphony Space. With performances televised via major news programs including Good Morning America, The Today Show, CNN, and NY1, she is a promoter, producer, adjudicator and an ambassador of vocal music worldwide.

Thompson Consulting
128 Fort Greene Place, Suite 1B
Brooklyn, NY 11217
917-442-2011
newyork (at) harmony-sweepstakes.com

The Harmony Sweepstakes A Cappella Festival
PO Box D
San Anselmo, CA 94979
(415) 455-8602
festival (at) harmony-sweepstakes

---
Prizes

Regional winners win roundtrip airfare plus two nights accommodation in the San Francisco Bay Area to compete in the Harmony Sweepstakes National A Cappella Festival

A selection of compact discs from the Primarily A Cappella catalog

A $250 coupon from Discmakers
---
Complete List of New York Champions
Miller Theatre at Columbia University is a performing arts producer dedicated to developing and presenting new work from world-class artists. Acclaimed for its innovative programming, Miller Theatre provides an intimate exploration of the creative process and a look into the personalities and emerging trends in contemporary classical music, opera, dance, and film. Its adventuresome performances and elevation of advanced ideas have established Miller Theatre as a nationally recognized cultural center for artistic discovery.

Established in 1988 with funding from the Kathryn Bache Miller Fund, Brooke Astor, and John Goelet, Miller Theatre is located on the Columbia University campus in New York City. Yahoo map - Google map - Directions
---
Home | Boston | Chicago | Denver | Los Angeles | New York | Pacific North West | San Francisco | Washington DC

---

Read the latest reviews, articles, features and more - A CAPPELLA NEWS SEARCH OUR DATA BASE OF THOUSANDS OF A CAPPELLA RECORDINGS

To find a specific song on any recording (or to find recordings by group name or CD title),
pick the search method and type the item you are searching for here: