21st Annual
The Harmony Sweepstakes A Cappella Festival, the premier American showcase for vocal harmony music, celebrates its 21st year in 2005. The annual national competition draws from hundreds of vocal groups from around the country with regional competitions in eight cities. The winning group from each festival is flown to perform in front of celebrity judges and a sold out house of enthusiastic a cappella fans at the National Finals.
2005 New York Champions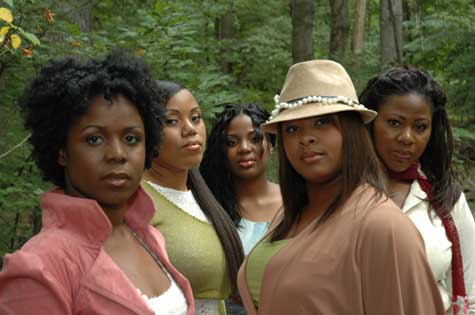 For the short time these five young church ladies been together it has been nothing but constant success. A quintet of powerful singers in their own right to come together and sing in harmony. A mixture of styles that range from the simplicity of a gospel choral arrangement with three parts to the complexity and intricacy of Manhattan Transfer. Lead vocals blaring and strong as Aretha Franklin and times the sweet tones and movements of an Ella Fitzgerald. Take time to come into the TRACES world and you wont be disappointed.

Members: Tia Fields, Keesha Gumbs, Kimberly Robinson,Bianka Kotee, Tameeka Gumbs.
2005 Participating Groups:
The Decibelles perform both popular and rare Doo Wop gems for the New York, New Jersey, Pennsylvania and Connecticut crowds. Founded over eight years ago, they have made their New York theatrical debut in "The Frog Prince" as the Andrews Sisters (top favorable reviews from the New York Times and Baskstage) and released their album "Wish That You Were Here."

Members: Kimberly Bowers, Donna Coney Island, Cindy Taylor and Debbie Wilkinson

F'loom is an avant cappella vocal trio that presents cutting-edge programs of "language music" original pieces that inhabit the fertile, mysterious realm that lies between pure language (speech) and pure music (song). Fíloom performs original all-vocal compositions seething with satire, social commentary, pop diatribe, slap, zap, melody, poetry, and comedy.

Members: Robert Kulik, Bessi Phillips, Rick Scott

The Georgians Vocal Ensemble was first known as "Sixation" in Tbilisi, Georgia (Russia) in 1996. At first their program contained only jazz standards but later included folk and contemporary jazz. In 1997 the ensemble won the nomination "Best Vocal Group of the Year" on the Hit-Parade of National Radio in Georgia. In 1999 Sixation became the prize winner of the International Festival in Tampere, inland and won the grant of George Soros Foundation in the nomination "Modern Opinion of Folklore". In 2002 the sextet became a quartet, called "2x2" and won the New York regional Harmony Sweepstakes and went on to place second at the Nationals. The current group, with new members, is maintained under the direction Buka Kartozia.

Invisible Men: is a new septet based in Manhattan, dedicated to performing tasty and propulsive arrangements of the choicest pop and rock morsels. Members have converged on the group from seven different collegiate and semi-pro outfits.

Members: Michael Birnbaum, Justin Blanding, Warren Bloom, David Fountain, Oliver Libby, Tyler Pennock, Angelo Rufino.

Mystery Date: The group has roots as diverse as rock and roll, musical theater, collegiate a cappella and 'The Flirtations.' They delight audiences with their jazzy a cappella sounds and sweet and sassy stage presence. Performance venues range from New York Cityís Carnegie Hall and the Bottom Line to the Houston Astrodome Arena and the Mews in Provincetown as well as their digs at the Duplex in Greenwich Village. Through performances nationwide, they've shared stages with 'The Bobs,' 'Sweet Honey and the Rock's' Y'saye Barnwell, 'The Persuasions,' 'Voxy,' and 'Naturally Seven' among others.
Members: Joshua Koffman, Ken Browne, John Whitley, Bill Pooke

Sound Celebration: Sound Celebration, the 2003 Buckeye Invitational Mixed Quartet Champion, likes to mix it up performing spiritual, doo-wap, blues, folk, country, contemporary and novelty selections amidst the ringing tones of barbershop harmony. They do interactive workshops in local high schools promoting a cappella music and recently conducted a very successful Enrichment Program teaching a cappella music onboard Norwegian Cruise Line in December of 2004. They also were invited to give 2 concerts during the cruise.,

Members: Jerry Schmidt, Marcia ONeil, Sheryl Allyn, Gerry ONeil.

TRACES: A versitile group of five females that love to challenge themselves musically. Taking bounds with every rehearsal they step into ranges and styles that make them unique. Thick lush voices to add to the pot makes them something to listen to.
Members: Tia Fields, Keesha Gumbs, Kimberly Robinson,Bianka Kotee, Tameeka Gumbs.

Uncle Baz and the Jive Street Five is a six-piece a cappella group based in New York City. We formed in late 2004 to perform music covering the whole spectrum from Jazz to Rock with passion and enthusiasm. The group is diverse in age, nationality and musical preference, and the inevitable resulting turf wars find their release in the dynamism and energy of our performances. Uncle Baz is 72 and lives in Arkansas.

Members: Sarah Corman, Amanda Durham, Xerxes Eclipse, Jane McIntosh, Andrew Ormson, Lehho Rebasso.

Yasna Voices Trio: Vlada Tomova, Corinna Snyder, and Kristin Espeland sing the close and ethereal harmonies of Bulgaria's traditional village and arranged styles. Tomova, Yasna's founder and director, is a Bulgarian national, a Berklee College of Music graduate, and full-time performer and arranger. Snyder, who holds a doctorate in anthropology and works for a multi-national consultancy, has been performing Balkan music for decades with Yasna and other ensembles. Espeland, a graduate student in journalism, has been performing with Yasna since its inception in 2003.
Members: Vlada Tomova, Corinna Snyder, Kristin Espeland.

Boston - Chicago - Denver - Los Angeles - New York - Pacific North West - San Francisco - Washington DC