---
2016 Participating Groups
The Atiles Sisters

We are four sisters ages 11 through 17 and we sing special arrangements of hymns, patriotic and broadway songs in 4 part harmony. Our musical friend/Director Steve Mugglin writes all of our arrangements. We also sing, act and dance in plays/musicals during the summer and winter seasons.

Members: Elena Atiles, Miranda Atiles, Sofia Atiles, Kayla Atiles

---
Backtrack

Founded in 2013, Bactrack is quickly defining itself as a powerhouse a cappella group throughout it's hometown, New York City, and beyond. This five member group performs a variety of music, with an emphasis on covers of today's top pop music. Bactrack was originally forms to produce YouTube videos, and since its founding, the group has gained over 4.1 million views and 42,000 subscribers. Expanding from it's YouTube origins, Backtrack now performs live and has taken the stage at various New York City venues.

Members: Mallory Moser, Melissa Jordano, Austin James, Andrew John Kim, Spencer Polanco

---
Famous Janes

Famous Janes is a NEW Female A Capella Quartet that epitomizes the best of Barbershop, while specializing in performing songs of the heart. Famous Janes was proud to compete at the Sweet Adelines International Competition and is already qualified for next year's International Competition after being together a few short months!

Members: Susan Taylor, Jen Kuethe, Harriette Walters, Amanda Clements

---
Feedback

New York City's Jazz R&B group, Feedback is a collection of professional musicians who have been seen and heard by millions around the world - both live and via broadcast. Turning artists like Usher and Beyonce on their head, the group pushes the boundaries of both jazz and R&B. With unique arrangements, tight harmonies, and world class vocals, Feedback has wowed audiences across the country. Feedback is thrilled to be returning to Harmony Sweeps!

Members: Sam Nulton, Michael Gullo, Doug Larsen, Garrett Philbin, Mark Martin, Alec Galambos

---
The Lost Keys

The Lost Keys are a New York based coed a cappella group, bringing a soulful sound to contemporary and classic pop music with the goal of creating a musical experience that entertains and inspires audiences of all ages. Many of the group members came to New York City to find themselves, and in the process, we found each other. Our shared love of a cappella created a sense of community that we strive to bring to every venue where we perform.

Members: Jamie Serkin, Rachel Weinstein, Jenny Baik, Deanna Giulietti, Sarah Peck, Joe Martinez, Andrew Gutterson, Peter Lam

---
Quintet

Quintet delivers a mix of classic vocal jazz a cappella and contemporary harmony. Comprised of an eclectic and seasoned cadre of music professionals, the 5-voice group features first-class, modern arrangements of the Great American Songbook's finest composers.

Members: Jacqueline Duryea, Stephen Gleason, Marc Silverberg, Christine Tamer, Yuki Yamaguchi

---
Stiletta

Stiletta is a NYC-based, all-female sextet combining pop leads, dance beats and hip-hop choreography. Winners of the 2015 Mid-Atlantic Harmony Sweepstakes, Stiletta also took Audience Favorite and Best Arrangement. Stiletta members boast multiple Off-Broadway and voice-over credits, WAMMY and CARA awards, original cast recordings for "Memphis" and "Dora the Explorer," a top rank at the Beatbox World Championships and a half-decade directing the Single Singers at SingStrong A Cappella Festival. These ladies have the moves, the grooves and even the shoes. So get pumped!

Members: Judy Minkoff, Haley Clair, Stevi Incremona, Jaymee Frankel, Olivia Harding, Meghan "MC Beats" Costa

---
Your Emcee for the Evening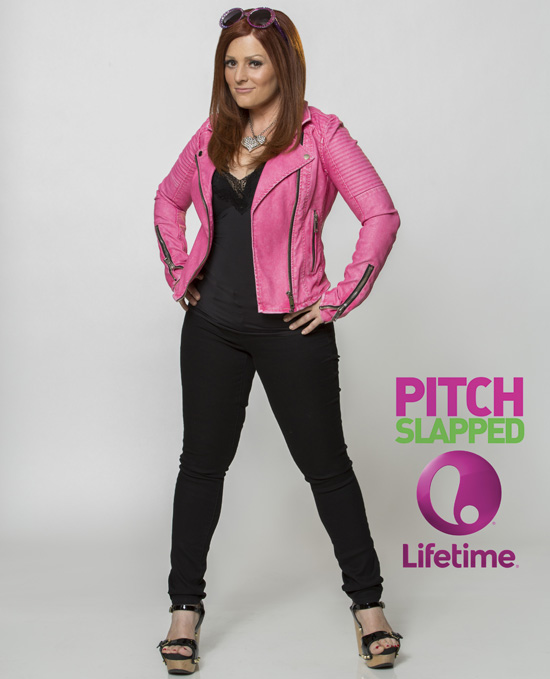 Diana Preisler is the star performance coach in Lifetime TV's new hit a cappella reality series "Pitch Slapped." Diana's career in a cappella began as the female lead singer, and band manager of Blue Jupiter, a contemporary a cappella quartet based in New York City. With Diana's leadership, Blue Jupiter has performed at performing arts centers, colleges, festivals, and corporate events around the world. Blue Jupiter won the Oreo "Milk's Favorite Jingle" contest, hosted by famed American Idol Judge Randy Jackson, and has performed with iconic performers like The Roots, Livingston Taylor, and The Persuasions. You may have seen Blue Jupiter on Oprah, VH1's Save the Music live events, and headlined theaters, cruise ships and casinos, including over 200 shows at the Sands Casino in Macau, China.

Diana can be seen starring in the a cappella docu-series "Pitch Slapped," viewable online here.l The show, inspired by her professional life as an a cappella performance coach, follows 2 rival a cappella groups competing in a summer invitational competition. Diana's group, Highlands Voices, are enrolled in #TeamDiana's boot camp where her unconventional coaching methods help transform this good high school a cappella group into an unstoppable singing team, worthy of the title "Champion."

Diana has recently launched her own YouTube Channel where she shares insights into the making of "Pitch Slapped" and music performances by her group, Blue Jupiter.
---
2016 Judges
Gerard Brown III

Gerard Brown III is a screenwriter and former writer in residence with the New York Shakespeare Festival. He has written a number of screenplays and teleplays for the likes of Paramount Pictures and HBO among others. However, his most gratifying artistic accomplishment was PBS's Spike & Co: Do it A Cappella which he conceived, wrote, and co-executive produced and shot at the Brooklyn Academy of Music.
---
Sara Yood

Sara Yood has been a producer for Varsity Vocals since 2003 and has been singing a cappella since her high school years. Sara has previously served as ICCA Midwest Producer and ICCA Northeast/New England Producer, and beginning in 2016, is also the ICHSA Northeast Producer. Sara served as both Concert Coordinator and Group Coordinator for The Amateurs at Washington University in St. Louis, leading the group to their first appearance in the ICCA Midwest semifinals. After moving to New York City in 2004, Sara sang with Treble, a New York City semi-professional all-female a cappella group. Sara then attended Fordham Law School, where of course she directed the law school's co-ed a cappella group The Tortfeasors. She is now an intellectual property lawyer in Manhattan, where she is he alto section leader of the New York City Master Chorale
---
Greg Cooper

Greg Cooper is a 29-year veteran of radio, television and theatre production, development and management. He has comprehensive experience in multimedia presentations and live event production and has also produced national television commercials and developed syndicated radio programming. In 2015, Greg produced the award-winning off-Broadway musical 'Acappella' at the New York Musical Theatre Festival. The production is slated to be published by Stage Rights in early 2016.
---
Mark Paul

Mark is an accomplished singer, performing artist, Musical Director and a lifelong musician. Originally an instrumentalist in symphony, jazz and gospel groups, he discovered the close harmonies of barbershop a cappella singing and never looked back. A 39-year member of the Barbershop Harmony Society, he currently sings with and provides vocal leadership to the New York City Voices of Gotham chorus. He has been a vocal leader at five other competitive choruses, serving one of them as chorus Musical Director. His top-20 international-level barbershop quartet, Reveille, regularly entertained audiences across the United States and abroad for a decade and was featured in the documentary film American Harmony. Mark is a popular vocal production and resonance coach for individuals, quartets and choruses globally, embracing all forms of a cappella singing. He works with men, women and youth in the Barbershop Harmony Society, Sweet Adelines International, CASA groups, International a cappella groups, actors, and many others. He has served as Faculty and Board Member for national and international a cappella music education programs.
---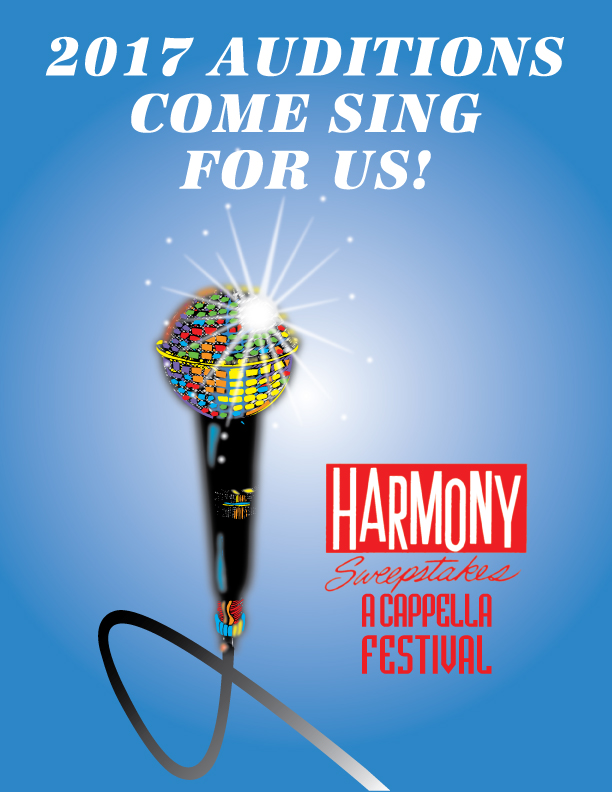 ---
---
Complete list of 2016 participants
---



Tweet the Sweeps! #harmonysweeps
---
---
Groups of any style are welcome, but you must have between 3 and 8 members. We have a rule book which explains many of the details of the event, which you can see by clicking here. All groups must audition in order to compete. Generally this is done by sending a current tape and photo, although live auditions are sometimes arranged. The purpose of the audition is to make sure the group is appropriate for the Festival and to help the Director determine the performance order. If a group has competed previously, the audition process may be waived.
Please send music and photos to the regional director :

Colette Thompson (New York) Colette Thompson has directed or performed in over eleven vocal ensembles, with her group, Stay Tuned, placing 3rd in the 1998 New York Regional of the Harmony Sweepstakes; Colette has performed/recorded with Lukas Foss, Leonard Bernstein, Jesse Norman, Peter, Paul & Mary, and James Levine A billboard-ranked singer/songwriter, she has also managed several events, including, Christmas at NYU, Complex at the Duplex, and An Evening with The Real Group at NYC's Symphony Space. With performances televised via major news programs including Good Morning America, The Today Show, CNN, and NY1, she is a promoter, producer, adjudicator and an ambassador of vocal music worldwide.

128 Fort Greene Place, Suite 1B, Brooklyn, NY 11217
917-442-2011
colette.thompson (at) mac.com