---
2017 Participating Groups
Crimson Cadence

Crimson Cadence is a group which fights to continue the close-harmony tradition of vocal jazz and crossover a cappella artists. They enjoy Applebee's and a good C13b9 chord any day of the week, and seek to provide a performance outlet for a variety of majors at Indiana University.

Members: Jeremy Gussin, Jacob Seo, Noah Nordman, Milan Babic, Melissa Krueger, Sarah Rauch, Ella Clary, Chelsea Bonhotal

---
Listen Up! A Cappella

Listen Up! connects audiences to the joy and pride of being Jewish and having a special connection to Israel. Chicago's uniquely compelling Jewish vocal band has twice won Best Original Arrangement in the Harmony Sweepstakes and is a Best Religious Album nominee of the Contemporary A Cappella Recording Awards. Their music videos have garnered more than a half-million views on YouTube and their "Hebrew Happy" cover of Pharrell Williams' hit led the world-music charts on iTunes. Recent projects include a music video to raise funds for victims of terror attacks and an Avenue Jew-worthy musical collaboration with Chicago's Puppet Mechanics. Listen Up! calls Chicago home as the house band (sans instruments) of the Greater Chicago Jewish Festival for the past 25 years.

Members: Shayna Elliott, Freddie Feldman, Steve Singer, Eli Taylor

---
LUC Counterpoint

Counterpoint is Loyola University Chicago's premier competitive co-ed acapella group! They personally arrange and energetically perform a diverse range of music to feature at concerts, competitions, and on albums!

Members: Rosie Bross, Malcolm Charles, Erinn Olszewski, Joesph Kramer, Isabel Dovale, Kathryn Habecker, Chloe Antrobus, Sophia Manternach

---
No Big Deal

No Big Deal is a contemporary quartet that brings a refreshing change of pace to the idea of quartet singing. with roots in classic doo wop, we combine the old with the new, bringing an exciting and unique sound to both classic and contemporary music. Coming from Chicago's incredible theater community, every member can be seen acting around the city, and have performed with such companies as Chicago Shakespeare Theatre, The Hypocrites, Pride Films and Plays, MINT, The Apollo, and Porchlight Music Theater. Their expertise on stage in all forms makes them one of Chicago's most entertaining a cappella experiences.

Members: Nick Druzbanski, Andres Enriquez, Sam Button-Harrison, Jake Meyer

---
The Northsiders

The reigning Illinois District silver medalists of the Barbershop Harmony Society, The Northsiders are a dynamic quartet delighting all audiences with old and new classics alike in the barbershop style and beyond. Their name reflects the fact that they are based in Chicago's North Side. They are equally comfortable at a formal service and a keg party. They are highly sought after for birthday celebrations, weddings, corporate events, and by the FBI.

Members: Noah Miller, Oliver Merrill, Loren Shevitz, Steve Schoultz

---
The Sound Exchange

From soulful ballads, to blistering rock anthems, from jazz standards to chart-topping singles, The Sound Exchange does it all. Based out of the Twin Cities, this group brings dazzling harmonies and wisecracking audience interaction to every show and do it with it with joy and humor. Get ready for the hijinks and harmony of...The Sound Exchange.

Members: Alicia Storkamp, Nick Bailey, Eric Buegler, Caleb Lee, Paul Donnelly

---
The Uptones

The Uptones (originally Uptown Sound) was formed by young professionals in Chicago who wanted to start an adventure in the world of contemporary a cappella. Our members come from many walks of musical life, including musical theatre, choirs, and college a cappella groups. With humble roots in caroling around the city during the 2009 holiday season, the group got its first big break performing at a small cafeé called Lincoln Perk in the summer of 2010 to a capacity crowd. The group continues to host bi-annual concerts and is currently recording their very first album.

Members: Steve Boblak, Ian Mateo, Taryn Pryor, Ethan McMahon, Aaron Taylor Mays, Vi Chaundry, Hannah Kelly, Thor Rudebeck

---
Your Emcee for the Evening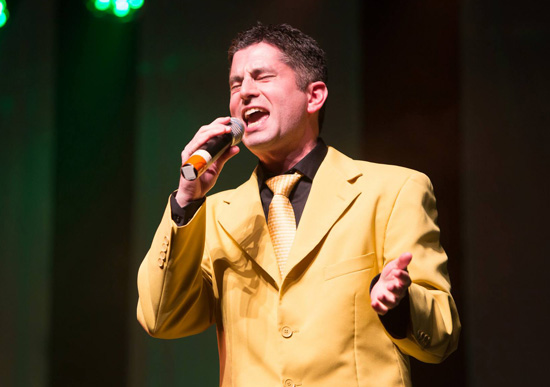 David Wilner is a singer, songwriter, pianist and DJ who has been performing in the Chicago area for over two decades. David's a cappella career began with the University of Illinois Xtension Chords where he won a Contemporary A Cappella Recording Award for vocal arranging. David went on to sing professionally with the popular Chicago-based vocal rock band Blind Man's Bluff where he toured nationally for six years and recorded five albums. David competed in the Chicago Harmony Sweepstakes with both Blind Man's Bluff and Fiveplay, winning First Place, Audience Favorite, and Best Original Song with each group. David twice took Third Place at the National Finals, once winning the award for Best Original Song. Today, David is on stage as often as possible: performing as a solo artist, leading events as a DJ, singing in the classic rock quartet Ac·Rock, spreading holiday cheer in The Caroling Party,, and releasing his inner "Jersey Boy" in the Frankie Valli and The Four Seasons tribute band The Four C Notes.
---
2017 Judges TBA
---
---
Complete list of 2017 participants
---

---
---
Groups of any style are welcome, but you must have between 3 and 8 members. We have a rule book which explains many of the details of the event, which you can see by clicking here. All groups must audition in order to compete. Generally this is done by sending a current tape and photo, although live auditions are sometimes arranged. The purpose of the audition is to make sure the group is appropriate for the Festival and to help the Director determine the performance order. If a group has competed previously, the audition process may be waived.
Please send music and photos to the regional director :

David Wilner (Chicago) David Wilner is a singer, songwriter, pianist and DJ who has been performing in the Chicago area for over two decades. David's a cappella career began with the University of Illinois Xtension Chords where he won a Contemporary A Cappella Recording Award for vocal arranging. David went on to sing professionally with the popular Chicago-based vocal rock band Blind Man's Bluff where he toured nationally for six years and recorded five albums. David competed in the Chicago Harmony Sweepstakes with both Blind Man's Bluff and Fiveplay, winning First Place, Audience Favorite, and Best Original Song with each group. David twice took Third Place at the National Finals, once winning the award for Best Original Song. Today, David is on stage as often as possible: performing as a solo artist, leading events as a DJ, singing in the classic rock quartet Ac·Rock, spreading holiday cheer in The Caroling Party,, and releasing his inner "Jersey Boy" in the Frankie Valli and The Four Seasons tribute band The Four C Notes. Outside of music, David enjoys chasing after his two kids, coaching soccer, and cheering for his beloved Chicago Cubs.

P.O. Box 4502, Naperville, IL 60567
847-226-3366
david@davidwilner.com