---
2015 Participating Groups
Counterpoint Loyola

Counterpoint is Loyola University Chicago's premier competitive co-ed acapella group! They personally arrange and energetically perform a diverse range of music to feature at concerts, competitions, and on albums! Counterpoint provides not only a creative musical outlet for members and listeners, but take pride in sharing themselves with Chicago! Beginning as a conversation about the musical opportunities for Loyola University Chicago, a small group of students already involved in the acapella scene at Loyola found that the community was missing one component...competition! Counterpoint was born out of a call for musical excellence, a competitive atmosphere, and a performance like none before it. After hand selecting founding members and an amazing turnout of auditions for new members, Counterpoint fought for and won recoginition with the Student Activities and Greek Affairs board. Now, they are on a mission to continue the momentum they started with and provide a great experience for audiences and members. They have lofty goals that will most definitely be met with a "Get It Done" attitude for competition, recording, and arranging like never before.

Members: Collin "Bleu" Pullums, Paityn Korner, John Bialis, Kathryn Habecker, Ayla Ciccone-Burton, Rosie Bross, Chloe Antrobus, Joseph Kraemer

---
The Innocent Men

The Innocent Men is a seven member a cappella group comprised of studs from the University of Wisconsin - Eau Claire's all-male choir, the Singing Statesmen. The group was formed way back in 1985 and has been running strong ever since. The Innocent Men have provided top-notch singing and below-average humor as entertainment to literally thousands, although not at the same time.

Members: Jeremy Steinmetz, Kaynen Harris, Matthew Laudenbach, Jerot Ritter, Spencer Kopp, Sam Bijou,

---
Listen Up!

Listen Up! has delivered harmony, humor and vocal pyrotechnics for 22 years as the "house band" (sans instruments) of the Greater Chicago Jewish Folk Arts Festival. The quartet brings warmth and sheer vocal power with a confident, easy manner that wins hearts (and ears) of audiences of all ages. "Our music creates a special connection", says musical director, Steve Singer. "We are building that relationship from the first note... to energize and inspire. By the end of the show, we're family." With wit, humor and diverse Jewish musical traditions, Listen Up! leaves no audience unaffected by their performance.

Members: Shayna Elliott, Steve Singer, Freddie Feldman, Eli Taylor

---
No Big Deal

A newcomer to the a cappella world, No Big Deal comes from Chicago, IL and brings a refreshing change of pace to the idea of quartet singing. While they base themselves in the roots of quartet a cappella (barbershop, doo-wop, vocal jazz), they don't shy away from contemporary sounds and popular music, effectively blending the old and new to create a strong and exciting sound to listen to. Coming from Chicago's incredible theater community, all of the members of No Big Deal can be seen acting around the city, and have performed individually with such companies as Chicago Shakespeare, Pride Films and Plays, Barrel of Monkeys, Filament Theater, and the Beverley Arts Center, where they worked together to portray the Plaids in their Holiday show, Plaid Tidings. No Big Deal takes their many talents and combines them on stage for a truly entertaining experience.

Members: Sam Button-Harrison, Nick Druzbanski, Andres Enriquez, Ryan Westwood

---
Remedy

Remedy comes from different ends of Ohio to form the University of Dayton's first a cappella group. When they are not captivating their audience, Remedy enjoys spending time together as a group. From many walks of life and representing a vast number of majors, the group discovered camaraderie and harmony instantly. Remedy hopes to entertain and captivate the audience with their memorable performances.

Members: Hannah Snow, Holly Gyenes, Shelby Searcy, Caitlin Pearn, Kerry Speed, Trevor Rosenbaum, Matt Radford, Jon Besecker

---
Vocal Chaos

Vocal Chaos is an award-winning a cappella group from right here in Chicago! They have been making incredible music all over the Windy City since 1996, from Soldier Field and Cellular Field to Chicago Public Radio. They can also be heard singing a cappella in the Jennifer Aniston/Vince Vaughn movie "The Break Up". To foster collaboration and promote the art form of a cappella, they founded ACappellaFest, which in its eighth year has grown into the Midwest's largest a cappella festival. Vocal Chaos is thrilled to be back at the Harmony Sweepstakes. Look for their new EP to drop later this year!

Members: David Nadolski, Patrick Hockberger, Owen Stevenson, Zachary Watts, Tim Mao, Eric Fenton, Steve Moore, Richard Pridgen

---
The Vocal Liberation Front

The Vocal Liberation Front is from Kelly High School, a non-selective, neighborhood school on Chicago's southwest side. Though the teenage singers are members of Kelly Cantantes, a traditional school choral ensemble, VLF explores experiences outside typical high school classical repertoire. VLF sings for packed houses at Kelly High School, throughout the Chicago's Brighton Park community, and for local elementary schools to advocate for increased music opportunities for the youth of Chicago. Its members have sung with the Chicago Public Schools All-City High School Chorus and have entertained on ABC 7 News, for The Chicago Board of Education, and at Voices of the Future benefit concerts for Ronald McDonald House Charities.

Members: Vasette Valdez, Jason Cao, Roberto Rodriguez, Emilio Alfaro, Calista Brown, Ivan Monter, Margie Rosario, Krystal Bell

---
Your Emcee for the Evening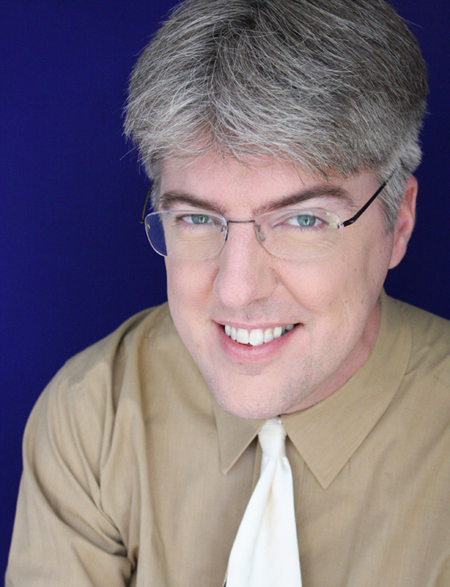 Andrew Blendermann mostly hangs out in piano bars (as a performer, not as a barfly), where his repertoire spans over 2000 songs. He has entertained regularly at Big Shot in Arlington Heights, Mastro's Steakhouse in Chicago, and The Signature Room at the 95th. He spent a decade banging on grand pianos at Howl At The Moon in Chicago, Milwaukee, and Cleveland. As a vocalist, Andrew has directed several a cappella groups (including the "Navy Pier Players", using his own arrangements), and he is currently singing with Chicago Voice Exchange, three-time winners of the Chicago Harmony Sweepstakes. Andrew also has produced the Harmony Sweepstakes A Cappella Festival (Chicago Regional) since 2001, and plans to continue his work behind the scenes.
---
2015 Judges
Gayle Bisesi

Gayle Bisesi (Educator, Professional Vocalist, Composer and Voiceover Artist) has been teaching and singing professionally for over 25 years. As a performer, she has had the honor of sharing the stage with Patti Austin, New York Voices, John Pizzarelli, and Clark Terry, among others. On the international circuit, her singing has taken her to such places as the Montreux Jazz Festival in Switzerland, North Sea Jazz Festival in The Netherlands, Ontario Jazz Festival, France, Germany, Ireland, Portugal, Scotland, Spain, as well as New York City. Gayle is also the recipient of the prestigious Downbeat Award for Best Jazz Vocalist. As an educator at Elmhurst College, Gayle is the Director of "Blue" vocal jazz ensemble, teaches private jazz voice lessons and is the Director of Music Admission. This Summer, at Elmhurst College, she will be offering a 4 day voice camp called "Vocal Voyage" - Explore singing through the musical genres - Classical, Jazz, Musical Theater and Pop. Learn vocal technique and how to apply it to different styles."
---
Paul Iams

Paul Iams is the leader of two Chicago singing groups with long lives. He is the first tenor and red guy in Ac•Rock and also co-founder of The Caroling Party. Paul's singing career started early as a soloist with the Dayton Rotary Boys Choir. In his high school years, he worked on the air at WING in Dayton, where he fell in love with sound and commercial music production. Upon graduating from Northwestern University, he started Imagineers, the legendary 70's Chicago jingle company whose clients included Coca-Cola, McDonald's, Kellogg's, United Airlines, Wrigley's and hundreds of other national brands. In the early 80's, Paul jumped over to "the other side of the glass", trading production duties for a career as a studio singer, announcer, and even on-camera talent, a sample of which can still be seen on YouTube (look up McDonald's McLean Deluxe). In the late 80's, Paul co-founded The Caroling Party, a company of professional Christmas carolers. Each year, more than sixty singers from all areas of Chicago's singing community perform (as quartets and double quartets) at more than a hundred events. Later, with some of the guys from The Caroling Party, Paul started Ac•Rock: a male quartet singing classic a cappella rock 'n roll - great songs from the fifties through the eighties. Ac•Rock performs at corporate events, conventions, industrial shows, fairs and festivals all over the United States. They have seven CDs and a new one on the way this April.
---
Emily Price

Mezzo-soprano Emily Price is a graduate of Northwestern University and enjoys performing in opera, choral and musical theater productions. In Chicago she sings with Chicago a cappella, the Grant Park Chorus, Music of the Baroque and the Lyric Opera. Internationally, she has performed in over 35 countries as a soloist with the Voices of Baha International Choir in venues such as Carnegie Hall, the Vienna Konzerthaus, and the National Theaters of Spain, Catalonia, and India. She has also performed with the Czech National Symphony, Budapest Symphony Orchestra, and the Warsaw Philharmonic. Favorite theater productions include the premiere of RESPECT! A Musical Journey of Women (Cuillo Center/CCPA) and Rona in The 25th Annual Putnam County Spelling Bee(Drury Lane Watertower). She can be heard on a number of recordings, including The Voices of Baha at Carnegie Hall and RESPECT! The Original Cast Album.
---
Raymond Schwarzkopf

Raymond Schwarzkopf - Singer? Actor? Teacher? Percussionist? Quartet Guy? Coach? Music Judge? Admitted Computer Geek? Director? and FRIEND!!! Raymond is all of these...and more! Over 40 years in theater, music (both vocal and instrumental), business and teaching have made him a valuable asset for every group with which he has worked and played. A Life-Member of the Barbershop Harmony Society since 1979, he has performed with numerous quartets and earned international medals with the New Tradition Chorus of Northbrook. A graduate of Northwestern University, a certified director and certified music judge, Raymond is blessed to travel the globe working with jazz, pop, a cappella, barbershop, folk, funk, reggae, Latin, African and classical ensembles, vocalists and instrumentalists, showing them ways to enhance their performance by using a balance of technique, acting, musicality, style and emotion to create art. He is thrilled to be joining this year's Harmony Sweepstakes panel and looking forward to some AMAZING performances!!! Bring it and Ring it!
---
Darren Stephens

Darren Stephens has been performing in harmony groups his whole life. For five years in the late 80's, he made his living as a member of The Four Guys Standing Around Singing, an a cappella music and comedy act. When they weren't performing in Chicago, The Four Guys appeared at hundreds of colleges and universities around the country, and were chosen as the National Association of College Activities Performer Of The Year. They also starred in national television and radio commercials for McDonald's, regional ads for Pepsi and the Sun-Times, and did tons of corporate shows and state fairs. In the Four Guys' heyday, the comedy club boom was at its height, and the group was a featured act at every Catch A Rising Star club in the country including New York, Chicago and Las Vegas, opening for comedians such as Janeane Garofalo and Jerry Seinfeld. Darren is currently performing comedy in bluegrass three-part harmony with an 'O Brother Where Art Thou'-style act called The Famous Brothers . Alongside his singing group activity, Darren has performed around Chicago as a theater actor and improv comedian, and has made his living as a voiceover actor for hundreds of radio and television commercials.
---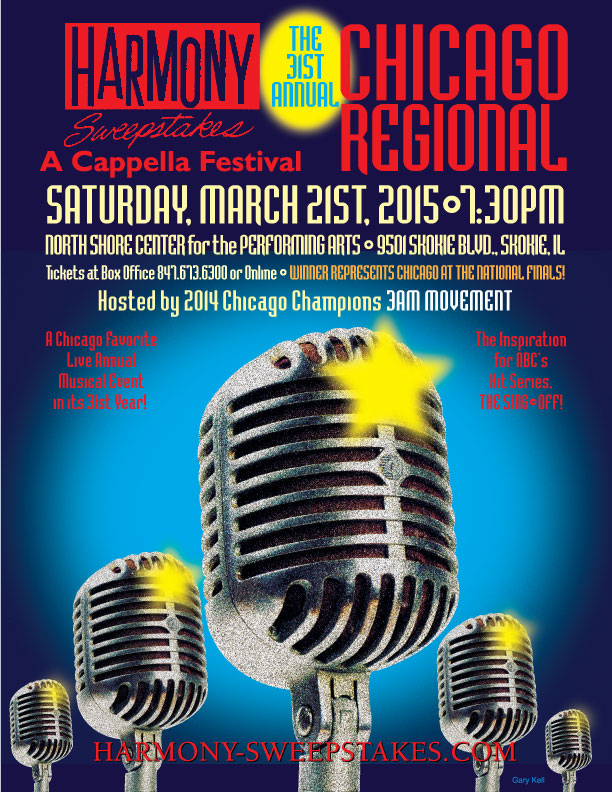 ---
---
Complete list of 2015 participants
---



Tweet the Sweeps! #chicagosweeps
---
---
Groups of any style are welcome, but you must have between 3 and 8 members. We have a rule book which explains many of the details of the event, which you can see by clicking here. All groups must audition in order to compete. Generally this is done by sending a current tape and photo, although live auditions are sometimes arranged. The purpose of the audition is to make sure the group is appropriate for the Festival and to help the Director determine the performance order. If a group has competed previously, the audition process may be waived.
Please send music and photos to the regional director :

Andrew Blendermann (Chicago) Andrew Blendermann mostly hangs out in piano bars (as a performer, not as a barfly), where his repertoire spans over 2000 songs. He has entertained regularly at Big Shot in Arlington Heights, Mastro's Steakhouse in Chicago, and The Signature Room at the 95th. He spent a decade banging on grand pianos at Howl At The Moon in Chicago, Milwaukee, and Cleveland. As a vocalist, Andrew has directed several a cappella groups (including the "Navy Pier Players", using his own arrangements), and he is currently singing with Chicago Voice Exchange, three-time winners of the Chicago Harmony Sweepstakes. Andrew also has produced the Harmony Sweepstakes A Cappella Festival (Chicago Regional) since 2001, and plans to continue his work behind the scenes.

606 N. Wilshire Dr.,Mount Prospect, IL 60056
847-809-0808
sweeps (at) blenderful.com