---
2015 Participating Groups
20/20

20/20 is a group of wildly attractive young men from Ellensburg, WA. They've set their sights on the Sweepstakes and they aim to entertain. These gentlemen have opened their eyes to the majesty of a cappella music, and hope to share their serenades with the sightly members of the audience. Let them show you a few things about love as they leave it all on the floor tonight.

Members: Theo Olson, Ben Rice, Isaiah Ragland, Jacob Cecil, Matt Mayrhofer

---
Bodacious Ladyhood

Bodacious Ladyhood is a Seattle-based trio of women who have been singing together since 2002. Carolyn, Loretta and Jenny are excited to be back for their fourth time at Sweeps, having placed in the top three in their prior three appearances! They have opened for The Baudboys and have performed at Chateau Ste. Michelle (and on live, national radio) as guests on "A Prairie Home Companion with Garrison Keillor." They have been called "distinctive", "vibrant-voiced", and "show-stopping." Bodacious Ladyhood is three parts harmony, one part comedy and a whole lot of fun.

Members: Carolyn Hastings, Loretta Deranleau Howard, Jenny Buehler

---
High Altotude

High Altotude is a female a cappella group made up of eight members from Cleveland High School. The group was founded in 2010 by a few girls in the choir department at Cleveland who felt there needed to be a female counterpart to the male a cappella group, Cloud Nine, made up of nine young men from different high schools around Portland. High Altotude's original director gave the position up at the end of last year to our current director, Aranda Curtman, who has been a joy to have as a leader. High Altotude performs around Portland at various locations such as Providence Child Center, The Pittock Mansion, and Portland State University.

Members: Sophie Schoenfeld, Laurel Osborne, Molly Carpenter, Maiya Coleman, Leah Brower, Lily Sweeney, Kyla Precourt, Laura Young

---
Peppermint Twist

Peppermint Twist Quartet is a women's barbershop quartet with a refreshing sound. We are part of Sweet Adelines International, a worldwide organization for female singers. We truly love to perform and sharing our love of music with many audiences. We are fun, sassy and a little bit unexpected. We are the best of friends and believe that comes through in our music!

Members: Robin Osborn, Debra Aungst, Shelly Bristow, Angie Whitten

---
Straighter Road

Singing is one of the purest art forms. Nothing man made between the artist and the audience. Straighter Road was formed as a Gospel vocal group first, with a band back-up, and recently has ventured down the Acapella Road. The challenge of acapella sing is without edges and joined with the charge of spreading the Good News of the Gospel, keeps Straighter Road striving for excellence.

Members: Diane Trandum, Lynn Knight, Jerry Leith, Chris Nelson, Aliya Kunz, Mary Kunz, Kevin Kunz

---
More Groups TBA
---
2015 Judges
Jill Barnes

Jill Barnes is the Executive Director of the Washington Center. She has previously worked in Idaho Falls at the Willard Arts Center/Colonial Theater, John Michael Kohler Arts Center in Wisconsin, and Ririe-Woodbury Dance Company in Salt Lake City, UT. Jill grew up attending and participating in chorus, band, theater, and musicals. She studied vocal performance at the University of Utah and holds a Masters Degree in Arts Administration from Boston University. She moved to Olympia in June with her husband Nathan and 3 curly-haired children. She is an enthusiastic consumer of the arts and is thrilled to be a part of Harmony Sweepstakes.
---
Judy Pozsgay

Judy Pozsgay is a professional vocal and visual performance coach and choreographer based in Seattle, WA. She travels the world to work with a cappella ensembles and choruses, and her innovative choreography and visual plans have been showcased at multiple international competitions. As a member of Sweet Adelines International, Judy serves on their International Faculty and is also a Showmanship Judge. For 15 years, Judy was the Choreographer and Assistant Director of the International award-wining Lions Gate Chorus (Vancouver, BC, Canada). Not being one to simply create and teach, she is also an 11-time SAI Top 10 International Quartet finalist, and currently sings with the 5th Place International Quartet, Frenzy.
---
Jen Ryle

Jen Ryle is Olympia Family Theater's co-founder and Artistic Director. She completed her BA at The Evergreen State College in June of 2006, focusing her studies on expressive arts, business and education with the goal in mind of creating a children's theater here in Olympia. Formerly, she worked for Creative Theatre Experience (CTE) and for 5 years, she was a community specialist at the Olympia Regional Learning Academy (ORLA) teaching classes on everything from music to creative dramatics, puppetry and crafts. In June of 2013, Jen completed a certificate program- "Directing for the Stage and Screen" at the University of Washington. For OFT Jen has directed; Alice's Adventures in Wonderland, The Giver, Rapunzel, The BFG, Winnie the Pooh, If You Give a Mouse a Cookie, Go, Dog. Go!, and Lyle the Crocodile and three of OFT's all youth productions including; The Best Christmas Pageant Ever, Alice's Adventures in Wonderland, The Phantom Tollbooth. Jen is living her dream, watching OFT as it grows and flourishes.
---
More Judges TBA
---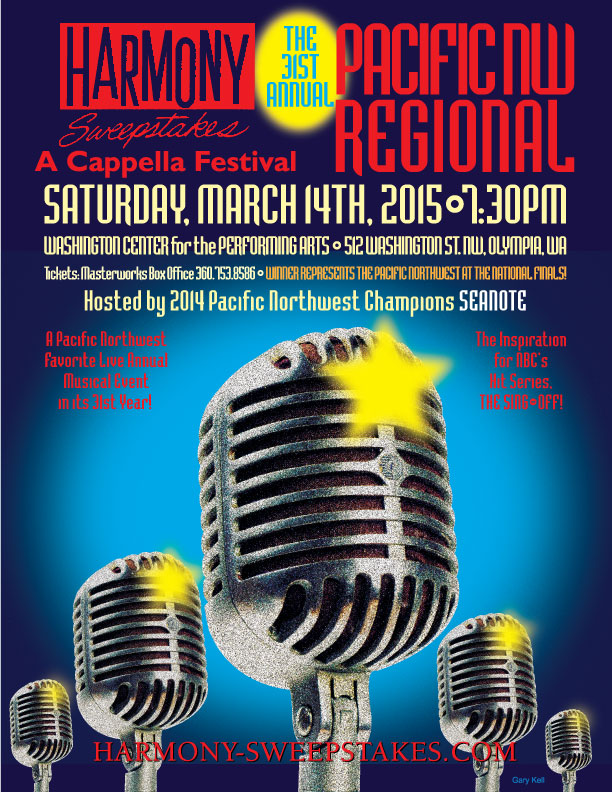 ---
---
Complete list of 2015 participants
---

---
---
Groups of any style are welcome, but you must have between 3 and 8 members. We have a rule book which explains many of the details of the event, which you can see by clicking here. All groups must audition in order to compete. Generally this is done by sending a current tape and photo, although live auditions are sometimes arranged. The purpose of the audition is to make sure the group is appropriate for the Festival and to help the Director determine the performance order. If a group has competed previously, the audition process may be waived.
Please send tapes and photos to the regional director :

Gary Witley (Pacific Northwest) The Pacific Northwest Regional Festival is sponsored and produced by Masterworks Choral Ensemble (MCE). Gary Witley is the Artistic Director & Conductor of MCE. MCE is a Southwestern Washington community chorus dedicated to performance, community service, music education and leadership in the arts. Our mission is to perform sacred and secular choral, orchestral and newly commissioned works; to participate in community service activities and to provide a leadership role in developing, sponsoring and broadening the vocal arts.

PO Box 1091, Olympia, WA 98501-1090
360-264-8301
info (at) mce.org