---
2018 Participating Groups
20/20

20/20 is a collection of current and former music students from Central Washington University. Music brought them together and has created lifelong friendships. 20/20 is performing at their 4th Harmony Sweepstakes and are thrilled to present this set for the first time with their newest member, Emelia Blunt!

Members: Emelia Blunt, Theo Olson, Ben Rice , Isaiah Ragland, Jacob Cecil, Matt Mayrhofer

---
Altra Volta

Altra Volta is a 7-voice a cappella vocal ensemble founded in 1998, from Calgary, Canada. A creative community comprised of talented singers, arrangers and songwriters, the group's diverse repertoire includes classical choral, vocal jazz and pop music. In recent years the group has gone from performing published works to also creating arrangements and original songs of their own, exploring the many facets of the human voice to emulate various musical instruments. In addition to their own concerts, Altra Volta has performed for weddings and other special events around the city.

Members: Charishe Amante, Noel Amante, Hilary Aubin Amante, Sarah Hayduk, Keith Knudsen, Kristen Simpson, Ryan Wagner

---
B-Side Book Club

B-Side Book Club A Cappella is a community of friends, voices, and musicians who all share a love for creating music. Based in Portland, Oregon we work together to creatively produce music that is enjoyable, beautiful, and meaningful.

Members: Adriana Hernandez, Alison Noe, Kushi Beauchamp, Siani Grace, Becky Friedman, Charlie Best, Louis Umbarger, Kimo Camat, Trevor Sargent, Mason Wordell

---
Fourcast

Fourcast first sang together in November of 2015...it was an audition for a baritone...and almost instantly we knew this was something special. Since then, we've competed twice in North-by-Northwest Region 13's Annual Convention and placed 3rd both times.

Members: Anna Martin, Lisa Martin, Carol Ward, Sue Beck

---
Fusion

Wonderful things can happen when you mix things in a new way. Fusion is a brand new four-part a cappella singing group with members from Vancouver, Seattle and San Francisco. The bass and baritone are brother team Tom and Mark Metzger, slightly famous in the barbershop world as the bass clef of Realtime, 2005 BHS world champions. The tenor is Kory Reid, who sang with world famous choral ensemble Chanticleer for six years. The lead singer is Paul Carter, who was previously lead of the popular quartet Flipside. Fusion is all about putting together these different personalities and musical styles, to see what happens!

Members: Kory Reid, Paul Carter, Mark Metzger, Tom Metzger

---
S'Pacific Sounds

S'Pacific Sounds is an elite group of ladies from the Pacific Sound Chorus in Bellevue, WA. This subset group of the chorus features exceptional singers and energetic performers, and they augment the chorus's shows with their expanded and varied repertoire. Their goal is to be able to continue to expand each individual's performing skills while bringing their style of a cappella music to audiences! They are so thrilled to be able to perform tonight in this competition. They hope the audience has as much fun as they do!

Members: Susan Kegley, Diane Lee, Tami Kamp, Janice McKenna, Michaela Phillips, Tricia Kastrop, Rebecca Strenge, Evy Young, Stephanie Potter, Michelle DeFreece

---
Stumptown Fellas

Stumptown Fellas is an all male R&B A Cappella from Portland, OR. They sing anything from Motown classics, 80's & 90's R&B, to songs by artists including Bruno Mars, John Legend, Robin Thicke, and Amy Winehouse. The group was founded by Matt Biller, Aisea Poulivaati, and Daniel Jeppesen back in 2014.

Members: Matt Biller, Aisea Poulivaati, Armond Frazier, Jason Bourke

---
Your Emcee for the Evening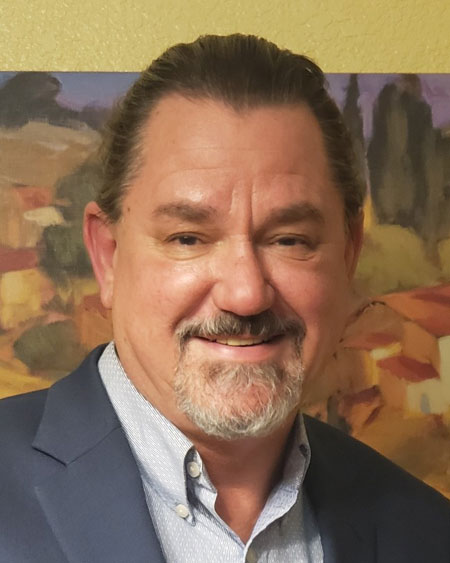 Raymond Dobson
Raymond has performed in various musical stage productions including "Annie Get Your Gun", "Guys and Dolls", and "The Music Man", and has also been an integral part of dramatic productions such as The Diary of Anne Frank, Tobacco Road, Mister Roberts and The Brick & The Rose. He was a member of two southern California based quartets- Regular Boys Short (barbershop) and The South Bay Curve (a cappella doo-wop), as well as the comedy/folk duo The Men from Abdo (aka The Abdo-Men).

He moved to Olympia in 1990 and, after taking time away from performing (and after considerable prodding by his wife), Raymond returned to the stage and can now be seen every year "walking with style" as Herr Silberhaus in the local Olympia production of Ballet Northwest's "Nutcracker" alongside his wife Jennifer. He returned to singing in recent years to honor the memory of both his best friend and his mother, and is a current member of Masterworks Choral Ensemble. Raymond lives in Lacey with his wife and their two sons, Noah and Gabriel, dog Gibson and Dennis the cat.
---
2018 Judges
Michael Butterworth

Michael Butterworth earned his MFA in theatre directing from the University of Montana and his PhD in theatre from Wayne State University in Detroit, Michigan. He is an alumnus of Masterworks Choral Ensemble in Olympia, staging and writing for some of their Renaissance winter concerts. His regional directing credits include Dead Man's Cell Phone at Montana Actors' Theatre and Pinkalicious, the Musical at Millbrook Playhouse. He has directed over 30 high school and college productions and currently teaches at Liberty High School in the Issaquah School District.
---
Jill Barnes

Jill Barnes is the Executive Director of the Washington Center. She has previously worked in Idaho Falls at the Willard Arts Center/Colonial Theater, John Michael Kohler Arts Center in Wisconsin, and Ririe-Woodbury Dance Company in Salt Lake City, UT. Jill grew up attending and participating in chorus, band, theater, and musicals. She studied vocal performance at the University of Utah and holds a Masters Degree in Arts Administration from Boston University. She moved to Olympia in June with her husband Nathan and 3 curly-haired children. She is an enthusiastic consumer of the arts and is thrilled to be a part of Harmony Sweepstakes.
---
Kevin Kunz

Kevin studied jazz piano and voice at Central Washington University and studied under nationally renowned director, John Mowad. After college, Kevin jumped into radio jingle and commercial singing, while playing jazz and pop keyboards and singing in clubs and lounges in the 80's. Kevin joined with his brother in 2000 and formed Groove For Thought, which went on to win the coveted 2005 National Harmony Sweepstakes championship. Groove for Thought has gone on to star in NBC's The Sing Off Season 2 and continues a very successful musical career.

With numerous songwriting awards, album credits for writing and arranging, including arranging for string ensembles and horn sections, 2 CARA Awards and 3 more nominations for 2107, he is very active in the local music scene.

Kevin formed Straighter Road in 2012. The 6 vocalists of SR come from very diverse vocal backgrounds and experiences and blending them together resulted in being named 2015 Pacific Northwest Harmony Sweepstakes Champions, their very first competition ever, and then on to with the National Harmony Sweepstakes Competition award 2 months later in SanFrancisco, competing against the very best groups from around the country, while also bring home the award for Best Arrangement!
---
Deborah Vinsel

Deborah Vinsel has worked in nonprofit community media for more than 30 years. She has been the CEO at Thurston Community Media since 1990. She currently serves on the boards of directors for Washington Center for the Performing Arts and the Alliance for Community Media NW Region.

Vinsel's decision to make media her career was an extension of her love for theater, dance and music. Her parents supported her passion for the performing arts with training in music and dance throughout her school years. By the time she reached her early 20s she was a proficient musician playing flute, oboe and piano but her plans for a professional dance career were sidelined by a knee injury when she was in college.

Vinsel found a performing home in community theater until the siren song of television pulled her into a career both in front and behind the camera. She still enjoys singing and dancing for an audience and has never met a microphone she didn't love or stage that didn't beckon. Vinsel often says "the arts shaped my life."
---
---
Complete list of 2018 participants
---

---
---
Stay Informed!
Keep in touch. Hear about our a cappella shows by subscribing to our e mail list.
We will only send you information about our events and will
absolutely never share or sell this email list to anybody else.
---
Interested in Performing?
We are always seeking groups who would like to participate in our events.
Groups of any style are welcome, but you must have between 3 and 12 members. We have a rule book which explains many of the details of the event, which you can see by clicking here. All groups must audition in order to compete. Generally this is done by sending a current tape and photo, although live auditions are sometimes arranged. The purpose of the audition is to make sure the group is appropriate for the Festival and to help the Director determine the performance order. If a group has competed previously, the audition process may be waived.
Please send music and photos to the regional director :

Gary Witley (Pacific Northwest) The Pacific Northwest Regional Festival is sponsored and produced by Masterworks Choral Ensemble (MCE). Gary Witley is the Artistic Director & Conductor of MCE. MCE is a Southwestern Washington community chorus dedicated to performance, community service, music education and leadership in the arts. Our mission is to perform sacred and secular choral, orchestral and newly commissioned works; to participate in community service activities and to provide a leadership role in developing, sponsoring and broadening the vocal arts.

PO Box 1091, Olympia, WA 98501-1090
360-339-0532
info (at) mce.org