---
2015 Participating Groups
HALO

HALO is a new barbershop quartet of Harmony, Inc! Jasmine (bass) and Nadira (lead) are currently studying classical voice as dramatic sopranos at Morgan State University and Shana (tenor) is an alumna of the same program. Niambi (baritone) and Shana are sisters, and have been singing together since they could talk. They currently sing Motown and rock in an oldies band based in Boston, The Regressions. HALO was featured in the pre-show at the National Tree Lighting 2014 and will compete in Area 3 with Harmony, Inc in May to hopefully be the first all African American quartet on the HI international stage!

Members: Nadira France, Jasmine Barnes, Shana Oshiro, Niambi Powell

---
King's Post

King's Post is a mixed vocal ensemble which performs pop and pop culture music. While many of their songs have a strong affinity towards geek culture, they can stray into jazz and rock classics as well. No matter what the song is, irreverence and fun are alpha and omega of the group's repertoire and style.

Members: Jordan Truesdell, Richard Sherman, Jennifer Nardine, Karl Speer, Eric Brown, Christine Gnieski

---
The Lobby

Known throughout the DC a cappella scene Mallory Zuckerman, Olivia Brice, Anderson Wells, Warren Zentz, Ben Parker and Chris Abramson have been wow-ing audiences on their own and in various groups for most of their lives. In late 2013 an idea formed and they decided to join forces to see what they could accomplish! The Lobby prides themselves on their high powered solos, collaboration driven arrangements, and dynamic rhythm section, but most of all they love to perform and bring audiences their own brand of pop a cappella.

Members: Mallory Zuckerman, Olivia Brice, Anderson Wells, Warren Zentz, Benjamin Parker, Chris Abramson

---
Orfeia Vocal Ensemble

Orfeia is an all-woman vocal ensemble dedicated to preserving and sharing traditional music from Bulgaria and Eastern Europe. Orfeia's repertoire spans the rich and varied vocal traditions of Eastern Europe, from traditional village songs to sacred chants, with origins from the Middle Ages to modern day. Founded in 2006 by artistic director Tatiana Sarbinska, Orfeia shares the unique harmonies, ornamentation, and rhythms of Balkan music through performances and workshops in the mid-Atlantic region and in Bulgaria.

Members: Rhonda Kranz, Elin Zurbrigg, Diane Weinroth, Sarah Allard, Michelle Morrison, Carlendra Frank, Louise Mundstuck, Tatiana Sarbinska

---
Pitches Be Crazy

In simple terms, we are a cover band rockin' some of the biggest hits of the 70s, 80s, and 90s. We bang around with our instruments (aka, our voices) and make music that will have you saying, "OH SNAP, That's my jam!" Edgy and raw in our arrangements and presentation, we add those juicy harmonies and bone rattling percussion and bass old school, making PBC Acappella very unique across the a cappella landscape.

Members: Zadoc-Lee Kekuewa, Leslie Kekuewa, James Parker, Aida Ruiz, Chris Macinkowicz

---
Stiletta

This NYC-based, all female sextet is known for combining pop leads, rich harmonies, and hip-hop dance moves. Stiletta members boast multiple off-broadway and voice-over credits, and everything from WAMMY and CARA awards, to original cast recordings for "Memphis" and "Dora the Explorer". Beatboxer, MC Beats made a show-stopping entry into the beatbox community in 2012 when she was ranked 3rd best female beatboxer in the world at the Beatbox Battle World Championship in Germany. Stiletta's director, Judy Minkoff, also directs both the DC and Chicago Single Singers at the SingStrong a cappella music festival. Stiletta is dynamic, high-energy, and these ladies will show you they have the moves, the grooves and even the shoes.

Members: Judy Minkoff, Haley Clair, Meg Lanzarone, Jaymee Frankel, Olivia Harding, Meghan Costa

---
With Special Guests
A genre-bending one man vocal band, Mike Why is a mouthdrummer, vocalist, and live looper who engages audiences of all ages, and from coast to coast. His brand of "A Cappella for One" has landed at Contemporary A Cappella Society festivals such as SoJam (Raleigh, NC) and the Texas A Cappella Celebration, International Live Looping Festivals in Austin, Los Angeles, and the San Francisco Bay; San Antonio's Luminaria Festival, and the Hard Rock Las Vegas. He currently tours in support of his freshman record Run My Mouth, which released to positive reviews: Loudr Music called him "a mouth of many Instruments" and delivered comparisons to modern vocal innovators Pentatonix and Peter Hollens; the Recorded A Cappella Review board remarked "as a cappella debuts go, Run My Mouth is about as good as it gets." Also an ambassador for arts outreach, Mike's upcoming April 2015 two-day, 800-song One Mouth Music Show seeks to build free contemporary arts education opportunities at chronically underfunded programs through an ongoing Patreon campaign, and will also make him the first American to hold the World Record of Beatboxing.
Members:

---
2015 Judges TBA
---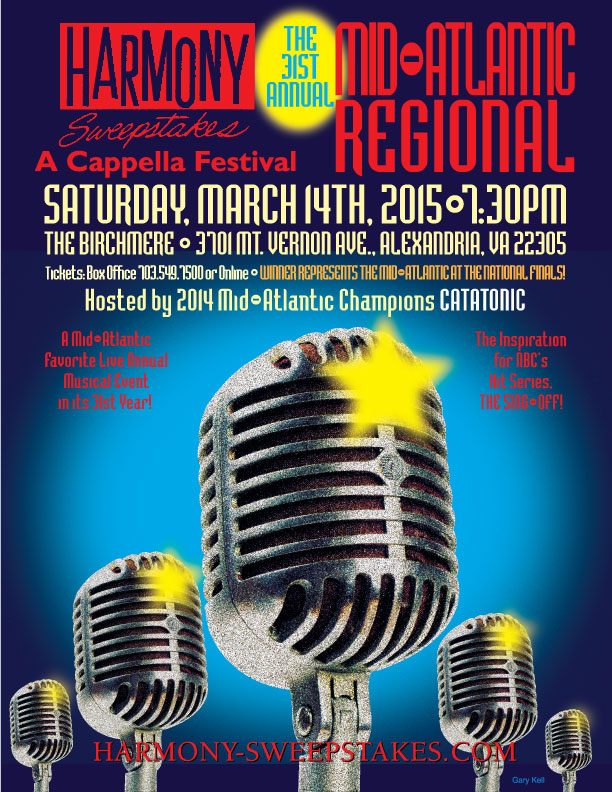 ---
---
Complete list of 2015 participants
---

---
---
Groups of any style are welcome, but you must have between 3 and 8 members. We have a rule book which explains many of the details of the event, which you can see by clicking here. All groups must audition in order to compete. Generally this is done by sending a current tape and photo, although live auditions are sometimes arranged. The purpose of the audition is to make sure the group is appropriate for the Festival and to help the Director determine the performance order. If a group has competed previously, the audition process may be waived.
Please send tapes and photos to the regional director :

Sara Rasmussen (Mid-Atlantic) Sara has been a member of the Mid-Atlantic Regional production team for several years and a supporter of the Sweeps long before that. This year, she is stepping into the producer role. Sara enjoys many styles of music and was drawn to the Sweeps because it includes such a diversity of genres. Sara has been a member of Sweet Adelines for over a decade, has competed in numerous competitions both as a member of the Potomac Harmony Chorus and as a "baritone" in various quartets. In recent years she has been performing in the Washington, DC area with the Capitol Swing Quartet. In addition to helping out with production of various Sweet Adeline events, Sara has also been involved in the programing and production for several large DC area music festivals.


703-965-5686
HarmonySweepsMA (at) aol.com