---
2016 Participating Groups
Catch 22

Catch 22 is a vocal band that specializes in "your dad's favorite rock songs." The members met through their work in other vocal groups in the North Carolina area and began singing together in 2012. Catch 22 focuses on fun, entertaining songs - songs you would find yourself singing along to on the radio.

Members: Scott Feldmann, John Hanna, Ashley Trantham, Mike Masinick, Ken Purchase, Ken Matz

---
Trolley Stoppers

The Trolley Stoppers are four guys who are passionate about singing a cappella. No musical genre is off-limits for us. We do a little doo-wop and a little Billy Joel; some folk songs and some madrigals from the 16th century. We'll try anything, as long as it has a good tune, appealing harmonies, interesting lyrics—and we enjoy singing it. We chose the name "Trolley Stoppers" in honor of the trolley that runs down the middle of the main street of our town (Media, Pennsylvania).

Members: Wayne G. Harvey, Bob Yarbrough, Jeff Busa, George Alexander

---
Uncommon

As its name suggests, Uncommon isn't just another contemporary a cappella group. Hailing from Richmond, Virginia, this eclectic semi-professional septet draws inspiration from RVA's legendary indie music scene to create a vocal sound all its own. Since its founding in September 2013, Uncommon has performed at a wide variety of venues and events including the U.S. military base at Fort Lee, Richmond's Valentine Museum, and SingStrong DC's ACA-IDOL competition. The groups debut single "Sally I Can See You" (featuring the original lineup) will be available on Loudr and iTunes in early 2016.

Members: Elise Ellen Patterson, Alexa Therese Bratton, Victoria Gayle Ficco, Austin Robert Archer, Mark Andrew Cole, William Nicholas Kazas, Michael Lewis Marcus

---
Vox Pop DC

Vox Pop is a mixed-voice vocal band based in Washington, DC. Using only their voices to produce high quality a cappella music, each member brings their own unique sound and style to enhance your listening enjoyment. Our mission is to entertain audiences with soulful melodies, tight harmonies, and a beat that can't be denied.

Members: Anna Lee, Brian Brandler, Kirsten Babin, Kara Christ, Christopher Little, Anderson Wells, Amy Wesolek, Benjamin Parker

---
West Side 5

West Side 5, an award-winning vocal jazz ensemble based in New York City, is known for its refined sound and sophisticated approach to jazz. Inspired by greats like Manhattan Transfer, New York Voices, and The Real Group, WS5 has crafted its own unique sound, characterized by highly original arrangements, complex harmonies, and outstanding musicianship.

The group formed in the summer of 2009, bringing together five old college friends on the west side of Manhattan. They immediately garnered acclaim, winning the Mid-Atlantic Harmony Sweepstakes while being voted Audience Favorite and winning Best Arrangement for "Pure Imagination". They went on to be featured artists at the SingStrong A Cappella Festival, and have performed alongside groups including Blue Jupiter, Streetcorner Symphony, and The Bobs, as well as for Mayor Michael Bloomberg at Gracie Mansion in New York.

Members: Eric Hughes, John Mcmahon, Kelly Green, Artemisz Polonyi, Dylan Pramuk

---
Young Men of Faith

We are Young Men of Faith of Savannah Ga. , A Young Gospel Soul acapella group, we were blessed with many gifts, to sing acapella, harmonize, sing with music, write & Arrange songs, we all are cousins & we come from a singing family, we do a lot of traveling ministering at gospel events, churches & Tv shows in different cities & states, we have a great bond with each other & we have a lot of Fans with a great following, we have been on The Bobby Jones Gospel show, Atlanta Live, America's Got Anointing, & The Apollo, We are not signed yet but there are many labels that are interested in Signing us. We are also getting ready for our 5th Anniversary Concert Which is Jan.23,2016. We have been through alot in our life, coming up struggling & we turned to music because that's what we love to do, at 1 point of time it was 6 of us , then went on to 5, things happened then there we're 4, which leads to us today, but our cousin Dre said he think he's about to start his own ministry, so by the time we be on this show it may only be 3 of us, but if its the lords will, we are going to Bring it so get Ready for Y.M.O.F . We Also Have 2 Facebook Fan pages over 1,000 LIKES on Both Type in ( Young MEN of Faith ) & ( Young Men of Faith ), Looking Forward to hearing from you guys soon God Bless.

Members: Jamal King aka Molly Mal, Ricky Coleman aka Ricky C, Marlon Bryant aka LB, DeAndre Allen aka Dre Day

---
With Special Guests
Cartoon Johnny is an energetic vocal band that pushes the limits of traditional a cappella. Drawing on influences from classic soul to modern alternative, they've crafted an exciting sound that is often mistaken for an instrumental band - but it's all vocal.

Based in the Washington DC area, Cartoon Johnny performs a variety of sure-fire audience favorites and their own original music, bringing audiences to their feet show after show. They are two-time National Harmony Sweepstakes finalsists, winning the title for the Mid-Atlantic Region in 2005, and in New York in 2009.

Cartoon Johnny has shared the stage with some of the best in a cappella and beyond. Highlights include headlining ACappellaFest Detroit in 2010, and performing with Marvin Hamlisch in his Christmas special at the Kennedy Center in 2008. Hamlisch invited the group to join him for his July 4th concerts in San Diego in 2009.
Members:
Kieran Daly, Kevin Dixon, Ben Feeney, Michael Henrickson, Malcolm Lee, Darcy Romano

---
2016 Judges TBA
---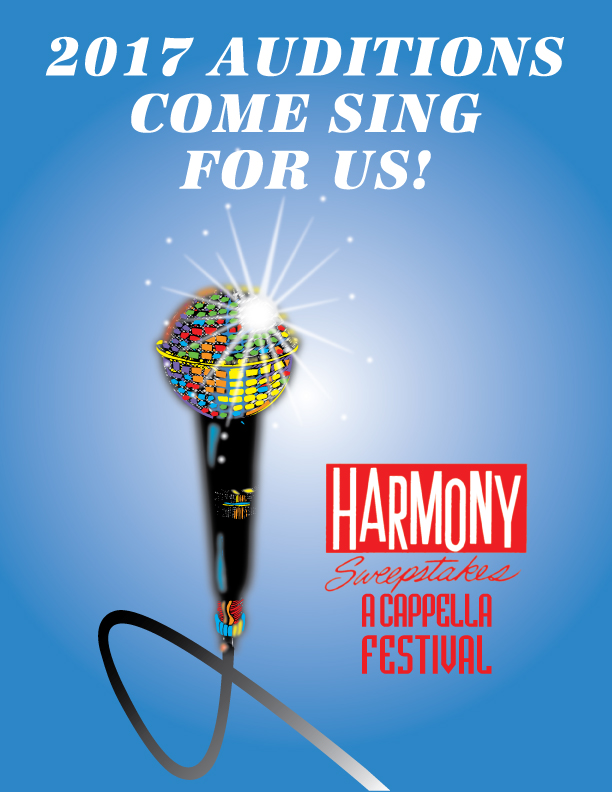 ---
---
Complete list of 2016 participants
---



Tweet the Sweeps! #harmonysweeps
---
---
Groups of any style are welcome, but you must have between 3 and 8 members. We have a rule book which explains many of the details of the event, which you can see by clicking here. All groups must audition in order to compete. Generally this is done by sending a current tape and photo, although live auditions are sometimes arranged. The purpose of the audition is to make sure the group is appropriate for the Festival and to help the Director determine the performance order. If a group has competed previously, the audition process may be waived.
Please send music and photos to the regional director :

Sara Rasmussen (Mid-Atlantic) Sara has been a member of the Mid-Atlantic Regional production team for several years and a supporter of the Sweeps long before that. This year, she is stepping into the producer role. Sara enjoys many styles of music and was drawn to the Sweeps because it includes such a diversity of genres. Sara has been a member of Sweet Adelines for over a decade, has competed in numerous competitions both as a member of the Potomac Harmony Chorus and as a "baritone" in various quartets. In recent years she has been performing in the Washington, DC area with the Capitol Swing Quartet. In addition to helping out with production of various Sweet Adeline events, Sara has also been involved in the programing and production for several large DC area music festivals.


703-965-5686
HarmonySweepsMA (at) aol.com