Ramsay "RC" Cowlishaw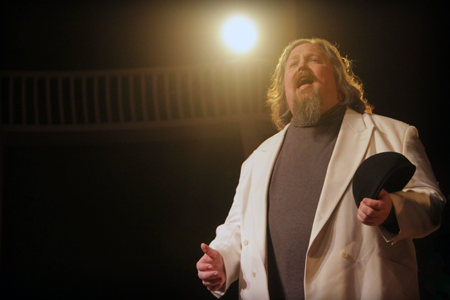 Ramsay "RC" Cowlishaw is moved by three things in his life: Music, laughter and art. Being in the Strangers satisfies two of those (at any given time). RC's avocation is a karaoke host and DJ in the Portland area (with over 70 weddings to his record -with zero divorces!) In addition, he's been a member of the Portland Improv Group and is one of the Pacific Northwest's leading authorities on the art of origami (Japanese Paper Folding), having taught in schools throughout the northwest and attending special seminars across the country.

RC has been involved in a cappella music since his high school choir days. He's been in barbershop choruses all over Oregon, formed a collegiate group called "Three Hits and a Miss", and when he moved back to his home town of Portland he co-founded "The Rainy Knights" (orignally "The Commodes") who have opened for the likes of Cake, Hall & Oates, and KC & The Sunshine Band. He brings to the Strangers his broad vocal range as well as an uncanny memory for lyrics- as of late the boys have been improvising on the streets of Portland, and RC's knowledge base of songs (from his karaoke experience) have served them well..
---
| | |
| --- | --- |
| | Pacific Northwest Harmony Sweepstakes 3rd Place Winners |
---
| | |
| --- | --- |
| | Pacific Northwest Harmony Sweepstakes Performer. |
---
| | |
| --- | --- |
| | Pacific Northwest Harmony Sweepstakes Performer. |
---
| | |
| --- | --- |
| | Pacific Northwest Harmony Sweepstakes Performer. |
---
| | |
| --- | --- |
| | Pacific Northwest Harmony Sweepstakes 2nd Place Winners |
---