Angela Suraci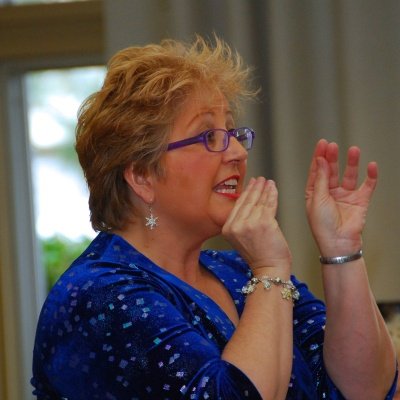 Angela Suraci, a life-long Bay Arean, has been a singer her entire life, singing in high school, college and professional choirs as well as pursuing a solo career in opera. Angela joined Sweet Adelines International in 1998 and became the director of Mission Valley Chorus in 2006. Attaining Master Director status 2 years after that.

Under Angela's directorship the Mission Valley Chorus has performed twice at Carnegie Hall, and at Killarney, Waterford and Dublin, Ireland in association with Music Celebrations International. MVC has won three Sweet Adeline Region 12 championships with Angela at the helm. In 2018 she and chorus participated in the Harmony Classic competition in St. Louis where the chorus' steampunk performance package placed second.

Angela is a private voice instructor with 45 years of experience and is a sought after coach for individuals, quartets and choruses locally and around the country. She also is the current dean of the Region 12 L.A.W. School, learn arm waving, where she also teaches directing. She has competed in several quartets and enjoys the reputation of selecting and directing innovative musical arrangements. Her background in vocal production and performance fuels her philosophy of "love the music, love each other, love the audience", and every performance drives to touch and move the audience.
---