24th Annual
The Harmony Sweepstakes A Cappella Festival, the premier American showcase for vocal harmony music. The annual national competition draws from hundreds of vocal groups from around the country with regional competitions in eight cities. The winning group from each festival is flown to perform in front of celebrity judges and a sold out house of enthusiastic a cappella fans at the National Finals.
2008 Rocky Mountain Champions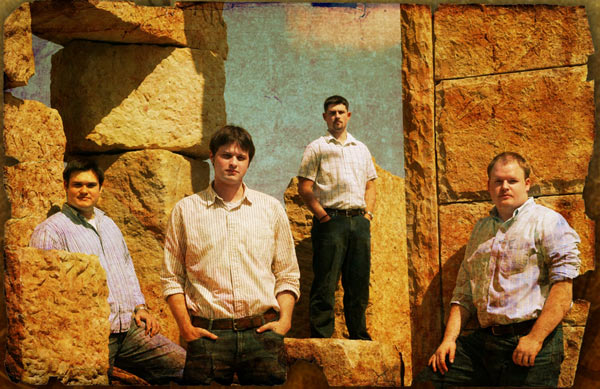 Legacy is a nationally known contemporary Christian vocal group that is based out of Lubbock, Texas. Their sound has been compared to many world renowned groups such as Take 6, Acappella, Gaither Vocal Band and Rockapella.
2008 Results

1st

Legacy

2nd

Nexus

Audience Favorite

Plumbers of Rome

Best Original Arrangement

"Here With Us" Arr. Ike Graul - Legacy

Jeffery Harris Award Best Original Song

"The Egotist" Phil Thompson - Curious Gage

Jerry Lawson Award for Best Soloist

Jake Lieman - Legacy

Wes Carroll award for Best Vocal Percussion

Nick Gaultney - Legacy

CVJS Award for Best Stage Presentation

Plumbers of Rome
2008 PARTICIPATING GROUPS

---

The 40th Parallel began as the Colorado Collegiate All Stars, a talented group of college vocalists banded together by the goal of becoming a professional vocal group. The group was formed by audition in May of 2007. That summer, The 40th Parallel learned two hours of contemporary pop/rock music and performed over twenty five times including opening for face at Nissi's Bistro and at the Colorado Vocal Conference in October of 2007. This ambitious group of college students and graduates has big plans to continue to develop and eventually join the ranks of the other extremely successful professional groups in the Denver area.


Members: Andrew Hoag, Kate Spencer, Richard Steighner, Nick McCart, Sean Martin and Nicole Saint


---

Curious Gage - Working out of Fort Collins, Colorado, Curious Gage has been a fixture in the contemporary a cappella scene for over 5 years. With five voices, five microphones, dynamic bass and powerful vocal percussion, the members of Curious Gage capture the energy and enthusiasm of an instrumental band using only their voices. Winners of the illustrious Rocky Mountain Harmony Sweepstakes competition in 2006, Curious Gage has enjoyed national a cappella recognition and local acclaim, and has spread their love of vocal harmony across the Front Range.


Members: Tom Miles, Kristi Siedow, Phil Thompson, Carleen Widhalm, Nic Widhalm

---

---

Legacy is a nationally known contemporary Christian vocal group that is based out of Lubbock, Texas. Their sound has been compared to many world renowned groups such as Take 6, Acappella, Gaither Vocal Band and Rockapella.

Members: Jake Lierman, John Paul Sheppard, Clint Dickerson, Josh Wheeler, Nick Gaultney

---

Nexus Quartet - 2004 Rocky Mountain District Champions in the Barbershop Harmony Society, 2005 and 2006 international competitor, and now ranked as one of the top quartets in the world, NeXus continues to grow in popularity. Presenting a wide variety of a cappella music, including Barbershop, Jazz, Contemporary, Gospel, and more, the group's entertaining shows are filled with great harmonies, ringing chords, a lot of smiles and more than a few laughs.


Members: George Davidson, Ryan Wilson, Mike Davidson, Mark Zenk

---

Plumbers of Rome - While serving as court musicians & crepe chefs for Charles VII in the 13th century (though not allowed to serve as Royal Plumbers since plumbing was at that time considered to be a form of witchcraft), the Plumbers of Rome invented a device to hurl food and concert T-shirts into the starving peasant section of the King's Concert Hall. Adapted for military use, and named the Trebuchet, this invention led the French army to many victories, as well adding to the festive atmosphere of Renaissance Festivals. While not remembered by name, they are honored in the traditional French carol "ballade de l'arme romaine aimée de plombier".

Members: Michael Hanna, Peter Driscoll, Tim Y. Jones

---

Vox Feminae is the University of Colorado at Denver's newest a cappella ensemble. This group of 8 women performs very dense, difficult harmonies in several different styles, including Latin, folk and pop, and is quickly proving the saying "Who needs a man, anyway". Watch for them to perform at the University of Colorado at Denver's Spring A Cappella concert.


Members: Sabrina Zirakzadeh, Sarah Golay, Rachel Becker, Danielle Becerra, Kameshia Hazard, Jacque Legler, Genevieve Binder, Carli Dean

---

---

Individual Awards:


· The "Jerry Lawson" Best Soloist: This award will go to the singer whom the judges believe to have performed the best solo as part of a group's presentation.

· The "Deke Sharon" Best Original Arrangement: This award will recognize an arranger (group member or other) who the judges believe provides the best group arrangement. The song need not be original. No chart is required.

· The "Jeff Harris" Best Original Song: This award will recognize a composer (group member or other), who the judges believe provides the best original song performed by a competing group. No chart or lead sheet is required.

· The "Wes Carroll" Best Vocal Percussionist: This award will go to the group vocal percussionist who the judges feel has performed the best VP as part of a group's presentation (first year offered).


---