23rd Annual
The Harmony Sweepstakes A Cappella Festival, the premier American showcase for vocal harmony music. The annual national competition draws from hundreds of vocal groups from around the country with regional competitions in eight cities. The winning group from each festival is flown to perform in front of celebrity judges and a sold out house of enthusiastic a cappella fans at the National Finals.
2007 Rocky Mountain Champions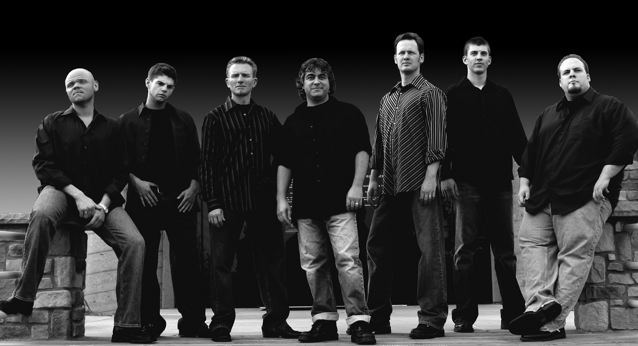 Face is an all-vocal rock band that brings a new edge and attitude to the human voice. These seven young men from Boulder, Colorado provide raw entertainment from original arrangements of rock, pop, funk and upbeat jazz. Using the full range of sounds that the voice can produce, including vocal percussion or "beat-box," Face sounds more like an instrumental rock band than a choral group. Done completely live, with no backing tracks, special effects, or other instruments, first-time audiences are frequently left with a feeling of "How do they do that???" Called "a 7-voice bomb blast," Face won second place at the 2005 National Harmony Sweepstakes, as well as National Audience Favorite.

Members: Mark Megibow, Forest Kelly, Ben Lunstad, Cody Qualls, Ryan Driver, Stephen Ross, Jayson Throckmorton
2007 Results

1st

Face

2nd

Vocality

Audience Favorite

Face

Deke Sharon Award
Best Original Arrangement

"Home" Arr. Ryan Driver - Face

Jeffery Harris Award Best Original Song

"9:15" Tim Y Jones - Vocality

Jerry Lawson Award for Best Soloist

"Home" Ryan Driver - Face

Wes Carroll award for Best Vocal Percussion

Matt Murphey "Tasty Bacon" - Placental Armageddon

CVJS Award for Best Stage Performance

Face
---
2007 PARTICIPATING GROUPS

Cross Examined is an 8 person a cappella group from Longmont, Colorado. CrossX has been busy lifting hearts and bringing smiles to faces throughout Colorado and beyond since the fall of 2000. With a variety of styles, including Christian Contemporary, Southern Gospel, Traditional, Praise and Worship and even a bluegrass tune now and then, this group is sure to keep your hearts smiling and your toes tapping.


Members: Laura Eldred, Calisse Staggs, Paul Schneider, Debbie Smith, Sheri Smith, Matt Eldred, Donna Craine and Tim Staggs

---

Face is an all-vocal rock band that brings a new edge and attitude to the human voice. These seven young men from Boulder, Colorado provide raw entertainment from original arrangements of rock, pop, funk and upbeat jazz. Using the full range of sounds that the voice can produce, including vocal percussion or "beat-box," Face sounds more like an instrumental rock band than a choral group. Done completely live, with no backing tracks, special effects, or other instruments, first-time audiences are frequently left with a feeling of "How do they do that???" Called "a 7-voice bomb blast," Face won second place at the 2005 National Harmony Sweepstakes, as well as National Audience Favorite.


Members: Mark Megibow, Forest Kelly, Ben Lunstad, Cody Qualls, Ryan Driver, Stephen Ross, Jayson Throckmorton

---

The hard rocking boys of Placental Armageddon all hail from Topeka, Kansas (not true - but Topeka does rock!) where they learned the ways ofmetal music while singing amongst the rows of corn at the Alice Cooper memorial Corn Hatchery (you decide if that's true). They will make their debut at Harmony Sweepstakes with their own brand of "extreme shredding" a cappella. (Topeka rocks!)


Members: Tim Y Jones, Mark Megibow, Ryan Driver, Joseph DiMasi, Cory Wendling


---

The Plumbers of Rome, an inspired Tim Jones comedy trio on the order of DaVinci's Noteboook, will again bring their madcap histrionics to this year's event, as they did in 2005 and 2006.

Members: Ernie Stuckowitz, Ron Gilgamesh, Randy Jackson.

---

Raging Harmonies is a contemporary a cappella group from Westminster High School started by Lois Peterson 15 years ago. The group has been widely recognized and acclaimed. The group regularly performs at the Colorado Music Educators Conference in Colorado Springs, as well as performances for numerous community groups and events.


Members: Angelica Cain, Amber Cameron, Katarina Lobato, Vanity Rivera, Michael Beaver "Beaver", Chris Ladner, Taylor Medrano, Jeovanny Torres

---

The UCD7 is an up and coming collegiate a cappella group from the University of Colorado. Their blend of pop, jazz and comedy will have folks coming back for more.


Members: Claire Grout, John Paul Sharp, Greg Jacyszyn, Kirk Dugan, Lucas Reeves, Anthony Limon, Michael Brown

---

Vocality is one of the premier vocal ensembles of the Vocality Music company. Specializing in musical entertainment for any event, the ensemble perfoms original explorational pieces that fuse the choral music tradition with elements of contemporary a cappella and jazz.
.

Members: Tim Y. Jones, Merilee Tobin, Jeremih Jamson, Sean Bean, Dave Matthews


TONY HUERTA: Tony covers it all. As singer and vocal percussionist for Colorado's best known a cappella ensemble, he has been in front of the footlights, and now specializes in recording and sound engineering for some of the top groups in the country.

DOVY PAUKSTYS: Now the Utah CASA Ambassador, Dovy became obsessed with A Cappella as soon as he enrolled at BYU where he soon became the A Cappella Club President. Now his vocal band and duties at CASA "have taken over my life" as he puts it.

SUSAN GATSCHET REESE: Susan represents the music media on our judging panel. As a long time staff member at Denver's KUVO, she has a good understanding of the jazz area in particular, but also the a cappella scene, in which she shows special interest.

JOE SANFORD: Member of one of Colorado's long standing professional a cappella groups, Joe is also a music educator in the Denver area and has been there, done that in Harmony Sweeps, winning the Rocky Mountain Championship twice in the process.

---

Individual Awards:


· The "Jerry Lawson" Best Soloist: This award will go to the singer whom the judges believe to have performed the best solo as part of a group's presentation.

· The "Deke Sharon" Best Original Arrangement: This award will recognize an arranger (group member or other) who the judges believe provides the best group arrangement. The song need not be original. No chart is required.

· The "Jeff Harris" Best Original Song: This award will recognize a composer (group member or other), who the judges believe provides the best original song performed by a competing group. No chart or lead sheet is required.

· The "Wes Carroll" Best Vocal Percussionist: This award will go to the group vocal percussionist who the judges feel has performed the best VP as part of a group's presentation (first year offered).


---