21st Annual


The Harmony Sweepstakes A Cappella Festival, the premier American showcase for vocal harmony music. The annual national competition draws from hundreds of vocal groups from around the country with regional competitions in eight cities. The winning group from each festival is flown to perform in front of celebrity judges and a sold out house of enthusiastic a cappella fans at the National Finals.
2004 Rocky Mountain Champions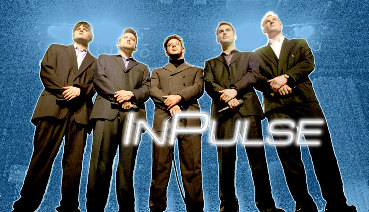 Inpulse is the Twin Citiesā hottest new vocal band. A certifiably unique pop a cappella outfit, INPULSE incorporates award-winning soloists with driving percussion, using only their mouths and microphones to create a groove that is second to none. This five-member group is comprised of classically trained vocalists and utilizes the art of vocal percussion to entertain all audiences with their energetic stage performance. INPULSE endeavors to advance the art of a cappella into mainstream pop-culture on the world stage through original music, engaging performances and the education of young singers.

Members: Michael Espinoza, Gabe Koxlien, Matt McDonald, Paul Donnelly and Marcus Hanson.
2004 Results

1st

Inpulse

2nd

No Better Cause

Audience Favorite

Face

Best Original Arrangement

"Obsession" Marcus Hanson - Inpulse

Best Original Song

" Hazy Shade" - Carleen Michaud - Curious Gage
2004 Partcipating groups:

Curious Gage One of Colorado's newest contemporary vocal bands, 'Curious Gage' from Fort Collins has a unique blend of rock, jazz, pop and soul. Using only the instruments they were born with, these five guys capture the intensity and energy of today's rock bands.

Members: Nic Widhalm, Justin Curtis Adams, Christian Nielsen, Ryan Smykil and Tom Miles.

Face: Boulder's six-man vocal band, 'Face', boasts Audience Favorite and Runner-Up awards from the 2003 Rocky Mountain Sweeps. These talented singers provide raw entertainment from original arrangements of pop, rock, jazz, gospel and classical selections.

Members: Ben Lunstad, Cody Qualls, Ryan Driver, Forest Kelly, Joseph DiMasi and Mark Megibow


Visionary group Inpulse from Minnesota has a mission to take vocal 'instrumentation' into mainstream popular music. These five trained vocalists use their musical talents and unparalleled skill with vocal percussion to create a groove second to none.

Members: Michael Espinoza, Gabe Koxlien, Matt McDonald, Paul Donnelly and Marcus Hanson.

Since 1996, Denver's LoDo Air Band has sung only original arrangements along with many original tunes, delivered with non-stop high energy. Prepare for a wild ride through a cappella hilarium with the six-voice group's renditions of Classic Rock and R&B.

Members are Kelly Hays, Kristen Brown, Art Ortega, Christine Young, Jonathan Smith and Doug Tisdale.

moosebutter: You'd never know it by their music, but Provo, Utah's 'moosebutter' is a quartet of nice guys who sing songs about love, liberty and furry animal friends. Together they ponder deeply, swoon meticulously, tango ominously and . . they don't cheat at checkers.

Members: Tim Y. Jones, Chris Hallis, Weston Wride and Glen Sawyer.

No Better Cause: The infectious and exciting one-of-a-kind style of 'No Better Cause' adds an intriguing a cappella sound to their repertoire of pop, rock, R&B and standard tunes. The six-man group from Lincoln, Nebraska has a distinctive talent and a bent for true originality.

Members: Nate Kellison, Luke Kellison, Justin Runge, Adam McCarville, Zakk Wooten and Zack Bjornsen.


Raging Harmonies: These seven teens are all students at Colorado's Westminster High School. The young men and women of 'Raging Harmonies' strive to share the spotlight fairly andcomprise the only high school-aged a cappella group to appear in the Harmony Sweepstakes.

Member: Lisa Baer, Jessican Israel, Denine Lopez, Chris Vasquez, Tez Diaz, Mike Ladner and Derik Padilla Rojas.

Since 1996, Transformed of Littleton, Colorado has performed mainly for women's conferences, special events and fundraisers in the area, and as far as Kyiv in the European Ukraine. The group's four female songsters use their God-given talents to encourage others. Members are Laura Gournie, Rita Robbins, Kathy Spencer and Lisa Welsh.

JUDGES:

Norm Silver
Brian Michaels
Julie Williams
Greg Moody

Boston - Chicago - Denver - Los Angeles - New York - Pacific North West - San Francisco - Washington DC