---
2013 Participating Groups
Bodacious Ladyhood is a Seattle-based trio of women who have been singing together for nearly a decade. Carolyn, Loretta and Jenny met via the local theatre scene and since then have been delighting audiences all over the Puget Sound area. In 2011, they performed at Chateau Ste. Michelle winery and on live, national radio as guests on "A Prairie Home Companion with Garrison Keillor." They take inspiration from a vast range of styles including folk, '60s girl group, humor, prog-rock and jazz. They have been called "vibrant-voiced", "impressive, innovative and inimitable", and "a must-see." Bodacious Ladyhood is three parts harmony, one part comedy and a whole lot of fun.



Members: Loretta Deranleau Howard, Carolyn Hastings, Jenny Buehler

---
Rezonate The premiere a cappella group from Eugene, Oregon, the gentlemen of Rezonate sing R&B, Gospel, Pop, Soul, Jazz, Funk, and even some Hard Rock, including deftly arranged covers and original songs. The group started singing together as Rezonate in December 2004, and have sung at many venues since. At the Harmony Sweepstakes National Finals in May of 2009, Rezonate won both Third Place and the coveted award for Best Original Arrangement. With thick, lush, true six and seven part harmonies and a difficulty level second to none, Rezonate can evoke the smooth sounds of the Four Freshman, the rockin' edge of the Goo Goo Dolls, or the pop excitement of acts like Bruno Mars and Owl City.



Members: Tyson Biggerstaff, Jason T. Caffarella, Justin Diller, Chris Dobson, CJ Mickens, Jason Simms

---
Shot In The Dark - In June of 2012, six transplants from all different corners of the US found a shared passion for singing in Seattle. Starting out as strangers who sometimes sing together, they quickly evolved into singers who will never again be strangers. In sharing a passion for music, a cappella and otherwise, they became Shot in the Dark.
Singing everything from dance hits to country ballads, Shot in the Dark has made it their mission to not only share their love of a cappella, but to make everyone else love it, too! Individually, they are a doctor, a writer, a designer, a scientist, a soccer player and a redhead. Together, they have six voices that create one sound.



Members: Caitlin Nelson, Divya, Mehta Jessica Michele, Ann Trigg, Nathan Pierce, Van Lang Pham

---
Strangers in Harmony is honored to accept their induction into the prestigious Five-Timers Club, a designation given only to those appearing five or more times on the Pacific Northwest Harmony Sweepstakes stage. Founding members Eric, Mike, and RC, plus all-world baritone Roy, are continuing to enjoy life as an unplugged quartet, cheerfully serenading all who venture past their secret Portland street corner "sweet spot" or catch them in one of their stage shows. The Strangers are excited and honored to be back in Olympia, and we hope you enjoy our latest set of tunes, all original songs written and arranged by our own Eric Chung.




Members: Ramsay "RC" Cowlishaw, Eric "EC" Chung, Mike "MM" Mendyke, Roy "RR" Raser

---
The Uptown 4 - What started out as four friends singing in their backyards has become one of the fastestgrowing A Cappella quartets in the Pacific Northwest. The Uptown 4, an award-winning group based out of Renton, Washington, has been described as "Phenomenal!" with "an amazing stage presence"and voices that are "incredible and strong".

All members of the group have an extensive background in music and performing, including choral training, classical music, instrumental performance and music theory. They perform an extensive repertoire of covers, from Fifties Doo-Wop and Standards to modern-day Top 40 hits, while finding ways to bring their own style and personality to their arrangements. The group also produces and performs original music. The original song "Hazel Eyes" was called "one of the best original arrangements"

Members: Chris Taylor, Jeffrey McGlinn, Jeff Weister, Jesse Lewis

---
Your Emcee for the Evening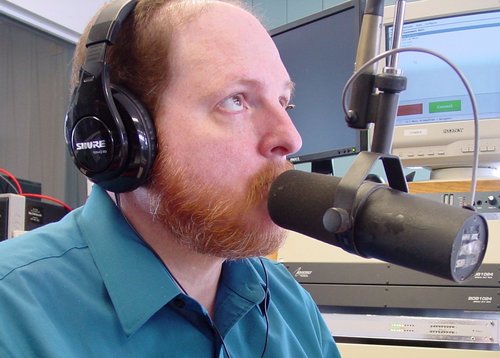 A radio announcer for over 36 years, Smilin Jay is the morning host on AM 1240 KGY Radio. He and his "Hunny-Bunny" Mariann live on Tumwater Hill in a wholly automated home run by a computer named D.O.R.I.S. (Domestic Operations, Resources and Information System.) A former school band, orchestra and choir member, Smilin Jay has a deep affection for a cappella music and is honored to return as emcee for this evening's Pacific Northwest Regional Harmony Sweepstakes.
---
2013 Judges
| | | |
| --- | --- | --- |
| | | Kevin Kunz has been a professional singer, piano player, arranger and composer for more than 25 years in the Pacific Northwest. He has won numerous song writing and arranging awards and was one of the founding members of the Harmony Sweepstakes 2005 National Champions, Groove For Thought. He has performed with Jazz greats Joe Williams and Ritchie Cole, and is currently producing several independent Gospel music projects. |
---
Joan Levitin is an active member and one of the Musical Leaders of the award-winning Pacific Sound Chorus. As a member of Sweet Adelines International, she is a Certified Director, a Certified Expression Judge and a Panel Chair. Joan was the front-line director of Jet Cities Chorus for over seven years and was the lead in eight regional medalist quartets. She presently serves on the Education Direction Team for her region and is an active coach and faculty representative as well.
.
---
| | | |
| --- | --- | --- |
| | | Dan Schumacher is a member of The Bobs, an accappella group based in San Francisco, California. The tallest Bob to date, Dan was born in Cheyenne, Wyoming, and studied vocal jazz and opera. He sang with vocal groups Monkey Puzzle and Kickshaw (with Blake Lewis) before joining the Bobs, with whom he often sings his socks off (apologies for the smell). He doesn't fit in most rental cars. |
---
| | | |
| --- | --- | --- |
| Angi Swan has been accompanying since age nine. She has played piano for numerous soloists , events, and choirs, including the Masterworks Choral Ensemble. She graduated from the University of Iowa with a Bachelor's in Music Education, earned her Kodaly certification at the University of St. Thomas, and is currently working toward her masters in music education from Kent State University. She is the Director of Music at the First United Methodist Church of Olympia, where she directs the bell choir and Contemporary choir, and she teaches K-5 vocal music in the Olympia School District. Angi and her husband, Patrick, live in Olympia and have three daughters. | | |
---
---
Keep in touch with the Pacific NW a cappella scene! Subscribe to this regional resource for a cappella fans and groups.
Stay informed about upcoming shows and auditions, find a new member for your group or just keep up with the local a cappella news.
---
---
Interested in Performing?
Groups of any style are welcome, but you must have between 3 and 8 members. We have a rule book which explains many of the details of the event, which you can see by clicking here. All groups must audition in order to compete. Generally this is done by sending a current tape and photo, although live auditions are sometimes arranged. The purpose of the audition is to make sure the group is appropriate for the Festival and to help the Director determine the performance order. If a group has competed previously, the audition process may be waived. Please send tapes and photos to the regional director :
Gary Witley (Pacific Northwest) The Pacific Northwest Regional Festival is sponsored and produced by Masterworks Choral Ensemble (MCE). Gary Witley is the Artistic Director & Conductor of MCE. MCE is a Southwestern Washington community chorus dedicated to performance, community service, music education and leadership in the arts. Our mission is to perform sacred and secular choral, orchestral and newly commissioned works; to participate in community service activities and to provide a leadership role in developing, sponsoring and broadening the vocal arts

PO Box 1091
Olympia, WA 98501-1090
Pacificnw (at) harmony-sweepstakes.com

The Harmony Sweepstakes A Cappella Festival
PO Box D
San Anselmo, CA 94979
(415) 455-8602
festival (at) harmony-sweepstakes

---
How To Enter
Prizes

- Regional winners win roundtrip airfare plus two nights accommodation in the San Francisco Bay Area to compete in the Harmony Sweepstakes National A Cappella Festival
- A selection of compact discs from the Primarily A Cappella catalog
- A $250 coupon from Discmakers

---
The Washington Center for the Performing Arts, South Puget Sound's largest performing arts facility, is committed to providing a wide variety of entertainment and cultural activities for the residents of five counties. Located in the heart of Washington State's capital city, The Center has become a community gathering place, providing a focus for the performing arts unique to the region.

The Washington Center is located at 512 Washington Street SE, Olympia, WA 98501. There is plenty of free parking. Google map
---