---
2013 Participating Groups
Arf presents live a cappella versions of Genevieve Artadi's solo dream pop project, a collection of original lo-fi recordings that feature multi-layered vocals. .


Members: Genevieve Artadi, Andrea Calderwood, Alexandra Domingo, Sean Fitzpatrick, Jessica Freedman, Katherine Hoye

---
Flipside - Just like it takes the right combination of notes to make up great music, it takes the right blend of voices to make that music come alive! These folks had already been singing all over Southern California for many years when they decided to get together and pool their talents into one great sound. With a wide range of musical styles and a passion for those tight vocal harmonies, this group makes for a diverse, exciting, and extremely enjoyable a cappella experience.

Members: Kenny Kurtz (Bass), Colleen Cowley (Soprano), Linda Cicino (Alto), Jay Welch (Tenor)

---
Honey Whiskey Trio blends sounds and styles from folk, bluegrass and jazz. This trio found its roots in the vocal jazz department of CSU Long Beach where the members all studied with Christine Guter, though at different times. Years later, well into their own careers as musicians and educators, the need for a new outlet for musical exploration brought Courtney, Ann and Christina together and the Honey Whiskey Trio was formed.


Members: Courtney Gasque, Ann Louise Thaiss , Christina Wilson

---
Red Harmony - Based in Los Angeles, California, Red Harmony tailors its selection of songs to the voices and personalities of its singers in order to present a fresh and original performance. Each member brings a very unique style, specialty, and energy to the table, creating a synergistic culture where ideas are shared and creativity is celebrated. From accompanying each other with rhythmic vocals to reveling in crunchy jazz chords, Red Harmony creates a personal experience with every note.


Members: Tessa VonderHaar (Soprano), Jenny Gruen (Alto), Tiffani Call (Alto), Tyler Rivera Stein (Tenor), Nate George (Baritone), Christopher Thaxter (Bass), Matt Atkin (Vocal Percussion)

---
Swing Shift - - started life as an SSATB quintet in 2002. Shortly after, the group was invited to appear on local TV station KLCS as part of their "Mosaic" series' special on a cappella groups. (A video of that appearance can be found on the Swing Shift web site.) Swing shift has evolved over the years and appears this year at the Harmony Sweepstakes as a sextet. The group has drawn over the years on local resources such as the SMC Vocal Jazz Ensemble from which three of Swing Shift's present roster are current and/or past members. We are proud that many of Swing Shift's alumni have gone on to advance their professional careers in such prestigious ensembles as the LA Master Chorale, Sonos, New Directions, and m-pact. The group's signature sound is their rich harmonic treatment of jazz, pop, and Broadway standards. They appear locally at clubs and private parties. Recently they appeared at the Talking Stick in Venice and headlined an a cappella showcase at Monsoon Café in Santa Monica.

Members: Allison Butler (Soprano), Laura Jackman (soprano), Janette La Bella (Alto), Dakota Lee Martinez (Tenor), Phil Azelton (Baritone), Richard Gilinsky (Bass)

---
Traffic Jam drives all over Southern California to perform for you at county fairs, farmers markets, festivals, competitions, coffee shops, open mic nights, holiday parties, and private functions. TJ's out-of-the-box arrangements and chill attitude make every show fascinating, fun, and always worth the drive.

Members: Joanna Silverman (Soprano), Carmen Sicherman (Soprano), Sara Steinberg (Alto), Tavis Larkham (Tenor), Paul Mendoza (Baritone), Ryan Berman (Bass), Richard Kennedy

---
Unnecessary Breakdowns is a mixed a cappella group performing Top 40 radio hits and classic pop standards. They have performed for the past 2 seasons at a well-known Southern California theme park and have become an entertainment staple in Hollywood and West Hollywood clubs and performance venues. They have recently released their first music video and are currently working on their first studio album.

Members: Kathleen Paul (Soprano), Jessie Norman (Alto), Alyssa Grant (Second Soprano), David Kenny (Tenor), Tuck Atkins (Bass), Alex Smith (Beatboxer), Chester McCurry (Director/ Manager)

---
Veritas - L.A.'s hot new seven member a cappella vocal band - is here to entertain you! Veritas covers all styles of music, with a strong Indie pop/rock foundation. Their innovative arrangements coupled with an amazing combination of voices is something that should not be missed. Veritas will not only give you vivacious vocal solos, but your ears will be treated to a veritable variety of drums, electric guitars, trumpets, and a booming bass that will rattle the floorboards. This eclectic group of dynamic vocalists delivers a spectacular show you'll have to experience first-hand.


Members: Ashlyn Kindberg (Soprano), Jourdan Rystrom (Mezzo), Emily Morris (Alto), Jeremy Hitch (1st Tenor/Arranger), Nick Tubbs (2nd Tenor), Richie Ferris (Bass), Sean P. Gorecki (VP/Arranger)

---
Voices is an a cappella singing ministry currently in it's sixth year. Of the many performances they have opened for Take 6, sung the National Anthem for the minor league baseball team the 66ers, and have worked with various charities and community events. They participate in the annual "Festival of Lights" Christmas celebration at Mission Inn, Riverside, California. The five member group sings a variety of styles such as spirituals, jazz, Christian contemporary, and gospel. They also do original pieces and arrangements of familiar songs.

Members: Reggie Paschal (tenor); Melanie Richardson (Soprano); Kandace Fields (Alto); Hyomara Homs (contralto,percussion); Anthony Paschal,Sr. (Bass)

---
2013 Judges
| | | |
| --- | --- | --- |
| Amy Engelhardt was the sole female member of Grammy-nominated vocal "band without instruments" The Bobs, and one of their primary writer/arrangers from 1998 to 2011. Amy was recently honored with the Burman Award for Songwriting from the Manhattan Association of Cabarets (MAC), and three BroadwayWorld Cabaret nominations for Two Bobs, No Waiting, her duo show with Bob Malone of the John Fogerty Band. Her first theatrical score, BASTARD JONES (a rock musical adaptation of Henry Fielding's TOM JONES, with librettist Marc Acito), was a Finalist for the 2012 Richard Rodgers Award, the Eugene O'Neill Music Theater Conference and the Alec Baldwin Fellowship. Amy's solo CD, Not Gonna Be Pretty, hailed as the "unlikely and intriguing marriage of Nellie McKay and Meat Loaf," garnered two Just Plain Folks Award Nominations (the "Grassroots Grammys" according to the LA Times). A graduate of Syracuse University, Boston's Berklee College of Music, and an honorary member of the Vienna Boys Choir, Amy teaches songwriting and vocal performance (solo/group) and adjudicates vocal competitions, splitting her time between New York City and Los Angeles. | | |
---
| | | |
| --- | --- | --- |
| | | Johnny D. Figueroa (a.k.a. The Doc) is the Founder, Artistic Director, and bass vocalist of Nota , winners of the nationally acclaimed NBC/SONY a cappella competition "The Sing-Off". Introduced to the wonders of choral and barbershop music by his parents, Johnny became passiona for vocal harmony since an early age. His Bachelor and Doctorate degrees are in Biology and Molecular Neuroscience & Biophysics, respectively, with a minor in vocal performance. During the past 17 years, Johnny has had extensive experience singing, performing, and touring with several award-wining choirs and vocal groups. He is currently living his life-long dream. |
---
Bradley Hampton is the music director, a singer, and arranger for the internationally award-winning a cappella group SoundStage. SoundStage was recently featured on Emerald City Productions album Sing a Song: Children's Songs from around the World. He is also the director of the vocal jazz ensemble at California State University San Bernardino, and teaches courses in songwriting and arranging.

Bradley's arrangements are sung by numerous vocal groups including Voicemale on "Hims II", and West Side 5 on their self-titled album (as well as Voices Only II). He arranged the theme song for the web series "Dead Grandma" hosted by Jon Header. You can hear his jingles played on The Tim Conway Jr. Show as well as his arrangements sung as promo for the hit a cappella movie "Pitch Perfect".
---
| | | |
| --- | --- | --- |
| | | John Sherburn has been in the entertainment business for over 40 years having had appearances on Cheers, Arrested Development, Johnny Carson Show, Neil Diamond's Christmas Special, Tony Orlando and Dawn, Ferris Beullers Day Off and the list goes on. John has provided backup singing and voice over for Hannah Barbera, Neil Diamond, Ann Bancroft, The Diamonds for 3 years, and produced his own CD of Jazz favorites. John has appeared in productions of The Music Man, and Carousel. John has performed in England, Germany, China, Japan, Canada, South America, and at Carniegy Hall. John is currently studying acting in Los Angeles at the Gregory Solbeck-Berger Studio. |
---
| | | |
| --- | --- | --- |
| Fletcher Sheridan has been singing incessantly since he was 2. Thankfully he had the opportunity to turn this habit into a career. Since the age of 13 Fletcher has been singing professionally for TV shows like Family Guy, Two And A Half Men, and The Office, as well as on movies like Avatar, Happy Feet 2, and The Lorax. He has also recorded with artists such as Michael Jackson, Randy Newman, and Bobby McFerrin for which he received a Grammy© nomination. He has been a member of the LA Master Chorale and the LA Chamber Singers, and is currently music director for the internationally acclaimed a cappella group M-Pact. An accomplished arranger, composer and producer, Fletcher revels in pushing the envelope and evolving his craft. | | |
---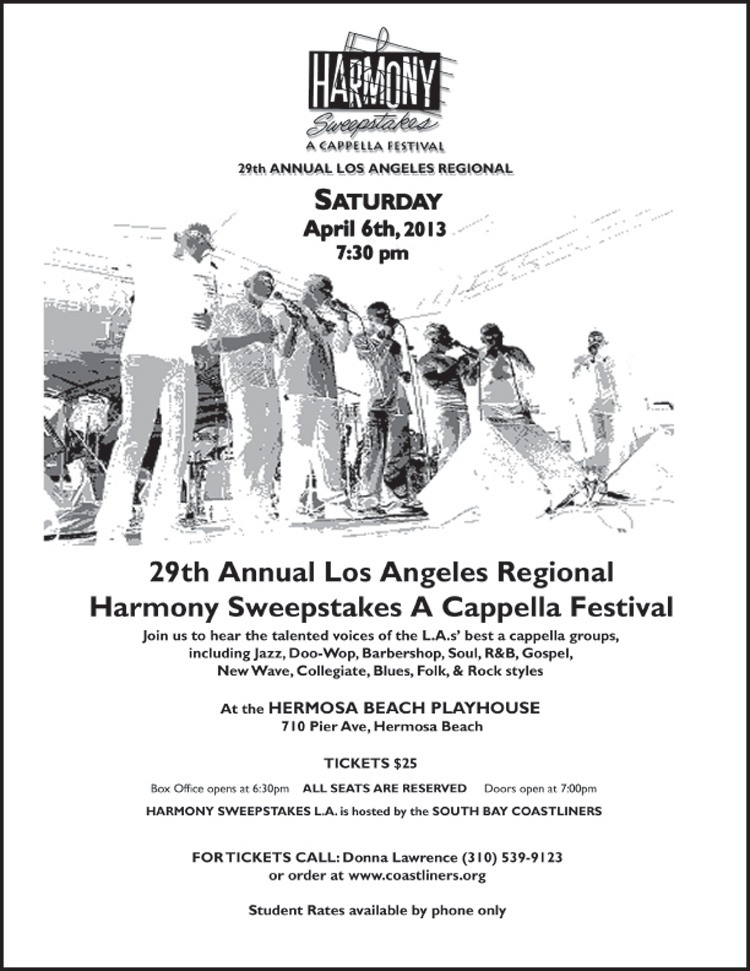 Complete list of 2013 national participants
---
Keep in touch with the Los Angeles a cappella scene! Subscribe to this regional resource for a cappella fans and groups.
Stay informed about upcoming shows and auditions, find a new member for your group or just keep up with the local a cappella news.
---
---
Interested in Competing?
We are always seeking groups who would like to compete in our events.
Groups of any style are welcome, but you must have between 3 and 8 members. We have a rule book which explains many of the details of the event, which you can see by clicking here. All groups must audition in order to compete. Generally this is done by sending a current tape and photo, although live auditions are sometimes arranged. The purpose of the audition is to make sure the group is appropriate for the Festival and to help the Director determine the performance order. If a group has competed previously, the audition process may be waived.

How to enter


Please send tapes and photos to the regional director:-

Will Hamblet - The South Bay Coastliner Chorus has been a member of the Barbershop Harmony Society (BHS) for over half a century. For the last 15 years, the Coastliners have sponsored the Los Angeles Regional Harmony Sweepstakes program. As such, they are the only BHS organization involved in this competition. During their sponsorship, the Los Angeles Regional is proud to have produced 5 National winners & 2 second place finalists.
(323) 660-0321
willhamblet at adelphia.net

The Harmony Sweepstakes A Cappella Festival
PO Box D
San Anselmo, CA 94979
(415) 455-8602
festival at singers.com

---
Prizes

Regional winners win roundtrip airfare plus two nights accommodation in the San Francisco Bay Area to compete in the Harmony Sweepstakes National A Cappella Festival

A selection of compact discs from the Primarily A Cappella catalog

A $250 coupon from Discmakers
---