1999 Harmony Sweepstakes Bay Area Regional
1999 Bay Area Champs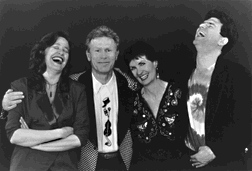 The Euphorics
The Euphorics (U4X) are a joyous, energetic a cappella quartet, who, since 1983, have been delighting audiences internationally on radio, television, and concert stages, at schools, festivals, and special events of all kinds. Individually, members of the Euphories are powerful lead singers. Joani Bye (alto), fronts her own band, the Homewreckers, and her voice has graced countless albums (including those of Bon Jovi, David Bowie, INXS, and Cher). Helen Davis (soprano) leads her own jazz quartet and has backed up Doug and She Slugs, and Kathi Hof Donald. Nathen Aswell (tenor) is a free-lance vocalist/bassist and works with a wide variety of people (including artists Susan Crowe and Gary Fjellguard. The CARAS award for Best Children's Album of 1993 and the West Coast Music Award for Best Children's Album in 1998. Together, they create a rich and soulful blend with a repertoire of top-notch originals and innovative arrangements of covers in a wide variety of styles. The Euphorics celebrate their passion for music with plenty of humor and dynamic audience interaction.
1999 Results

1st

Euphorics

2nd

Freestyle

3rd

The Kinsey Sicks

Audience Favorite

The Kinsey Sicks

Best Original Song

"Begonia" The Kinsey Sicks

Best Original Arrangement

"Message In A Bottle" Euphorics
1999 Participating groups
Copper Wimmin is a trio of outstanding vocalists from Sonoma County who blend intricate rhythms and harmony together with fearless lyrics, creating a stunning and uplifting performance. Influenced by the soulfulness of Sweet Honey in the Rock and the powerhouse rage of Ani Difranco, the group has inspired audiences from coffee houses to concert halls. The members of Copperwimmin' became inseparable after singing together in a center of the Santa Rosa children's chorus. This childhood synergy has forged a body of original music and a unique style that is at once worldly and innocent. These elements combine to create a sound that is much bigger than a sum of its parts, a sound that enraptures and inspires transcendence. They are a cappella as a voice for truth.
The Euphorics are a joyous, dynamic a cappella quartet who have been delighting audiences internationally on radio, television, concert stages, schools, festivals, and at special events of all kinds since 1983. Individually, members of the Euphorics are powerful lead singers. Together, they create a rich and soulful blend with a repertoire of top-notch originals and innovative arrangements of covers in a wide variety of styles. The Euphorics celebrate their passion for music with plenty of humor and dynamic audience interaction.
Freestyle is an energetic barbershop quartet that goes out of its way to provide beautiful music and memorable entertainment. They burst onto the music scene in 1996 by winning the Northern California Divisional Contest in their first public performance. Since then, they have entertained audiences throughout the country. They are the current and three-time Northern California Division Quartet Champions and were International Semi-Finalists this year at the International Barbershop Quartet Championships in Atlanta, Georgia.
Kinsey Sicks launched their career as hair and makeup consultants for Mutual of Omaha's Wild Kingdom. After completing the Sally Struthers Correspondence Course in Musical Performance in five short years, the Kinsey Sicks captivated audiences in cabarets, crowded subway cars, and "accidentally" stalled elevators. The Sicks have performed to standing-room-only crowds in sitting rooms across the country. Their previous theatrical productions have included: Sicks-Tease, Sicks Appeal, Everything But the Kitsch 'n' Synch, The Kinsey Sicks, Back Despite Popular Demand, The Balled Sopranos: At Home with the Kinsey Sicks, and this year's Kinsey Sicks: GreatesTits. Their debut CD is available through Primarily A Cappella. The Kinsey Sicks wish to remind you that anything else you may have heard about them is a vicious lie. Http://members.aol.com/ksicks may or may not be their web site.
Moe Cappella has never met a style of music they can't take the instruments out of. From pop to classical, jazz to reggae, tear-jerking ballad to high-energy rocker, Moe Cappella does it all - or at least some of it. At festivals, coffee houses and private parties, the band has been delighting audiences of all ages since 1995 with an eclectic blend of familiar - and a few not so familiar-tunes in a contemporary a cappella style. As arrangers, they put their unique signature on each song they perform (and they fight a lot over who gets to sing the melody). Their goal is to bring peace and harmony to the world.
Press Any Key is a mixed a cappella sextet based in Emeryville, California, a suburb of San Francisco. They specialize in performing original songs and arrangements written by their members. Diverse audiences around the Bay have enjoyed the group's performances in many public and private venues. Press Any Key has performed in the San Francisco Regional Harmony Sweepstakes, the East Bay Pride Festival, and A Cappella Against Aids V. They were founded in 1995 by the brother-sister team of Paul & Barbara Sinasohn. The group has gained fans among both a cappella aficionados and first-time listeners.
Ro-Sham-Bo! Tight harmonies, original songs, soulful ballads, explosive percussion. The Oakland based Ro-Sham-Bo provides an unforgettable auditory adventure. This six-voice mixed a cappella group draws its influences from a wide variety of musical genres, from jazz to classical, gospel to pop, and has appeared at venues throughout the Bay Area.
'Til Dawn is a co-ed, teen a cappella group that comprises the musical performing arts portion of Youth in Arts. Since 1997, 'Til Dawn has appeared before over thirty thousand people at over sixty events. The nine members of 'Til Dawn have developed a repertoire that breaks down the boundaries between rock, pop, jazz and soul. They feature pieces from Sheryl Crow, the Pointer Sisters, Neil Young and Willie Dixon in addition to original songs written by the group members. 'Til Dawn performs regularly at a variety of community events, benefits and schools where they serve as a harmonious illustration of the Youth in Arts mission, to expand the minds and open the hearts of children in Marin. 'Til Dawn provides an outlet for young people to celebrate the value of the arts and inspires children of all ages to dream, create and reach out to others.

"Voices to move the spirit"-VocaMotion is a contemporary upbeat a cappella quartet from Santa Cruz. Their eclectic repertoire of rock, folk, soul, blues, doo-wop and original tunes, along with their friendly on-stage chemistry will lift your spirits, have you tapping your feet, clapping along and laughing out laud. They can rock, reflect, inspire, and get silly. They love what they do, and you will too. They are bound together by their joyful commitment to the positive power of music to touch our hearts. They feel privileged to be able to offer their voices, and join with their with their audiences in the service of lifting the human spirit and having a good time.
1999 Judges
Joey Blake
Raised in a family of musicians and gospel singers, Joey is a multi-instrumentalist (piano, guitar, bass, percussion), singer, composer, dancer, and choir director. He studied classical voice and vocal jazz arranging at Phil Mattson's School for Vocalists in Spokane, Washington, developing his deeply resonant and expressive bass voice. He toured with the a cappella group "Street Sounds," and is a veteran of several pop/rock bands. Currently, he sings with a jazz vocal ensemble "SoVoSo," who were the 1997 winners of the Harmony Sweepstakes main prize, as well as the audience favourite category. Leader of his own gospel choir, Joey was commissioned by the Oakland Youth Chorus to write and arrange for its professional touring ensemble Vocal Motion. He was a musician and a vocalist in Kenny Loggins' "Conviction of the Heart" tour, and has appeared in Loggins' VH-1 special, as well as dancing in Bobby McFerrin's "The Garden" video. Joey led workshops for the Mayor's Performing Arts Day Camp, and currently teaches music and theater in the Berkeley Arts Magnet school program. He also teaches private voice and piano classes.
Susan G. Duncan
As Chanticleer's executive Director since 1992, Ms. Duncan manages the day-to day operations of the only full-time professional vocal ensemble in the US. Prior to working with Chanticleer, she was the Managing Director of the California Shakespeare Festival and had brought it to its extraordinary growth within only a three-year period. From 1986 to 1988, she was the General Manager of San Francisco's long-running musical comedy phenomenon, Beach Blanket Babylon. Her earlier work experience includes six years in the Public Affairs department of San Francisco's largest corporation, Chevron USA, where she had responsibility for the company's participation in arts philanthropy. Ms. Duncan's present community activities include serving as Board Treasurer for Chorus America, the national service organization for professional choruses; as a panelist for the San Francisco Art Commission's Cultural Equity Grants; and as a frequent guest lecturer in Golden Gate University Arts Administration program. She is a graduate of UCLA's MBA program in Arts Management and a summa cum laude in Art History from the University of Missouri at Columbia.
Welles B. Goodrich
Welles B. Goodrich is an artist and inventor who lives in the redwoods near Santa Cruz, California. Fifteen years ago, while working as a public radio volunteer (electrician), vague memories of his participation in a church choir stimulated collecting a cappella music from KUSP's extensive music library. This avid collector's passion turned into radio progamming, which gradually produced a series of semi-scholarly non commercial tape recordings, including countless discopraphies and notes, that have been shared all around the world. Mr. Goodrich has done critical and creative work as a writer for the CASA publications. He has also worked on several compilations of a cappella music which have been commercially released. In the past years, he has been a judge at the Harmony Sweepstakes A Cappella Festival.
Michael Levine
Michael is the founder and president of Events West, a Mill Valley based special event company. As producer of large city festivals, such as the 15th annnual A La Carte, a La Park, he has presented hundreds of musical acts to diverse audiences. Michael has been an a cappella fan for years and is proud to have featured many Harmony Sweepstakes winners on Events West stages, including: The House Jacks, SoVoSo, Acme Vocals, The Edlos along with top groups such as the Bobs and Zap Mama.
Bryan Matheson
Bryan Matheson hates writing bios, but we made him do it anyway. Bryan is a musical schizophrenic, singer, songwriter, arranger, producer, and engineer, specializing in a cappella, who spends most of his time in recording studios, mainly Skyline Studios in Oakland, where he acts like he owns the place. He has extensive production experience on both sides of the microphone, having written, produced, and sung dozens of radio commercials. Also he was recently featured in Keybord Magazine (December '98 issue) wherein he discussed some of his vocal arranging and recording techniques. When he is not being held hostage by paying clients, Bryan is an arranger and a featured soloist for The Pacific Mozart Ensemble.
Buddy Saleman
This prolific Bay Area producer has worked with the House Jacks - past-years' winners of the Harmony Sweepstakes A Cappella Festival, Mary Shmary, Kai (reaching the Top 100 single in the Billboard Magazine). He has also worked for the A Cappella Radio International, and is on the board of directiors for CASA. He owns his own recording studio in SF - "Studio 684," where he had been working for the past twenty years. Besides engieering in his studio, Mr.Saleman has put together all the previous Harmony Sweepstakes recordings. Also to his credit, for the past few years, he has been a writer for the "Electronic" - a musicians' magazine. Whenever time allows, he teaches audio producion workshops at studio "Urban Harmony."