2010 Pacific Northwest Regional Winners: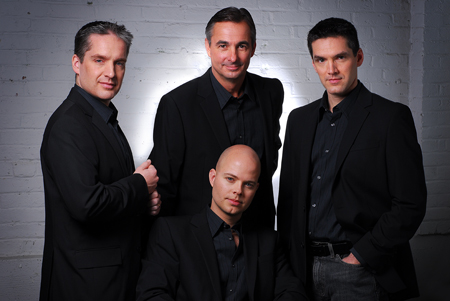 Realtime has been together since March of 2003, when John Newell arrived in Canada and mutual friends helped bring the group together. Since then it's been a musical whirlwind of activity, with three recordings, hundreds of shows and a world championship and a whole lot of fun under their belt. In 2008, Doug Broersma became the official lead singer, when John retired. Realtime became the 2005 International Quartet Champions of the Barbershop Harmony Society in Salt Lake City. So having reached the pinnacle of the barbershop contest world, they have sung in their last contest, and received their final score in the barbershop genre.
2010 Pacific Northwest Regional: Second Place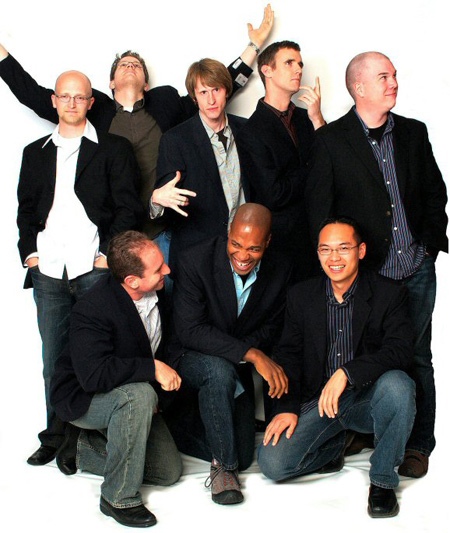 Back around 1990, a couple of the founding members of the coed Microtones decided that they wanted to form a men's a cappella group at Microsoft so that they could sing the charts from their college groups. The original quartet consisted John Rae-Grant, bass and musical director, Bill Pope, baritone, Bob Gunderson, 2nd tenor, and David Olsen, 1st tenor. True to their profession, the group's chosen name, The Baudboys, referred to the method by which modem speeds were rated. The group performed only a few times in its first years of existence, doing lunch time gigs on the Microsoft campus.

As members left Microsoft over the years, they would also leave the Baudboys, prompting natural turnover in the membership. During the 1990's, the group expanded it's membership, aiming to have two full quartets within the group. Since that time, the group has remained at 7-9 members, but the expanded membership has allowed the group to sing more complex arrangements than the 4-part charts that the founders envisioned.
2010 Pacific Northwest Regional: Third Place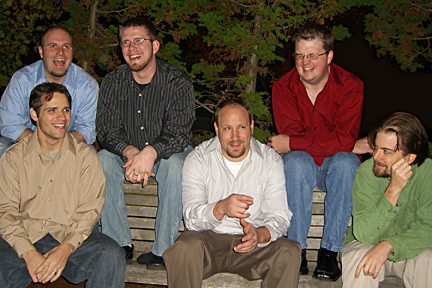 V-Chords
V-Chords is an a cappella vocal band made up of six talented performers performing a wide variety of pop, rock, jazz, gospel and country accompanied by live vocal percussion. Each member has significant performing experience and contributes to the combined flare and flavor for which V-Chords has become known. In 2007, V-Chords was proud to represent the Pacific Northwest Region at the National Harmony Sweepstakes Competition in San Rafael, CA.