2008 Pacific Northwest Regional Winners: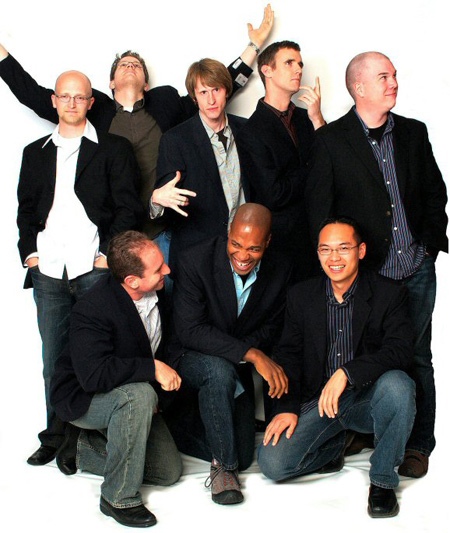 Back around 1990, a couple of the founding members of the coed Microtones decided that they wanted to form a men's a cappella group at Microsoft so that they could sing the charts from their college groups. The original quartet consisted John Rae-Grant, bass and musical director, Bill Pope, baritone, Bob Gunderson, 2nd tenor, and David Olsen, 1st tenor. True to their profession, the group's chosen name, The Baudboys, referred to the method by which modem speeds were rated. The group performed only a few times in its first years of existence, doing lunch time gigs on the Microsoft campus.

As members left Microsoft over the years, they would also leave the Baudboys, prompting natural turnover in the membership. During the 1990's, the group expanded it's membership, aiming to have two full quartets within the group. Since that time, the group has remained at 7-9 members, but the expanded membership has allowed the group to sing more complex arrangements than the 4-part charts that the founders envisioned.
2008 Pacific Northwest Regional: Second Place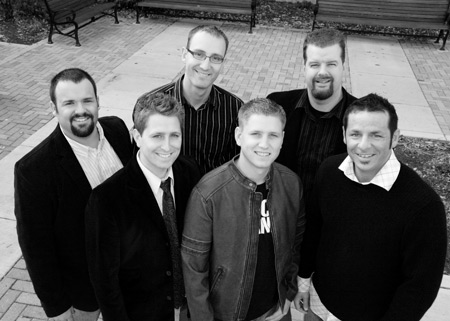 Vocalocity is a seasoned six man vocal band. Ryan Brierley, Jason Tesch, Trevor Linton, James Case, Scott Rollins, and Jake Tesch have filled their lives with music since they were young, and have been performing together as a group since 2005. They have banded together to produce a compelling a cappella performance for audiences of all ages. As part of their show, they have selected popular songs such as I Wear My Sunglasses at Night by Corey Hart, Everything by Michael Buble, Accidentally In Love by Counting Crows, and a special Beach Boys Medley. These and other songs have been professionally arranged by award winning musician, Derek Furch, to give them a unique and distinctive sound. With their goal set on winning the National Harmony Sweepstakes Championship, watch out for Vocalocity to take the a cappella world by storm.
2008 Pacific Northwest Regional: Second Place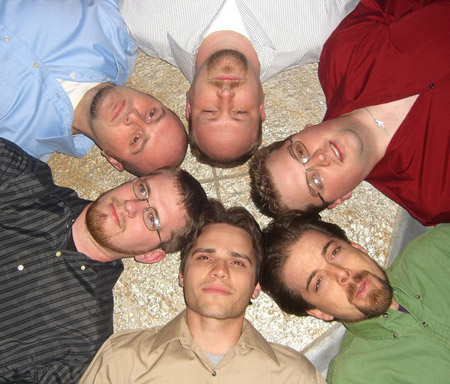 V-Chords is an a cappella vocal band made up of six talented performers who truly enjoy helping the world connect with contemporary music in an exciting way. They perform a wide variety of pop, rock, jazz, gospel and country accompanied by live vocal percussion. Each member has significant performing experience and contributes to the combined flare and flavor for which V-Chords has become known. V-Chords has roots as far back as 2001 when Jeremy, Chris and Mike sang together in Pendleton, Oregon with Second Chance Singers. After relocating to Portland several years later, they formed V-Chords by joining forces with Bryan, Dave and Josh. They have performed throughout the region and are looking forward to many wonderful venues in the coming year. In 2007, V-Chords was proud to represent the Pacific Northwest Region at the National Harmony Sweepstakes Competition in San Rafael, CA.
2008 Pacific Northwest Regional: Third Place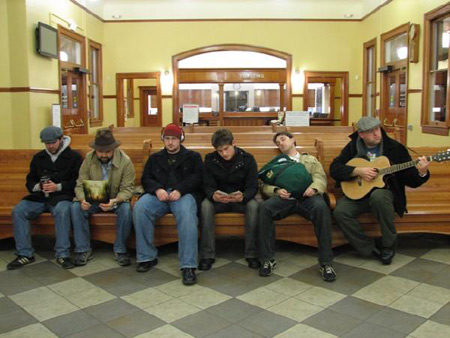 Rezonate
Rezonate The premiere a cappella group from Eugene, Oregon, the gentlemen of Rezonate sing R&B, Gospel, Pop, Soul, Jazz, Funk, and even some Hard Rock, including deftly arranged covers and original songs. The group started singing together as Rezonate in December 2004, and have sung at many venues since. At the Harmony Sweepstakes National Finals in May of 2009, Rezonate won both Third Place and the coveted award for Best Original Arrangement. With thick, lush, true six and seven part harmonies and a difficulty level second to none, Rezonate can evoke the smooth sounds of the Four Freshman, the rockin' edge of the Goo Goo Dolls, or the pop excitement of acts like Bruno Mars and Owl City.