2005 Pacific Northwest Regional Winners: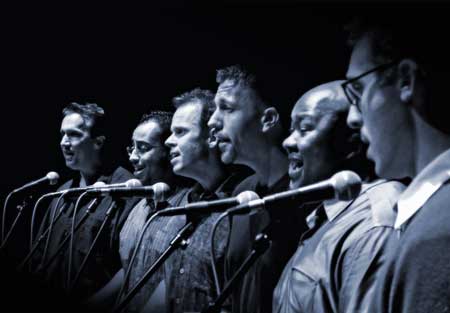 Groove For Thought is a group of six singers who share a love of contemporary vocal music. GFT sings an assortment of jazz, gospel, rhythm & blues, and pop music both a cappella and with a live band. The members of GFT all have extensive backgrounds in vocal jazz and bring something fun, exciting, and unique to the idiom. GFT originated in 1998 and perform at schools, jazz festivals, and community events throughout the Seattle area. The group's early performances were completely a cappella and the group won the "Best Original Arrangement" as well as the "Audience Favorite" awards at the 2003 Pacific Northwest Regional Harmony Sweepstakes Festival. GFT looks forward to the release of their debut CD in the spring of 2005.
2005 Pacific Northwest Regional Winners:
The Akafellas
The Akafellas are five guys from Olympia and Tacoma that love singing a cappella music. You may remember the name...a few in this group (Jon, Tony & Jon) sang with the original group of the same name back in the late 90's. A few of us have sang with some other groups since, but we've reformed again as The Akafellas and want to continue on with new voices and fun music. We really love coming to the Harmony Sweepstakes and getting to hear and meet other groups that love a cappella music as much as we do. Our name is not new, but our sound is. We've added vocal percussion and new voices but, as with the last group, we enjoy singing many different styles of a cappella music from doo-wop to pop, barbershop, rock, soul and yes, even country. We sing some old and some new, but overall, we just get a kick out of getting together to sing and have fun!