2005 Pacific Northwest Regional Winners: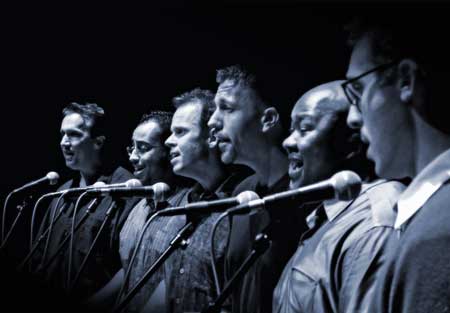 Infectious grooves, stunning arrangements, and electrifying solos are just some of the phrases used to describe Seattle based vocal group Groove For Thought. Since 1998, GFT has brought their unique brand of jazz and R&B infused tunes to festival, concert, school, and nightclub audiences throughout the United States and abroad.
2005 Pacific Northwest Regional: Second Place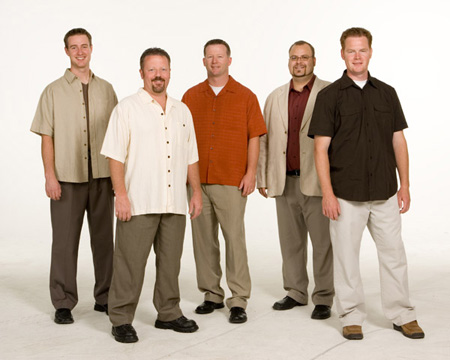 T Minus 5
T Minus 5 is the hottest vocal band to come out of the Rocky Mountains. They have been together for over four and half years and have traveled the country performing for Universities, Arts Councils, city events, large corporations, for both young and old audiences. Simulating all instrument sounds with just their mouths, T Minus 5 is a high-energy a cappella group with comedic timing and fun for the whole family to enjoy. They will "wow" you with their tight vocal harmonies and endless energy. T Minus 5 was the Rocky Mountain Regional Harmony Sweepstakes Champions in 2001 at Denver and their music is featured on the album showcasing the best performances at the 2001 Harmony Finals in San Rafael, California. In the spirit of Gene Roddenberry's preamble to the Star Trek television series, T Minus 5' goal is Fame-the final frontier. These are the voyages of T Minus 5. Its five-man mission: to explore strange new worlds, to seek out new life and new civilizations… to boldly go where no a cappella group has gone before.
2005 Pacific Northwest Regional: Third Place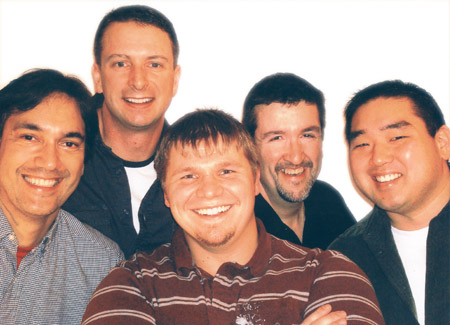 Akafellas
The Akafellas are five guys from Olympia and Tacoma that love singing a cappella music. You may remember the name...a few in this group (Jon, Tony & Jon) sang with the original group of the same name back in the late 90's. A few of us have sang with some other groups since, but we've reformed again as The Akafellas and want to continue on with new voices and fun music. We really love coming to the Harmony Sweepstakes and getting to hear and meet other groups that love a cappella music as much as we do. Our name is not new, but our sound is. We've added vocal percussion and new voices but, as with the last group, we enjoy singing many different styles of a cappella music from doo-wop to pop, barbershop, rock, soul and yes, even country. We sing some old and some new, but overall, we just get a kick out of getting together to sing and have fun!