2004 Pacific Northwest Regional Winners: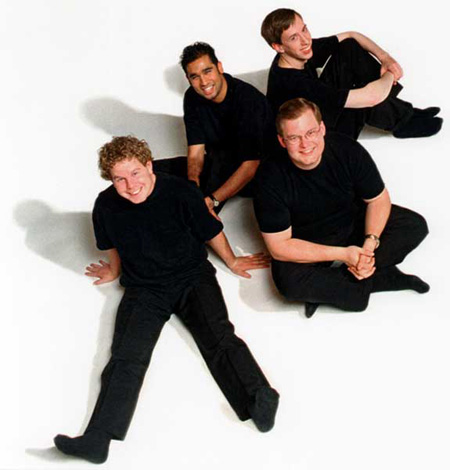 The Heebee-jeebees are an a cappella quartet formed in 1993, and in the past 13 years have sung thousands of performances, appeared on local, national and international radio, television and print. The group has a reputation for being hilarious, entertaining and extremely talented. The Heebee-jeebees have released 6 recordings, all to international recognition including 4 CARA nominations and 2 CARA Awards. They have won the Canadian Championships of Harmony twice, as well as Championships in the USA. They continue to impress and entertain audiences with their voices, and are considered the best of comedic a cappella entertainment. .... The Heebee-jeebees are: Cedric Blary, Chris Herard, Ken Lima-Coelho and Jonathan Love. .... NOTE: Some incorrect spellings of the Heebee-jeebees are: .. ..heebie geebies.. ..heebee jeebies.. ..heebie jeebies.. ..heebee jeebees (needs the - ).. .. These are put here so the search engines pick up our profile.
2004 Pacific Northwest Regional: Second Place
Realtime has been together since March of 2003, when John Newell arrived in Canada and mutual friends helped bring the group together. Since then it's been a musical whirlwind of activity, with three recordings, hundreds of shows and a world championship and a whole lot of fun under their belt. In 2008, Doug Broersma became the official lead singer, when John retired. Realtime became the 2005 International Quartet Champions of the Barbershop Harmony Society in Salt Lake City. So having reached the pinnacle of the barbershop contest world, they have sung in their last contest, and received their final score in the barbershop genre.
2004 Pacific Northwest Regional: Third Place

In Voice
a six member a cappella group based out of Pacific Lutheran University in Tacoma, Washington. It is a cappella that blends funk, groove, and melody to create an innovative style of music. They have been together for four years, singing at different events around the state of Washington