2002 Pacific Northwest Regional Winners: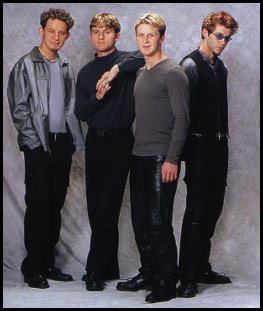 Standards
The Standards are four brothers from Twin Falls, Idaho. They have thrilled audiences of all ages in performances for Holland America Cruise Lines, festivals from Alabama to Hawaii, the Idaho Governor's Gala, and for over 375,000 elementary to college-aged students! They have appeared nationally with Manhatten Transfer, Lonestar, Lee Roy Parnell, Dan Seals and River Dance, to name a few and were world champions on Destination Stardom.
2002 Pacific Northwest Regional: Second Place

Unplugged
Unplugged is an ensemble of women known for their luscious tones, sense of humor and expressive singing. They formed their quartet in January 2001, and from there it was just a short hop, skip and jump to the top of the a cappella/barbershop scene in the Pacific NW. As members of Sweet Adelines, International (SAI), they placed 11th in their first shot at the International competition in Portland last October. The four have been friends for several years and have kept in touch by hooking up at SAI contests around the country. Teresa, Julie and Anna are from the Seattle/Tacoma area and Judy hails from Vancouver, BC making Unplugged an International experience.
2002 Pacific Northwest Regional: Third Place

Mockingbird is comprised of three women who are good friends who have brought their musical interests and diversity together to form a blend of a cappella harmonies. They have been making music together for seven years and sing a wide variety of songs, including several originals. They have released two CDs, "Drenched" and "Magic Everywhere," and have plans for a third. A recent review of "Drenched" in Victory Review stated, "These women are obviously having fun. You can hear their warmth and friendship. What a delightful album they've created."