2001 Pacific Northwest Regional Winners: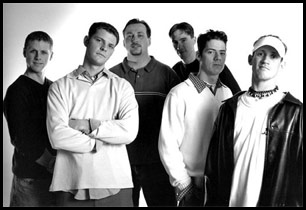 Eclipse is a vocal group of six creating explosive sound, driving rhythms, and lush harmonies using only one instrument: the human mouth.
The six members of Eclipse originally met while performing in a public relations /ambassador-oriented group that was part of the department of Programs and Entertainment at Utah State University. They began by arranging their own vocal covers of popular songs and performing them on campus and in the Logan area. Increasing public interest and performance opportunities led to the recording of their first album, "Once," which was released in April 2001.