2004 Mid-Atlantic Regional Winners: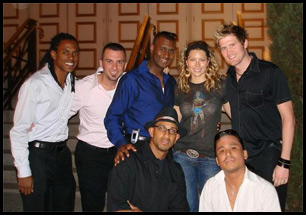 Mosaic is a six-man a cappella group with an off-the wall style, intricate harmony, and a "get up out yo' seat" beat. They cover a wide range of popular music in new and exciting ways. Mosaic is a collaboration of minds and talents that form a truly unique show you don't want to miss.
2004 Mid-Atlantic Regional: Second Place

Blue Jupiter is a Contemporary Rock/Pop vocal quartet that tours nationally and has competed in the Chicago Sweeps, released two CD's and performed at both East and West Coast Summits.
2004 Mid-Atlantic Regional: Third Place

Almost Recess is a five-man vocal band from the Washington, DC area whose mission is to bring kickinŐ a cappella music to every single person in the world.