2002 Mid-Atlantic Regional Winners: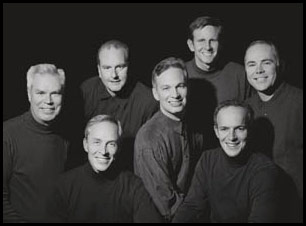 Tone Rangers
Yee-haa. We are the Tone Rangers. Ruthless marauders of song, we pillage for pleasure. We are true blue buckaroos, who sing "Babaloos". Highly leveraged, yet prudently diversified, The Tone Rangers ride again. As the name suggests, the Rangers are a just barely domesticated group of free-spirited a cappella songsters. Although mostly policy wonks, computer geeks, and lawmen by day, they roam the badlands of the mid-Atlantic by night in search of distressed frontier folk and serve them a helpin' of vocal music and free legal advice. Combining sharp wit and tight vocal harmonies, they right wrongs where other groups dare not go. Yee-haa. Git along, little dogie.
2002 Mid-Atlantic Regional: Second Place

4 Girls Only
Who are they? They are specialists in bringing their unique blend of creativity, femininity, and sophistication to the a cappella arena. For 10 years, this Orlando-based group has written and produced specialty themed a cappella shows for Walt Disney World and Universal Studios, Florida. Using their vocal talent and theatre experience they have created shows covering various eras from the Wild, Wild West to 1940's Swing and 1950's Do-Wop, all the way to a modern James Bond type spoof of the Spice Girls. They also write and produce jingles for radio. Friends and soul-sisters, these ladies love to use their God-given gifts for song, and they devote their lives to sharing the enjoyment of a cappella harmonies. 4 Girls Only is a perfect example that a cappella isn't just a "boys club"!
2002 Mid-Atlantic Regional: Third Place

High Five is a mixed voice, 5 part, a cappella jazz quintet from the Baltimore-Washington DC-Annapolis area providing top-quality music, fun and entertaining performances wherever music lovers can be found. Tenor, Joe Mannherz, originated the ensemble and arranges most of its repertoire. After a two-year search for just the right voices, the group ultimately coalesced in early 2001. With bass Mike Kelly, alto Lori Dreyer, sopranos Janet Montrie and Susan Dargusch, the group delivers a rich blend of close harmonies, which are unmistakably HIGH FIVE.