2002 Mid-Atlantic Regional Winners: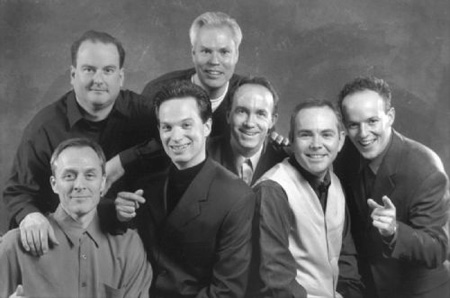 This award-winning Washington D.C.-based vocal group is celebrating their 25th anniversary delighting audiences from coast to coast with its dynamic blend of tight harmonies, inventive arrangements and keen wit. In a few choreographed minutes, the Tone Rangers propel through 900 years of Western music--from Gregorian chant to classic rock to TV theme songs--in a fresh approach to contemporary a cappella music and comedy.

Nominated for seven Wammies by the Washington Area Music Association in the past four years, the Tone Rangers were voted the Best A Cappella Group four consecutive years (2007, 2008, 2009, 2010) and even won Best A Cappella Recording in 2007! They were also national finalists in the 2002 Harmony Sweepstakes (the Superbowl of a cappella), and three-time winners of Mid-Atlantic "Audience Favorite" and "Best Arrangement" awards. To listen, go our MySpace page.
2002 Mid-Atlantic Regional: Second Place

4 Girls Only
Who are they? They are specialists in bringing their unique blend of creativity, femininity, and sophistication to the a cappella arena. For 10 years, this Orlando-based group has written and produced specialty themed a cappella shows for Walt Disney World and Universal Studios, Florida. Using their vocal talent and theatre experience they have created shows covering various eras from the Wild, Wild West to 1940's Swing and 1950's Do-Wop, all the way to a modern James Bond type spoof of the Spice Girls. They also write and produce jingles for radio. Friends and soul-sisters, these ladies love to use their God-given gifts for song, and they devote their lives to sharing the enjoyment of a cappella harmonies. 4 Girls Only is a perfect example that a cappella isn't just a "boys club"!
2002 Mid-Atlantic Regional: Third Place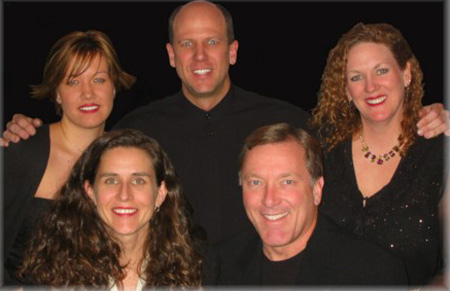 High Five
High Five is an award winning, mixed voice, 5-part, a cappella jazz quintet from the Baltimore-Washington area creating music and fun wherever music lovers can be found. With more than a century of combined musical experience, this full-chord sound and tight harmonies are indicative of their unique style. This, combined with an undisputable jazz influence & champion arranger, makes Janet, Christy, Lori, Joe and Mike the ensemble that is unmistakably High Five.