2001 Mid-Atlantic Regional Winners: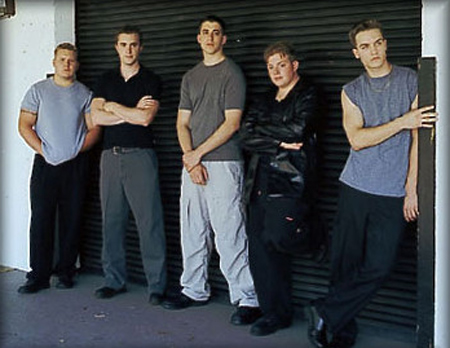 4:2:Five
4:2:Five is not your parents' a cappella. What used to be street-corner barbershop and doo-wop, has now evolved into a fresh new sound and 4:2:Five is right at the breakpoint. With driving vocal bass, slamming vocal percussion, and tight harmonies, these five young men create a sound that is all their own using nothing more than their highly trained mouths. 4:2:Five has performed at the 2000 Orlando International Fringe Festival, on several radio stations, and won Ed McMahons internet based talent search www.Nextbigstar.com. The guys have been seen at NBC's Today Show, every news station in the Orlando area, and you might even catch 4:2:Five on a television commercial or doing a jingle on the radio. 4:2:Five's unique sound is derived from the diverse backgrounds of its members, the individual talents possessed by each, and the belief that the music always has and always will come first.
2001 Mid-Atlantic Regional: Second Place

InDEciSIon
InDEciSIon is a vocal quartet which performs a capella music in the grand style of American barbershop. Formed in 1999, the popular group has delighted large and small audiences with their close harmonies and unique brand of humor. InDEciSIon is comprised of men with accumulated experience of more than 100 years in vocal music. Not that they are OLD, mind you, but its important for you to know! InDEciSIon provides an unusual and thoroughly entertaining addition to your gathering or special occasion.
2001 Mid-Atlantic Regional: Third Place

4real
In 1987, a high school quartet named The Braxmen was formed at Indiana Senior High in Indiana, Pennsylvania. As students at Indiana University of Pennsylvania, The Braxmen expanded their sound and extended their audience beyond the universityıs walls. Original members left and new members joined ­ a new name of Mixed Emotions was adopted. Despite their successes, the group ultimately parted ways. Two years passed before some members ran into each other at a local concert ­ and the magic was still there. That was three years ago. Today, 4real is an a cappella quintet that delivers your favorite songs from the Fifties, Sixties and Nineties with an unmistakable modern sound that can only be called 4real!