2000 Mid-Atlantic Regional Winners: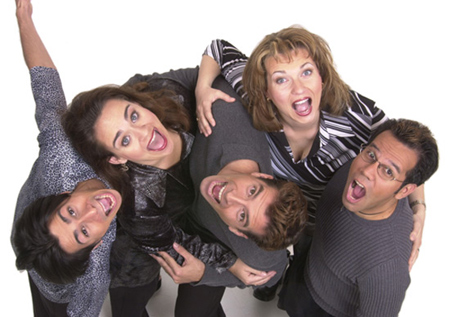 In 1998, Toxic Audio launched its quirky show in an abandoned storefront at the Orlando International Fringe Festival. To their amazement, people began cramming into that storefront to see them. The show caught the attention of Disney executives who hired them as featured performers at the Disney/MGM Studios. Soon after, the group was crowned champion at the National Harmony Sweepstakes in California.

In the year 2003, Toxic Audio's album, Chemistry was named "Album of the Year" by the Contemporary Acappella Society of America. The group has made national TV appearances with Ed McMahon and Wayne Brady, and even got to sing a reggae-style weather report on ESPN2's morning show "Cold Pizza". Toxic Audio won the 2004 Drama Desk Award for "Unique Theatrical Experience" for their Off-Broadway Show in New York's John Houseman Theatre where they continue to electrify audiences by exploring the boundaries of the human voice.
2000 Mid-Atlantic Regional: Second Place

Midnight Voices
A male group of seven that started in 1996 when a bunch of guys got together to serenade their "female friends" the night before high school graduation in Bucks County, PA. They specialize in classical, pop-contemporary, doo-wop, and barbershop. What is amazing about this group right now is that they all attend different colleges.
2000 Mid-Atlantic Regional: Third Place

Crossroads
Crossroads is the new "superquartet" on the Barbershop Block, formed of four singers who are former BHS International Gold medalists in their own right, tenor Fred Farrell, lead Mike Slamka, bass Jim Henry and baritone Brandon Guyton. Henry won Gold in 1993 as a founding member and arranger of the legendary Gas House Gang, and is currently musical and artistic director of the 160-voice Ambassadors of Harmony. Guyton pocketed Gold in 2002 with Four Voices, Slamka sang his way to Gold with 2003 champs Power Play, and Farrell wore Gold with 1989 Quartet champs Second Edition. With this much vocal and arranging talent and experience, it came as no great surprise that newly-formed Crossroads struck Gold again in Anaheim, CA in 2009!