2000 Mid-Atlantic Regional Winners: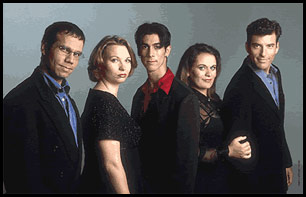 Toxic Audio is a 5-member theatrical mixed vocal band who combine popular and original songs, musical improvisation, and comedic sound effects in their high energy performances without the use of musical instruments. The Toxins create their unique sound by combining tight a cappella harmonies with vocal percussion and voice effects processors. Styles include contemporary pop, rock-n-roll, jazz, hip-hop, comedy, and improvisational songs. They've traveled across the country performing their concert show and opening for the likes of Tony Bennett, Ziggy Marley, The Rippingtons, and The Bobs. Their self-titled debut CD is a mix of original and cover tunes with unique twists. They've performed in a variety of venues across the country including New York, Las Vegas, Boston, Washington D.C. and Colorado as well as appearing for the past year at Walt Disney World."
2000 Mid-Atlantic Regional: Second Place

Midnight Voices
A male group of seven that started in 1996 when a bunch of guys got together to serenade their "female friends" the night before high school graduation in Bucks County, PA. They specialize in classical, pop-contemporary, doo-wop, and barbershop. What is amazing about this group right now is that they all attend different colleges.
2000 Mid-Atlantic Regional: Third Place

Crossroads
A recently formed mixed quartet from south-central Pennsylvania, they specialize in preserving the songs of the big band era, but also cut across genre lines and enjoy presenting many types of music. Crossroads uses entertainment value as a litmus test in selecting their music. They are all consummate "group" singers, each with many years of experience singing in barbershop quartet and chorus champions.