1999 Mid-Atlantic Regional Winners: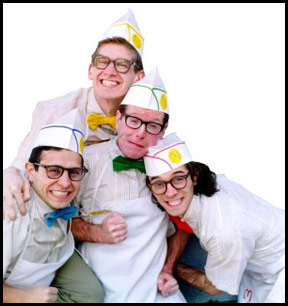 Minimum Wage
Minimum Wage is a sketch comedy, a cappella group that hails from New York City. They have performed at venues such as Caroline's Comedy Club, The Bottom Line, Catch a Rising Star, The Duplex and The Bitter End in the Big Apple and all over the tri-state area. They were named "outstanding Musical Comedy Act" at the BackStage Bistro awards and were also Grand Prize Winners on Americas Funniest People. Minimum Wage will be hosting the East Coast A Cappella Summit in Boston this summer and most recently they appeared on Fox TV and can be heard on Comedy Central singing the Little Donnie Foundation theme song for the Upright Citizens Brigade.
1999 Mid-Atlantic Regional: Second Place

Toxic Audio
Toxic Audio hails from Orlando, FL, where these three men and two women perform at the Disney/MGM Studios Theme Park. This group came together to explore the human voice its ability to express ideas at the Orlando Fringe Festival in April 1998. Their unpredictable style and wide ranging musical tastes capture the attention of audiences ever since.
1999 Mid-Atlantic Regional: Third Place

The Chromatics are a mixed group of NASA techies from the Washington, DC area who perform pop and rock songs inspired by our modern world. They perform covers and original songs inspired by the world wide web, television, and fast food. Their AstroCappella project was well-received by audiences in California, Florida, Nevada, and our nation's Capital.