1999 Mid-Atlantic Regional Winners: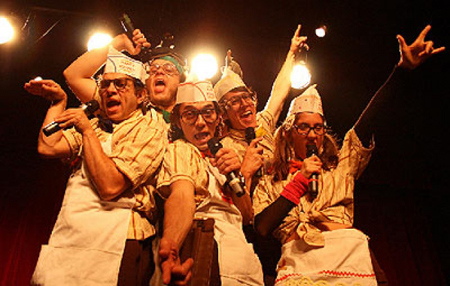 Minimum Wage
Minimum Wage is a group that can only be described as inventive, insane and delightful! Picture the Marx Brothers, Forever Plaid and the Flying Karamozov Brothers rolled into one. Por example, one might witness a lecture on Spatula techniques that goes hilariously awry. Or a capricious, musical history lesson about the "'Histoire du le Burger." Or even a rap number with wildly eclectic choreography. They won a Bistro award for Outstanding Musical Comedy Act by BackStage Magazine and in 1999 they were chosen as the Mid Atlantic Harmony Sweepstakes Champions and went on to win "Audience Favorite" in the National Finals. They can be seen pseudo- regularly on the Food Network's, Doorknock Dinners and other TV appearances include The Fox Network, Comedy Central, Good Day New York, The Veronica Network and America's Funniest People(Grand Prize Winners).
1999 Mid-Atlantic Regional: Second Place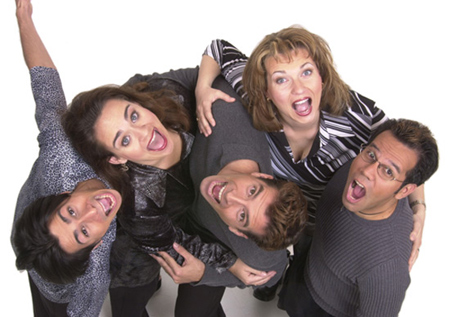 In 1998, Toxic Audio launched its quirky show in an abandoned storefront at the Orlando International Fringe Festival. To their amazement, people began cramming into that storefront to see them. The show caught the attention of Disney executives who hired them as featured performers at the Disney/MGM Studios. Soon after, the group was crowned champion at the National Harmony Sweepstakes in California.

In the year 2003, Toxic Audio's album, Chemistry was named "Album of the Year" by the Contemporary Acappella Society of America. The group has made national TV appearances with Ed McMahon and Wayne Brady, and even got to sing a reggae-style weather report on ESPN2's morning show "Cold Pizza". Toxic Audio won the 2004 Drama Desk Award for "Unique Theatrical Experience" for their Off-Broadway Show in New York's John Houseman Theatre where they continue to electrify audiences by exploring the boundaries of the human voice.
1999 Mid-Atlantic Regional: Third Place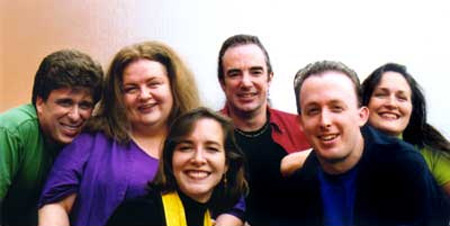 People often ask us how the Chromatics got started. It's a complicated story, but here's a brief summary:

Back in 1993, a group called the OK Chorale was formed at NASA'S Goddard Space Flight Center by Anne Raugh and Steve Leete. The OK Chorale was 12 members strong and sang mostly doo-wop tunes, standards, and classics from Sesame Street. None of the current Chromatics were in the group at its inception, but Padi Boyd and Karen Smale joined in 1993, followed by Alan Smale and Deb Nixon in 1994.

After numerous further changes in personnel, including the departure of co-founder Anne Raugh, the group decided to refocus and reinvent itself as The Chromatics. The Chromatics were incorporated in 1995, and have been performing continuously under that name ever since.