1998 Mid-Atlantic Regional Winners: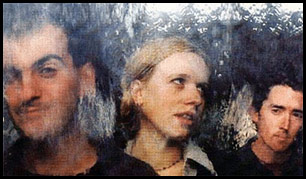 Acapelicans
The Acapelicans are a three part ensemble from Melbourne, Australia that formed out of a love and mutual respect between Carl Pannuzzo, Sarah Liversidge, and Simon Nugent. Their combined voice pays a unique homage to the wondrous mystery of music through the dynamic possibilities of harmony in a repertoire of songs that is both sensitive and challenging. The Harmony Sweepstakes Finals is the last stop n their North American debut tour where they have quickly developed a strong following with their reverent performances of poignant originals and uniquely arranged classics.
1998 Mid-Atlantic Regional: Second Place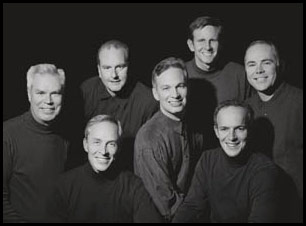 Tone Rangers
Yee-haa. We are the Tone Rangers. Ruthless marauders of song, we pillage for pleasure. We are true blue buckaroos, who sing "Babaloos". Highly leveraged, yet prudently diversified, The Tone Rangers ride again. As the name suggests, the Rangers are a just barely domesticated group of free-spirited a cappella songsters. Although mostly policy wonks, computer geeks, and lawmen by day, they roam the badlands of the mid-Atlantic by night in search of distressed frontier folk and serve them a helpin' of vocal music and free legal advice. Combining sharp wit and tight vocal harmonies, they right wrongs where other groups dare not go. Yee-haa. Git along, little dogie.
1998 Mid-Atlantic Regional: Third Place

Not To Scale
Not To Scale is a collection of three male and three female a cappella jazz vocalists from vibrant Raleigh-Durham, NC. The group gets audiences cooing to their mellifluous tones at such events as the North Carolina Jazz Festival, the Wilmington Riverfest, and Raleigh's Artsplosure.