2011 Los Angeles Regional Winners: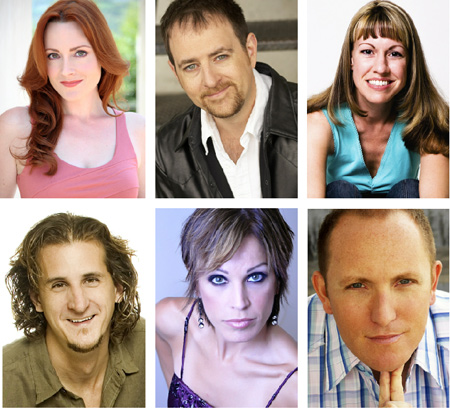 Vybration was formed in 2001 to perform at Disney's California Adventure under the name "Groove 66". The band quickly became the park's most popular atmosphere group. Its members are some of the most powerful, versatile, and in demand vocalists in all of Southern California with resume credits spanning from broadway, television, and film, to orignial rock bands, and pioneering modern music projects. Vybration is unlike many acapella sextets out there, covering a variety of music that includes traditional jazz tunes like Blue Skies and Fly Me to the Moon, rock n roll songs like Lenny Kravitz's Fly Away, pop hits such as Michael Jackson's Wanna Be Startin Something and many many more. All that have witnessed the magic in music that Vybration creates can tell you that, "Vybration is a force to be reckoned with!"
2011 Los Angeles Regional: Second Place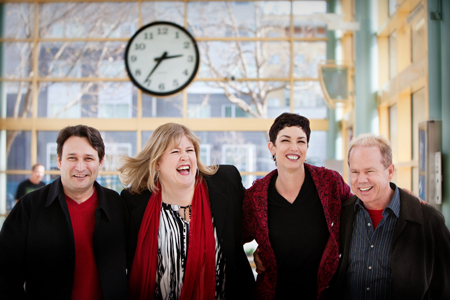 Clockwork
Clockwork is a vocal quartet who sing mostly close-harmony jazz but also our own twists on pop and rock tunes.

Clockwork, an award-winning San Francisco based vocal ensemble with a signature sound and style, performs a banquet of music from funk to gospel and R&B to standards. Rooted in the tradition of great vocal jazz groups such as the Hi-Lo's and Lambert, Hendricks and Ross, the Clockwork "sound" draws inspiration from all styles. As the great Duke Ellington said, "If it sounds good, it is good."

Experienced in both accompanied and a cappella performing, the group has arrangements for duos, trios and an 18-piece big band. Members of Clockwork have performed live with artists such as Bobby McFerrin, The Hi-Lo's , Meredith Monk, Don Shelton, Gene Puerling, Barbara Lewis, Sufjan Stevens, John Zorn, Barbara Morrison, Kent Nagano with the Deutches Symphonie Orchester and the Berkeley Symphony Orchestra, The PM Singers, Heatwave, GQ, Barbara Lynn, Richie Cole, M-Pact!, the House Jacks, Boyz Nite Out, InFusion, Vocal Flight, and on Ward Swingle's Instructional video "Swingle Singing."
2011 Los Angeles Regional: Third Place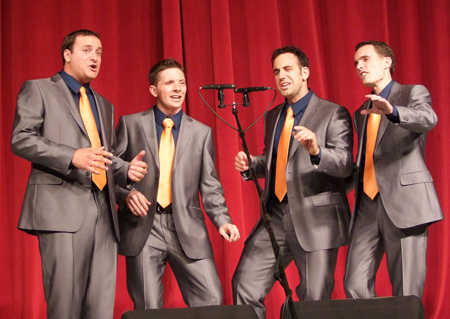 Crush
The Crush is a young, exciting barbershop quartet from the Far Western District of the Barbershop Harmony Society compiled of four energetic young men in their 20s. Formed in 2006, this foursome is based out of Orange County, CA, and has entertained audiences at competitions, shows, and private parties near and far. In 2010, The Crush captured the Far Western District Quartet Championship! Known for their tight, bright harmonies and youthful, toe-tapping energy, The Crush hopes to become a household name with barbershop and a cappella fans throughout the country! Music performed by the group consists of barbershop, swing and vocal jazz arrangements influenced by the Big Band Era of 20's, 30's and 40's. So sit back, relax, and enjoy the jazzy feel and swingin' sound of The Crush!