2000 Los Angeles Regional Winners: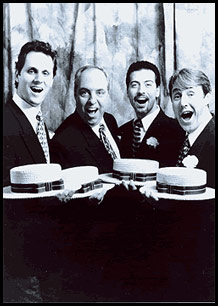 Perfect Gentlemen
This talented quartet consists of: Mike Economou is a member of the Frank H. Thorne Chapter at Large of the SPEBSQSA. Mike works as an Insurance Claims Adjuster for UCI Medical Center in Irvine, California and previously sang tenor with Bumblebee Jive and The Dapper Dans of Disneyland. Mike is engaged to his sweetheart, Lori, and lives in Brea, California. Dan Jordan is a 26 year member of the barbershop society and holds membership with the South Bay Chapter of the SPEBSQSA. Dan is the lead of The New Tradition (1985 International Quartet Champions), and a multi-medalist with The Grand Tradition and The 139th Street Quartets, as well as the former full time baritone of The Dapper Dans of Disneyland. Dan owns Global Entertainment, is married, has three children, and lives in Glendale, California. Tim Reeder is a member of the Frank H. Thorne Chapter at Large with the SPEBSQSA and is the founder and alto with the popular swing group, Vocalworks. Tim is the current fulltime tenor with The Dapper Dans of Disneyland. Tim is married, has two children, and lives in Capistrano Beach, California. Jim Campbell is a member of the South Bay Chapter of the SPEBSQSA and is the fulltime bass of The Dapper Dans of Disneyland. Jim is a former member of the Louisville Thoroughbreds and former member of The Acafellas and Hot Pipes quartets. Jim is married and lives in North Hills, California.
2000 Los Angeles Regional: Second Place

Treasure
Susanna Ridler - born in Austria. Studied at the University of Music & Performing Arts in Vienna with the emphasis on Theatre and Music. She worked for four years as an actress in different theaters throughout Vienna, thereafter studying Jazz and Vocals at the Conservatory in Amsterdam. In 1998 Susanna attended the Musician's Institute in LA and was granted the "Student of the Year" Award. Her female a cappella trio TREASURE won a band contest in Hollywood, which was followed by many performances of the group in LA, until one singer moved back to Europe and the group was forced to break up. In the Fall of 1999 Susanna moved to San Francisco for a new start where she found two great singers:Leah Holtan - born in Minnesota. At an early age she was educated in playing piano, flute, and clarinet. Her parents, both musicians and singers taught her the art of singing. Leah sang in various choirs and was performing in different musicals such as "The Wizard of Oz," "The Boyfriend," and the lead character in "Bye Bye Birdie." She studied ballet, tap dance and ballroom instructions. She learned how to play the guitar, and presently, she works as a singer/songwriter in the San Francisco area. She had also done work as a singer and voiceover artist for TV and radio.Betina Hershey - born in New York City. Studied voice with Betsy Nordeon (soloist at the Metropolitan Opera), dance at the NHC High School of Performing Arts, and she has a BFA in acting from Marymount Manhattan College. Bet
2000 Los Angeles Regional: Third Place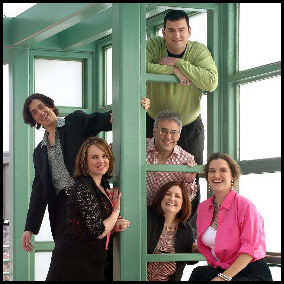 Sixth Wave is an a cappella jazz/pop/rock group that performs unaccompanied originals and novel arrangements of familiar tunes. The six singers in the "band" are all accomplished studio and concert singers who can be heard in venues ranging from local concert halls to opera stages, from rock and jazz clubs to movie theatres. Their wide experience allows them to sing a variety of styles, showcasing them as individual soloists as well as a tight jazz/pop/rock ensemble. Because all of the arrangements are created by members of the group, Sixth Wave's sound is fresh and original.