2000 Los Angeles Regional Winners: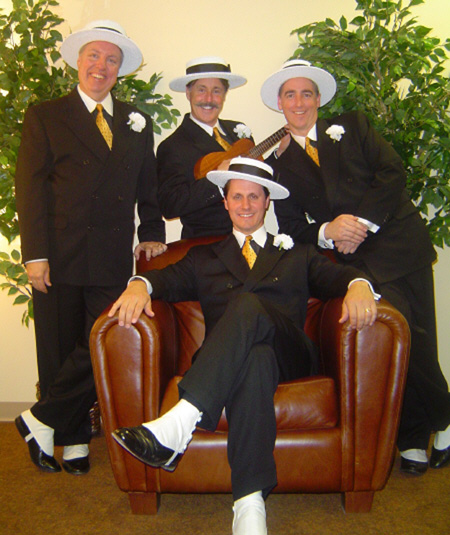 The Perfect Gentlemen provide the perfect blend of harmony and humor harkening back to the days of Vaudeville. Preserving America's great vocal sounds from a time when music was music, The Perfect Gentlemen recreate the close harmonies of such legendary groups as The Ink Spots and the Pied Pipers, while including the era's great comic songs made famous by the likes of Louis Jordan and The Hoosier Hotshots.

A typical performance by The Perfect Gentlemen includes marvelous melodious music mingled with masterful mirth, mischief, and merry-making. The group's versatility allows for effortless shifts between vocal styles with an air of ease, whether singing a cappella or accompanied by guitar or ukulele. Their signature piece, Salute to the 20th Century, is a humorous take on the de-evolution of music over the last century, illustrated by singing the same song in the style of Barbershop, Dixieland, Blues, Big Band, Doo-Wop, Bluegrass, Disco, Techno Punk, and Rap, complete with visuals that delights audiences of all ages time and time again.
2000 Los Angeles Regional: Second Place

Treasure
Susanna Ridler - born in Austria. Studied at the University of Music & Performing Arts in Vienna with the emphasis on Theatre and Music. She worked for four years as an actress in different theaters throughout Vienna, thereafter studying Jazz and Vocals at the Conservatory in Amsterdam. In 1998 Susanna attended the Musician's Institute in LA and was granted the "Student of the Year" Award. Her female a cappella trio TREASURE won a band contest in Hollywood, which was followed by many performances of the group in LA, until one singer moved back to Europe and the group was forced to break up. In the Fall of 1999 Susanna moved to San Francisco for a new start where she found two great singers: Leah Holtan - born in Minnesota. At an early age she was educated in playing piano, flute, and clarinet. Her parents, both musicians and singers taught her the art of singing. Leah sang in various choirs and was performing in different musicals such as "The Wizard of Oz," "The Boyfriend," and the lead character in "Bye Bye Birdie." She studied ballet, tap dance and ballroom instructions. She learned how to play the guitar, and presently, she works as a singer/songwriter in the San Francisco area. She had also done work as a singer and voiceover artist for TV and radio. Betina Hershey - born in New York City. Studied voice with Betsy Nordeon (soloist at the Metropolitan Opera), dance at the NHC High School of Performing Arts, and she has a BFA in acting from Marymount Manhattan College. Betina has performed with many modern dance companies and regional musical theatre productions. Her favorite role was Luisa in the "Fantasticks." The last two years she played Meg in the National Tour of the Phantom of the Opera. She has her own jazz duo "Clem-en-tina" and works as a singer/songwriter in San Francisco.
2000 Los Angeles Regional: Third Place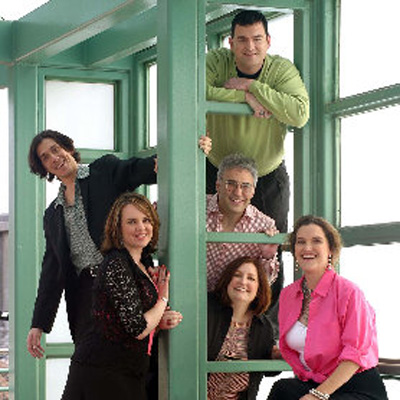 January 2005 brought on a season of change for us, as Amy Fogerson left the group and was replaced by Jennifer Barnes. Shortly thereafter, both Gerald White and Gary Rosen also made the decision to leave the group to pursue other ventures, which created openings filled by tenor Greg Whipple and baritone Greg Jasperse. This 50% new group is now eagerly working towards the goal of being a powerful and cohesive musical unit, adding exciting new repertoire while maintaining the spirit and integrity for which Sixth Wave has always been known. Please keep checking back for new and exciting news and updates as things progress.....